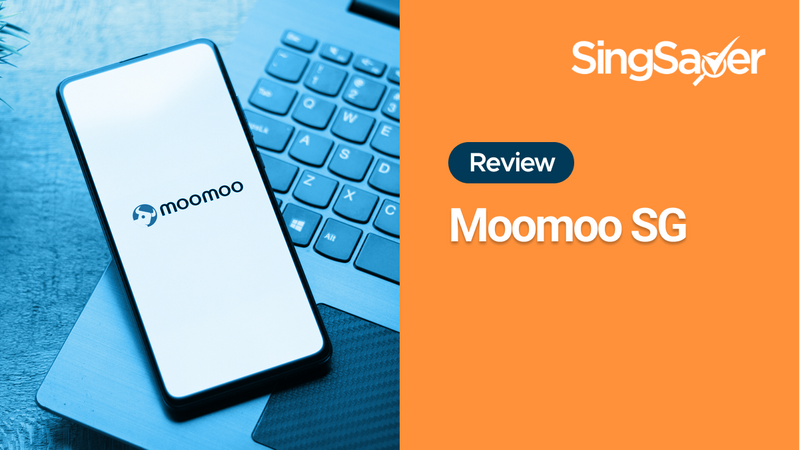 The free Apple share has almost become the defining feature of moomoo SG — a trading platform by Moomoo Financial Singapore Pte. Ltd. Here's what else moomoo SG has to offer investors in Singapore.
moomoo SG is a trading platform that is a wholly-owned subsidiary of NASDAQ-listed Futu Holdings, a company backed by Tencent.
Having entered the Singapore market only in March 2021, moomoo SG announced its arrival by offering a free AAPL share pre-launch and during their launch, and has been offering different free shares ever since.
Signup perks aside, moomoo SG boasts competitive commission fees, particularly if you're an investor looking to trade stocks in the U.S, Hong Kong or Singapore markets.
Before you jump on the bandwagon and open a moomoo SG trading account, here's what you'll need to know.
Overview of moomoo SG
Product summary:
What you can invest in: US, HK, China, and SG stocks, ADRs, ETFs, REITs
Minimum balance required: No minimum required. However, you'll have to deposit S$2,700, US$2,000 or HK$16,000 in order to enjoy the free S$40 cash coupon and free stock
Commission fees:

US stocks: 0% for eligible customers
Hong Kong stocks: 0.03% of the investment amount or HK$3, whichever is higher
Singapore stocks: 0.03% of the transaction amount, min. S$0.99

Platform fees:

U.S stocks: 0% for the first year, US$0.99 thereafter
Hong Kong stocks: HK$15
Singapore stocks: 0.03% (min S$0.99)

Here are the pros and cons of using moomoo SG for your investment and trading needs.

| | |
| --- | --- |
| Pros of using moomoo SG | Cons of using mooomoo SG |
| Attractive sign-up promotions | Limited to the US, HK and Singapore markets |
| Low minimum commission fee (US$0.99 for US stocks, HK$3 for HK stocks and S$0.99 for SG stocks) | Incur a platform fee |
| Join a global investment community | |
| A host of useful trading tools at your disposal | |

Source: moomoo SG

Pros of using moomoo SG as your trading platform

#1 Attractive sign-up promotion of a free share

Up till 23 September 2022, new users who open a moomoo SG account will receive the following:

1-year free platform fee for the U.S stock market
Free access to real-time Lvl 2 Market Data for the U.S stock market
Free access to real-time Lvl 1 Market Data for the SG stock market
Free access to real-time Lvl 1 Market Data for China A Shares market
S$10 stock cash coupon
S$30 fund cash coupon

The biggest draw of moomoo SG when they entered Singapore was the free Apple share that you stand to receive.

While that promo is over, you still stand a chance to spin the wheel one of Amazon, Sea Limited, Intel, Pfizer, or Occidental Petroleum Corporation (worth from S$50 to S$150) when you make a minimum deposit of S$2,700.

You'll also have a S$10 stock cash coupon and a S$30 fund cash coupon. With the cashback coupons, you can use them to offset your purchase of any other shares, be it Apple, Tesla, PayPal, Twitter or other big names.

On top of the cash coupon, you can also enjoy 180 days of commission-free trading for the US, HK and SG stock market as soon as you register for a moomoo SG ID. Once you've opened a moomoo SG Securities Account, you'll also receive access to Level 2 Market Data for the US stock market and Level 1 Market Data for the SG stock market and China A Shares market.

#2 Low commission fees

The commission fees charged by moomoo SG for your trades made on the US, Hong Kong and Singapore market are amongst the most competitive rates available. For example, moomoo SG charges just 0.03% of the transaction amount for stocks on SGX and US$0.0049 per share for US stocks. There's also no commission fee for trading in U.S stocks, however, this only for eligible customers.

At HK$3 for HK stocks and S$0.99 for SG stocks, the minimum commission fee required is also low – even more so than the likes of Tiger Brokers and Interactive Brokers (IBKR).

Tiger Brokers charges a minimum commission fee of US$0.005 per trade for US equities, while IBKR charges a minimum of US$1 per order for US stocks and S$2.50 for Singapore stocks.

On this note, do not be fooled by zero-commission free trades that might convince users that trading is absolutely free, as advertised by brokerage accounts. Do beware of other fees like a per-share settlement fee that some brokerage accounts charge, especially those without a cap. This could potentially put you in a deficit if the price of each share is low.

A recent article by The Business Times highlighted a trader who sold his shares for a total of US$5,000, only to realise that he found himself in an US$11,000 deficit because of the high settlement fee that he was charged.

Also read: Brokerage Fees And Other 'Hidden Fees' To Know When Investing In Singapore

#3 Join a global investment community

Analyse the latest trending stocks with like-minded traders and investors. You can share your trade ideas, check out what others are discussing and get exposed to other stocks that have gone under your radar.

The investment community is reminiscent of a social media platform like Facebook or Instagram where you can leave likes and comments, and follow the discussion thread.

#4 A host of tools at your disposal

With one moomoo SG app at hand, you can easily find popular stocks and the hottest industries to sink your money in. It can screen by market cap, percentage change, turnover, trade volume, P/E and more.

You also have the option to find stocks based on financial metrics such as net profit growth and debt asset ratio, or technical metrics such as MACD, RSI, BOLL and more.

The app also keeps you updated with the latest news that could affect your trades. This news is sorted by topics, time stamps, whether the stock in focus is on your watchlist, and by categories like earnings and IPOs.

What charges or fees should you look out for?

Commission fees:

US stocks: 0% for eligible customers
Hong Kong stocks: 0.03% of the investment amount or HK$3, whichever is higher
Singapore stocks: 0.03% of the transaction amount, min. S$0.99

Platform fee:

US stocks: US$0 for the first year, min. US$0.99 per order thereafter
Hong Kong stocks: HK$15 per order
Singapore stocks: 0.03% of the transaction amount, min. S$0.99

That said, do be wary of other fees such as settlement fees, SEC fees, and trading activity fees, which will go to the likes of the U.S Securities and Exchange Commission (SEC) and Financial Industry Regulatory Authority (FINRA).

What are the promotions available for moomoo SG?

Upon successful opening of a moomoo SG securities account, you'll enjoy:

1-year free platform fee for the U.S stock market
Free access to real-time Lvl 2 Market Data for the U.S stock market
Free access to real-time Lvl 1 Market Data for the SG stock market
Free access to real-time Lvl 1 Market Data for China A Shares market
S$10 stock cash coupon
S$30 fund cash coupon

Once you fund your account with S$2,700 or more, you stand to win a share worth from S$50 to S$150. Promo is valid from 30 June to 23 September 2022.

moomoo SG vs Tiger Brokers vs IBKR vs TD Ameritrade



moomoo SG
Tiger Brokers
IBKR
TD Ameritrade
Commission fees
SG stocks: 0.03% of the transaction amount, min. S$0.99

US stocks: 0%
SG stocks: 0.03%, min. $0.99

US stocks: US$0.005, min. US$1.99 per trade
SG stocks: 0.08% of trade value, min. $2.50 per order

US stocks: US$0.005 per share, min. US$1 per order
$0 (for US exchange-listed stocks, ETFs and option trades)
Minimum deposit
None, but min. deposit of S$2,700 required to be eligible for sign-up promotion
None
None
None
Maintenance fee / Platform fee
US stocks: 0% for the first year, US$0.99 per order thereafter

Hong Kong stocks: HK$15 per order

Singapore stocks: 0.03% of the transaction amount, min. S$0.99
0.03% of trade value Min. S$1 per order
None
None

How do you open and fund your moomoo SG account?

Opening your moomoo SG account is simple and quite frankly, really quick. How quick? Your application can be approved within fifteen minutes.

Like many other investment platforms, you can speed up the application process by using MyInfo to help you pre-fill the relevant personal details required.

Finally, a FAST transfer is all that's needed for you to deposit money into your moomoo SG trading account. You have the option to deposit either SGD, USD or HKD.

If you're still unsure if moomoo SG is for you, check out this article for the best brokerage accounts in Singapore.

---

Start managing and saving money like a pro with SingSaver's weekly financial roundups! We dole out easy-to-follow money-saving tips, the latest financial trends and the hottest promotions every week, right into your inbox. This is one mailer you don't want to miss.

Sign up today to receive our exclusive free investing guide for beginners!

---

Read these next:
Tiger Brokers Review: Low Commissions And Attractive Sign-Up Promotions
Interactive Brokers (IBKR) Review: Pros, Cons and Why They're So Popular
Best Brokerage Accounts To Start Your Investment Journey In Singapore
Investing In Exchange Traded Funds (ETFs): A Newbie's Guide To Getting Started
Best Robo Advisors To Auto-Pilot Your Investments In Singapore

---

By Ching Sue Mae
A flat white, an adventure-filled travel and a good workout is her fuel. This Manchester United fan enjoys sharing knowledge on personal finance while chasing the dream of financial independence.

---