---
#3. Join a global investment community
Analyse the latest trending stocks with like-minded traders and investors. You can share your trade ideas, check out what others are discussing and get exposed to other stocks that have gone under your radar.
The moomoo investment community is reminiscent of a social media platform like Facebook or Instagram where you can leave likes and comments, and follow the discussion thread.


---
#4. A host of tools at your disposal
With one moomoo SG app at hand, you can easily find popular stocks and the hottest industries to sink your money in. It can screen by market cap, percentage change, turnover, trade volume, P/E and more.
You also have the option to find stocks based on financial metrics such as net profit growth and debt-asset ratio, or technical metrics such as MACD, RSI, BOLL and more.
The app also keeps you updated with the latest news that could affect your trades. This news is sorted by topics, time stamps, whether the stock in focus is on your watchlist, and by categories like earnings and IPOs.


---
#5 It's regulated by the Monetary Authority of Singapore (MAS)
moomoo is licensed and regulated by the MAS, so you can rest assured that your money is safe in the event that the broker goes bust or is liquidised.
What's more, the U.S securities in your account are insured for up to US$500,000 by the Securities Investor Protection Corporation (SIPC).
---
What charges or fees should you look out for?
Commission fees:
US stocks: 0% for eligible customers

Hong Kong stocks: 0.03% of the investment amount or HK$3, whichever is higher

Singapore stocks: 0.03% of the transaction amount, min. S$0.99
Platform fee:
Hong Kong stocks: HK$15 per order

Singapore stocks: 0.03% of the transaction amount, min. S$0.99That said, do be wary of other fees such as settlement fees, SEC fees, and trading activity fees, which will go to the likes of the U.S Securities and Exchange Commission (SEC) and Financial Industry Regulatory Authority (FINRA)

US stocks: US$0 for the first year, min. US$0.99 per order thereafter
SingSaver Exclusive: Get a S$25 Cash Reward when you open a Tiger Brokers account via SingSaver and fund any amount. Plus, snag a Sennheiser MOMENTUM True Wireless 2 Earpods (worth S$370) if you are one of the first 40 applicants to fund a minimum of USD 1,000. Valid till 17 June 2023. T&Cs apply.
Also, get 2.88 free stocks worth up to S$360 and 0-commission trades. Valid till 29 May 2023. T&Cs apply.
---
moomoo SG vs Tiger Brokers vs IBKR vs TD Ameritrade
moomoo SG

Tiger Brokers

IBKR

TD Ameritrade

Commission fees

SG stocks: 0.03% of the transaction amount, min. S$0.99

US stocks: 0%

SG stocks: 0.03%, min. $0.99

US stocks: US$0.005, min. US$1.99 per trade

SG stocks: 0.08% of trade value, min. $2.50 per order

US stocks: US$0.005 per share, min. US$1 per order

$0 (for US exchange-listed stocks, ETFs and option trades)

Minimum deposit

None, but min. deposit of S$100 required to be eligible for sign-up promotion

Maintenance fee / Platform fee

US stocks: 0% for the first year, US$0.99 per order thereafter

Hong Kong stocks: HK$15 per order

Singapore stocks: 0.03% of the transaction amount, min. S$0.99

0.03% of trade value Min. S$1 per order
---
How do you open and fund your moomoo SG account?
Opening your moomoo SG account is simple and quite frankly, really quick. How quick? Your application can be approved within fifteen minutes.
Like many other investment platforms, you can speed up the application process by using MyInfo to help you pre-fill the relevant personal details required.
Finally, a FAST transfer is all that's needed for you to deposit money into your moomoo SG trading account. You have the option to deposit either SGD, USD or HKD.
If you don't have a bank account in Singapore, you can also transfer funds from your overseas account via Wise. You can fund your account either through Wise balance or bank transfer via Wise. Here's a step-by-step guide on how to do it.
If you're still unsure if moomoo SG is for you, check out this article for the best brokerage accounts in Singapore.
---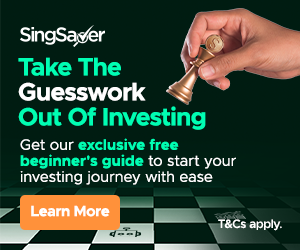 Start managing and saving money like a pro with SingSaver's weekly financial roundups! We dole out easy-to-follow money-saving tips, the latest financial trends and the hottest promotions every week, right into your inbox. This is one mailer you don't want to miss.
Sign up today to receive our exclusive free investing guide for beginners!
---
Read these next:
Tiger Brokers Review: Low Commissions And Attractive Sign-Up Promotions
Interactive Brokers (IBKR) Review: Pros, Cons and Why They're So Popular
Best Brokerage Accounts To Start Your Investment Journey In Singapore
Investing In Exchange Traded Funds (ETFs): A Newbie's Guide To Getting Started
Best Robo Advisors To Auto-Pilot Your Investments In Singapore