Planning a weekend with your family on a budget can be hard. Add a couple of kids to the equation, and it's practically impossible.
But there's no need to fret — the SingapoRediscovers Vouchers (SRV) is here to the rescue, if you haven't spent yours yet. Since the SRV is going to expire in December 2021, the school holiday is as good a time as any to start using them.
With the S$100 vouchers given out to every Singaporean aged 18 and above, parents can now bring their little kiddos out on a Singapoliday without breaking the bank!
With so many partner sites and activities to choose from, you'll most likely get tired of searching for things to spend your vouchers on even before you actually do it.
Here's the good news: we've sussed out some family-friendly activities that you can do with the whole fambam at every price point, so you can maximise your vouchers!
How do I purchase subsidised tickets for my children?
Every Singapore Citizen aged 18 and above can purchase up to six subsidised child or youth tickets for their family members under the age of 18.
Make sure the attraction/activity/tour/hotel you're applying for is eligible for payment via SRV. Add the number of child/youth tickets to your cart and check out as if you were redeeming your own SRVs.
You'll be directed to a Singapore Tourism Board (STB) website to log in with your Singpass. Once you've done that, click on the "Have a family member below 18? Activate your child/youth subsidies here" link.
After that, key in your child's IC number and declare your relationship with them. The S$10 subsidy will automatically be applied to each child/youth ticket you get, as long as you have at least S$10 left in your own SRV balance.
Things to take note:
You can't buy a single child ticket alone — it has to be bought together with an adult ticket in one transaction.
If you've used up all your SRVs, you will be unable to purchase any more subsidised child/youth tickets.
Last updated on 10 November 2021. Prices and activities subject to change. Prices listed for youth and children are before deduction of S$10 SRV subsidy.
S$20 and below per person
Activity
Price per person
What's included
Hydrodash
Adult: S$20
Youth (7 to 17): S$20
Children (5 to 6): S$15 (includes one adult ticket)
One hour playtime
Inclement weather insurance
One buoyancy aid rental
Snow City
Adult: S$15
Youth (13 to 17): S$14
Children (3 to 12): S$12
One hour snow play session
Winter coat and boots rental
Singapore River Cruise
Adult: S$20
Youth (12 to 17): S$10
Children (3 to 11): S$10
40 minute cruise
Audio visual commentary in English onboard
Address: Palawan Beach, Singapore 098498
Price: From S$15
Contact: 9783 7549
Get ready to climb, slide, leap and bounce your way through Hydrodash, Singapore's very first floating aqua park. Located just off Sentosa's Palawan beach, this inflatable playground is split into four zones with various levels of difficulty.
Level 1 is dedicated to kids aged five to six years old, while levels 2, 3 and 4 are for those aged seven and above.
Thrillseekers can look also forward to to leaping off a 3m-tall springboard and sliding off the Action Tower after bouldering your way up the knotted ropes!
Address: 21 Jurong Town Hall Rd, Singapore 609433
Price: From S$12
Contact: 6560 2306
Missing your winter holidays? Well, you and your family can still experience snow at Snow City.
From S$12, get one hour of snow play and rental of winter coat and boots. For families with more budget, you can opt to go snow tubing, target shooting or solve your family feud with a close quarter battle!
Meeting point: Clarke Quay Jetty
Price: From $10
Contact: 6336 6111
Enjoy a relaxing ride aboard the iconic bumboat as you cruise along the Singapore river. Marvel at the historical and modern buildings of the city as well as learn about the rich past of Raffles Landing Site, The Merlion, Esplanade, Marina Bay Sands and more.
S$21 to S$50 per person
Address: City Square Mall, 180 Kitchener Road #02-K4/K10, Singapore 208539
Price: From S$21.25
Contact: 6631 9789
Leave your kids at AIRZONE while you go shopping at City Square Mall. Suspended six levels above ground, this zero-gravity net playground will definitely keep them occupied with various obstacle courses, ball pits, giant slides and a maze.
Address: 6 Raffles Boulevard, Marina Square #01-208, Singapore 039594
Price: From S$39
Contact: info@nerfax.com.sg
Tired of having your kids run around your home and shooting NERF guns across the living room? There's actually a better place for them to expand their energy without the risk of them breaking things at home.
NERF Action Xperience is the indoor playground that will provide ample space for all kinds of NERF fun. You can choose between four different NERF experiences:
Compete: Exclusive, high-octane design NERF worlds for you and your team to navigate through with action-packed intensity of NERF battles. You will battle through zombie apocalypse to secure the vaccine to survive.
Conquer: NERF-style physical play with challenging landscapes to help your kids overcome their fear of high terrains. They will be escaping from the dangers of an active volcano.
Challenge: High-energy training circuit designed for practising and honing essential NERF skills like shooting accuracy, agility, sharpshooter vision and speed.
Create: This is a zone where it is all about fun and no rules. This space encourages creative expression and echoes the freestyle nature of NERF play.
Address: Lim Chu Kang area
Price: From S$40
Contact: contactus@bykido.com
Been wanting to visit the farms with your family in Lim Chu Kang but have been putting it off due to its inaccessibilty by public transport? You can now take this opportunity to finally go on a farm tour with your SRV.
This four-hour guided tour will take you to three places — Bollywood Veggies, Hay Dairies Goat Farm and Kok Fah Technology Farm.
Hay Dairies Goat Farm: Learn all about the milking process of goats, the farm's history, as well as the benefits of goat milk (and get to taste it!). You will also be entitled to a packet of hay to feed the kids (the baby goats, we mean, not your kids).
Bollywood Veggies: Bollywood Veggies is a farming collective and organic growing education center, and being there feels like you're transported back to the kampong times. You'll see all kinds of fruits, plants, vegetables and herbs grown here, and they're actually used in their dishes sold at their on-site eatery, Poison Ivy Bistro.
Kok Fah Technology Farm: A local hydroponics farm that is also Singapore's largest hydroponics showcase greenhouse. Through this tour, understand the old and new farming methods, get your hands dirty with some activities and perhaps even bring home a mini vegetable farm home!
Above S$50 per person
Activity
Price per person
What's included
My Heart Beads for Peranakan: A Joo Chiat Experience
Adult and youth: S$70
Children (5 to 12): S$50

English-speaking guide
Lunch
Audio guide system
Headsets
Hands-on popiah and kueh pie tee making lessonCurry puffs and nonya kueh
A gift packet of Nanyang Tea

Fascinating World of Aviation Plus Exclusive Hangar Tour
Weekdays: S$80
Weekends: S$90

STB Licensed English-speaking guide
Transport during the tour
Complimentary 4R printed photo with rooftop propeller plane
One welcome non-alcoholic beverage per person at Private Aviators' Lounge

Discover Russia in SG
Adult and youth: S$80
Children (3 to 12): S$64

Tour with STB licensed guide
Air-conditioned transportation
Light Russian Lunch (contains beef & pork) with one glass of Russian beverage
Portable audio tour guide system
Meeting point: Joo Chiat Complex, Lobby Information Counter
Price: From S$50
Get an insider view of the Straits Chinese heritage with this interactive Joo Chiat walking and eating tour.
In the morning, find hidden architectural gems, try your hand at making popiah and kueh pie tee before having lunch. After that, visit craftsmen and fusion temples, discover the intricate Nonya beadwork, smell the Rempah spice blends, enjoy famous crispy curry puffs and indulge in some afternoon tea before heading home.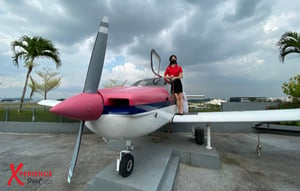 Meeting point: Seletar Aerospace Park
Price: From S$80
Contact: 6513 4337
Explore the history and modernity of aviation at the Fascinating World of Aviation tour!
Be enthralled by the historical sites while experiencing views of old residential black-and-white houses. Travel back in time while you admire aviation artefacts and structures that used to house station headquarters and former military facilities.
Tour the area around Seletar Aerospace Park, visit Seletar Airport, and get an exclusive chance to view some of the world's best private aircraft in a hangar. After that, visit the rooftop garden, take in a rare unobstructed panoramic view of the Seletar Airport runway and get into a propeller plane for a cool photo! End the experience with a drink at the Private Aviators' Lounge with a view of the runway and the control tower.
Meeting point: TBC
Price: From S$64
Do you dream about visiting Russia? Well, you don't have to wait until COVID-19 is over to discover more about the country. There is a mini Russia in Singapore where you can find authentic Russian products, food and culture.
This tour will bring you to various Russian sites that you've probably never heard of. One of the highlights of this tour is that you'll get to visit a Russian supermarket and indulge in an authentic three-course Russian lunch at a homey vintage Russian restaurant.
Read these next:
Sightseeing, Staycations, Activities: How To Spend Your $100 SingapoRediscovers Vouchers
SingapoRediscovers Vouchers: Spend Your $100 On These Hotels, Ranked By Star Ratings
SingapoRediscovers Vouchers: Which Credit Cards Should You Use?
Things To Do In Singapore That Get You The Most Bang For Your Buck (February 2021)
Best Kids Indoor Playground For The School Holidays: Cost, Location and Activities