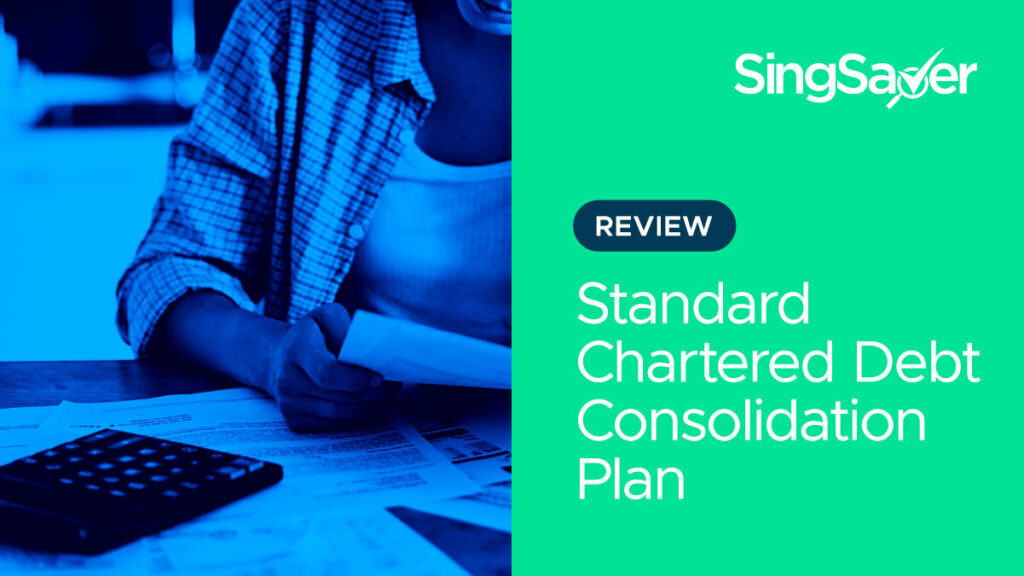 Those looking to tame high-interest, unsecured debt that has exceeded 12 months of their monthly income need to seriously consider signing up for the Standard Chartered Debt Consolidation Plan.
Unsecured debt often comes with high interest rates - that's the payoff for being able to borrow money without having to put up collateral.
While it is okay to take on some unsecured debt from time to time, it is risky to treat unsecured debt without proper care.
Recklessly taking on personal loans and maxing out credit cards is a sure fire way to ruin your finances. But not only that, past a certain point, unsecured debt can get to a point where you find yourself barely able to afford even the interest payments alone. (The authorities have determined this point to be 12 months or more of your monthly income).
That is a dangerous line you cannot afford to cross, as it means that your debt has likely grown beyond your ability to pay it off.
For those who find themselves staring down at the yawning abyss of uncontrolled debt, there is a financial tool known as a Debt Consolidation Plan you can use to make a last-ditch effort to save yourself the ignominy of declaring bankruptcy.
In today's article, we review Standard Chartered's Debt Consolidation Plan, and discuss whether it is right for you.
What the Standard Chartered Debt Consolidation Plan can do for you
Standard Chartered Debt Consolidation Plan (DCP) product summary:
Interest rate: From 3.4% per annum (EIR from 6.33% per annum)
Loan tenure: 3 to 10 years
Minimum loan amount: Interest-bearing unsecured debts at least 12x of monthly income
Maximum loan amount: At bank's discretion
| | |
| --- | --- |
| Pros | Cons |
| Significantly reduces interest charges from unsecured debt | One-time processing fee of S$199 |
| Reorganises massive debt into affordable repayment plan | Early redemption fee of S$250 or 5% of outstanding balance (whichever is higher) |
| Platinum Mastercard credit card provided, with annual fee perpetually waived | Need to owe at least 12x monthly income in interest-bearing unsecured debt to qualify |
| Tenure as long as 10 years | Need to gather substantial paperwork for application |
<SCB logo>

Why you should choose Standard Chartered Debt Consolidation Plan
#1: Convenient and effective way to manage overwhelming debt
Standard Chartered's DCP is a financial tool that is designed specifically to get runway debt back in control, and stop you from falling into an unending debt trap.
The scheme is a (literal) lifesaver for those whose unsecured debt from credit cards, credit lines and other borrowings have grown so massive that they are unable to pay even the interest payments.
Make no mistake, this is a point of no return, beyond which there is very little recourse but to declare bankruptcy and to file for protection.
However, with Standard Chartered DCP, you can lower your interest payments and work out an affordable repayment schedule involving only one payment each month. Thus, as long as you stick with your DCP, you will eventually clear your debt.
#2: Easier repayment with tenure up to 10 years
Another benefit of the Standard Chartered DCP is the ability to spread out your debt repayment between three to 10 years.
Such a flexible loan tenure allows you to choose a repayment schedule that suits your income and cashflow, which means you'll have an easier time paying off your debt. It's better to err on the side of caution and opt for a longer loan tenure, to ensure you can keep up with your installments comfortably.
More affordable monthly payments also increase your ability to put aside funds, which you can use to meet minor emergencies or unexpected expenses (instead of resorting to borrowing again, adding to your debt burden).
#3: Free Platinum Mastercard credit card provided to help manage cashflow
Once your DCP is approved, you will also be issued with a Platinum Mastercard credit card with an appropriate credit limit.
You may use this credit card to further manage your expenses and cashflow, such as to pay for urgent bills first while waiting for your paycheck to clear.
However, in order not to add to your debt, be sure to use this credit card judiciously, and make sure you pay off the balance each month.
#4: Enjoy sign-up promotions from Standard Chartered
Another reason to sign up for Standard Chartered DCP is to benefit from the ongoing promotions
New customers who sign up online can receive a cashback of S$200, which will surely be welcome if you're struggling with massive debt.
If you already have an existing DCP with another bank, you can re-finance with Standard Chartered and receive up to 6% cashback on the approved loan amount. (Do note that you'll need to fulfil prevailing requirements before you may qualify for re-financing).

For whom is the Standard Chartered Debt Consolidation Plan best suited?
The Standard Chartered DCP is an ideal financial tool for anyone who is staring down an ever-growing mountain of debt, and no longer has the means to cope with paying off the debt while funding their living expenses at the same time.
You don't even have to wait till such dire straits to consider subscribing. If you have exceeded 12x of your monthly income in unsecured debt, it is prudent to sign up as soon as possible, so you can start your journey towards financial stability.
What charges or fees should you look out for?
Fees and charges:
One-time processing fee: S$199
Early-redemption: Higher of S$250 or 5% of outstanding
Late payment: S$100 per instance
Interest on account in default: EIR from 26.9% per annum (calculated on a daily basis at 0.074%)
Annual fee for Visa Platinum credit card (perpetually waived): S$192.60
Eligibility criteria
Singapore citizens and Permanent Residents only
Annual income: Between S$30,000 and below S$120,000
Unsecured outstanding balances: More than 12 times of monthly income
Age: 21 – 65 years
How to apply
Click on the 'Apply Now' button and follow the on-screen prompts to submit your application via SingSaver.
The following documents will be required during the application process:
Copy of NRIC (front and back)
Copy of your latest Credit Bureau report
Latest bank statements of your outstanding unsecured credit facilities (such as credit cards)
Copy of latest income documentations

Salaried employees and partial commission earners: Latest computerised payslip OR latest 6 months' CPF contribution history statement
100% commission earners: Latest Income Tax Notice of Assessment OR latest 3 months' commission statement from a single employer
For self-employed persons: Latest Income Tax Notice of Assessment
Read these next:
Best Debt Consolidation Plans In Singapore 2021
4 Ways to Pay Off Credit Card Debt in Singapore
What is a Debt Consolidation Plan And How Does it Work In Singapore?
Do's and Don'ts of a Debt Consolidation Plan
2 Strategies To Consider When Clearing Crushing Debt In Singapore
Best Standard Chartered Credit Cards in Singapore