When you're out of cash well before payday, your credit card points can save you. Here's how to survive with your accumulated rewards.
It's that time of the month: you're surviving on bread and margarine, and it's 10 more days to pay day. What do you do?
a) Cancel all your social events and go home straight from work every day
b) Weep bitterly because you can't afford to Uber
c) Cash in your credit card points
If your answer is C, you are absolutely correct. Spending with your cards (and paying your bill on time) does have its perks. Perks that are the modern equivalent of ransacking between your couch cushions and your pockets for loose change.
If you didn't already know what good deals you can get with your credit card points, here's a list of little luxuries compiled for you.
Citibank: Pay for Grab Rides with Points
Lucky for you taxi-addicts, Citibank partnered up with Grab, and now, you can pay with points. And it's not complicated: you just make payment with your Citi credit card, click on the link they will send you in an SMS, select the number of points or miles to redeem. For your reference, every 420 points, or 140 miles, is equivalent to S$1.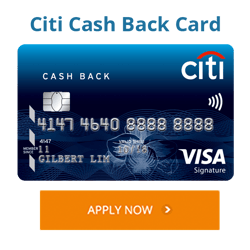 Don't have enough points? You can still save with these Grab promotions in Singapore if you use a credit card to pay for your ride. We suggest using the Citi Cash Back Card so you can get 8% rebate on your Grab rides too!
Citibank: S$50 Beauty Vouchers
If you can only use certain brands of beauty products, you may be relieved to know that you can redeem S$50 vouchers for brands such as Lancôme, Shu Uemura and Kiehl's for 21,000 points or 7,000 miles with Citibank.
HSBC Vacation Vouchers
Adult-ing never stops and we all know, sometimes, a breather is mandatory. From a weekend stay in Sofitel Singapore Sentosa Resort's Prestige Suite to Resorts World Sentosa's Ocean Suite worth over S$3,000, a much-needed vacay for 97,000 and 300,000 points respectively with HSBC seems like a steal.
Check out HSBC's rewards page for more information.
Citibank: Jewellery You Need, Not Want
It may be for a gift for your in-law…or yourself, it really doesn't matter. Until 14th August, you could get S$50 off your bill with 18,500 OCBC$ at Citigems or Lee Hwa Jewellery. The best thing(s) might be that there is no minimum purchase and sale items are included. And you can use multiple vouchers in one purchase (though Lee Hwa Jewellery is capped at 4 vouchers per receipt).
With Citibank, you could get S$50 vouchers with 21,000 points or 7,000 miles at Tianpo, Thomas Sabo or SooKee, Lee Hwa Jewellery, SK Jewellery, Goldheart, Georg Jensen. Do check their site for other jewellers.
OCBC: Turn Your Spending to Fuel
You may be broke, but you sure aren't going to waste the money spent on the car and the COE. If you have an OCBC credit card, you might want to check and see how many points you've earned so far.
Make sure to get that S$10 petrol voucher for 3,500 OCBC$ (valid till 14th August) at Caltex. It may not seem like a lot. But that's almost a fifth of the usual cost –money saved, is money saved. Visit the OCBC rewards catalogue for more details
High Tea Promotions
High teas seem to always be associated with that Tai-Tai life. But there's no reason why you can't fake it till you make it. With your Citibank credit card, you could try that at the Coffee Club or Din Tai Fung by exchanging 8,400 points for S$20 vouchers. Paragon is just 1 of the 11 Coffee Club outlets, and 19 Din Tai Fung outlets, you can visit.
Don't have a Citibank card? Don't worry, there are a number of high tea promotions you can score with your credit card.
American Express: CapitaLand Vouchers
If Raffles City, Bugis Junction, or any of the other 19 CapitaLand malls are among your regular haunts, then you'd be remiss without the American Express CapitaCard in your wallet.
Every dollar you spend at any CapitaLand mall gives you 3 STAR$, which you can trade for CapitaLand vouchers. At certain merchants, you can earn up to 10 STAR$ for every dollar! Spending S$888 in your first 6 months gets you 50,000 bonus STAR$.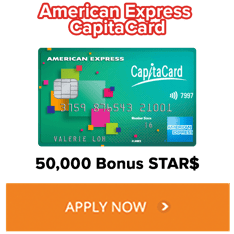 Get this card through SingSaver.com.sg to receive S$125 TungLok vouchers. Act fast - this offer expires on 31 May 2017.
Read This Next:
How Not to Shop During the Great Singapore Sale
Best Credit Cards for Online Shopping in Singapore
---

By Alexa Fang
Alexa is a pop-culture vulture. She lives to read, write and travel, and decided long ago that life is stranger than fiction. When she's having croissant, she thinks in French. "31 Rue Cambon" is her favourite address, and she believes that money one enjoyed spending is never money wasted.
---