You're browsing your card statement online when you see something that makes your blood run cold: you credit card points are about to expire!

Opinions expressed reflect the view of the writer (this is his story).

It's easy to forget, amidst the hustle and bustle of day to day life, that credit card points don't last forever (with some exceptions, see below). If you fail to cash them out in time, down the drain they go. In other words, "use 'em or lose 'em".
Now, you could try calling the bank and begging them to reinstate your points (results not guaranteed), but isn't it better to avoid ending up in this situation in the first place?
Know your expiry policies
Knowing is half the battle. Familiarise yourself with the expiry policies of different banks, and you won't get caught off-guard by expiring points.
This can sometimes be confusing because each bank has different policies – and cards issued by the same bank may have different policies too!
Here's a summary of each bank's expiry policy, with exceptions noted in the "remarks" column.
| | | |
| --- | --- | --- |
| | Points Expiry | Remarks |
| DBS | 1 year | Points earned on the DBS Altitude, DBS Insignia and DBS Treasures card do not expire |
| Maybank | 1 year | Points of Rewards Infinite members do not expire |
| Bank of China | 12-24 months | |
| OCBC | 2 years | OCBC VOYAGE miles do not expire |
| UOB | 2 years | |
| Standard Chartered | 3 years | Points earned on the SCB Visa Infinite do not expire |
| HSBC | 37 months | |
| Citibank | 5 years | Citi Miles and Thank You points earned on the Citi Prestige do not expire |
| American Express | No expiry | |
Expiry policies vary widely, ranging from as short as 1 year to as long as 5 years. To further complicate matters, points earned on certain cards never expire. Although that may sound enticing, it should not be seen as a license to hold on to your points indefinitely. After all, points may not expire, but the miles they're exchanged for can be devalued.
For example, in January 2019 KrisFlyer raised its award prices by an average of 12%. Had you chosen to hold your points on the bank side and not convert them, you'd have implicitly accepted a 12% loss in value. We know from past experience that devaluations typically happen every 3-4 years, so the longer you hold on to your credit card points, the more vulnerable you are to an award chart devaluation.
A good analogy for this is cash sitting in a zero interest account. Your cash won't "expire", but every year it's worth less due to inflation.
Track your points expiry with AwardWallet
Finding out the expiry date of your points isn't difficult. You can view this on your internet banking app or in your monthly statement. Tracking the expiry, on the other hand, can be inconvenient if you have points spread across many different banks.
While the hyper diligent can create a spreadsheet to track expiry dates and send calendar reminders, the lazy ones among us can use AwardWallet.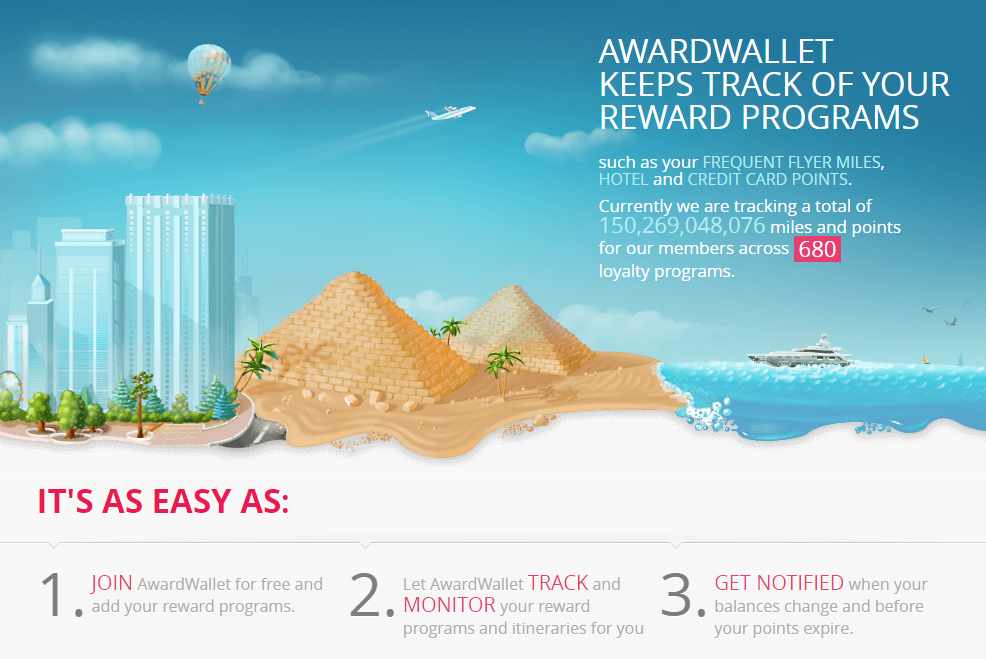 AwardWallet is a freemium service that lets you manage all your points and miles in one place. In addition to tracking hotel and airline points (e.g. KrisFlyer), it can also track credit card points of selected local banks:
DBS
UOB
OCBC
Citibank
Standard Chartered
American Express
Once you've set up your accounts in AwardWallet, you'll be able to view all your balances at a glance. AwardWallet will also send automated alerts to your email when your points are due to expire.

AwardWallet's basic features are free, but if you want to track expiry across more than three account you'll need to pay US$30 a year for the premium version. Depending on how diversified your points currencies are, this may well be worth it.
Transfer points to KrisFlyer for an additional 3 years validity
If your points are going to expire, transfer them to KrisFlyer to get an additional 3 years validity.
Remember: your credit card points have two "lives" – one on the bank side, and one on the airline side. For example, my UOB UNI$ are valid for 2 years with UOB. Once I transfer them to KrisFlyer, I get an additional 3 years validity for a total of 5 years.
In order to maximise the life of your points, watch their age and time your transfers to coincide with their expiry.
Do note that if you hold a co-brand card like the AMEX KrisFlyer Ascend or KrisFlyer UOB Credit Card, your miles are automatically transferred into your KrisFlyer account and the 3-year countdown starts straight away.
OCBC cardholders: Transfer your points to a nominee
Here's a little-known tip: both OCBC cardholders can transfer credit card points to a nominee for a small admin fee.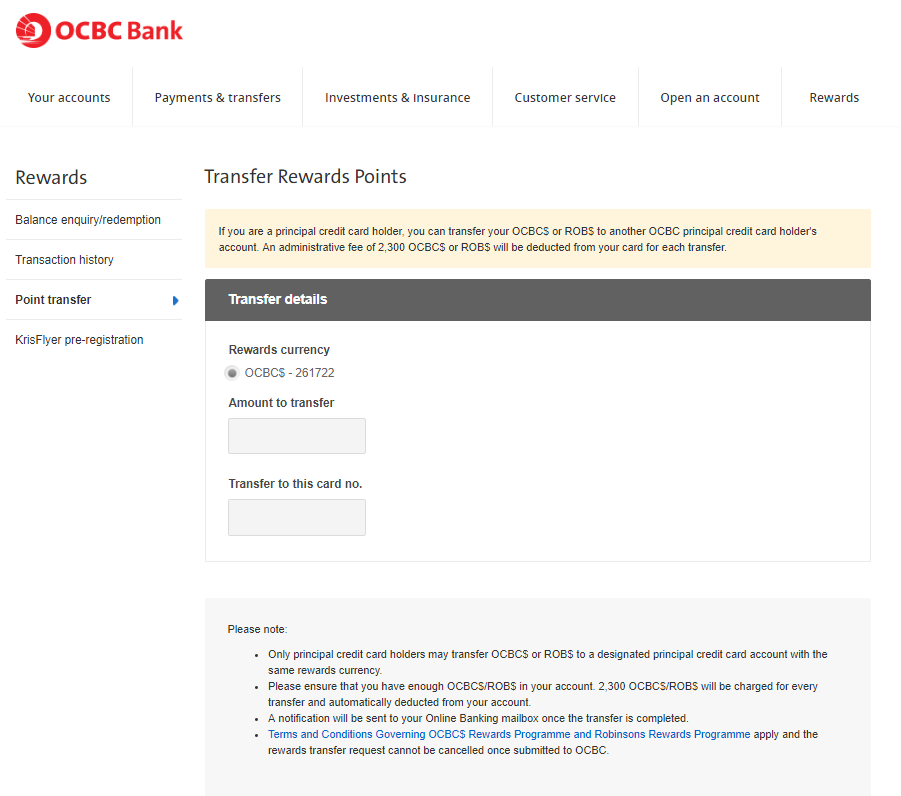 A fixed fee of OCBC$2,300 (920 miles) applies, but transferring points effectively "renews" them, so it's akin to paying a small fee to extend the life of your points. Nominate a spouse or family member to transfer to (they must be principal cardholders) and help your points get a fresh lease of life.
Any transferred points are valid for a further 12 months (so don't transfer them if there are more than 12 months left on your end!).
Conclusion
If you want to play the miles and points game, you'll need to be on top of your points expiry. Every expired point has an opportunity cost (because you could have paid with a cashback card instead at the point of purchase), so be sure to track them properly!
Read these next:
5 Travel Hacking Tips To Get The Most Out Of Flying Scoot
6 Ways to Turbocharge Your Travel Hacking Game
Travel Insurance: Does It Cover Redemption Bookings By Air Miles?
'I Have 19 Credit Cards But There's Just 3 I Would Recommend Anyone to Have'
Best 6 Credit Cards For Overseas Spending
---
---