After underperforming for much of the previous decade, commodity stocks were among 2021's strongest performers. With global economy picking up and the new US infrastructure package, the demand for commodities including metals and energy will only grow stronger
Earlier this year, Goldman Sachs analyst Jan Hatzius predicted that we are on the cusp of a decade-long supercycle in commodities. This is big news, considering many expected a mere one-off surge. To put it simply, this potential supercycle could be very exciting for investors.
But what exactly is a supercycle? How do commodities work, and are they worth investing in just in case this prediction is accurate? In this guide, we'll break down what is a supercycle, the basics of commodity stocks, and the best commodities to invest in during the upcoming supercycle.
---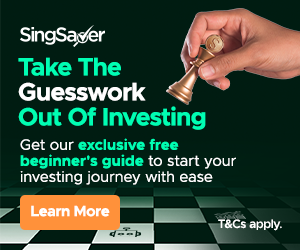 Start managing and saving money like a pro with SingSaver's weekly financial roundups! We dole out easy-to-follow money-saving tips, the latest financial trends and the hottest promotions every week, right into your inbox. This is one mailer you don't want to miss.
Sign up today to receive our exclusive free investing guide for beginners!
---
What is a supercycle?
The global economy is very cyclical, which means it experiences booms and busts on a regular basis. Expansion, peak, contraction, and trough are the four stages of an economic cycle, which are followed by another expansion to signal the start of a new cycle. An average economic cycle lasts roughly five and a half years, while some can last as little as a few months and others might last a decade or more.
A supercycle is a long period of expansion, usually fueled by strong increases in demand for goods and services. Economic supercycles are known for generating significant, long-term demand for raw and manufactured resources such as metals and plastics, which surpasses the capacity of commodity producers. Supercycles are generally associated with long-term periods of expansion for commodity markets, which are often favourable for stock values.
In the context of Goldman Sachs' prediction, we're on the cusp of what is known as a commodities supercycle, meaning that commodities could be quite profitable in the coming years.
What are commodity stocks?
The commodity market, often known as commodity stocks, is a market for purchasing, selling, and trading raw materials and primary goods.
Commodities are frequently divided into two types: hard and soft commodities. Natural resources that have to be mined, such as gold and oil, are considered hard commodities. Agricultural products or livestock, such as wheat, sugar, or meat, are considered soft commodities. Investing in companies that have exposure to commodities or investing directly through futures contracts are two ways for investors to obtain exposure to commodities.
With investors seeking to rebalance their portfolios to include more defensive asset classes, Deepak Khanna, Head of Wealth & Trading from investing platform Revolut Singapore pointed out that the confluence of a few factors present investors with opportunities.
"There are a few macro scenarios that make a compelling case for investing commodities at this stage: The first is rising inflation in the United States, the second being Russia's military actions in Ukraine and rising geo-political tensions. Commodities (like precious metals, gold, silver, energy, oil, gas, and agricultural products) tend to benefit during inflationary times.
"Gold has often been considered as a hedge against inflation and these events have contributed to the rise in gold's prices."
It is prudent to note that as with all investments, it is never an all or nothing scenario and your capital is always at risk. Speak with your financial advisor before making any investment decisions.
Commodities Watchlist for 2022
If you want to take advantage of the commodity supercycle and believe that Goldman Sachs' prediction will be correct, it may be worth your interest to look into commodity stocks in 2022.
Rio Tinto PLC (RIO)
Rio Tinto is one of the largest diversified metals company in the world. It owns mines as well as processing facilities including refineries and smelters. Rio Tinto's exposure to a wide range of commodities including copper, iron, gold, and uranium, contributes to its long life.
The last one is particularly important right now, as the uranium market has risen sharply as a result of sanctions and political unrest in Russia. Kazakhstan, a major uranium supplier, may push the price into the stratosphere if there are any problems there. Rio Tinto's other metals companies are also benefiting from favourable conditions.
Glencore (GLNCY)
Glencore is a global metals company that produces copper, zinc, nickel, cobalt, and coal, as well as a small amount of oil.
With a 2.1 percent dividend and trading at just 6 times 2022 earnings expectations, this large-cap company has risen roughly 50% in the last year, far ahead of the market. Copper, a vital metal for a variety of renewable energy options such as wind, solar photovoltaic panels, electric vehicles, hydropower, and nuclear energy, accounts for a large amount of Glencore's EBITDA. Nickel, which will also be a critical metal in the clean-energy revolution, accounts for a smaller share of Glencore's revenues.
Vale SA (VALE)
Vale is a Brazil-based mining business that is one of the globe's top iron and nickel miners. The price of nickel recently soared due to an unprecedented short squeeze, leading the exchange to halt trade temporarily.
Needless to say, the things Vale sells are in high demand. It's making mind-blowing profits, with a price-to-earnings ratio of less than four. Analysts estimate that it will trade at seven times earnings in the future, which is still a bargain. At the present, the corporation is also paying a large dividend. Profits are bound to fall at some point in the future, but for now, this is a stock worth watching.
Diamondback Energy (FANG)
Many ESG investors avoid oil, but following years of sluggish investment by oil firms, we are finally seeing rising oil prices, despite EV penetration still being in the single digits.
However, the United States' shale region, where Diamondback Energy is a major player, produces some of the world's lowest-polluting, lowest-cost oil. Diamondback is extremely inexpensive in the unlikely event that oil prices remain unchanged. However, if there is an upward price shock due to a shortage of supply investment or a conflict between Russia and Ukraine, the stock will only appear cheaper.
Steel Dynamics (STLD)
Created in 1993, Steel Dynamics is committed to modern electric arc furnaces that use recovered scrap metal and cutting-edge technology.
The company has generated above-average utilisation and positive free cash flow every year over the last decade, with the exception of 2020, which was undoubtedly an exceptional year, thanks to its environmentally friendly, low-cost business model. During the commodity supercycle, this might be a promising commodity stock to invest in.
Start researching and comparing the best brokerages for investing in commodities.