We tested Google Flights, Skyscanner and Expedia to discover which website offers the cheapest flights from Singapore.
Flight aggregators let travelers find the cheapest flights from Singapore across airlines, saving a lot of time and money. From there, booking a flight is simply a matter of choosing a fare that suits your budget, as well as other preferences like schedules and stopovers.
There are many flight aggregators available today, and all of them promise to give you the cheapest flight. How well do they deliver on this promise, if at all?
Google Flights vs Skyscanner vs Expedia
To find out, we conducted a test involving three popular flight aggregators - Google Flights, Skyscanner and Expedia.
We searched for prices on three different flights with short, medium and long flight times - to Bangkok, Sydney and London respectively.
To check for seasonal variations, we tested prices for peak and off-peak travel periods. We also eliminated non-competing flights by standardising the origin and destination airports for each itinerary.
As there are significant price differences between non-stop flights and those with layovers, we accepted only direct flights with no stops in-between. We accepted overnight flights in our comparison.
To ensure the prices we got were as accurate as possible, we conducted the test on a fresh browser session in incognito mode.
Here's what we found out:
Google Flights versus Skyscanner versus Expedia (S$)
Google Flights
Skyscanner
Expedia

Peak

27 Jan to 6 Feb

Bangkok (BKK)

301

310

310

Sydney (SYD)

748

694

758

Paris (CGD)

1,171

1,164

1,170

Off-Peak

21 April to 25 April

Bangkok (BKK)

137

161

151

Sydney (SYD)

428

431

438

Paris (CDG)

1,545

1,517

1,544

Skyscanner Offers the Lowest Flight Prices
Being one of the most well-known flight aggregators, it is hardly surprising that Skyscanner performed the best in our price test.
Skyscanner found the lowest prices for three of our six flights. The price differences are quite noteworthy too, ranging up to S$54 at its highest.
This could be because of Skyscanner's wide network of partner merchants, who might have managed to negotiate for lower fares with operators. Therefore, Skyscanner's advantage lies in its ability to find reduced prices not available anywhere else.
Skyscanner also has a Cheapest Month feature, which shows you when fares are lowest for your chosen destination. This is ideal for budget travellers with a flexible vacation schedule.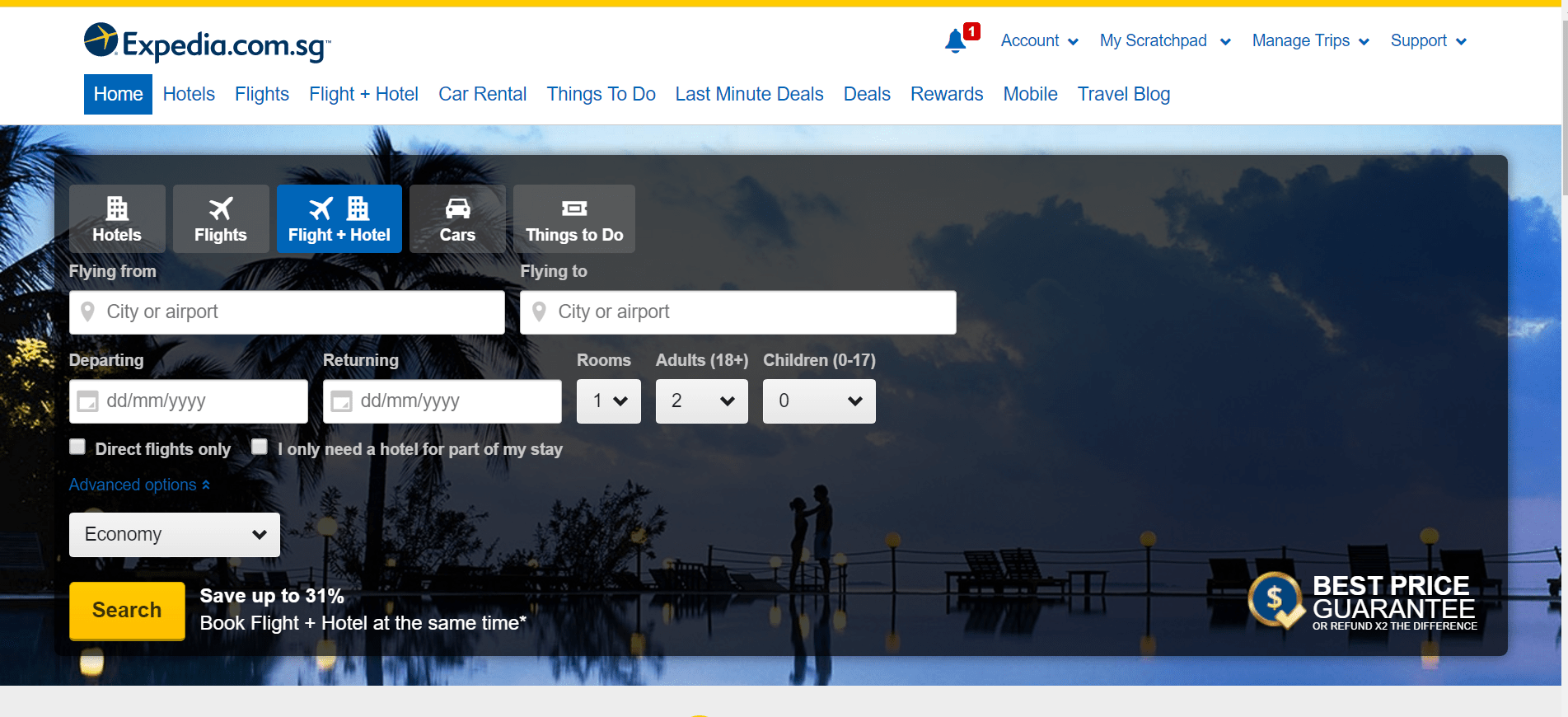 Expedia Prices are Highest, But Come With Membership Rewards
Expedia is a travel portal that offers bookings on flights, hotels, or a combination of the two.
At first glance, Expedia's flight prices seem to be oddly high. But if you compare against the results given by Google Flights, you'll see that the difference is just a few dollars.
No doubt, the higher prices are a result of Expedia's service fees, which range from S$10 to S$12 per booking in our price test.
However, don't write off Expedia just yet. Any bookings made earn you membership points that you can redeem for discounts on future bookings.
Expedia also gives you the option to bundle your flight with a hotel booking, with selected hotels offering free nights, or even full redemption on your airfare. You may not find the cheapest flights on Expedia, but its reward scheme, hotel packages, and Expedia credit card promotions can save you a pretty penny.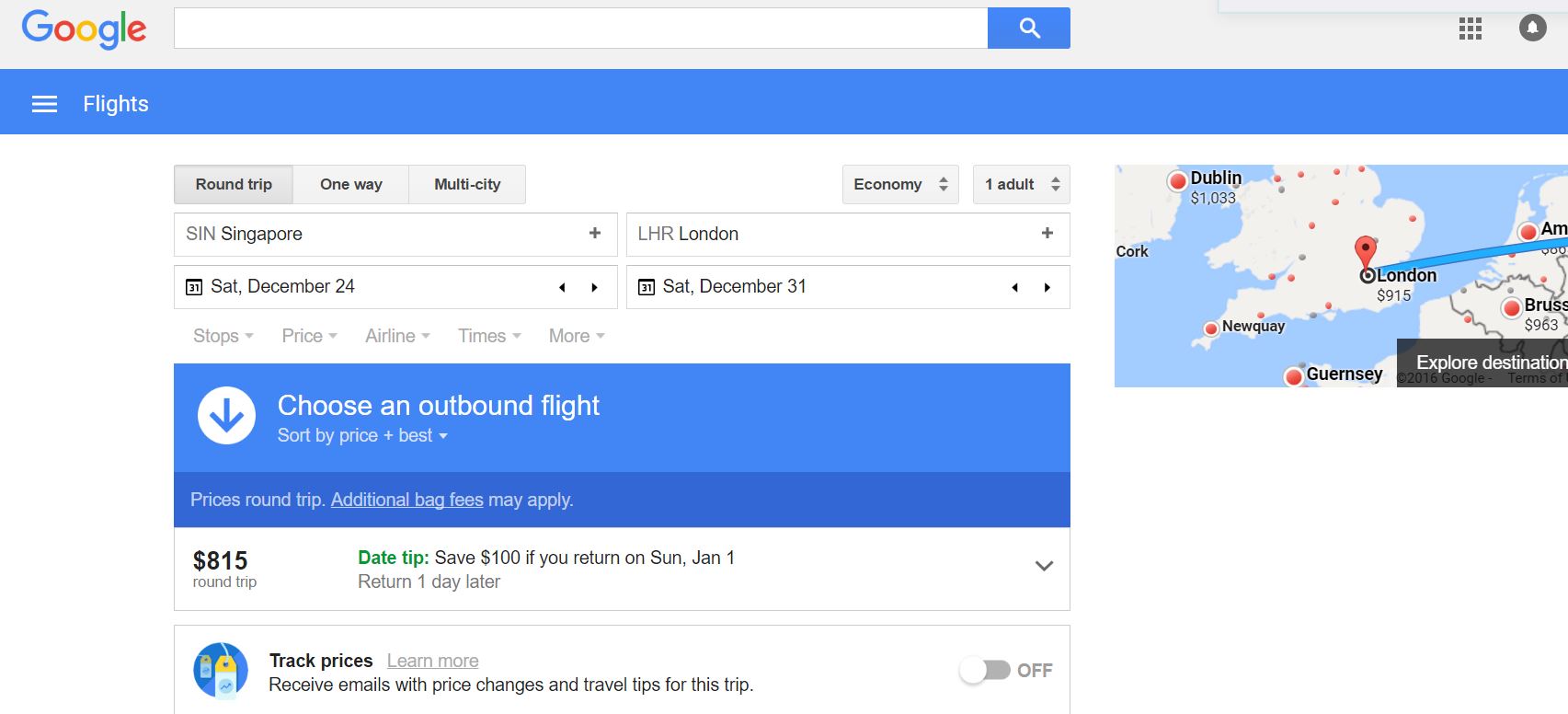 Google Flights Can Predict Cheap Flights
Google's flight aggregator performed as we thought it would - managing to find some cheap flights, but not beating every price search.
Google Flights did not manage to pick up the lowest prices available, such as those offered by Skyscanner, likely due to a lack of exclusive partnerships. On the other hand, for the prices it did manage to beat, it did so by a modest margin of between S$3 to S$14.
The small price differences are curious; they showed up even when the flights found are the same. This could be because Google calculates foreign exchange rates in a different way.
What sets Google Flights apart is the ability to predict fluctuations in flight prices. You can create an alert for a particular itinerary, and Google will notify you when the price is about to rise or drop.
This is a powerful feature that can help travellers save money by avoiding seasonal surges. It can also aid you in staying abreast of fare sales. Another way Google Flights can reduce your travel expenses is by automatically suggesting alternative travel dates if these give you significant savings.
How to Find the Cheapest Fares
Skyscanner, Expedia and Google Flights all offer their own advantages, so we'd recommend using all three to get the best prices.
Check Skyscanner often to see if you can get an exclusive deal, which will give you significant savings, especially if you need to book multiple seats. If you're flexible towards where you will be staying while overseas, try choosing a flight-plus-hotel package on Expedia that will reduce your overall travel expenses.
Lastly, set up Google Flight alerts to help you avoid price surges, catch price drops and determine the best time to buy.
Don't Forget Your Credit Card for Further Savings
Another good source of savings are air miles credit cards - the right one can give you rewards, discounts or cash rebates, so you can spend less.
Consider using the American Express Singapore Airlines KrisFlyer Credit Card which lets you earn 2 miles for every S$1 spent overseas in June and December, as well as for tickets and other eligible purchases from Singapore Airlines and Silkair. You'll also earn 1.1 miles per dollar spent locally.
This card comes with a generous welcome offer: Earn 5,000 miles on the first transaction you make within 6 months of receiving your card. You'll also receive an additional 3,000 miles if you spend more than S$700 within this period.
Read This Next:
Agoda vs Expedia vs Hotels.com: Which is the Cheapest?
Are Cheap Air Tickets from Singapore Really Worth It?
---

By Alevin Chan
A Certified Financial Planner with a curiosity about what makes people tick, Alevin's mission is to help readers understand the psychology of money. He's also on an ongoing quest to optimize happiness and enjoyment in his life.
---