With ABSD rising to new highs, property investors will find it harder to turn a profit from residential real estate. Is now the right time to switch to commercial properties instead, and what should you consider before doing so?
Recently, the authorities announced a further round of property cooling measures to tighten controls on the residential real estate market.
This takes the form of increased Additional Buyer's Stamp Duty (ABSD), with Singaporeans now having to pay ABSD of 20%, up from 17% previously, and for their third and subsequent properties, 30%, up from 25%.
Foreigners were the hardest hit, with a spike in ABSD to an eye-watering 60% – double that of the previous rate of 30%.
These changes make turning a profit from property investing even harder, leaving real estate investors wondering if they should switch to commercial properties instead.
Looking for a sustainable way to grow and protect your wealth for the long-term? Citigold members can now earn up to 7.51% through the Citi Wealth First account.
---
Commercial property investing in Singapore
Compared to residential properties, investing in commercial property is a much more relaxed affair. There are less taxes and restrictions involved, while a steady pipeline of new developments and projects, coupled with Singapore's attractiveness as a business hub economy, keep the market relatively buzzy.
Commercial properties in Singapore are organised into three categories:
Retail – shops, shophouses and malls
Industrial – offices and warehouses (B1), factories (B2)
Hotel – Hostels, hotels
Just like with residential properties, investors can purchase commercial real estate and lease them out to generate rental income.
---
Who can purchase commercial property in Singapore?
Anyone can purchase commercial property in Singapore, whether you are a citizen, a Permanent Resident, or a foreigner.
Companies – whether registered locally or overseas – are also allowed to purchase commercial real estate in Singapore.
Has commercial real estate risen in popularity?
To answer this question, let's take a look at some high-level findings. We'll base our take upon some figures from the Urban Redevelopment Authority (URA); specifically, the median price and rental index for retail and office property in the Central Region.
Here's the property price index from Q2/2020 to Q1/2023.

As you can see, prices of office and retail properties in the Central Region have been on a downward trend since 2020. This means that commercial property in the area is – on average – cheaper now than two years ago.
While office properties have seen a bit of a bounce back in the last two quarters of 2022, the rally tapered off in Q1 this year.
Meanwhile, there was no rally seen in retail property. In fact, the category saw a steady decline in price throughout 2022 and the first three months of the year.
Ok, so prices are dropping, how about rents? Have a look: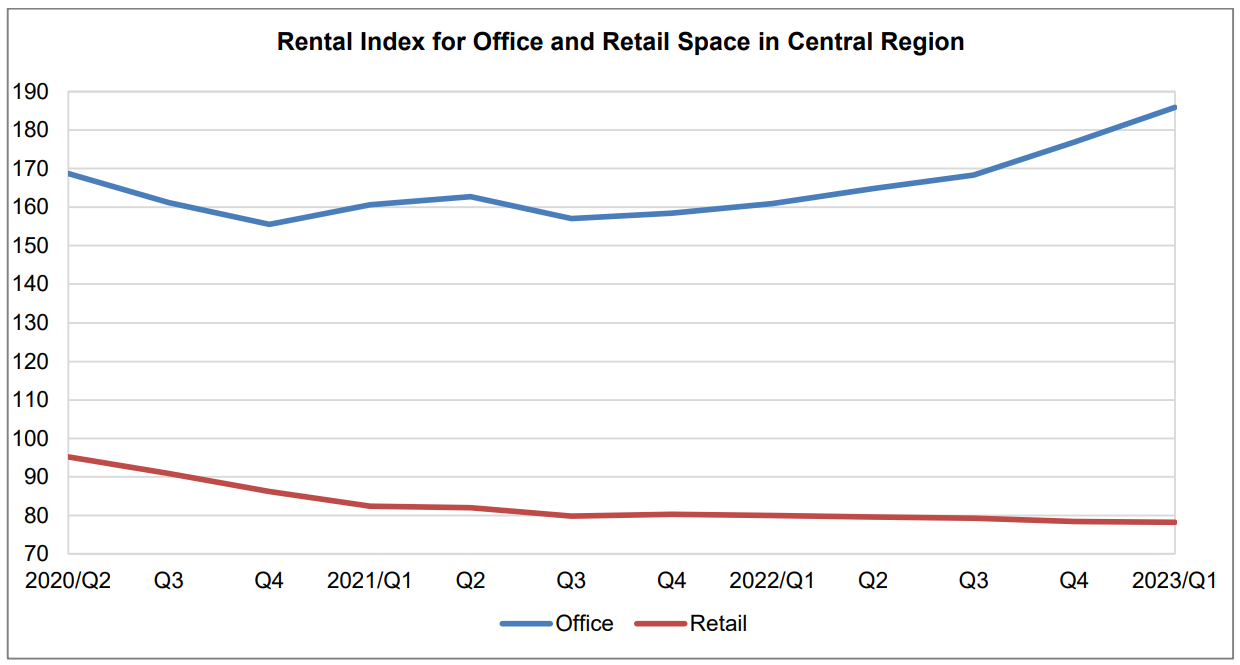 In the graph above, we see that rents for retail properties have mirrored selling prices, charting a downward trend. This could indicate that such properties in the Central Region are currently facing flagging interest.
It's a different story for office space. Starting from Q3 2021, rental rates have climbed upwards, with the rate of increase accelerating in the latest nine months. This indicates that interest in office space in the central region is still going strong, despite the already sky-high rents of today.
Does this mean it's a good time to invest in commercial property?
To recap, commercial property prices in the central region are going down, while rentals (at least for office space) are going up. These are favourable factors any investors would be happy to see, indicating the opportunity to enter the market at low prices and ability to benefit from inflated rents.
But of course, this is a highly simplistic way of looking at things. Furthermore, the data presented used median prices for the whole CBD, which – while good for delineating trends – can't really be relied upon when deciding on a particular property or two.
At most, you may look at these pairs of charts as starting points to relook your real estate investment trust (REITs) portfolio, especially those that deal with commercial properties in the central business core.
---
What to consider before investing in commercial property
REITs certainly offer a convenient way for retail investors to invest in commercial property. But assuming you want to invest in commercial property in the traditional sense – i.e., buying commercial property and using it to generate rental income – here's what you need to consider.


Capital outlay will likely be higher
Generally speaking, commercial property is more expensive than residential property. Depending on the type of property, the difference can be daunting. This means you'll need a higher capital outlay to start investing.
Given that mortgage rates for commercial properties tend to be higher than those for residential properties (especially in the current high rate environment) the monthly mortgage payments you face may be difficult to manage.
Thus, it is even more important to put down a larger downpayment in order to lower your mortgage payments, which further raises the barrier to entry.


ABSD does not apply, but TDSR does
As mentioned earlier, one of the biggest advantages of investing in commercial property instead of residential real estate is that you do not need to pay ABSD. Well, that makes sense, considering that ABSD was introduced in a bid to discourage speculation in the residential property market.
However, there's another four-letter acronym that you'll need to mind: TDSR, or your Total Debt Servicing Ratio, which was most recently adjusted down to 55%. In case you're unfamiliar, this means that the total debt repayment you make each month cannot exceed 55% of your monthly income.
This effectively caps the size of the mortgage you can access, which effectively limits the range of commercial properties you can purchase.


Commercial property face greater wear and tear
As the landlord, you are responsible for the upkeep of your commercial unit. Coupled with the fact that commercial property tends to face greater wear and tear, you may have to spend a fair bit on repairs and maintenance work, eating into your profit margin.
If you are facing a razor-thin rental yield on account of high mortgage payments, any extra expense could tip you over into the red and cause cashflow problems. In fact, underestimating costs is one of the main reasons why budding commercial real estate investors fail.
You may think you can cut down on potential problems by keeping a firm hand on what your tenants can and cannot do in your unit. The reality is, if you're seen as too restrictive and picky, your tenants are unlikely to renew their lease, or may even terminate the lease early in favour of a more relaxed environment.

Location has a larger sway on your returns
In comparison to residential property, location is more important to a commercial property, due to two reasons: tenant's needs, and zoning regulations.
When looking for, say, a shopfront, tenants would prefer somewhere with good foot traffic, and close proximity to an MRT station. Hence, you may have trouble attracting tenants if your commercial unit does not satisfy location-related needs. .
Zoning regulations also play a huge part in what type of tenants you can rent your unit to. This is because commercial units are designated for certain uses only, according to zoning regulations, which could interfere with the viability of your commercial unit, stopping you from securing a tenant.
Here's a real life example I happen to know of. A shophouse unit situated along Katong Road was rented out to a pastry chef for the production and sale of cookies and cakes. While the unit had quite a large shopfront, the tenants were disallowed from putting out tables and chairs for their customers in the shop, forcing them to serve walk-in customers only.
It wasn't the landlord who stopped them; rather it was the URA. The reason given was that due to a lack of parking spaces in the area, if shops there were allowed to offer dine-in service, it would encourage customers to park their cars outside, contributing to traffic congestion in the area.
This came as a surprise to both the landlord and the tenants. The latter gave up their lease eventually, but who's to say being disallowed to offer dine-in service didn't play a part?
Read these next:
Inheriting A Property In Singapore: Do You Need To Pay Inheritance Tax And Stamp Duties?
Pros And Cons Of Buying An Auction Property In Singapore
Lower LTV Limit And Tighter HDB Loans: How The 2022 Property Cooling Measures Will Affect You
The Pros And Cons Of Purchasing Landed Property And Condo For Investment