In Singapore, you can hardly have a discussion about investments without a mention of REITs — an asset class known for their high yields and ability to generate a passive income stream.
A REIT is a company that owns, operates and invests in an income generating real estate asset by pooling together investors' capital. The REIT leases out spaces within the property, collecting rent in return. This rental income collected by REIT will form the yield that is distributed back to shareholders as dividends.
REITs are required to distribute at least 90% of their taxable income each year in order to qualify for tax transparency — the reason behind their high yields. With a REIT, you can earn passive income from your investments in real estate, without having to actually buy, own or manage the property yourself.
In Singapore, REITs are traded on the Singapore Exchange (SGX) and much like how you purchase a stock, investors can purchase REITs using their brokerage accounts. While these REITs are listed on the SGX, some of them own properties in overseas markets, giving you exposure to global properties.
There are currently 42 REITs listed on the SGX. Here's what you need to know when it comes to investing in REITs in Singapore:
Reasons why people invest in a REIT
Generate income with its high dividend yield: With their high yields that typically range from 4% to 8%, REITs are an appealing buy for investors looking for passive income. REITs have such high yields because they distribute at least 90% of their taxable income each year.
Other stocks that offer high dividend yield include the bank stocks and other blue chip stocks.
Diversify investment portfolio: Diversification is important in any portfolio. Rather than keeping your eggs in one basket, diversification helps to reduce the risk you take on when you spread your investments across asset classes, industries and geographies. REITs can form a section of your investments, providing you with exposure to real estate while generating passive income.
Affordability: We won't have the millions of dollars required to purchase a large commercial building. However, with REITs, everyday investors have the opportunity to invest in these mega properties which we can see and touch, at an affordable price traded on the SGX.
Liquidity: A physical property takes time and money (in terms of commissions, fees and taxes) to sell. A REIT, on the other hand, offers high liquidity. You can buy and sell REITs on the SGX anytime you want.
Risks of investing in REITs
All investments come with risks and COVID-19 has been nothing but a stark reminder. Here are some of the risks involved.
Market volatility: REITs are traded openly on the stock market and are thus subject to price volatility. During the market sell down in March 2020, REITs were amongst the hardest hit, with prices dropping nearly 30%.
For example, Frasers Logistics & Commercial Trust nosedived close to 50% from S$1.27 on 2 March 2020 to S$0.665 on 23 March 2020. However, the positive news is that REITs have since bounced back, with Frasers Logistics & Commercial Trust closing at S$1.40 on 24 June 2021.
Distributions are not guaranteed: While REITs are required to distribute 90% of their income, the distribution can fluctuate depending on the REITs' rental income. For example, with companies folding due to the implications of COVID-19, empty shops translate to no rental income and hence lower distribution yields.
Economic uncertainty: There is much uncertainty surrounding not just the REIT market, but the overall economy due to COVID-19. Travel, tourism and aviation are sectors that have yet to recover a year on, and this will have repercussions on the economic outlook of REITs. Remember, REITs are dependent on the rental income earned for their distribution yields.
However, the low interest rate environment could also prove to be positive for REITs as there is an opportunity for REITs to refinance loans at lower interest rates, allowing them to borrow at lower cost.
SingSaver Exclusive Promotion: Score $50 cash reward when you open a Webull account and fund a minimum of $100 within the campaign period. Valid till 2 July 2023. T&Cs apply.

Also, receive up to 40 free shares, a chance to win a Tesla Model 3 and 0-commission trading for US Stocks and ETFs when you fund and maintain S$100 in your Webull account for 30 days. T&Cs apply.
What are the types of REITs you can invest in?
Commercial/Office REITs
Commercial REITs own office buildings such as the likes of Marina Bay Financial Centre, One Raffles Place, Asia Square and more. With work-from-home becoming the new norm, the need for physical office space could be reevaluated. However, offices and office buildings might not be disappearing anytime soon as there are still many job functions that require work to be done on-site.
Name of REIT
Geographical exposure
Portfolio includes:
CapitaLand Integrated Commercial Trust (formerly CapitaLand Commercial Trust, now merged with CapitaLand Mall Trust)
Singapore, Germany
- Asia Square Tower 2
- CapitaGreen
-Capital Tower
- Six Battery Road
Elite Commercial REIT
United Kingdom (UK)
Approximately 40.0% of the Portfolio by Gross Rental Income situated in London, as well as the South, and the Midlands of the UK
IREIT Global
Germany
Five freehold office properties in Germany and four freehold office properties in Spain
Keppel Oak Pacific US REIT
USA
13 office properties across 8 markets in the USA
Keppel REIT
Singapore, Australia, South Korea
- Marina Bay Financial Centre
- Ocean Financial Centre
- One Raffles Quay
Lendlease Global Commercial REIT
Singapore, Italy
Diversified portfolio that comprises of both a retail (313@Somerset) and commercial property
Manulife US REIT
USA
Nine prime, freehold and Trophy or Class A quality office properties located in California, Atlanta, New Jersey and Washington, D.C. and Virginia.
Mapletree Commercial Trust
Singapore
- Mapletree Business City
- Mapletree Anson
- PSA Building
Also owns VivoCity
Mapletree North Asia Commercial Trust
China, Hong Kong, Japan
Comprises best-in-class commercial properties situated in prime locations in Hong Kong SAR, China and Japan
OUE Commercial REIT
Singapore, Shanghai
- One Raffles Place
- OUE Downtown Office
Also owns two hotels, Mandarin Orchard Singapore and Crowne Plaza Changi Airport.
Prime US REIT
USA
12 office properties diversified across 10 key US office markets
Suntec REIT
Singapore, Australia
- Suntec City
- One Raffles Quay
- MBFC properties
Industrial REITs
Industrial REITs manage and own industrial buildings such as your warehouses, logistics facilities and distribution centres. In Singapore, you might find these buildings away from the central business district — think Jurong, Tuas, Woodlands, Ubi and Changi.
Name of REIT
Geographical exposure
Portfolio includes:
AIMS APAC REIT
Singapore, Australia
25 properties in Singapore and 2 properties in Australia
Ascendas REIT
Singapore, Australia, United Kingdom, USA
- Changi Business Park
- One-North
- Singapore Science Park 1 & 2
ARA Logos Logistics Trust
Singapore, Australia
27 logistics warehouse properties, including the DHL Supply Chain Advanced Regional Centre in Singapore
EC World REIT
China
Eight properties located predominantly in large e-commerce clusters in the Yangtze River Delta, Hangzhou and Wuhan, China
ESR-REIT
Singapore
57 properties located across Singapore including Viva Business Park
Frasers Logistics & Commercial Trust
Singapore, Germany, Australia, The Netherlands, United Kingdom
99 logistics and commercial properties diversified across five major developed markets. In Singapore, properties include Alexandra TechnoPark
Mapletree Industrial Trust
Singapore, USA
87 properties in Singapore and 27 properties in North America
Mapletree Logistics Trust
Singapore, Australia, China, Hong Kong, Japan, South Korea, Vietnam, Malaysia
Industrial properties strategically located near to major expressways and established logistics clusters in eight geographic markets across Asia Pacific
Sabana REIT
Singapore
18 industrial buildings located entirely in Singapore
Healthcare REITs
With Singapore's growing ageing population and the current COVID-19 pandemic, the importance of healthcare facilities and healthcare workers cannot be undermined. Healthcare REITs own and manage healthcare-related real estate such as hospitals and senior living facilities. There are currently two healthcare REITs listed on the SGX.
| | | |
| --- | --- | --- |
| Name of REIT | Geographical exposure | Portfolio includes: |
| First REIT | Singapore, Indonesia, South Korea | Pacific Healthcare Nursing Home at Bukit Merah Pacific Healthcare Nursing Home at Bukit Panjang |
| ParkwayLife REIT | Singapore, Japan, Malaysia | Mount Elizabeth Hospital Gleneagles HospitalParkway East Hospital |
Hospitality REITs
Hospitality REITs own properties such as hotels (both budget and upscale), as well as serviced apartments. While the hospitality sector has taken a real beating thanks to COVID-19, it's not all doom and gloom as the Singapore Tourism Board has been approving hotels in Singapore for locals to have staycations. With governments loosening travel restrictions, hospitality S-REITs are starting to see revenue picking up in 2022.
Name of REIT
Geographical exposure
Portfolio includes:
ARA US Hospitality Trust
USA
41 upscale select-service hotels across 22 states in the USA
Ascott Residence Trust
Singapore, Australia, Belgium, China, France, Germany, Indonesia, Malaysia, Japan, Philippines, South Korea, Spain, USA, United Kingdom, Vietnam
- Ascott Orchard Singapore
- Citadines Mount Sophia Property Singapore
- Park Hotel Clarke Quay Singapore
CDL Hospitality Trusts
Australia, Singapore, United Kingdom, Japan, Germany, New Zealand, The Maldives, Italy
- Orchard Hotel
- Grand Copthorne Waterfront Hotel
- M Hotel
Far East Hospitality Trust
Singapore
Far East has 3 in-house brands, namely, the Village, Oasia and Quincy brands.
- Oasis Hotel Downtown
- Rendezvous Hotel Singapore
- The Quincy Hotel
- Village Hotel Bugis
Frasers Hospitality Trust
Australia, Singapore, United Kingdom, Japan, Malaysia, Germany
- InterContinental Singapore
- FraserSuites Singapore
Retail REITs
Retail REITs own the shopping malls that many of us visit frequently, whether it's in the heartlands or in town. For example, for those that visit shopping malls such as Raffles City, Bugis Junction, Plaza Singapura and Funan mall, you might be able to identify them as a CapitaLand mall where you can use CapitaLand vouchers and earn STAR$® on your spending. CapitaLand Mall Trust, a retail REIT, owns these malls.
Here are the retail REITs you can find on the SGX.
Name of REIT
Geographical exposure
Portfolio includes:
BHG Retail REIT
China
Consists of six retail properties strategically located in major cities in China, including Beijing, Chengdu, Hefei, Xining and Dalian
CapitaLand Integrated Commercial Trust(formerly CapitaLand Mall Trust, now merged with CapitaLand Commercial Trust)
Singapore
- Bugis Junction
- Funan Mall
- Plaza Singapura
- Raffles City
- Westgate
CapitaLand Retail China Trust
China
Singapore's first and largest China shopping mall REIT with a portfolio of 13 shopping malls
Dasin Retail Trust
China
China retail property trust providing direct exposure to the Guangdong-HongKong-Macau Greater Bay Area
Frasers Centrepoint Trust
Singapore
- Waterway Point
- Causeway Point
- Changi City Point
- Bedok Point
Lippo Malls Indonesia Retail Trust
Indonesia
The only Indonesian retail REIT listed on the SGX that owns 30 properties across Java, Sumatra, Bali and Sulawesi
Sasseur REIT
China
Outlet mall REIT with properties in Chongqing, Hefei, Bishan and Kunming
SPH REIT
Singapore, Australia
- Paragon
- The Clementi Mall
- The Rail Mall
Starhill Global REIT
Singapore, Australia, Malaysia, China, Japan
- Wisma Atria
- Ngee Ann City
United Hampshire US REIT
USA
22 high-quality properties located along the east coast of the USA
Others
There are also other types of REITs that do not necessarily fall under the categories above. These include:
| | | |
| --- | --- | --- |
| Name of REIT | Geographical exposure | About the company |
| Accordia Golf Trust | Japan | Comprises of golf course assets in Japan, such as Tokyo, Osaka and Nagoya |
| Hutchinson Port Holdings Trust | Hong Kong, China | World's first publicly tarded container port business trust |
| Cromwell European REIT | Europe | A geographically diversified portfolio of 94 quality properties across seven European countries (Denmark, Finland, France, Germany, Italy, the Netherlands and Poland) |
| Keppel DC REIT | Asia Pacific, Europe | The first pure-play data centre REIT listed in Asia on the SGX, with 18 high-quality data centres strategically located in key data centre hubs |
| Soilbuild Business Space REIT | Singapore, Australia | Portfolio consists of business parks and industrial properties, including 11 properties (2 business parks and 9 industrial properties) in Singapore and 3 properties in Australia |
How do you choose a REIT?
Just to reiterate, you'll have to first open a brokerage account as well as a CDP account to start picking a REIT to invest in. You can choose a REIT based on factors such as:
Distribution yield: How much dividends does the REIT give out? What is this dividend yield as a percentage of the price of the REIT? You can calculate the yield based on the dividend per unit paid to investors divided by its current share price.
Type of REIT: Which type of REIT are you looking to invest in? For example, some investors would prefer to invest in a retail REIT that owns popular malls in Singapore that the investor visits themselves. This way, the investor can gauge for themselves how the REIT is faring in terms of foot traffic and also the quality of the tenants in the mall.
Quality of the properties: Look at the properties the REIT owns. Are they located in the central business district, are they situated at dense heartlands with lots of foot traffic?
Occupancy rate: Is the REIT running near full capacity or is the occupancy rate low? Tenancy equates to rental income and the higher the occupancy rate, the more rental income the REIT is earning.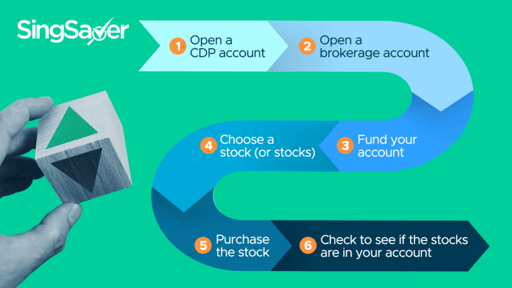 Other ways to invest in REITS
Purchasing a REIT on the SGX is not the only way to get into the REITs game. There are a couple of other ways you can get REITs exposure.
#1: Purchase a REIT ETF
If you aren't confident in choosing the REITs yourself, you can consider investing in a REIT Exchange Traded Fund (ETF). REIT ETFs provide you with exposure to the REIT market and allow you to invest in REITs that are diversified across industries and geographies.
REIT Exchange Traded Funds (ETFs) were first introduced in 2016 and there are three REIT ETFs available on the SGX today:
NikkoAM-Straits Trading Asia Ex-Japan REIT ETF: Tracks the performance of the FTSE EPRA/NAREIT Asia ex-Japan Net Total Return REIT Index
Phillip SGX APAC Dividend Leaders REIT ETF: Comprises of the 30 highest total dividend paying REITs in the Asia Pacific ex-Japan region
Lion-Phillip S-REIT ETF: Singapore REITs (S-REIT) focused ETF that comprises of 28 S-REITs
You can purchase these REIT ETFs directly from the SGX with your brokerage account.
#2: Invest in a REIT portfolio
Rather than having to cherry-pick REITs to add to portfolio, you can invest in a REITS portfolio through robo-advisors such as Syfe. Syfe's REIT+ Portfolio closely replicates the performance of the SGX iEdge S-REIT Leaders Index, which includes 20 of the largest REITs in Singapore. This portfolio comes with fees that range from 0.4% to 0.65% p.a.
Read more about REIT+, Equity100, Syfe Core and Syfe Global ARI, the three portfolios offered by Syfe and who they're good for.
Read these next:
How To Build The Best Passive Income Portfolio For Your Future Self
What Are Fixed Income Investments, And How They Fit Into Your Portfolio
Guide To Property Investment In Singapore
Uniquely Singaporean Things We Do To Accumulate Wealth
DBS, SIA & Sheng Siong: Beginner's Guide To Blue Chip Stocks In Singapore