Online shopping is huge in Singapore, with locals spending an average of S$51 to S$150 each time they shop from an overseas shopping site.
When it comes to online shopping, do you shop from overseas e-commerce retailers on the regular or do you predominantly support local retailers? According to YouTrip, Singapore's leading multi-currency wallet, Singaporean users registered a whopping 84% year-on year increase in online overseas purchases between July 2020 and June 2021.
That's not the only fun fact released by YouTrip: A separate survey found that three in five local consumers shopped from overseas shopping sites at least once a month, and half spent an average of S$51 - S$150 in each transaction!
Singapore's e-commerce market is thriving and proliferating, with cross-border spending making up a key component of the pie that's poised to reach US$8 billion in 2025.
Read on to find out why Singaporeans adore overseas retailers, the top 10 global e-commerce sites Singaporeans frequent, why savvy shoppers use YouTrip to make foreign currency purchases, as well as the best online shopping credit cards on the market for those who prefer to earn cashback and miles on your spending.
Why Singaporeans are big on online shopping
Singaporeans are flocking online to do their shopping on global e-commerce sites. For around eight in 10 YouTrip survey respondents, the lower cost of items on foreign shopping sites is the number one reason why they purchase from these overseas retailers.
The wider variety of products that overseas retailers offer as well as the lack of availability from local retailers are some other reasons why Singaporean shoppers are taking the online route.
This behaviour isn't attributed to border closures and the lack of leisure travel, though. The survey found that nine in 10 YouTrip users will continue to shop from foreign retailers even after the borders reopen.
It is fair to say that Singaporeans' overseas spending is expected to persist even when travel resumes in the near future, particularly so since apparel and footwear emerged as the top categories for overseas shopping among Singaporeans. Locals also turned to these overseas retailers when shopping for furniture and household items.
Top 10 e-commerce sites Singaporeans frequent
| | |
| --- | --- |
| Rank | Shopping site (currency) |
| #1 | Taobao (CNY) |
| #2 | Amazon (USD) |
| #3 | Alibaba.com (USD) |
| #4 | iHerb (USD) |
| #5 | eBay (USD) |
| #6 | Weverse Shop (USD) |
| #7 | LuluLemon HK (HKD) |
| #8 | ASOS (GBP) |
| #9 | Evans Cycles (GBP) |
| #10 | Chemist Warehouse (AUD) |
Global marketplaces are highly popular among local consumers, with key players from China and the US driving most of the overseas spending from Singaporeans.
According to YouTrip, transactions rose by a whopping 131% on Taobao, 120% on Alibaba and 98% on eBay from the year before.
Why consumers use YouTrip for cross-border payment
The main reason why Singaporean shoppers favour YouTrip when making purchases in foreign currency is because it lets shoppers avoid the traditional foreign transaction fees that banks charge.
For the cost-conscious consumer, every dollar counts. Being able to skip this fee entirely — while enjoying some of the most competitive exchange rates without markups in more than 150 currencies — is a huge draw.
The convenience that YouTrip affords is hard to beat, too. All you have to do is top up your YouTrip account and charge your purchases to your YouTrip card online or in-person if you're abroad. There's no need to manually convert currencies either.
Best online shopping credit cards
Looking to rack up rewards like cashback and miles on each dollar spent on online shopping? Here are the best online shopping credit cards you can use to stretch every single dollar of yours. Take note that if you're using them to pay in foreign currency, foreign transaction fees and charges apply.
#1 Citi Rewards Card
Citi Rewards Card lets you earn 10X rewards points on each dollar you spend shopping online, equivalent to 4mpd. This counts even if you're using it to pay for online groceries, food deliveries or rides! Plus, there's no minimum spend to start racking up those rewards points. The only limiting factor is that the 10X rewards points are capped at 10,000 points per statement month.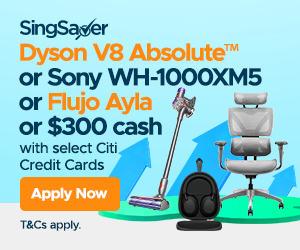 SingSaver Exclusive Offer: Receive a Dyson V8 Absolute™ (worth S$609) or Sony WH-1000XM5 (worth S$575) or Flujo Ayla Ergonomic Office Chair (worth S$1,139) or S$300 cash when you make a min. spend of S$500 within 30 days of card approval. Valid till 21 March 2023. T&Cs apply.
Plus, enjoy up to 2% cashback on all qualifying spend and up to S$646 worth of exciting gifts when you apply for the Citi Cash Back+ card and join Citi Plus. T&Cs apply.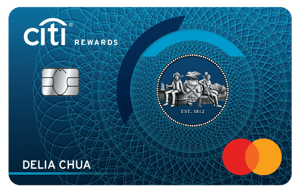 #2 HSBC Revolution Credit Card
HSBC Revolution Credit Card is another easy-to-use credit card that lets you earn 10X rewards points on every dollar spent on online and contactless spending, equivalent to 4mpd. Similar to Citi Rewards Card, there's no minimum spend you need to hit in order to start earning 10X rewards points.
While the 10X rewards points are also capped at 10,000 points per month, this credit card has no annual fee. Additionally, you get to enjoy complimentary ENTERTAINER with HSBC membership. The latter lets you say hello to over 1,000 one-for-one dining, leisure attractions, hotels and wellness offers globally.
HSBC Credit Card Welcome Gift: Receive a Samsonite Prestige 69cm Spinner Exp with built-in scale (worth S$670) or S$200 cash back when you make a min. spend of S$500 by the end of the following calendar month from the card account opening date. Valid till 30 April 2023. T&Cs apply.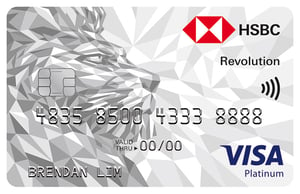 #3 OCBC Titanium Rewards Credit Card
Ears up, shopaholics who frequently shop on platforms like Taobao, Amazon, Shopee, Lazada and Qoo10. The OCBC Titanium Rewards Credit Card is another option you can consider as it lets you earn 50 OCBC$ (worth 20 miles) for every S$5 spent on eligible online and retail purchases.
While there is no minimum required to start earning rewards at the 10X OCBC$ rate, bear in mind the maximum number of bonus OCBC$ you can earn per membership year is capped at 120,000. This means you'll still be able to chalk up rewards quickly on big ticket purchases if you do your math and space out your purchases!
As a bonus perk, cardmembers who do their shopping online can enjoy complimentary e-commerce protection on all their online purchases made with this card.
#4 UOB EVOL Card
Prefer to earn cashback instead of rewards points? Zoom in on the UOB EVOL Card. Created for those who lead a cashless lifestyle as well as those who predominantly do their shopping online, this cashback credit card lets you enjoy fuss-free 8% cashback on all online purchases and mobile contactless spend made via Apple Pay, Google Pay, Samsung Pay or Fitbit Pay.
It's truly as simple as that, if you can meet the reasonable S$600 minimum spend requirement per statement month. However, take note that a S$60 cashback cap applies per statement month — S$20 on online, S$20 on mobile contactless and S$20 on other spend.
UOB Credit Card Welcome Gift: Receive up to S$450 worth of vouchers and rewards or up to 50,000 miles if you are a new UOB card member and fulfil the respective min. spend requirements. T&Cs apply
Plus, score a BRONZE ticket (1x chance) in our March Madness Grand Lucky Draw when you apply for a chance to win your share of over S$20,000 worth of prizes! Valid till 2 April 2023. T&Cs apply.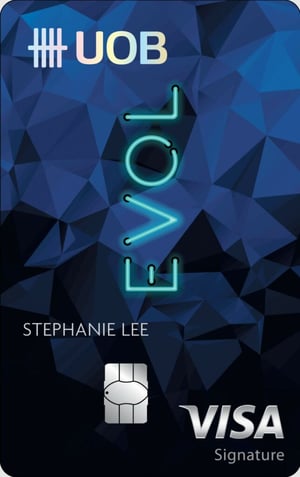 Read these next:
Best Online Shopping Credit Cards in Singapore (2021)
Credit Card Comparison: Citi Rewards vs OCBC Titanium vs HSBC Revolution
Best Dining Credit Cards in Singapore
Buy Now, Pay Later vs Credit Cards: Which One's More Dangerous?
Top Credit Card Promotions And Deals On SingSaver