From award-winning architecture to boutique concepts and even marine conservation, here are 8 of Singapore's best luxury condominiums that stand out in a crowded marketplace.
Condominiums have been getting a slew of bad press. Read about the incoherent Karen blocking hardworking deliverymen from completing an honest day's work? And who can forget last year's incident where a condo owner thought haranguing the poor security guard for free visitor parking (just because he paid $1.5 million for his condo) was well within his rights?

We're here to tell you that aside from these unfortunate incidents, condo living actually represents urban living in a cosmopolitan city like Singapore in more ways than one. From ultra-luxe fittings and finishings to boutique concepts and cutting-edge modern living, there are plenty of gorgeous choices in Singapore's vibrant condominium market.
Sit back and come gawk with us at 8 of Singapore's best condominiums.
Updated as of 2 December 2022. Prices are subject to fluctuation and changes without prior notice. Bookmark this article to be updated with the latest luxury condo prices.
---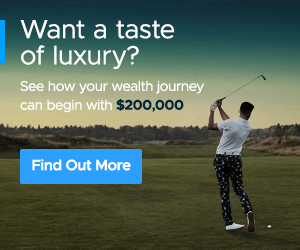 Ready to level up? Find out how you can make your money work harder and smarter for you. Enjoy your own dedicated relationship manager and privileged access to a whole suite of preferential rates with Priority Banking. Compare your options.
---
Name
District
Address
Year completed
Tenure
Price psf
Units available
The Interlace

04

180 Depot Rd, Singapore 109684

2013

99 years

$854 - $1,747

1,040 units total




2-, 3-, and 4-room, garden house, penthouse

Scotts Square

09

6 Scotts Rd, Singapore 228209

2011

Freehold

$3,123 - $4,484

338 units total




1-, 2- and 3-room

Wallich Residence

02

3 Wallich St, Singapore 078882

2016

99 years

$2,787 - $5,301

181 units total




1-, 2-, 3-, 4-room, penthouse, super penthouse

Le Nouvel Ardmore

10

1A Ardmore Park, Singapore 259945

2014

Freehold

$5,002 - $6,375

43 units in total




4-room suite, 4-room villa, penthouse

The Sail @ Marina Bay

01

2 Marina BoulevardSingapore 018987

2008

99 years

$1,653 - $3,858

1,111 units total




Studio, penthouse, 2-, 3- 4-room

Amber Skye

15

8 Amber Rd, Singapore 439853

2017

Freehold

$1,468 - $2,413

109 units total




1-, 2-, 3-, 4-room, villa, penthouse

Corals at Keppel Bay

04

1 Keppel Bay Dr, Singapore 098012

2016

99 years

$1,650.50 - $3,972

366 units total




1-, 2-, 3-, 4-room, penthouse

The Nassim

10

18 Nassim Hill, Singapore 258485

2015

Freehold

$3,398 - $6,373

55 units total




3-, 4- and 5-room houses
The Interlace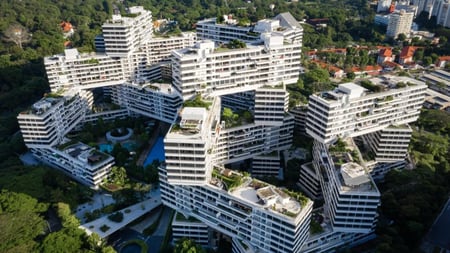 Address: 180 Depot Rd, Singapore 109684
Nearest MRT station: Labrador Park MRT station (Circle Line)
Schools: ISS International High School, National University of Singapore, Fairfield Methodist Primary and Secondary School, Tanglin Trust School
Amenities: Telok Blangah Hill Park, Hort Park, Mount Faber Park
Land tenure: 99-year leasehold
Located in District 4 is one of Singapore's most iconic condominiums. Instead of the customary lofty ivory tower design, The Interlace looks more like a pile of giant Lego bricks haphazardly strewn about by a toddler.
Besides making for an arresting sight, this unique design also serves a few clever purposes. For one, the horizontal sprawl of the compound creates a village-like setup, cradling 8 common courtyards to foster a greater degree of communal living. For another, you'd never guess just by just looking at it, but the Escher-esque design actually follows a hexagonal pattern, with the 31 blocks housing a whopping 1,040 units in total. That's huge!
But they aren't all tiny shoebox rooms either. Units here start at 800 to 1,600 sq ft for 2-rooms (for reference, a typical 5-room HDB flat is about 1,200 sq ft) going all the way up to 6,300 sq ft for penthouse units. Whether you choose a 2-, 3-, 4-room unit, a garden room or penthouse, you're sure to find plenty of room.
The spaciousness extends outside your home with ample sky gardens and open roof terraces. And further emphasising the nature theme, The Interlace sits on a planned green belt, which will stretch from Kent Ridge to Mt. Faber.
Amenities in this award-winning condo include gym, swimming pool jacuzzi, fitness corner, BBQ area, tennis court, jogging track, playground, clubhouse and function rooms. What's unusual is the inclusion of a putting green, which should appeal to golf enthusiasts.
Price: From S$1.45 million (~S$1,797 psf)
Scotts Square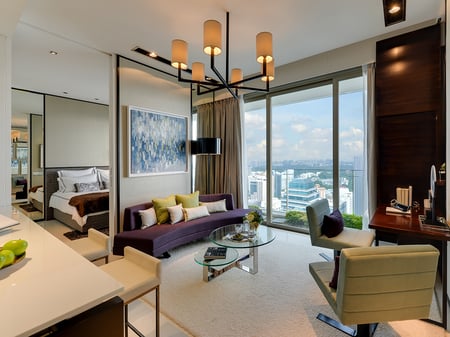 Address: 6 Scotts Rd, Singapore 228209
Nearest MRT station: Orchard MRT station (North-South Line)
Schools: Overseas Family School, ISS International Elementary School
Amenities: Mount Elizabeth Medical Centre, Goodwood Park Hotel, Grand Hyatt Hotel, Marriott Hotel, Royal Plaza on Scotts, Hilton Hotel, Four Season Hotel, Mandarin Orchard, Grand Park Orchard, The American Club, The Tanglin Club, Pacific Plaza, Shaw Centre, Scotts Shopping Mall, Tang Plaza, Ion Orchard, Wheelock Place, Wisma Atria, The Paragon, Ngee Ann City, Mandarin Gallery, Cineleisure Orchard
Sure, there is no lack of glitzy condominiums at Orchard Road, but Scotts Square stands out for several reasons. Top of the mind is its fantastic location. Scotts Square is within minutes from no less than three MRT stations (Orchard, Somerset and Newton), and the CBD is just 10 mins away via River Valley Road.
There are some great schools in the vicinity — Raffles Girls Schools and Chatsworth International School, while recreational opportunities abound with the American Club and Tanglin Club nearby.
There's no lack of shopping and dining options with some of Singapore's top shopping malls literally at your doorstep. But accessibility alone does not make a home, and Scotts Square does an admirable job of shutting out the city, making good use of greenery and amenities for this purpose.
At 43 stories up, a residents' favourite is the rooftop pool, which offers a spectacular view overlooking the city, instantly taking away any feelings of being cooped up. There's also a ground-level pool, drawing rooms for large gatherings, fitness studio and lounge, all expertly integrated into the compound's relatively small plot size.
Units at this freehold property are available in 1-, 2- and 3-bedroom configurations, ideal for smaller families and urban city dwellers alike.
Price: From S$2.15 million (~S$3,385.83 psf)
Wallich Residence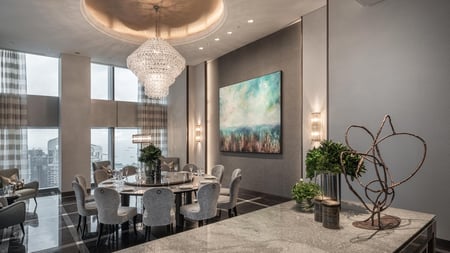 Address: 3 Wallich St, Singapore 078882
Nearest MRT station: Tanjong Pagar MRT station (East-West Line)
Schools: Cantonment Primary School, Uniapolis School of Business, London School of Business and Finance, Manchester Business School Worldwide, SDH Institute, EDHEC Business School – Asia Pacific
Amenities: Marina Bay Link, Icon Village, China Square, People's Park Complex, 100AM
Need reasons to know why Wallich Residence qualifies for this list? Here's one. Standing tall above the competition, quite literally (Wallich Residence is one of Singapore's tallest residential projects), the condo occupies floors 39 through 64 of Guoco Tower. You can expect no less than spectacular views of the island's most iconic sights.
We imagine there's nothing more satisfying than sipping a hand-mixed highball while lounging in the Sky Garden, as the CBD glitters underneath. Other than, oh, a dip in the property's infinity pool at 180 metres up in the sky. That's the elevation at which any Instagram photo automatically looks good, by the way.
Besides the super penthouse (which comes with its own private lift, of course), there are four other penthouse units, alongside a collection of apartment units ranging from 1-room to 4-room configurations.
In terms of location, you're smack in the middle of Tanjong Pagar, so you're covered every which way from dining and shopping to clubbing and culture.
And just for accolade's sake, it did win two awards in 2020 --- the Best Condo Development (Singapore) and Best Ultra Luxury Condo Development (Completed) (Singapore). So it's quite literally, the pinnacle of luxury, refinement and all things affluent.
Price: From S$2.218 million (~S$3,612.38 psf)
Le Nouvel Ardmore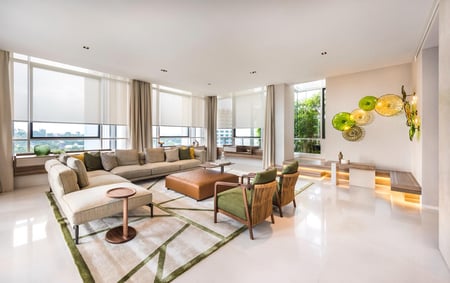 Address: 1A Ardmore Park, Singapore 259945
Nearest MRT station: Orchard (North-South Line), Orchard Boulevard MRT (upcoming Thomson-East Coast Line), Napier MRT (upcoming Thomson-East Coast Line)
Schools: Singapore Chinese Girls' Primary School, Anglo-chinese School (Primary), and Anglo-chinese School (Junior)
Amenities: Jason's, The Gourmet Grocer, Cold Storage Specialty Tanglin Shopping Centre, Tanglin Market Place, Delfi Orchard, Palais Renaissance, Tanglin Shopping Centre
Usually, when we think of living close to nature, it typically entails pitching a tent in neighbourhood parks for many of us. But when you're rich enough to live the luxe condo life, you've got options.
Options of being nestled in greenery, without having to swat at mosquitoes — thanks to the kind of expansive, floor-to-ceiling windows you can find in the 4-room apartments and penthouse units of Le Nouvel Ardmore.
This condo only has two types of residences on offer and exceedingly large ones at that. The 4-room units span an average of 4,000 sq ft each and, at around $6,000 psf, you're looking at a sale price of around $25 mil for a start.
The attraction (besides the ultra-luxurious living that's to be expected at this price point) is the low population density. There are only 43 units in total, spread over 32 floors, which means an average of two units per floor (except penthouses, which occupy an entire level).
This almost guarantees you'll never encounter large crowds in the condo, which is all the better for enjoying its many amenities such as the clubhouse, sculpture wall, swimming pools, playgrounds and tennis court.
With a location in the middle of Ardmore Park, the neighbourhood is a pleasant blanket of greenery, only occasionally punctuated by the likes of Shangri-La Hotel and high-end properties. However, if you start to tire of having all that space to yourself, the bustling Orchard Road is just a short drive away.
Price: From S$24.5 million (~S$6,375.23 psf)
The Sail @ Marina Bay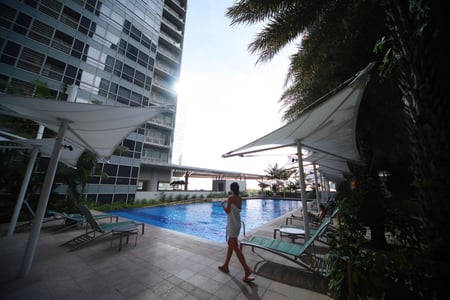 Address: 2 Marina Boulevard, Singapore 018987
Nearest MRT station: Downtown MRT station (Downtown Line) and Raffles Place MRT station (East-West Line and North-South Line)
Schools: Chatsworth International School (Orchard), Insworld Institute, Cantonment Primary School, River Valley Primary School, Stamford Primary School, Singapore Management University, Jewelry Design and Management International School
Amenities: Marina Bay Sands, Telok Ayer Market, Marina Bay Link Mall, Chevron House
How many condominiums can claim to have the honour of being part of Singapore's 'official' skyline? You know the one that turns up in every single postcard ever printed, and countless tourist photostreams?
Having had the good fortune to visit it once, a long time ago, I can attest that The Sail @ Marina Bay, with its sleek organic profile covered in navy blue glass, isn't just a gust of hot air. Everything, from the modern furnishings and fittings to the generous list of amenities to the unbeatable views of the sea and the CBD, work together to create the perfect illusion of being sequestered away in your own perfect glitzy world.
Stare at the sunset too long and you can almost hear the ethereal tones of Enya's Orinoco Flow somewhere in the background — it's that magical.
If you don't have an expat friend staying there on corporate sponsorship (that's how I got in), well, units are available starting at a balmy $1,700 psf. Have your pick of studio apartments, 2-, 3- or 4-room units, or go for the penthouse to flex on all your trust-fund-baby friends.
As a resident, you'll get to enjoy all manner of good living amenities, including a gym, tennis courts, sauna and jacuzzi, a sky deck and no less than four swimming pools.
Price: From S$1.188 million (~$1,808.22 psf)
---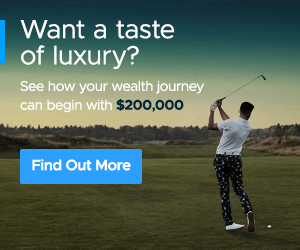 Ready to level up? Find out how you can make your money work harder and smarter for you. Enjoy your own dedicated relationship manager and privileged access to a whole suite of preferential rates with Priority Banking. Compare your options.
---
Amber Skye

Address: 8 Amber Rd, Singapore 439853
Nearest MRT station: Tanjong Katong MRT station (upcoming Thomson-East Coast Line)
Schools: Tanjong Katong Primary School, Haig Girls' School, CHIJ (Katong) Primary School, Tao Nan School, Kong Hwa School, Tanjong Katong Girls' School, Tanjong Katong Secondary School, Chung Cheng High School (main), Northlight School, Broadrick Secondary School, Dunman High School, Chatsworth International School (East Campus), Canadian International School
Amenities: Katong Shopping Centre, Paramount Shopping Centre, Katong Plaza, Roxy Square, Parkway Parade, Katong Village, I12 Katong, City Plaza
Continuing the marine theme, our next entry is all about elevated seaside living without putting a yacht-sized hole in your bank account. With units starting at around $2 million, Amber Skye is practically a steal (when compared to some of the other condos on the list).
You'll recognise the Amber Road development for its signature wavy facade and blue-tint windows, chosen no doubt to evoke the imagery of the ocean.
Beyond the gates, you'll find an almost-Olympic size lap pool complemented by wading pools, hammocks and a BBQ area, with a discount version of Gardens by the Bay's Supertree hanging over it all, creating a soothing oasis that makes you want to lounge the day away here. Other amenities include a gym, clubhouse, pavilion and a playground.
Starting at $1,520 psf, the freehold boutique condo offers a mix of unit types, ranging from 1- to 4-room units, villas and penthouses. Perhaps, one of the units' best features is a spacious open balcony — plonk down an outdoor grill to enjoy chill seaside BBQ vibes on the weekends.
The condominium has the upcoming Tanjong Katong MRT station (Thomson-East Coast Line) sitting at its doorstep. Other crucial locales such as the CBD and Changi Airport are just minutes' drive away.
But we think the best thing about Amber Skye's location is its proximity to the eclectic charms of the East Coast district.
Price: From S$1.59 million (~S$2503.94 psf)


Corals at Keppel Bay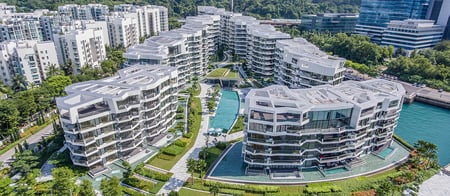 Address: 1 Keppel Bay Dr, Singapore 098012
Nearest MRT station: Harbourfront MRT station (Circle Line, North-East Line)
Schools: Alexandra Primary School, Blangah Rise Primary School, Cantonment Primary School, Crescent Girls' School, CHIJ Saint Theresa's Convent, CHIJ Kellock Primary School, Radin Mas Primary School, Gan Eng Seng Primary School, River Valley Primary School, Henderson Secondary School, Singapore Management University
Amenities: VivoCity, Harbourfront Centre, Queensway Shopping Centre
The third condo following a seaside theme (last one, promise!), the underrated Corals at Keppel Bay is perhaps the only condo in Singapore that can claim to have unfettered views of the historic King's Dock, built in 1913. To date, the property has sold over 90% of its units.
In fact, the majority of the property's blocks are situated right at the waterfront, blessing residents with serene views of an idyllic scene that harkens to Singapore's colonial days. For those who prefer views of the open sea, that too is on offer, but the best views are sadly restricted to just two blocks, due to the project's orientation.
By the way, the property isn't just named to be cute. Developer KeppelLand actually transplants living coral into King's Dock to maintain a vibrant ocean habitat just outside your unit.
Speaking of which, this District 4 development offers 366 units across a range of 1- to 4-room units and eight penthouses. Prices start from around $2,545 psf and go up to almost $4,000 psf, but hey, this here is a Daniel Libeskind-designed property, you know? Although, admittedly, Libeskind is perhaps better known for the more prominent Reflections at Keppel Bay.
Price: From S$1.449 million (~S$2,542.11 psf)


The Nassim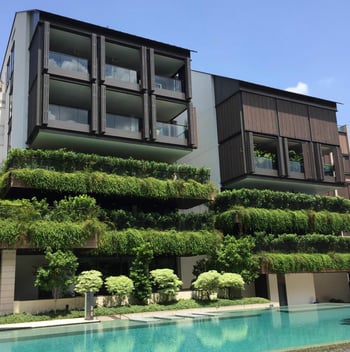 Address: 18 Nassim Hill, Singapore 258485
Nearest MRT station: Orchard MRT station (North-South Line)
Schools: Raffles Girls School, ISS International School, Tanglin Trust School, EtonHouse International School Orchard, Nanyang Primary School
Amenities: Tanglin Mall, Claymore Connect, Forum the Shopping Mall, Wheelock Place, ION Orchard, Gleneagles Hospital, Singapore Medical Centre, Mount Elizabeth Hospital, Raffles Medical Centre Orchard, Tan Tock Seng Hospital
Probably the most exclusive condo dwelling in Singapore, The Nassim is a private enclave of regent houses modelled after the iconic Black and White houses of Singapore's rich colonial history, complete with trademark louvered window shutters and expansive veranda spaces.
Comprising 55 units of 3-, 4- and 5-bedroom apartments, communal amenities on offer include gym, lap pool, children's playground, clubhouse and lounge. However, the most sought-after feature of the development has got to be the landscaping, which is designed by Shunmyo Masuno, an 18th-generation Zen priest and president of Japan Landscape Consultants.
Some of Masuno's most celebrated works include the Canadian Embassy in Tokyo, One Kowloon Building in Hong Kong, and the Japanese Garden at the Marzahn Recreational Park in Berlin. You get the drift. For The Nassim, Masuno draws on his trademark meditative process to imbue the grounds with Zen-inspired touches that embody a sense of tranquillity.
This is balanced with the refined urban sensibilities of acclaimed architect Mok Wei Wei of W Architects, for a unique blend of luxury living that stirs the senses and uplifts the spirit. And the cost for such (frankly) unimaginable splendour?
Prices start at $4,333 psf, and asking prices of $20 million and upwards are to be expected. Bonus points to its central location with two upcoming MRT stations in the vicinity (Orchard Boulevard and Napier stations). Which should make the inevitable conversation with your kids about why you had to sell the Bentley a tad easier to swallow.
Price: From S$18 million (~S$5,139.92 psf)


---
Getting a new nest? Then you'll want a home loan with a low interest rate to help you with cash flow. Apply for one using our simple-to-use comparison tool below and you could get rewarded* with cash and attractive prizes!
*Rewards may change any time. Terms and conditions apply.
Read these next:
How Much Do You Need To Buy Your First Home In Singapore?
How To Buy A House In Singapore: A Complete Guide
HDB BTO Launches In 2021
Step-By-Step Guide To Buying Your Very First HDB BTO In Singapore
How Much Should You Pay For A Home Renovation In Singapore?