In a bid to help Singaporeans cushion the economic impact of the rapidly evolving COVID-19 pandemic, our government has been rapidly introducing measures — from Unity Budget to Solidarity Budget. A series of programmes are running in parallel on top of these.
One of them is the Special Financial Relief Programme (SFRP), part of the relief package that the Monetary Authority of Singapore (MAS) has, in collaboration with the financial industry. What's the objective, you might ask? Well, it's to help individuals like you and me manage our debt at a time like this.
Now, there are 3 key components to this SFRP for individuals — personal unsecured credit, residential property loan and insurance premiums. Here's an attempt at dissecting each of these components, so you get an idea of how to tap into it to manage your debt.
Unsecured loan/credit card: Will my debt spiral out of control?
For those with an outstanding personal loan or credit card debt, a constant worry is what happens if one can't pay the monthly repayment.
With banks charging a typical interest rate of 26% on outstanding balances of personal loans/credit cards, deferring repayment can lead to debt spiralling out of control. It might also cause the kind of financial damage that takes years to recover from. Luckily, MAS acknowledges that. And, in this trying period, MAS is working with banks to help you avoid your debt to spiral out of control with the SFRP.
From revolver loan to term loan: Can this help reduce your interest rate?
If you've got outstanding balances on your credit card, it will be converted from a revolver loan into a term loan. The key difference between the two is that a term loan comes with a fixed repayment schedule unlike a revolver loan, where you can decide when and how much to pay monthly as long as you make (at least) the minimum repayment amount.
| | | |
| --- | --- | --- |
| | Credit Card (Revolver Loan) | Term Loan |
| Repayment Schedule | Flexible | Fixed |
| Loan Duration | Flexible | Up to 5 years |
| Interest Rate | 26% EIR on average | Capped at 8% EIR |
*EIR = Effective Interest Rate
Who can apply to convert your credit card debt into a fixed term loan?
MAS's deal is one to hop onto if you have a credit card debt to pay. But remember that not everyone is eligible for the conversion. You will need to fulfil the following criteria in order to be eligible:
Singapore citizen or PR
Lost 25% or more of your income after 1 February 2020 with proof of impact on income
30 to 90 days past due on your existing unsecured debt with the bank or card issuer
Not on any existing debt repayment or restructuring programmes with the bank or card issuer
Not eligible for the conversion but don't want to let your debt spiral out of control? Debt consolidation plans can be a good alternative. If you'd like to compare plans, try our easy-to-use comparison tool here.
How do I apply for the conversion?
Application for the conversion from unsecured debt into a fixed term loan can be done through the bank or card issuer. Browse information on the special financial relief programme one the bank websites.
Home Loan: Will I have to default on my loan?
A big ticket item that most Singaporeans are paying for is the housing mortgage. If you are the owner of an HDB, you could be paying as much as 30% of your monthly income to repay your mortgage loan. For private property owners, your monthly repayment amount can go up to 60% of your monthly income.
If you are being asked to take a pay cut or being 'forced' to take an unpaid leave of absence, it can put your personal finance into an imbalance. This is where the SFRP figures, as banks will allow individuals to defer on their home loan.
What can you defer in your home loan and for how long?
To help borrowers keep up their repayment of the existing home loan obligation, there are 2 ways to defer:
The principal portion of the monthly instalment: This means you continue to pay the monthly interest charged on your principal loan amount.
The full monthly instalment: This includes both the principal portion of the monthly instalment as well as the monthly interest charged on your principal loan amount.
Under this SFRP, you can defer your home loan repayment up to 6 months, i.e. till 31 December 2020.
Who can apply for a home loan deferment?
Unlike the SFRP for unsecured loans, it is easier to meet the criteria for deferment of your mortgage repayment. As long as your monthly instalments are not more than 90 days past due, as of 6 April 2020, you will be eligible.
What should I take note of if I am applying to defer my mortgage repayment?
One thing to take note if you are applying for a deferment is that the interest rate on your principal loan amount continues to be charged. In short, the longer you defer your repayment, the more you will end up paying in interest rate on your existing home loan.
What else can I do besides deferring my housing loan repayment?
While the SFRP for housing loan is a timely intervention by the MAS, it isn't the best (or only) option you have. Count this as a temporary measure to help tide you through this trying period.
An alternative could be refinancing your home loan with a cheaper home loan package. Given the current economic environment and the looser monetary policies around the world, interest rate could be lowered. So far, the 3M SIBOR rate has already dropped in the month of April from 1.63% (March) to 0.9896%. Banks could also be offering more attractive home loan packages to get customers to lock in your home loans with them.
If you're on the lookout for a cheaper home loan, let SingSaver's home loan comparison tool do the hard work for you.
Insurance: Will I have to forfeit my insurance if I cannot afford the premiums?
Insurance is the bedrock of your financial plan. During good times, insurance can be a great forced saving mechanism. However, during difficult times, it can take the much-needed cash away from your finances. More importantly, if you run out of cash to pay your insurance premium, you might be forced to forfeit them.
Can you defer your insurance premiums?
As part of SFRP, an individual with a life and/or health insurance policy can apply to defer premium payments for up to 6 months. During the period of deferment, you will continue to enjoy coverage. If your insurance policy is up for renewal or has a premium due date between 1 April 2020 and 30 September 2020, you will be an eligible party.
Besides life and/or health insurance policy, you might also have a few general insurance policies such as property or vehicle insurance. While you can't defer them, you can opt for a flexible instalment plan rather than a lump sum premium for the entire policy period at the start. That is if your general insurance is up for renewal from now till 30 September 2020.
How does one apply for deferment?
You will need to write an email to the customer servicing team of your insurer to request for a premium deferment.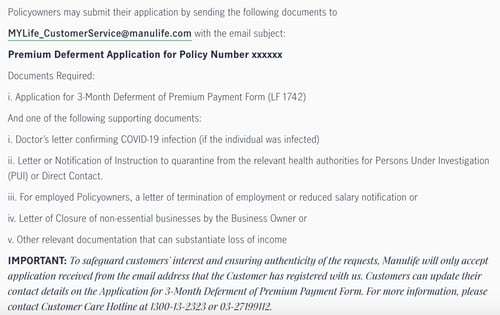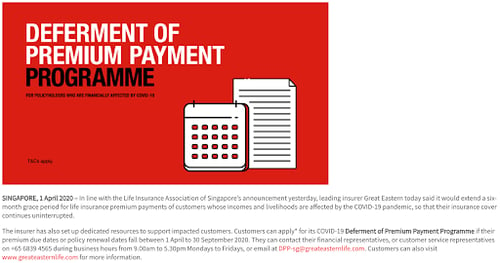 What else can I do to tide over a financially difficult period?
Apart from deferring your loans and insurance premiums, there are other things to tide over financially difficult stretches.
A good way to go about it is to find ways to cut down unnecessary expenses such as that phone upgrade that could wait. Save on your necessities by switching to more value-for-money options. For example, if you are still paying excessive telco bills, think about switching your mobile plan to a SIM-only plan or opt for a cheaper broadband plan.
Switching to a SIM-only plan is a simple 3-step process — search, compare and switch. Take that first step by searching for a value-for-money SIM-only plan with SingSaver.
Read these next:
How Insurers and Banks Are Helping You Survive COVID-19 (Whether Quarantine or Debt)
6 Crucial Things You Need to Do During Job Loss and Near-Unemployment
3 Reasons Why Cash is King in Uncertain Times Like COVID-19
5 Ways to Cope With Financial Setbacks Hitting Singaporeans Hard Amid COVID-19
Resilience & Solidarity Budget To Tide You Over COVID-19 Circuit Breaker
---
---