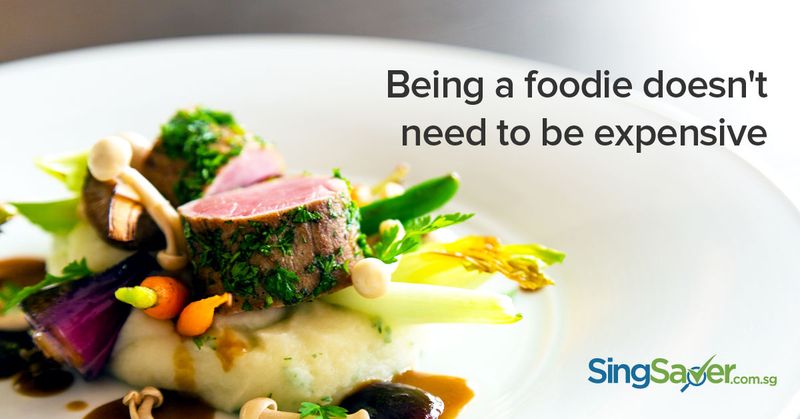 Dining at Singapore's top restaurants needn't be expensive, if you follow these tips.
Singapore is a gourmand's paradise, and with top restaurants from international chefs opening here every other month, you can easily find yourself spending too much on dining out.
You don't have to bust your budget every time you have a hankering for a good meal or two. Here are 3 ways you can eat at top restaurants without paying top dollar.
1. Book a Table During Singapore Restaurant Week
Ever wanted to sample the cookery skills of Singapore's top restaurants, but never could get over paying high prices? Then you're in for a treat come 25 Mar.
For one glorious week (25 Mar to 1 Apr), some 67 of Singapore's most noteworthy dining spots will be offering special 3 course menus from just S$28++ for lunch, and S$38++ for dinner. (Premium menus are available from S$40++ and S$58++ for lunch and dinner, respectively.)
Participating restaurants run the gamut from celebrity chef-helmed kitchens such as Adrift by David Myers, to beloved home-grown restaurants like The Disgruntled Brasserie, offering a mouthwatering range of cuisines that span the globe.
Singapore is the first city in Asia to host this foodie marathon, which reportedly seated over 45,000 diners in 2016. So don't miss this chance to eat at the restaurants you've ever only meekly peeked into in the past.
Singapore Restaurant Week
25 Mar to 1 April
Strictly by reservation only
http://singaporerestaurantweek.sg/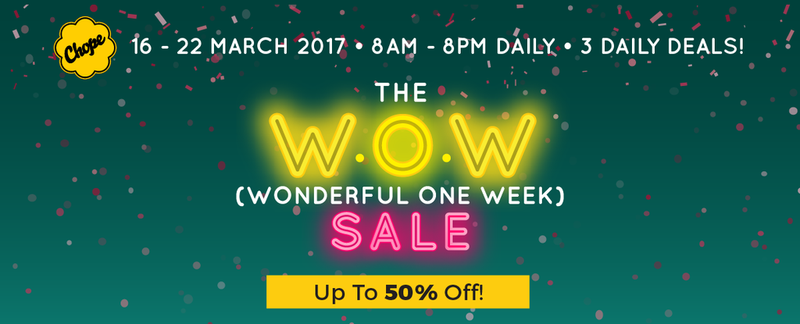 2. Buy Chope Flash Sale Vouchers
Dining reservation platform Chope is gearing up for a flash sale that promises to shave your restaurant bills by half.
From 16 to 22 Mar, trawl The Chope Shop for 3 daily special deals to get dining discounts of up to 50% at top restaurants, such as Kith Cafe, Xiao Ya Tou, Sawadee Thai and more.
But consider all that mere practice for the real deal. On 23 Mar, get ready for a 12-hour marathon flash sale that offers 6 sets of 2 hourly Star Buys – no prizes for guessing that the sale's best offers will only be revealed then.
And don't forget to claim your goodie bag containing S$10 Chope discount code for your next purchase, and other assorted goodies from Zalora, Shopee, Kkday and more, worth S$200 – yours when you spend S$50 and above on one single order on 23 Mar.
S$20 off With Visa Credit Cards on 23 Mar
Want to make your Chope flash sale even better? On 23 Mar, receive an additional S$20 off selected restaurants when you pay for them using a Visa credit or debit card!
By entering the first 6 digits of your Visa card to enter the page and pay with the card, you only need to pay S$25 for a voucher with S$50 value, and S$70 for a voucher with S$100 value! But you'll have to be fast as redemptions are limited.
We love that this promotion is offered to all Visa cards, as you can enjoy restaurant savings no matter which type of credit card you hold – dining, cashback, or air miles.
Try maximising your Chope flash sale savings with the Citi Cash Back Visa Card, which gives you 8% rebate on all dining spend, locally and overseas. (You'll need to charge at least S$888 in a month though.)
And speaking of vouchers, did you know SingSaver.com.sg is giving away a S$100 NTUC voucher for all successful applications of Citi credit cards? This promo is on till 31 Mar 217 only!
3. Use a Dining Credit Card
Outside of special promotions and events, you can continue to enjoy great savings on dining all year round with the right credit cards.
One of the best credit cards for dining available today is the American Express Platinum Credit Card, which comes bundled with the excellent Love Dining programme. You'll get discounts ranging from 15% to 50% at participating restaurants and hotels, depending on whether you're dining alone or in a party.
With tempting Love Dining partners such as TungLok, TWG, Wooloomooloo Steakhouse and Lawry's, you'll be hard pressed not to indulge. Thankfully, with the generous discounts, you need fret only over your waistline.
Read This Next:
Treat Yourself to These High Tea Promotions in Singapore
Why Food Fads in Singapore Don't Last

---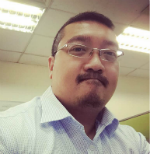 By Alevin Chan
A Certified Financial Planner with a curiosity about what makes people tick, Alevin's mission is to help readers understand the psychology of money. He's also on an ongoing quest to optimise happiness and enjoyment in his life.
---