Recent reports of travel chaos at European and Australian airports have deterred many travellers, but if you absolutely need to hit the road this summer, here's your survival guide.
After nearly two years of lockdowns and border closures, travellers are returning to the skies with a vengeance. That would explain the scenes of utter chaos we're seeing in Europe and Australia, as airlines and airports (whose ranks have been decimated by COVID-era hiring freezes and layoffs) struggle to cope.
London Heathrow has taken the unprecedented step of limiting the number of departing passengers, as has Amsterdam's Schiphol. Workers have gone on strike at Paris Charles De Gaulle, and are threatening to do so across Australia. With endless photos of frustrated passengers and baggage pile-ups, you might be forgiven for wanting to sit this one out.
But for those who are determined to travel regardless, here are a few things to do when jetting off over the next couple of months.
1. Get travel insurance
Even though many countries have dropped their mandatory travel insurance requirements, that shouldn't be an excuse to travel without coverage.
Travel insurance is more crucial than ever before, whether you're planning a weekend getaway within the region, or a three-week road trip further afield. Coverage for accidents and COVID-19 related medical expenses is a given, but make sure your policy has robust coverage for travel inconveniences such as flight delays, missed connections, and lost or damaged baggage.
Furthermore, it's not enough to merely compare coverage amounts. You'll want to examine the policy wording to understand the conditions governing payouts, such as:
How long must a flight be delayed before you're entitled to compensation?
How long must your baggage be delayed before you're entitled to compensation?
Is there any deductible you must pay for lost items before insurance kicks in?
What is the insurer's depreciation policy for lost items?
A policy with lower coverage amounts but more relaxed conditions might be better than one with higher coverage amounts but tighter conditions.
Travel insurance can also come in useful for missed connections or trip disruption, like if a delayed flight causes you to miss the departure of your cruise. If you're still on the fence about taking a trip, buying a policy with a "cancel for any reason" clause can help recover some of your otherwise non-recoverable costs like attraction tickets and hotels.
If you plan to rely on the complimentary travel insurance provided by certain credit cards, make sure you carefully examine the policy wording. Some policies may be bare-bones, covering only accidents and not medical expenses or travel inconvenience. Referring to the policy wording can help you make an informed decision on whether purchasing additional coverage is necessary.
2. Pack smart
Given the numerous reports of delayed and lost luggage, it's important that you keep all essential items like medicine and chargers in your cabin bag. Basically, anything you can't afford to lose should travel with you in the cabin.
One trick that some passengers are using is to place an Apple AirTag in their luggage, to enable faster tracking of lost bags. Other passengers also affix something unique to their bags so they can identify them among a sea of similar-looking ones.
As far as possible, keep all receipts for items you intend to pack in your bag, since they may be required as supporting documentation when making a claim. It also doesn't hurt to take a time-stamped photo of the items in your packed bag, just to provide proof of the condition (and existence!) of the items prior to travel.
If your luggage arrives damaged (or not at all), be sure to flag it to the ground staff before leaving the airport. You will need to get a Property Irregularity Report (PIR) in order to make a claim.
If your bag does not show up as expected, airlines will reimburse you for "reasonable expenses". This is a term that's kept deliberately vague, probably because if airlines stipulated a fixed amount, everyone would spend exactly that! It's not an excuse to go on a shopping spree, but one replacement set of clothes, toiletries, and a charger would probably fall within the "reasonable" ambit.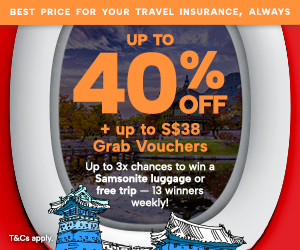 SingSaver's Exclusive MSIG TravelEasy Insurance Promotion: Enjoy 40% off when you apply for Single Trips and 20% off for Annual Plan plus get up to $38 Grab Vouchers when you purchase now! Valid till 31 Sep 2023. T&Cs apply
Enjoy up to 3x chances to enter our Weekly Lucky Draw, where 1 lucky winner will stand to have their flight ticket reimbursed and 12 lucky winners will receive a Samsonite Volant Spinner 68/25 EXP worth S$480. T&Cs apply.
MSIG TravelEasy has been enhanced to provide better travel protection with over 50 benefits and COVID-19 coverage.
3. Know your rights
Given the likelihood of running into delays and flight cancellations when travelling to or from Europe, you should know your rights under EU261.
EU261 is kind of like a passenger bill of rights, covering situations where your flight is delayed, cancelled or overbooked, or if you were downgraded to a lower cabin than ticketed. It applies in the following situations:
If your flight is within the EU and is operated either by an EU or a non-EU airline
If your flight arrives in the EU from outside the EU and is operated by an EU airline
If your flight departs from the EU to a non-EU country operated by an EU or a non-EU airline
This legislation covers all 27 EU countries including Iceland, Norway and Switzerland. While the UK is no longer part of the EU, it has similar legislation that is largely identical.
For example, EU261 states that if your flight is delayed by more than three hours, you're entitled to compensation that scales depending on the distance of your flight:
| | |
| --- | --- |
| Distance | Compensation |
| <1,500 km | €250 |
| >1,500 km within the EU, and all other flights between 1,500-3,500 km | €400 |
| More than 3,500km | €600 |
Do note that EU261 does not cover situations caused by "extraordinary circumstances", such as adverse weather conditions or security risks. However, the EU specifically states that technical issues and airline staff strikes are not considered extraordinary (in other words, any issue specific to the carrier you're flying is generally not considered extraordinary).
Given the high cost of compensation, it's not surprising that some airlines don't proactively inform passengers about EU261, or look for every reason to deny claims. Knowing your rights is therefore important, and you can read up on them here.
4. Apply for expedited immigration programmes
This won't help if you're flying in the next few weeks, but as a note for the future, it's a good idea to see if you're eligible for expedited immigration clearance in countries you travel to frequently. These programmes allow pre-screened travellers to access special queues at immigration, drastically cutting their wait times.
For example, Singapore citizens are eligible to apply for an APEC Business Travel Card (ABTC), which grants fast-track immigration privileges when visiting 19 participating economies (plus the USA and Canada), as well as exemption from visa or electronic travel authorisation requirements.
Countries participating in ABTC

Australia


Brunei


Canada*


Chile


China


Hong Kong


Indonesia


Japan


Malaysia


Mexico




New Zealand


Papua New Guinea


Peru


Philippines


Russia


Singapore


South Korea


Taiwan


Thailand


United States*


Vietnam




*Transitional members offering expedited immigration, but not visa/ETA-free entry
An ABTC costs S$100 and is valid for five years or the duration of your passport, whichever is shorter. Applications must be submitted through the ICA, and you must belong to one of the following groups:
A bona fide business person representing an economically active business entity; or
A member of a professional body (for example, a doctor, lawyer or accountant); or
A public officer representing a ministry, government department, economic agency or statutory board, travelling in official capacity.
(2) and (3) are by their nature restrictive, though (1) is open to interpretation. There is no minimum company size or frequency of travel to apply, but you will need a member of senior management or HR to sign off on a support letter stating that you travel frequently, and for what purposes.
ABTC applications typically take 3-6 months to process.
Other expedited immigration schemes that Singaporeans can apply for include:
Conclusion
While travel within the ASEAN region has remained relatively sane, the situation in Europe and Australia is likely to get worse before it gets better. Airports and airlines need to hire up, and training and security clearance take time. Anyone intending to travel to these regions this summer needs to be mentally prepared for major disruptions.
All you can do is take steps to protect yourself by buying travel insurance, packing smart and knowing your rights as a passenger. Joining an expedited immigration programme can also shave time off your journey, which will hopefully reduce stress further.