If there's one bright spark amidst the doom and gloom of COVID-19, it's that sooner or later, travel will have to resume.
We're already seeing some early signs of recovery around the world, at least for domestic flights. In the US, for example, passenger volumes have steadily increased since bottoming out in April. India has just resumed domestic travel, as have China, New Zealand, South Korea, and Vietnam.
Singapore may have no domestic market to speak of, but it did announce a lifting of its ban on transit passengers from 2 June, the first step in a long and arduous process that will hopefully culminate with the lifting of overall travel restrictions.
No one knows exactly when things will restart, but we're certain that travel in a post COVID-19 world will be like nothing you've seen before. Here are some of the things you can expect.
Travel bubbles
Before you can even plan your next trip, there's the question of which countries you'll be allowed to visit. Currently, there are so many travel restrictions in place that it's overwhelming to keep track of them all.
Enter the concept of 'travel bubbles', a reciprocal arrangement between two countries that allows for the quarantine-free flow of people.
For a travel bubble to exist, both countries must assess that the other's infection rates have come down to acceptable levels, and have confidence in the ability to keep it that way. Needless to say, these can be highly political arrangements too — who gets included and who is left out? What happens if a member of a travel bubble unilaterally decides to include another country that the rest don't feel comfortable with?
Although all the talk has been about the Australia-New Zealand travel bubble, the first bubble has already opened among the Baltic states of Estonia, Latvia and Lithuania. Anyone arriving from outside these countries must self-isolate for 14 days, but citizens can move freely within the sphere. Other potential bubbles include Greece, Cyprus and Israel.
Looking closer to home, it's highly likely that Singapore may form a travel bubble with Malaysia, given the importance of cross causeway travel. However, non-essential travel will almost certainly remain off the cards until Phase 3 of the post-Circuit Breaker period at the earliest, so don't hold your breath.
Immunity Passports
In the absence of a COVID-19 vaccine, another determinant of your eligibility to travel may be a so-called 'Immunity Passport'. These are hypothetical documents that would certify an individual has been infected and recovered from COVID-19, thereby rendering him or her immune. An immunity passport would exempt the holder from physical restrictions on daily life, even allowing for cross border travel.
Although these sound like good ideas in theory, the WHO has noted that "there is currently no evidence that people who have recovered from COVID-19 and have antibodies are protected from a second infection," and that "at this point in the pandemic, there is not enough evidence about the effectiveness of antibody-mediated immunity to guarantee the accuracy of an 'immunity passport'."
This doesn't rule out immunity passports completely, but it's clear there are still ways to go before they become viable options.
Social distancing at airports, but (probably) not on planes
Now, let's assume you make it to the airport. Just like other public places, you're likely to notice the strict enforcement of social distancing guidelines throughout check-in, security and immigration.
However, get on the plane and you may get an entirely different picture. Some airlines like Delta and Jetblue are currently blocking middle seats in Economy Class, which provides some psychological reassurance (although as the BBC notes, a blocked middle seat does not provide the adequate separation required for effective social distancing). But most airlines are making no promises about this. And, indeed, we've seen viral photos of crowded cabins popping up on the Internet.
The fact of the matter is that airlines simply can't afford to do onboard social distancing in the long, or even the medium term. Blocking the middle seat is currently possible because load factors are so low that the opportunity cost is close to zero. But that equation will change as we see air traffic recovering.
The International Air Transport Association has already come out strongly against plans for onboard social distancing, pointing out that it would make the majority of airlines financially unviable. Airfares would have to increase by up to 54% if regulation required middle seats to be blocked, as planes could only fly 67% full, well short of the 75-81% required to break even.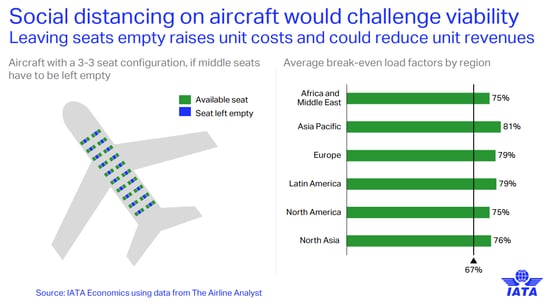 So, sorry middle seat-haters, it's unlikely the new normal for travel will feature social distancing on the plane.
Reduced inflight experience
Even if you're in the pointy-end of the plane, free from any social distancing concerns, don't expect your flight to be anything special. To minimise the risk of onboard transmission, airlines are making significant cutbacks to their service routines.
Take Emirates First Class, for example, long held up to be the pinnacle of luxury. As per revised service guidelines issued in May, the famous onboard showers and cocktail bar will be shuttered, and meal service will now be done on trays instead of their usual elaborate presentation. Interactions between the crew and passengers will be greatly reduced, and there will be no more turndown service, or even escorts to your seat.
Granted, these are the very definition of first-world problems, but when you're paying thousands of dollars for a ticket (or hundreds of thousands of miles), it's something you'll want to know about.
You can also expect cabin crew to start looking more like operating theatre staff. Emirates, Qatar, Air Asia and Philippine Airlines are just some examples of carriers that have made PPE (personal protection equipment) the standard issue garb for cabin crew.
Flying during this time, or in the near future, is not going to be anywhere as glamorous or luxurious as it was before.
Quarantine on arrival
Reached your destination in one piece? Bad news: there may not be much waiting for you on the other side. Many countries have put in place mandatory 14-day quarantine for all overseas arrivals, making trips of any kind practically impossible. There's also a double whammy if the quarantine applies on both ends because a traveller could effectively look forward to a one-month quarantine.
One potential alternative to quarantine is offering testing on arrival. At Vienna Airport in Austria, arriving passengers can opt to do an on-site COVID-19 test for €190. If the test is negative, they will not be required to do the standard 14-day quarantine. Iceland is reportedly considering similar measures.
The problem is that certain types of testing can be notoriously unreliable. Back in April, Emirates made headlines for becoming the first airline to conduct COVID-19 tests on passengers prior to flights. However, the plan was silently shelved when it was discovered that the accuracy could be as low as 30%. Until better (and faster) testing methods are devised, we're unlikely to see these deployed on a large scale.
Conclusion
When travel does resume, I anticipate we'll see a lot of trial-and-error in the early stages as governments and airlines experiment with different social distancing, testing and quarantine initiatives. Regulations are likely to be fluid and subject to change at short notice.
Needless to say, casual travellers should not think about venturing abroad until established routines have crystalised. There is a new normal coming, but the problem is no one quite knows what that will look like.
Read these next:
What Will Happen To Airfares After COVID-19?
If I Get COVID-19, What Will I Need To Pay?
How Does COVID-19 Change Your Miles Strategy?
From Travel Insurance to Flight Hygiene: 5 Questions About Post-COVID-19 Travel
Amid COVID-19, Scoot And Singapore Airlines Offer Cash Refunds, Bonus Travel Credits
---
---