Itching for a holiday? The world's your oyster once again, as Singapore reopens its borders to all fully vaccinated travellers under the Vaccinated Travel Framework. Here's what you need to do before flying, and when returning home.
1 April marked a milestone for Singapore, as the country reopened its borders after an unprecedented closure of more than two years. At long last, fully vaccinated Singaporeans and visitors can enter Singapore from anywhere in the world, without quarantine or the need to take specially designated flights.
That's thanks to the Vaccinated Travel Framework (VTF), which replaces the former Vaccinated Travel Lanes (VTLs).
In Summary: Vaccinated Travel Framework

(for travel to Singapore)
- Fully vaccinated travellers can enter Singapore without quarantine, from any country (unless their 7-day travel history includes countries on the Restricted list, of which there are currently none)
- Children aged 12 and below will be considered fully vaccinated, regardless of actual status
- Booster dose is not required
- Unvaccinated travellers mostly barred from entering, with limited exceptions
- Take any flight to Singapore, no more VTL concept
- Fully vaccinated short-term visitors no longer need to apply for a Vaccinated Travel Pass
- Fully vaccinated short-term visitors no longer need to purchase travel insurance
- Pre-departure test (ART/PCR 2 days prior) still required for travel to Singapore, but may be scrapped in the near future
- No more on-arrival testing in Singapore; freedom from the moment you land
Once immigration and customs have been cleared, travellers are free to do whatever they wish: visit Jewel, head to the hotel, head to a business meeting, with no restrictions on the mode of transport — just like good old times.
While many Singaporeans took advantage of the VTLs for a long-overdue vacation, there were others scared off by the (let's face it) oftentimes complicated rules. But now there's no excuse, and if you're hoping to dust off your passport, here's how you can prepare for your trip.
Flying out of Singapore
As a reminder, the VTF concept only applies to travellers arriving in Singapore. When you travel overseas, you're subject to the prevailing rules and regulations set by that particular country.
It's impossible to give a comprehensive rundown for each and every country, but here's some general points you should take note of.
Checking the overall requirements
I rely on two main tools when researching the requirements of a given country: TIMATIC and Sherpa.
TIMATIC is the gold standard, a database containing passport, visa, health and customs requirements for every country on earth. If you've ever seen a check-in agent staring intently at a screen, chances are he or she was referring to TIMATIC.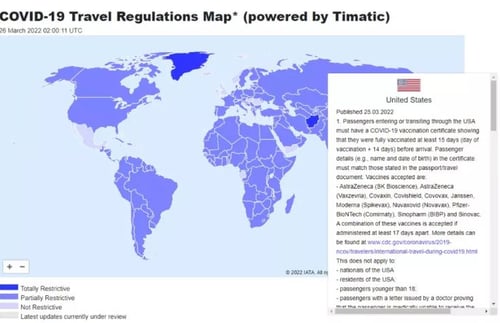 While TIMATIC is powerful, it's not particularly user-friendly. Information comes in long, wordy paragraphs, and it may take several reads to understand what it's saying.
If you prefer a more user-friendly alternative, then try Sherpa. Sherpa prompts travellers to enter their nationality, vaccination status and point of origin, then shows them the relevant requirements for each country including testing, visas, insurance and other documentation.

As a third option, you can also refer to Singapore Airlines' travel advisory tool (even if you're not flying with Singapore Airlines!). This will show you the restrictions depending on your country of origin, destination, and nationality.
Fully vaccinated
While some countries offer quarantine-free travel to Singaporeans regardless of vaccination status (e.g. the UK and Vietnam), the vast majority require travellers to have their jabs.
This means it's important to confirm just how each country defines 'fully vaccinated'. There are two things to consider here: the brand of vaccine you've received, and the number of doses you've received.
Where brand is concerned, those who received Pfizer or Moderna vaccines can rest easy, because recognition is almost universal. However, Sinovac and Sinopharm are not as widely recognised, and travellers who have received these vaccines may have to do additional testing, or worse, quarantine in some cases.
Regarding the number of jabs, some countries now require visitors to be boosted in order to count as fully vaccinated. For example, South Korea requires a booster shot if the primary regime was completed more than 180 days ago. In general, if a booster requirement exists, those with two jabs will have a six- to nine-month window to take it.
Children may be exempted from the vaccination requirement, with under 12 being the most common cutoff point.
It's a good idea to carry around a copy of your vaccination certificate with machine-readable QR codes (available from Notarise), since this may be required to access vaccinated-only venues overseas.
Testing
Even if you're fully vaccinated, some countries may require you to take a pre-departure test in order to travel. This can either be a relatively expensive PCR test (which starts from S$90 in Singapore at the time of writing), or the cheaper antigen variety.
If antigen tests are accepted, you can simplify your preparations by doing a tele-supervised swab with a provider like DoctorAnywhere, Raffles Connect, Hidoc or Minmed. This lets you test from the comfort of your home, and generates a certificate valid for travel.
Do note that children may be exempt from testing, depending on age. Also, certain countries may exempt recovered travellers from testing, so that's something to take note of if you've recently recovered from a COVID infection.
Travel insurance
In light of COVID-19, countries like Indonesia, South Korea and Thailand have adopted mandatory travel insurance requirements for non-residents. Visitors must carry travel insurance that provides a certain amount of COVID-19 medical expense coverage.
Fortunately, the vast majority of travel insurance providers now cover COVID-19. Be sure to check the exact amount of coverage required by your destination and compare it against the policy limits, and carry a copy of your insurance certificate to the airport.
Electronic travel authorisation
Thanks to the power of the Singapore passport, Singaporeans can visit more than 190 destinations without a visa.
However, some countries still require visa-waiver travellers to apply for an Electronic Travel Authorisation (ETA) before arrival. Applications can be made online, and usually entail a nominal fee.
The main countries of interest to Singapores that have ETA requirements are:
A word of advice: always apply via the official websites (linked above), and beware of lookalikes that charge a higher fee. There's a lot of unscrupulous agents out there!
Flying back to Singapore
Returning to Singapore is a relatively simple affair, involving just two steps:
Present negative pre-departure ART/PCR test taken within 2 days of flight to Singapore
Complete SG Arrival Card
Singapore has chosen to retain its pre-departure test requirement for now (though rumour has it that it'll be scrapped soon), which involves a professionally-administered ART or PCR test taken within 2 days before travelling to Singapore.
Do note that the testing window is two days, not 48 hours. For example, if your flight departs at 10pm on Wednesday, you can take your test anytime from 12.01am on Monday onwards.
Singapore Citizens, Permanent Residents or Long Term Pass Holders returning from any country are eligible to take a video-supervised antigen test offered by an approved provider in Singapore. This saves them the trouble of finding an overseas testing centre, and allows them to maximise their vacation time.
Fully vaccinated travellers who have recently recovered from COVID-19 are exempt from pre-departure testing, provided they can show proof of past infection between seven to 90 days of their departure to Singapore. Showing your HealthHub status will work, but only if your test is done by a licensed provider like a Quick Test Centre or clinic. Self-administered tests do not get you 'into the system'.
The SG Arrival Card must be completed by all travellers to Singapore (regardless of nationality), and really involves just three things:
Personal particulars
Submission of vaccination proof (not required for those vaccinated in Singapore)
Health declaration
Completing the SG Arrival Card is free of charge, if you do it via the official website.
You may take any flight you wish to Singapore, and there's no further testing on arrival.
Conclusion
The reopening of Singapore's borders is a monumental moment, and in many ways marks the start of a truly COVID-endemic life. It doesn't just benefit holiday-goers, mind you- businessmen, students, those seeking medical treatment and those looking to be reunited with their families can finally travel unhindered.
It's been a long two years, but here's to making up for lost time.
Read these next:
Bintan VTL Guide (2022) — Activities, Wildlife, Food And More
Batam VTL Guide 2022 — Activities, Shopping, Massages, Food And More
Best Travel Insurance Plans With COVID-19 Coverage
AXA SmartTraveller Review: Best In The Market For Flight Delay And Baggage Coverage
6 Best Travel Insurance Plans for Cruise-to-Nowhere Holidays (2022)