If you were a maid-hiring newbie when you hired your first maid, you would have probably done so through a maid agency.
Maid agencies are not cheap, but they do take care of all the paperwork for you, including buying maid insurance so that you have the necessary insurance coverage for your maid. If your maid's performance is good and she gets along well with you and the family, her 2-year contract will be over in what seems like a blink of an eye.
About eight weeks before the expiry of her Work Permit, you will receive a notification from the Ministry of Manpower (MOM) about the impending expiry, and you'll be wondering "has it been that long already?"
Your maid's great — you'll want her to stay
If your maid is willing to stay on with you, you will want to retain her for another 2 years. After all, good help is hard to find! According to MOM's guidelines, an employment contract is not mandatory but it is good to have so that the terms of employment are clear and misunderstandings can be avoided. What is mandatory for renewal will be a scanned copy of the personal particulars page of your helper's passport (including amendments), security bond and maid insurance (covering both medical as well as personal accident insurance) for her.
DIY and save! It's not that hard
You can go back to the maid agency and get them to help you with the renewal but why not do it yourself and save on the agency fees? Maid agencies do not typically publish their fees for helping with maid Work Permit renewals, and rates would vary from one agency to another. In general, be prepared to fork out around S$300-S$400 dollars for agency fees (which does not include the costs charged by other parties such as maid insurance – over S$200 for a 26-month plan on average, and MOM's Work Permit renewal fee – S$35). On the other hand, if you were to renew the maid's Work Permit and insurance yourself, you can avoid the agency fees.
Step 1: Check regulatory requirements
Laws and regulations do change from time to time, so do consult MOM's website for the latest requirements if you decide to renew your maid's Work Permit yourself. It is important to check with the embassy of the country of origin of your maid for additional requirements, as well as renew her passport if it has less than 6 months of validity left.
For instance, all employers in Singapore are also required by law to put up a S$5,000 security bond for helpers of all nationalities, except Malaysians. The Indonesian government also requires a S$6,000 security bond for Indonesian maids – this bond can be purchased via insurers accredited by the Indonesian government.
Step 2: Get maid insurance to cover the renewed contract
One of the first things you'll need to do is to extend your maid insurance. Do shop for a suitable insurer that can give you the best value.
In this regard, ePROTECT maid insurance offers great value for money. This is amongst the most affordable offered by insurance companies in Singapore.
Available here at Tiq by Etiqa, ePROTECT maid insurance provides comprehensive insurance coverage (enhanced to meet the MOM's latest insurance coverage requirement) and even offers protection against the unfortunate event of abuse by the maid to your child, elderly or handicapped person.
Also available are optional benefits such as critical illness (the first and currently ONLY maid insurance in Singapore to do so) and home cover (protects your home contents from fire, burglary or theft by maid).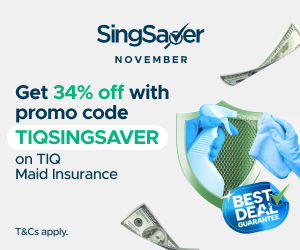 TIQ Maid Insurance Promotion: Use the promo code TIQSINGSAVER to enjoy 34% off when you apply now. COVID-19 coverage for your helper is available as an optional rider for S$52 (incl. GST). Valid till 30 November 2023. T&Cs apply.
Step 3: Apply for Work Permit renewal online
Once these are done, you can log on to the MOM website and conveniently renew your maid's Work Permit online. Documents you will need to provide include:
• A scanned copy of the personal particulars page of your maid's passport
• MOM-imposed security bond, personal accident insurance and medical insurance (these are covered in our ePROTECT maid insurance)
• Details for a secure card delivery
The renewal fee is just S$35, and you can pay by VISA, Master Card or direct debit. The processing time is immediate. Once the Work Permit is renewed, do print and check the temporary work permit to see if your FDW is advised to continue using the existing card or to get a new card. For the latter option, the existing card must be returned according to instruction given in the notification letter.
Congratulations — you've renewed your maid's Work Permit yourself and saved a bundle!
This article was originally published on Etiqa Insurance Pte. Ltd. Please refer here for important notes.
Read these next:
Is Home Insurance the same as my HDB Fire Insurance?
Maid Insurance 2019: What To Look Out For and How To Find the Best Plan?
Home Insurance 101: What Exactly Are You Paying For?
How Much Do You Need To Buy Your First Home In Singapore?
Complete Guide to HDB Grants: Find Out What You Qualify For With These Five Easy Questions
---

TIQ, a digital insurance channel by Etiqa Insurance, embraces changes to provide simple and convenient protection. TIQ's mission is to make insurance transparent and accessible, inspiring you today to be prepared for life's surprises and inevitabilities, while empowering you to "Live Unlimited" and take control of your tomorrow.
---