If you want to get married in less than a year, you'd best make these financial preparations today.
Congratulations on getting engaged! Now comes the hard part: a wedding you and your spouse will never forget.
The good news is, it's easy to make a wedding unforgettable. The bad news is, it may be unforgettable because you could spend the next five years paying for it.
With Singapore now being the 6th most expensive city for wedding banquets, you'd best be prepared. Most Singaporeans spend over a year saving and planning for the big day. But what if you're in a hurry to get hitched and want to do so in 6 months?
Be Realistic About What You Can Get
In 2016, the average wedding banquet for 500 in Singapore costs around $112,000. In all frankness, you are not going to hit this amount if you just have 6 months to find the money (if you can save $112,000 in a year, you don't need our help!).
But it is possible to hold a decent wedding reception, without getting mired in debt for the next decade. Here are some of the steps you can take if you want to tie the knot in less than a year.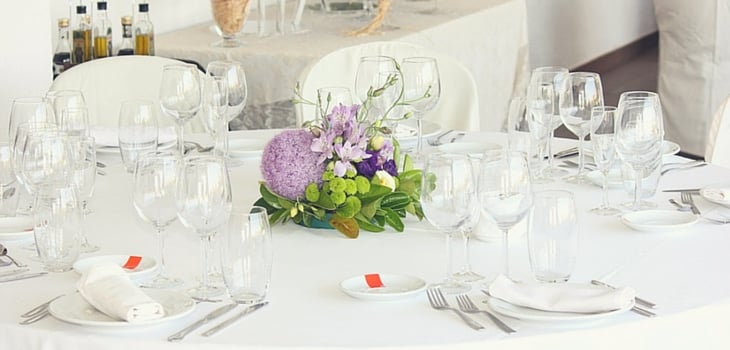 1. Hold the Banquet at a Restaurant
You might want to avoid a typical hotel banquet hall, as those are among the most expensive options for weddings. Instead, hold your wedding banquet at a mid-range restaurant. You'll only pay a fraction of the cost, and the food is just as good, if not better.
A banquet table for 10 costs around S$1,400 in a hotel. In a typical restaurant, even the most expensive courses will come to around half that price (imagine how much you can eat for $70 per head at your favourite restaurant).
However, you have to act fast. There is no guarantee that restaurants can accommodate such last minute requests, and you may need to book the whole place.
Be sure to ask the restaurant's manager or owner if they can give you a special deal. If you are booking the whole place, or a large number of tables, you can often get a substantial discount, especially with credit card wedding promotions or wedding banquet promotions.
2. Book All Locations Early
The earlier you start looking for a location (for the ceremony, for the photoshoot, etc) the better your chances of getting a good deal. Tap your friends, family, and acquaintances for this - you'll be surprised who has access to a private garden, or can pull strings to let you use a small private chapel.
The key is to start from the first month. It takes time for these contacts to arrange things and get back to you. If you do it at the last minute, expect to pay fees to use gardens for a photoshoot, or to rent a place for the ceremony.
3. Find Loans with an Acceptable Tenure
If don't have the cash needed to make early bookings, do not use a credit card for the expenses. Credit cards have an interest rate of 24% per annum, and should only be used as a mode of payment, never as a tool for loans.
Instead, minimise the impact on your finances by picking the right low-interest personal loan. Unlike a credit card, which you must repay in full to avoid snowballing interest rates, personal loans are repaid using fixed monthly payments. This allows you to budget accordingly.
You can also choose a loan tenure between 1 to 5 years, and what tenure you choose depends on your budget.
Let's say you took a S$5,000 loan through HSBC Personal Loan. Here's a simple calculation of how your monthly payment would look like given the different loan tenures:
Monthly Payments Given Different Loan Tenures*
1 Year
2 Year
3 Year
4 Year
5 Year
6 Year
7 Year
Monthly Repayment
S$451
S$242
S$173
S$139
S$119
S$109
S$100
Flat Rate (p.a.)
8.20%
8.10%
8.10%
8.30%
8.40%
9.40%
9.50%
EIR (p.a.)
18.21%
16.62%
16.06%
15.78%
15.61%
16.70%
16.62%
* For annual income S$30,000 - S$39,999
If you can afford the monthly payments, repaying a loan within a shorter time frame means you pay less interest. A longer tenure means a higher interest bill, but each monthly repayment will be smaller.
When deciding which loan to pick, keep in mind your debt servicing ratio. The total amount spent on repayments, including other existing loans, should not exceed 40% of your monthly income. Do not raise your debt obligations above this 40% mark by shortening the loan tenure, as you will be dangerously short on cash for emergencies.
4. Get a Mortgage Before a Personal Loan for Your Wedding
If timing allows, try to take your HDB loan (or private bank loan) for your flat before getting a personal loan for your wedding.
When you apply for a home loan, your existing debts are factored under the Total Debt Servicing Ratio (TDSR). Having an outstanding personal loan will reduce the loan quantum (the total amount you can borrow) for your house.
With six months, you should aim to maximise the time between various loan applications. If you apply for credit multiple times in a short span (e.g. Three different types of loan applications within a month of your wedding), your credit score will be adversely affected.
See Also: Are Personal Loans in Singapore Hard to Get?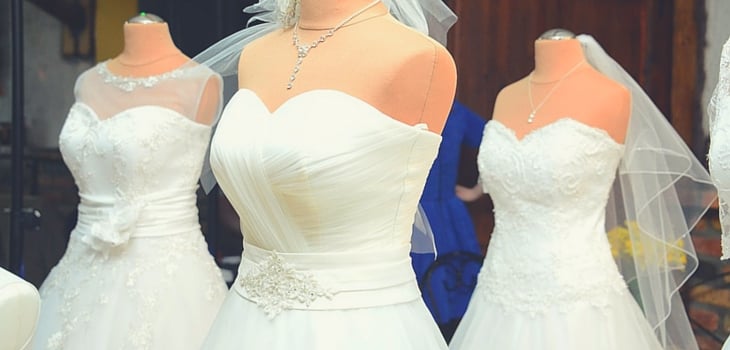 5. Get Gowns and Suits Made Outside Singapore
Six months gives you enough time to find wedding dresses, bridesmaids' dresses, etc. outside of Singapore. Try looking up tailors in Malaysia or Indonesia, where even custom made outfits can be up to 30% cheaper (due to the exchange rate, if for no other reason).
Visit fashion forums, or ask friends and go by word-of-mouth. There are several private tailoring shops that may not advertise on the Internet, or be widely known outside a regular circle of clients.
Again though, the key is speed: these tailors may not have a huge factory or large numbers of ready made outfits, and it will take time to produce them. Six months should be more than enough, however.
6. Buy Jewelry from Small Goldsmiths Instead of Major Jewellers
If you need affordable wedding rings, the goldsmiths in Little India or the obscure little shops in HDB estates are real gems (a bad but appropriate pun). Here's what you may not know:
If you take a photo of a ring you like, a goldsmith from a smaller store may be able to craft something just like it. So you can snap a photo of a ring in Tiffany's, and get your local jeweller to make a similar one at just 70% - 80% of the cost. It often takes around two to three months however, so get a head start in time for the wedding.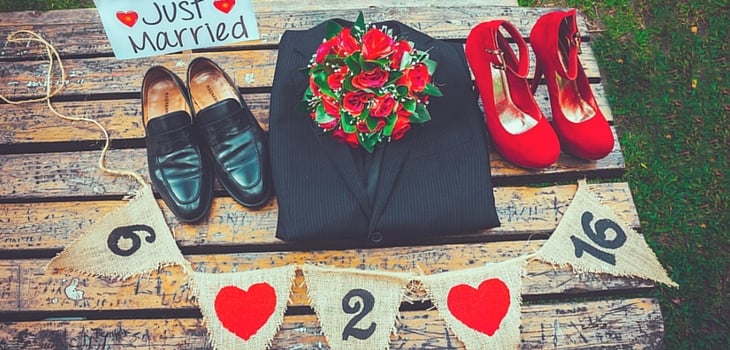 7. If the Budget is Truly Tight, Get Guests to be Your Wedding Photographer
We don't disparage against professional photographers at SingSaver.com.sg. They have a tough job that takes an incredible amount of dedication and training, and their equipment can sometimes make the downpayment on a flat. They're worth what they charge. But if the budget is truly tight, you may be forced to forego them, and use an amateur option.
Get your guests to take the pictures, and set up a website to automatically upload them. If you are not tech savvy, you can also get everyone to upload them to Pinterest, or turn in all their Instagram pics. If you have a dozen people at the photoshoot, and more at the wedding, odds are some of them will turn out well. You can compile these into a digital photo album.
Again though, you will need time to brief everyone on the idea. Don't expect sufficient photos if you only tell everyone a few hours in advance.
Read This Next:
Should You Pay for Your Wedding with a Personal Loan?
How to Save Money for a Flat Before Your 35th Birthday