My wife and I blew our initial wedding budget (S$50K) by S$30K. Here are my recommendations to ensure you don't make the same (costly) mistake.
I got married in June 2021.
And if you recall, 2021 was plagued with changing restrictions due to the number of COVID-19 outbreaks in Singapore.
As a matter of fact, the missus and I had to postpone our wedding three times. It was initially planned for 2020 but COVID-19 happened.
We also had to hold our Registration of Marriage (ROM) and wedding reception on two separate dates, as our banquet happened to fall on a date when wedding banquets weren't allowed.
And because we had to separate both events, we obviously incurred additional charges from our vendors (make-up artist, photographer, videographer, florist, etc.).
Although our scenario is rather unique and may not be applicable to most couples, I do have some recommendations that may still apply to you.
---
Amex Singapore Airlines KrisFlyer Ascend Credit Card Welcome Gift: Receive S$300 eCapitaVouchers and up to 17,000 KrisFlyer Miles (enough to redeem a return trip to Bali) with annual fee payment and min. spending of S$1,000 within the first month of card approval. For new to American Express Card Members only. Valid till 13 December 2024. T&Cs apply.
---
Things we did wrong
1) Not sticking to our initial budget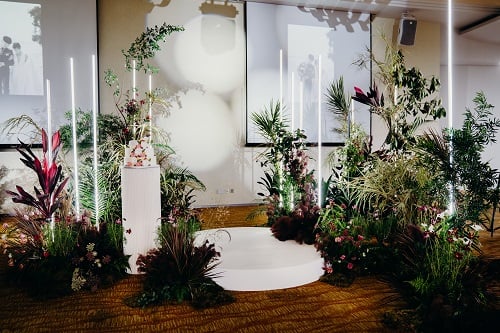 The key mistake that my wife and I made while planning for the wedding was not sticking to our initial budget, which we had set for S$50,000.
I guess we got caught up in the planning process and failed to keep track of our expenditures. Of course, the delay and postponements didn't help. We both had different expectations and kept adding items that we wanted without considering the additional cost.
Some examples included customised stationaries, wedding favours, flowers for the aisles, and added lighting and floral decorations on the stage. These easily added up to S$9,000 to our budget.
To avoid overspending, we should have listed down our priorities, identified their importance, and adjusted our budget accordingly. We should have also asked ourselves what would our guests' experience be like if we added/removed this.
Always refer back to your budget from time to time and keep track of all expenses, regardless of how big or small they may be. And of course, you both should mutually agree on a budget beforehand.
2) Holding our ROM and wedding banquet on separate dates
In an ideal world, we would have held our ROM and wedding banquet on the same day. But because of COVID-19 in 2021, we had to postpone our banquet to another day when wedding receptions were allowed.
And because of this, we couldn't repurpose any of our floral decorations from our ROM. We basically had to order another round of fresh flowers for the banquet. And as you probably already know, fresh flowers do not come cheap.
We had to hire our makeup artist, photographer, and videographer and rent our wedding attire for a second date, and we also had to book additional nights in the hotel. These additional costs came up to S$4,000++ in total.
Although COVID-19 is no longer a blocker to weddings, some couples may still decide to hold their ROM and banquet on separate days due to the number of guests and to avoid tiring themselves out. We strongly advise couples to power through and settle the entire wedding in one day. Your wallet will thank you for this.
3) Elaborate floral arrangements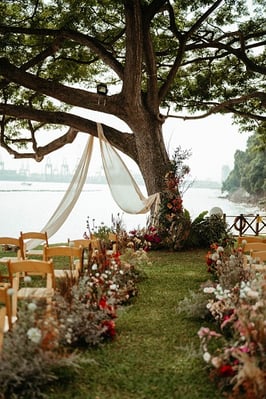 Yes yes, flowers do add a sense of natural beauty and elegance to your wedding. But they don't exactly add or improve to the overall experience of your guests, which I personally feel is more key.
Case in point: the missus wanted a floral centerpiece, a drape over a tree, and a floral aisle for our ROM ceremony. The ceremony lasted for an hour and the decor had to be stripped immediately after it ended.
In total, we spent close to S$6,000 on the arrangements. In hindsight, we could have chosen a less elaborate set-up as not many guests chose to stay back and mingle.
This amount could have been allocated to the banquet, which I consider, is the far more important event for our guests.
4) Signing for a bridal package (which we did not use)
Probably one of the biggest mistakes we made was signing for a bridal package before we even chose our wedding venue.
Back in 2019, we attended a wedding fair and signed up for a bridal package. I guess we were a victim of some hard selling? But if I recall, we were quite impressed by the photobook which they showed us.
The S$4,000+ package included a pre-wedding shoot, actual day photography, photobook, and wedding attire rental.
However, when we returned to the store in 2021 to claim our package, we realized that the outfits that we wanted were no longer in stock, and the present outfits were not to our liking. The photographer that we wanted was also no longer employed in the store. In the end, we chose to forfeit our package with them.
If you are considering signing for a bridal package, I strongly recommend heading down to the bridal studio instead to see the outfits in person. Also do keep your options and visit several studios to obtain and compare quotes.
---

SingSaver's Exclusive Offer: Enjoy 3x chances to win your share of up to S$200,000 in prizes in our epic 101! Milestone Giveaway, including S$5,000 bonus cash each week on top of ongoing promotions. Valid till 20 December 2023. T&Cs apply. Click here to check out our past Lucky Draw winners!
Receive an Apple iPad 9th Gen 10.2 Wifi 64GB (worth S$503.65) or Dyson Supersonic (worth S$699) or Dyson V8 Slim Fluffy (worth S$509) or S$300 cash via PayNow upon activating and spending (min. S$500 spend) within 30 days of card approval. Valid till 14 December 2023. T&Cs apply.
Plus, enjoy up to 2% cashback on all qualifying spend and up to S$656 cash when you apply for the Citi Cash Back+ card and join Citi Plus. T&Cs apply.
Our Best Deal Guarantee promises you the best deal only with SingSaver. If you find a better offer elsewhere, submit a claim, and we'll reward you with double the difference. Valid till 7 January 2024. T&Cs apply.
---
Things we did right
1) Opting for a casual pre-wedding photoshoot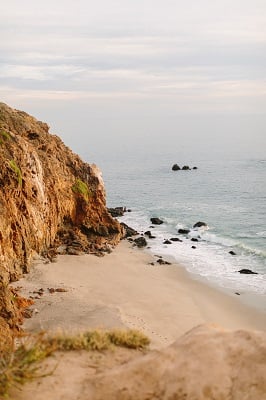 Since we gave up our pre-wedding photoshoot from the bridal studio, my wife and I decided to do something more casual in an effort to save some cost.
On one of our holidays (before COVID), we engaged a freelance photographer for 6-hours to follow us around and capture photos. Costing less than S$900, we were really impressed by how the photos turned out. We received over 350 photos in total, out of which 50 were edited, which we could use for our wedding slideshow.
We also opted to ditch the suit and wedding dress as we were aware that pre-wedding photoshoots tend to cost more, whether done locally or overseas.
It sure beats hiring a local photographer and flying them overseas with you, which will probably set you back by S$3,000 - S$5,000, depending on the destination.
2) Wearing one outfit for the entire wedding banquet
We did not have a second march-in during our wedding banquet as we were tight on time (due to COVID-19 restrictions). As such, my wife only required one gown to wear.
Practicality aside, this decision saved us around S$1,000 for the rental of a second gown.
3) Saving on invitation cards
Another cost that we saved is the printing of invitation cards. Instead of designing and printing physical cards, we sent e-invites to our guests using WithJoy, a wedding registry platform.
Besides helping us manage our RSVPs, we also used the platform to send updates to our guests, find out their dietary preferences and share photos of the wedding. The best part? WithJoy is completely free to use!
4) Not holding a gatecrash
Weddings can be a stressful affair, and we didn't want to pile on to that stress, which was why we chose not to hold a gatecrash.
Apparently, the cost of a gatecrash can cost between S$8,000 to S$20,000, depending on how extravagant you want it to be.
While it is often customary for Chinese couples, we decided to forgo it as it was deemed unnecessary in terms of practicality and cost.
(Bonus) Charging our wedding expenses to a cashback credit card
Using a cashback or miles credit card for your wedding expenses is a great way to stretch your dollar. With the rising cost of inflation and the cost of weddings, you might as well earn a little something back from spending all that money.
I paid for most of my wedding expenses using the Standard Chartered Simply Cash credit card. It offers 1.5% cashback with no minimum spend and no cashback cap. For hotel transactions, I used the DBS Altitude credit card, which allowed me to earn 3 miles per dollar.
Obviously, there are other cards out there that can allow you to save or earn more. My suggestion is to compare cards in the market and pick one that best suits your expenditure.
I also received a free Apple Watch when I signed up for the Standard Chartered Simply Cash Credit Card, which I gifted to my wife as a pre-wedding present.
Do check out our credit card promotion article to see the latest gifts and promotions available.
Read these next:
Why A Banquet Wedding May Not Be Your Best Option in 2022
Wedding Ang Bao Rates 2022 For Various Wedding Venues in Singapore
6 Things That SG Couples Regret Spending On Their Weddings (And The #1 Thing They Don't)
Cost Guide to Weddings in Singapore 2022
18 Best Credit Cards For Big-Ticket Items