Find out how government schemes and insurance can help you save money on maternity costs in Singapore, without sacrificing the quality of care.
When your Facebook feed is flooded with pictures of mothers cuddling their babies, you don't see the financial costs they have to juggle. But the moment you want to start your own family, you'll want to know how much you need to save for maternity medical costs.
Will you be able to afford it?
Thanks to government schemes and insurance policies, giving birth to a child in Singapore isn't as expensive as you think. Here are some ways to save money on maternity costs.
1. Use your Medisave Maternity Package
The Medisave Maternity Package (MMP) covers prenatal medical expenses such as ultrasounds, plus delivery expenses. There are a few different components to the scheme, with varying claimable amounts for prenatal expenses, hospital room stays and the actual delivery itself.
Below is a table that breaks how much can be claimed from the MMP.
Type of expense
Cost
Medisave claimable
Prenatal medical expenses
(ultrasound, tests, etc.)
From $800 onwards
Up to $900
Normal delivery at a public hospital
(Two nights in a Ward A room)
From $4,600 onwards
$900 ($450/night x 2)
+ $750 (delivery)
= Total claimable: Up to $1,650
Normal delivery at a private hospital
(Two nights in a 1-bed room)
From $7,000 onwards
Caesarean delivery at a public hospital
(Three nights in a Ward A room)
From $7,900 onwards
$1,350 ($450/night x 3)
+ $2,150 (delivery)
= Total claimable: Up to $3,500
Caesarean delivery at a private hospital
(Three nights in a 1-bed room)
From $10,700 onwards
2. Don't forget the Baby Bonus
Besides Medisave, the government also helps lower maternity and newborn costs for couples via the Baby Bonus scheme. Depending on the number of children you have, the amount of upfront cash and matching grants increase in tandem.
The following table illustrates how the scheme works.
| | | | | |
| --- | --- | --- | --- | --- |
| Birth Order of Child | Cash Gift (inclusive of Baby Bonus Plus) | CDA Contributions | | |
| | | CDA First Step | Government Dollar-for-Dollar Matching | Total CDA Benefit |
| 1st & 2nd | $8,000 | $3,000 | Up to $3,000 | Up to $6,000 |
| 3rd & 4th | $10,000 | $3,000 | Up to $9,000 | Up to $12,000 |
| 5th & Beyond | $10,000 | $3,000 | Up to $15,000 | Up to $18,000 |
In brief, you'll receive an upfront cash disbursement upon the birth of your child, which you can use to cover maternity and newborn expenses.
You'll also be entitled to start a Child Development Account (CDA), a specialised account that gives you 12 years to save for your child's future needs. The government will match the amount of money deposited in the CDA, up to a cap.
Find out more about the Baby Bonus scheme here.
3. Get a Maternity Insurance policy
Another way you can defray the high costs of giving birth is by getting a maternity insurance plan. Most such plans offer comprehensive coverage, so you can make a claim for pre- and post-natal hospital visits, as well as delivery charges.
Here's an example of what is covered under AXA's Mum's Advantage (visuals taken from their brochure):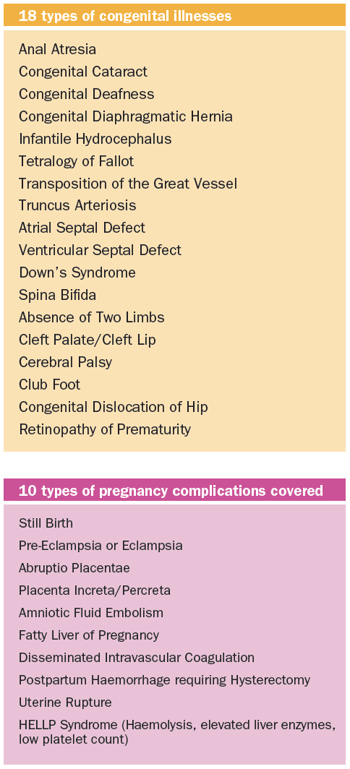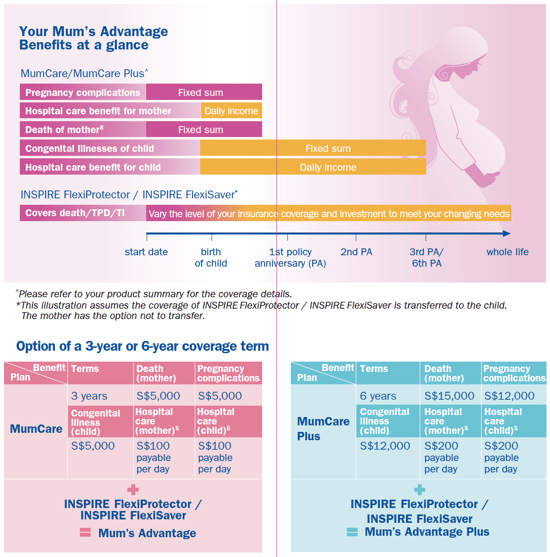 Getting a maternity plan will help you budget for the birth of your child, as you only pay premiums for a limited time period. As with all other insurance premiums, opt to pay on an annual or one-time basis to enjoy a slightly lower rate.
Most major insurers do not offer standalone maternity care plans. Instead, they usually try to upsell you by bundling the maternity plan with another regular premium plan, endowment, or investment-linked plan (ILP).
If you're planning to get life insurance for your newborn, you can try asking for lower premiums for both plans. Your insurer may offer vouchers in lieu of discounts, which you can then use to further reduce your out-of-pocket expenses.
However, if you prefer to purchase a standalone plan, Pacific Prime offers several standalone maternity cover plans from third-party insurers. A quick check on their website found that the cheapest plan starts from $792 per year for maximum annual coverage of $800,000.
It's important to note that maternity insurance policies have waiting periods of 10 to 12 months. This means that you cannot claim any treatment costs, be it hospitalisation or delivery, during this time.
Be sure to speak to a qualified insurance agent for the full picture before you sign up for a maternity plan, or any other insurance plan.
4. Choose a public hospital
It goes without saying that choosing a public hospital over a private one can cut your cost by half. Each has its pros and cons, but if cutting costs is important, then pick a public hospital for the birth of your child.
Visit the MOH website to compare the costs of normal delivery and Caesarean delivery at public and private hospitals in Singapore.
With government subsidies, insurance plans and the right payment method, you can realise substantial savings on your maternity costs. This frees you up to focus on your newborn, instead of worrying about the bills.
Pro-tip: If your cash savings or Medisave isn't enough, you can use a personal loan for maternity expenses.
Read these next:
7 Expenses You Can Expect When You Get Pregnant
A Guide To Maternity Insurance For Mums-To-Be (And Panicky Dads-To-Be)
How to Tell You're Financially Ready to Have Kids in Singapore
Newborn In The New Year: All The Cash Gifts You New Parents Can Look Forward To
Best Washing Machine Repair Services In Singapore 2021