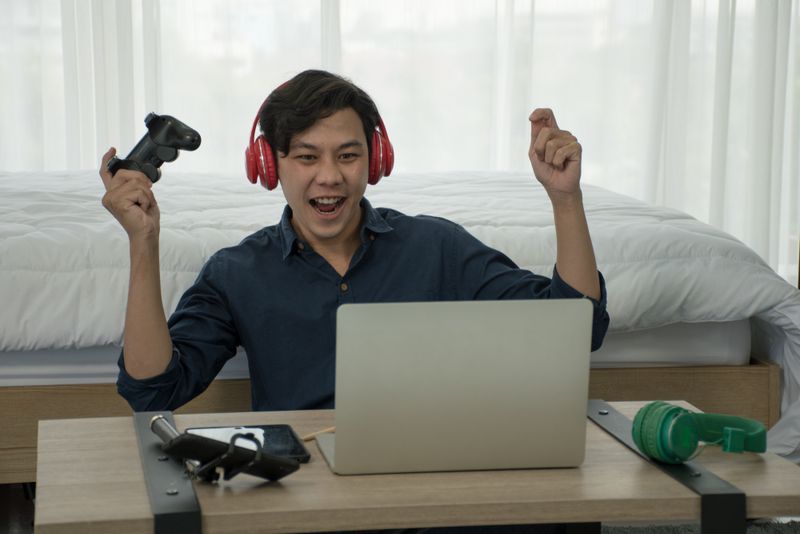 Thinking of refreshing your gaming setup with the best gaming laptop currently? Depending on your budget, here are a few laptops for you to consider.
When work-from-home became the norm due to COVID-19, there was a surge in interest in building one's desk setup. From standing desks to ergonomic chairs to computer desktops, everyone was vying to deck out their workspace with the coolest and latest furniture and electronics.
However, since restrictions are easing from DORSCON Orange to Yellow, all employees may return to the workplace from 26 April onwards. All of a sudden, the stationary CPU desktop and monitor you bought last year wouldn't be as useful as before.
So this is where we pivot the conversation to its more mobile and compact counterparts, laptops. As the adage goes, "All work and no play makes Jack a dull boy." Kill two birds with one stone by getting a laptop that's suitable for both gaming and working whenever appropriate.
Based on your budget and preference, read on to know which gaming laptop has the best specifications and purpose for its price point.
Table of contents
---
Disclaimer: All laptops are discussed according to base specifications presented on original retailer or e-commerce (e.g. Amazon, Shopee) websites. Laptop performance is subject to manufacturing inconsistencies and personal preferences. Please exercise discretion in researching and reviewing your desired laptop further where applicable.
If your budget is… below S$1,000
HP Pavilion x360 (2020) — S$988.28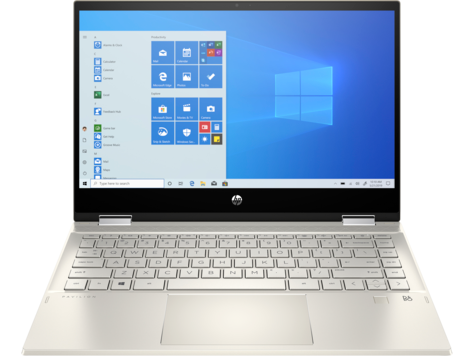 Specs
Windows 10 Home (64-bit)
10th Gen Intel® Core™ i5-1035G1 mobile @1.0GHz (Up to 3.6GHz at Max Turbo speed)
Integrated Intel UHD Graphics
8 GB DDR4 RAM; 256 GB PCI-e SSD + 16 Optane PCI-e SSD
14″ diagonal FHD display (1920 x 1080)
Touchscreen + fingerprint reader
Battery Life
Up to 8 hours and 45 minutes
Warranty
1 year
Colour
Gold
Price
S$988.28 (US in-stock)
The HP Pavilion x360 (2020) model has all the decent specs and features you'd need for basic gaming and efficient working. Specifically, we're referring to the 14M-DW0023DX model.
Portable, compact and light (from 1.61kg), its sleek design makes it incredibly mobile and easy to carry on the move.
It contains an Intel i5-1035G1 quad-core mobile processor (CPU) and an integrated Intel UHD graphics card (GPU). On all fronts, the integrated UHD GPU can't hold a flame towards the dedicated NVIDIA GTX 1650 GPU benchmark for gaming these days. Its quality is too lacklustre by current standards.
However, where it fall shorts in gaming performance, it compensates with its 256GB and 16GB Optane PCI-e SSDs which allows users to save files faster and store massive amounts of data at 15x the speed of traditional hard disk drives (HDD).
The PCI-e SSDs provide enough juice to power gaming applications, open multiple servers, daily backups and more. This means that you can finish your work without a hitch while running games at the bare minimum.
Because of these factors, we would consider the HP Pavilion x360 (2020) as more of an on-the-go work laptop with the casual gamer in mind — the emphasis on casual.
---
The DBS Live Fresh Card is a great DBS credit card that lets your purchases work for you. Earn cashback rebates of up to 5% on all online and Visa contactless spend (including SimplyGo rides). Min. S$600 monthly spend to qualify for cashback.
Promotion: Receive S$150 cashback with promo code "150CASH" upon application and make a min. S$800 spend within 60 days of card approval. Valid till 30 June 2022. T&Cs apply.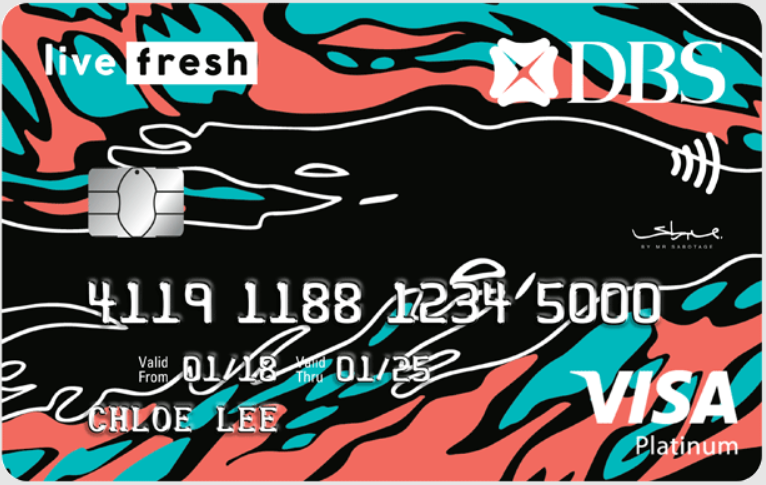 If your budget is… between S$1,000 to S$1,500
Acer Nitro 5 (AN515-45-R553) (2021) — S$1,454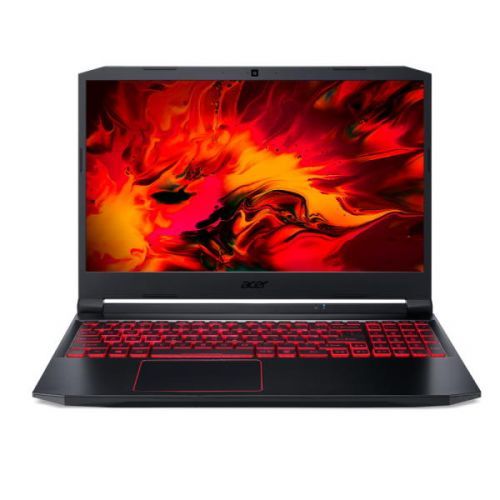 Specs
Windows 10 Home (64-bit)
AMD Ryzen™ 7 5800H
NVIDIA® GeForce® GTX 1650 4 GB GDDR
68 GB RAM DDR4-3200MHz RAM, 512 GB PCI-e SSD
15.6″ diagonal FHD display (1920 x 1080)
Battery Life
5 to 7 hours estimate
Warranty
2 years
Colour
Sleek black cover, plastic keyboard frame and black base
Price
S$1,448 (U.P. S$1,898)
For those perusing the budget gaming laptop market, the Acer Nitro 5 (AN515-45-R553) should come as no surprise. With multiple models falling under this series, the Nitro 5 has been a consistent player (pun intended) when it comes to running your AAA titles.
Despite the Nitro 5 (AN515-45-R553) launching in Q2 2021 (July), that doesn't make it any less competent than its more recent 2022 counterpart. Allow us to shed some light on its CPU and GPU performance.
Acer Nitro 5 (2021)
CPU: AMD Ryzen 7 5800H
GPU: GTX 1650
Acer Nitro 5 (2022)
CPU: Intel Core i7-11800H @ 2.30GHz
GPU: RTX 3050-Ti
Consensus: Acer Nitro 5 (2021) has a weaker GPU but stronger CPU
At first glance, both their CPUs are strong eight-core processors. However, the AMD Ryzen 7 5800H performs slightly better with a clock speed of 3.2GHz.
GPU-wise, the RTX 3050-Ti was released in Q2 2021 while the GTX 1650 was released in Q2 2019. Logically, the Acer Nitro 5's GPU is ostensibly more outdated and performs weaker; and if we check the FPS for lighting, reflection, multi-rendering and NBody calculation, it does seem to be the case.
Noticeably, the GTX 1650 still holds an overwhelming market share relative to the RTX 3050-Ti — 446% greater market share and 43% more popular. It's one of the cheaper Turing-based graphics cards available. That said, older AMD graphics cards like the RX 570 8GB surpasses its performance by roughly 15%; so that's food for thought.
At 2.2kg and containing 512 GB of SSD, it's mobile enough with ample storage. Not to mention, the RBG keyboard facilitates working or gaming in dimly-lit environments.
Ultimately — save for its slightly weaker graphics and battery life — the Nitro 5 (AN515-45-R553) is a decent gaming laptop for its price point compared to newer 2022 models.
Note: If you purchase it on the official Acer store at S$1,498, you'll also receive complimentary 3-Years McAfee Internet Security and an Acer Backpack.
Lenovo IdeaPad Gaming 3i (Gen 6) — S$1,459
Specs
Windows 11 Home (64-bit)
11th Gen Intel® Core™ i7-11370H @ 3.30 GHz (up to 4.40 GHz with Turbo Boost)
NVIDIA GeForce® GTX 1650 4GB GDDR6
16 GB SO-DIMM DDR4-3200MHz RAM, 512 GB M.2 PCI-e NVMe SSD15.6″ diagonal FHD display (1920 x 1080)
Battery Life
About 1.6 hours while gaming, 10.5 hours while casually browsing
Warranty
2 years
Colour
Shadow black
Price
S$1,459 (U.P. S$1,599)
Many PC gamers have heard about the Lenovo Legion series, but what about the Lenovo IdeaPad Gaming 3i? This underrated series possesses an excellent gaming calibre that might have gone under your radar.
The IdeaPad Gaming 3i is designed with an Intel Core i7 CPU and a GTX 1650 GPU, capable of running high-definition displays at 120 FPS. This is great for those dabbling in multiplayer and battle royale games like Valorant or Apex Legends.
Notwithstanding that, internal temperature control is key to moderating high-performance gaming. This model is equipped with a dual-fan and vent system with add-on heat sinks for consistent cooling all throughout. Higher CPU and GPU temperatures won't be a problem.
Ergonomics was also a huge factor in this IdeaPad Gaming build. Lenovo took into account bigger arrow keys and a 30% increase in one-piece trackpad with Windows Precision Drivers for the optimal gaming experience.
While possessing generally favourable reviews, there have been some concerns regarding its battery lifespan and performance inconsistencies. Luckily for you, the latter can be remedied with its two upgradeable RAM slots of up to 64GB.
Promotion: Use code "DOORBUSTER" to save an additional 8% off. Students can enjoy more discounts of up to 5% with LenovoStudent. Non-stackable. While stocks last.
---
Let your online laptop spending contribute to your next vacation getaway!
Earn 10x rewards points (4 miles or 2% cashback) per dollar spent on all online and contactless purchases using the HSBC Revolution Credit Card. Capped at 10,000 rewards per calendar month. No min. spend required and no annual fee involved.
You'll even get your own tree planted in Malaysia, India or Indonesia as a way of supporting environmental conservation.
Apply now by 4 May 2022 to score either Tilt 500 XS 14 in Folding Bike-Silver (worth S$360) or Apple Watch SE (worth S$419) or S$350 cash!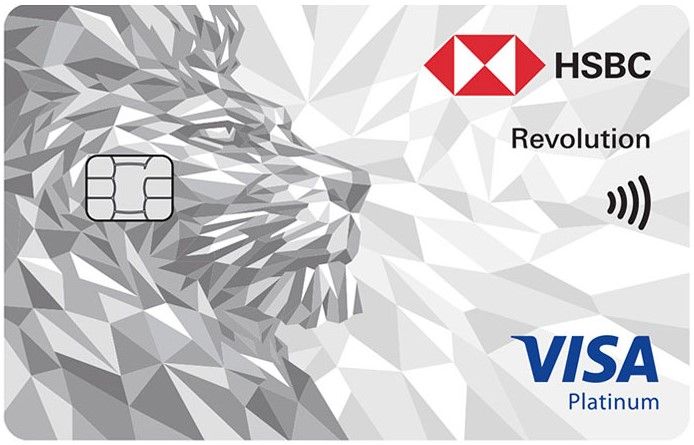 If your budget is… between S$1,500 to S$2,000
Lenovo Legion 5i (Gen 6) — S$1,539
Specs
Windows 11 Home (64-bit)
11th Gen Intel® Core™ i5-11400H Processor @ 2.70 GHz (up to 4.50 GHz with Turbo Boost)
NVIDIA GeForce® GTX 1650 4GB GDDR6
16 GB SO-DIMM DDR4-3200MHz RAM; 512 GB M.2 PCI-e NVMe SSD15.6″ diagonal FHD display (1920 x 1080; 120Hz and 165Hz available)
Battery Life
About 1.6 hours while gaming, 10.5 hours while casually browsing
Warranty
2 years Legion Ultimate Support
Colour
Phantom blue
Price
S$1,539 (U.P. S$1,599)
It should come as no surprise why the Lenovo Legion 5i is considerably more decked out than the Lenovo IdeaPad Gaming 3i. The Legion 5i utilises an Intel i5-11400H six-core CPU compared to the Intel i7-11370H four-core CPU. Despite both CPUs belonging in the same generation, the i5-11400H still supersedes the i7-11370H in operating prowess.
While the best gaming notebooks afford a 300Hz screen refresh rate, don't underestimate the Legion 5i's 165Hz. This refresh rate is still incredible and will by no means compromise your cinematic gaming experience.
Also, when it comes to data storage, the M.2 PCIe NVMe SSD is highly durable and more resistant to damage. This translates to half the time taken to boot up a laptop as compared to traditional HDDs.
In terms of battery life, the Legion 5i offers decent time on internet usage with around two hours of gaming on AAA titles.
Lenovo has once again received praise for its excellent design on the ThinkPads, catering to business- and gaming-oriented purposes in mind.
All that said, its more heavy duty counterpart — the 16-inch Legion 5 Pro (Gen 6) — will take your gaming experience up a few notches thanks to its advanced RTX 3050 GPU. Just expand your budget range by a couple of hundred dollars and you're all set.
Promotion: Use code "DEALDAY" to save an additional 12% off. 0% instalment plan available for UOB credit card holders as well as GrabPayLater option available.
Dell G15 Ryzen (5515) Edition — S$1,699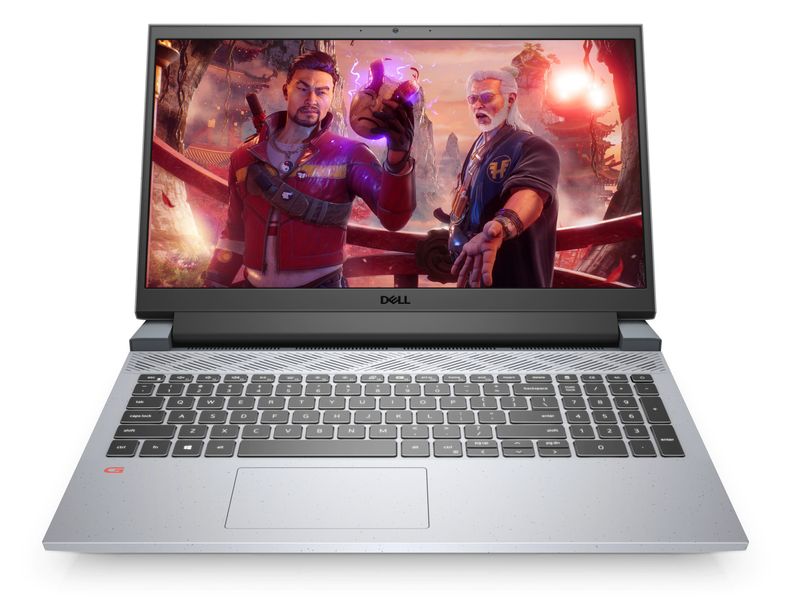 Specs
Windows 11 Home (64-bit)
AMD Ryzen™ 7 5800H Mobile
NVIDIA® GeForce® RTX 3050 Ti, 4 GB GDDR6
16 GB DDR4-3200MHz RAM, 512 GB M.2 PCI-e NVMe SSD
15.6″ diagonal FHD display (1920 x 1080; 120Hz and 165Hz available)
Battery Life
About 1.6 hours while gaming, 10.5 hours while casually browsing
Warranty
2 years
Colour
Phantom grey with speckles
Price
S$1,699 (U.P. S$1,999.01)
Although pushing on the price boundary slightly, the Dell G15 Ryzen 5515 Edition gaming laptop is another solid contender for budget laptops. Popular among the gaming community, this Dell series has seen its fair share of high praises and mixed opinions since its launch.
The highlight attribute of this laptop has to be its RTX 3050 Ti GPU that'll allow your gamer heart to run your favourite titles with minimal issues. For instance, Cyberpunk 2077 averaged 66.61 FPS and Red Dead Redemption 2 averaged 71.39 FPS at their highest 1080p settings.
For battle royale and FPS gamers, it's worth noting a general slower latency between mouse and screen for this 5515 model.
As the cherry on top, it also contains the Alienware Command Centre Application to integrate all your necessary gaming features and enhance dynamic performance effortlessly.
In general, the Dell G15 Ryzen 5515 has amazing CPU performance, strong graphics and reliable battery life as far as budget gaming laptops go. It's easy to see how it's earned a great reputation among mid-tier gaming laptops.
ASUS ROG Strix G17 (2021) — S$1,742.61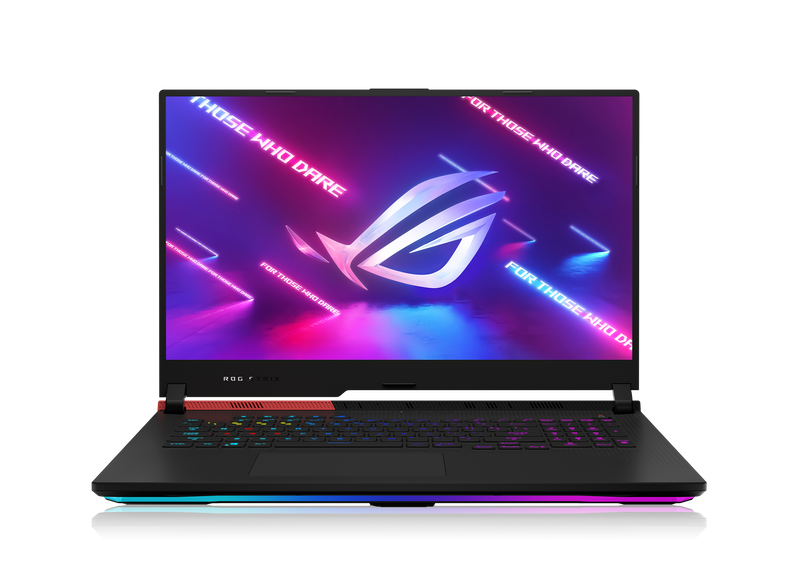 Specs
Windows 11 Home (64-bit)
AMD Ryzen™ 7 5800H Processor @ 3.2GHz (up to 4.40 GHz)
NVIDIA GeForce® RTX 3050 Ti 4GB GDDR6
16 GB DDR4-3200MHz SDRAM, 1 TB M.2 PCI-e NVMe SSD
17.3″ diagonal FHD display (1920 x 1080; 144Hz)
Battery Life
1.4 hours while gaming, about 13.5 hours while casually browsing
Warranty
2 years (laptop unit), 1 year (battery)
Colour
Eclipse Grey
Price
S$1,742.61 (US in-stock)
Of course, we can't forget about the ASUS ROG series. In particular, the Strix G17 (2021) is a decent entrant on this list below S$2,000. Again, the newer RTX 3050 Ti model comes out supreme when compared to the likes of GTX 1650.
Additionally, this model offers a 144Hz screen refresh rate which has been pegged as the ideal or gold standard for refresh rates. Other budget gaming laptops tend to fall within the 60Hz to 120Hz range instead.
Couple that with the 17-inch screen and powerful RTX 3050 Ti GPU, your viewing pleasure will not take a backseat.
Apart from that, every ROG laptop is equipped with ASUS' special Intelligent Cooling thermal system with Thermal Grizzly Liquid Metal Thermal Compound for the best temperature regulation.
Also do note that this laptop is one of the heaviest on the list at 4.15kg. So mobility might be an issue if you need to lug it to and fro between office and home.
Alternatively, you can buy the Strix G17 for slightly pricier at S$1,974.14 here. But you'll be eligible to receive a 30-day Xbox Game Pass for PC and a free 90-Day Norton 360 Security Software Trial.
Local computer hardware companies like Aftershock PC are great for those seeking both pre-built laptops and custom PC builds.
Which base specs are recommended?
A current-generation, quad-core CPU, preferably an Intel Core i5, i7 or an equivalent AMD Ryzen CPU would suffice
8GB of DDR4 RAM
A discrete graphics card (e.g. NVIDIA's GeForce GTX 1650)
A screen that can display 1920 x 1080 resolution
Where can you cut some costs?
Say bye to solid-state drives (SSD) and choose a 1TB hard disk drive (HDD) instead
Lower quality screen with slower refresh rates (e.g. 120Hz, 144Hz or 165Hz refresh rates instead of 300Hz)
Mid-tier graphics cards (e.g. NVIDIA GTX 1650 or AMD RX 6600)
Standard 8GB RAM of memory rather than 16GB or 32GB
---
While shopping for your budget gaming laptop, link an online shopping credit card to earn extra cashback rebates on e-commerce purchases!
Read these next:
Buying A Gaming Console? Here Are The Best Credit Cards To Get Your Xbox Series X Or PlayStation 5
Best Video Game Deals for February 2022
Best Gaming Subscriptions in Singapore 2022 – How Much do They Cost?
Best NFT Games To Play And Invest In (2022)
Guide to Play-To-Earn Crypto
---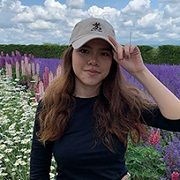 By Emma Lam
With a minor problem of 'itchy fingers' for flash deals and sales, Emma is on a lifelong journey to understand what being financially independent in adulthood means. That said, her inner child is still very much alive… with animals and gaming being her weaknesses.
---