---
What else can cancer insurance do?
Cancer insurance plans cover cancer drugs treatments outside of the CDL and can help to offset costs of overseas cancer drug treatments and services.
One example would be Singlife Cancer Cover Plus, which offers protection against hefty medical bills from cancer treatments.
This medical insurance complements your coverage under existing medical insurance plans (e.g. Integrated Shield Plan and riders) and can be purchased as a standalone plan.
With this plan, you can significantly reduce your out-of-pocket cancer treatment expenses (medical expenses payable in cash) both locally and overseas.
Singlife Cancer Cover Plus features:
Covers cancer treatments within and outside of the CDL, e.g. Proton
Beam Therapy and Cell, Tissue and Gene Therapy
Provides as-charged coverage for claims
High annual coverage limit of up to S$1.5 million
Easy and fast application (no medical check-up needed)
Covers overseas cancer treatments
Using the example of a 31-year-old female non-smoker Kate who is undergoing cancer treatment, you can see the breakdown of costs covered by her IP (Singlife Shield) and Singlife Cancer Cover Plus, which resulted in significant reduction of her out-of-pocket expenses.
Do note that the coverage for this plan is based on reimbursement of medical bill without a lump sum payout.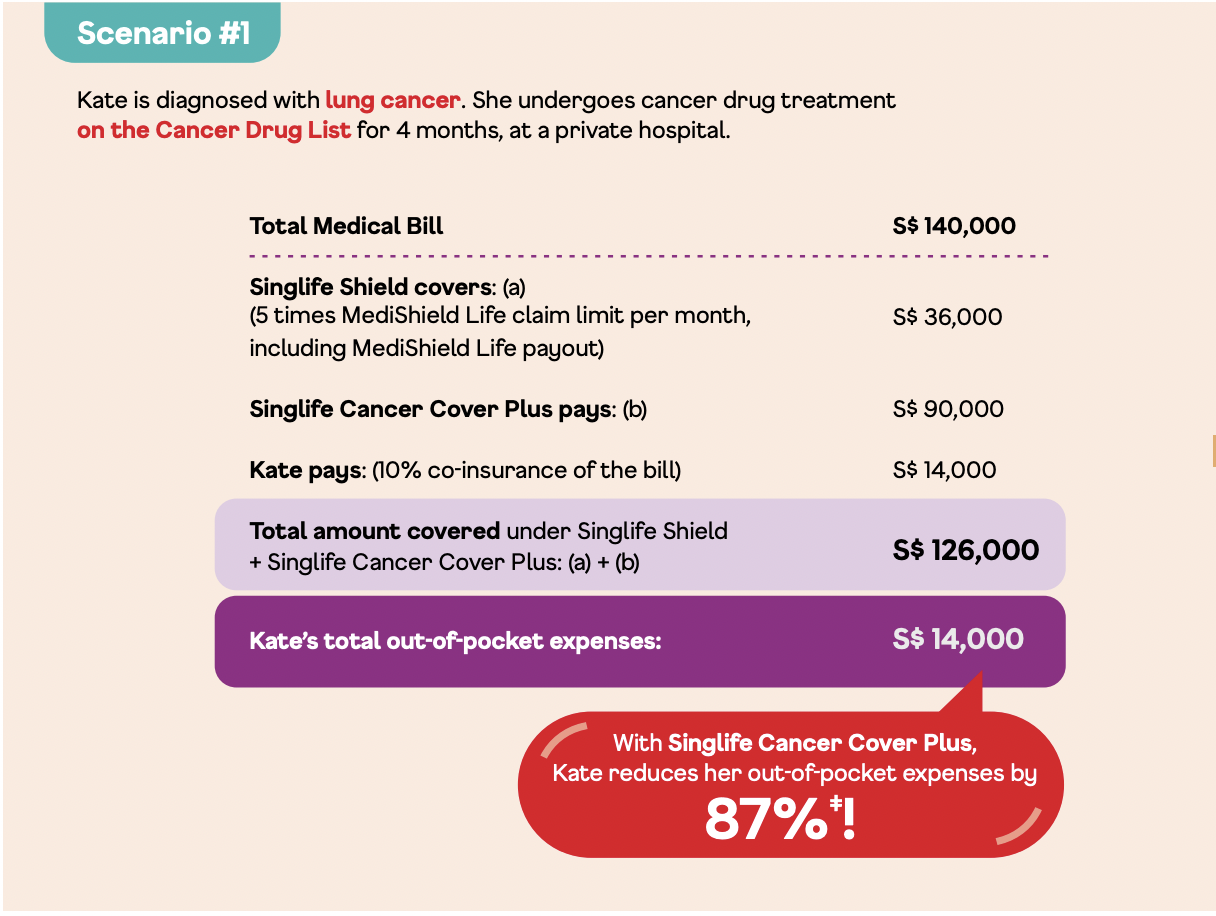 ---
Who is affected the most
As most of the drugs on the CDL apply to public hospitals, those who are undergoing treatment at private hospitals may need to fork out more out-of-pocket expenses without a cancer rider.
For cancer patients undergoing treatment or on cancer drugs that are outside of the cancer drug list, you may wish to discuss with their doctors whether there are suitable alternative treatments on the list.
If switching to a CDL treatment is not possible, there are other resources such as seeking help from a hospital medical social worker or MediFund.
---
Protected up to specified limits by SDIC.

Note: This is only product information provided. You may wish to seek advice from a qualified adviser before buying the product. If you choose not to seek advice from a qualified adviser, you should consider whether the product is suitable for you. Buying an insurance product that is not suitable for you may impact your ability to finance your future healthcare needs.

If you decide that the policy is not suitable after purchasing the policy, you may terminate the policy in accordance with the free-look provision, if any, and the insurer may recover from you any expense incurred by the insurer in underwriting the policy.


---
Read these next:
Best Integrated Shield Plans in Singapore (2023)
Best Cancer Insurance Plans In Singapore (2023)
9 Things You Should Know About Your MediShield Life
How to Bump Up Your Health Insurance Coverage to Include Certain Conditions
What's The Difference Between MediSave And MediShield Life: A 2-minute Explainer