As much as it is crucial to protect yourself against the leading cause of death, learn these fine prints before buying cancer insurance.
Cancer insurance is an increasingly popular type of insurance in Singapore for a good reason—two good reasons, in fact.
First, cancer is by far the leading cause of death in the country. With the National Cancer Centre of Singapore estimating that as many as one in four Singaporeans may develop cancer in their lifetimes, it's not surprising that almost 30% of all deaths are attributable to this disease.
Second, treating cancer is expensive. For instance, the Ministry of Health notes that a quarter of all patients paid over S$71,653 to remove lung tumours (assuming severe complications), with half of them paying over S$22,441.
Bear in mind that such data don't stay that way—medical costs increase every year. Global risk advisory firm Willis Towers Watson, in its 2020 Global Medical Trends Survey Report, estimates a 9.3% increase in healthcare costs in Singapore for 2020. This is over nine times the country's estimated inflation rate of under 1%, and almost triple the estimated salary increment of 3.7%.
And last, but not least, this doesn't even account for the opportunity cost of lost and reduced wages resulting from the treatment. When this is factored in, Singaporeans are on average facing a six-figure protection gap.
So, it's no wonder that many Singaporeans are turning toward cancer insurance. When it comes to cancer, it's much better to be safe than sorry—especially if you have dependents.
But before you look at and compare the various cancer insurance plans on the market, you should first understand these five critical things about cancer insurance.
#1: Cancer insurance and medical insurance are completely different
Probably the most common question people have about cancer insurance is how it differs from medical insurance. The answer lies in the payout structure. Medical insurance is all about covering actual medical costs incurred, whereas cancer insurance is about a one-time lump sum payout in the event of a cancer diagnosis.
So, medical insurance can only reimburse you for the actual cost of surgery, consultations and the like. Cancer insurance will pay you the assured sum upon your diagnosis. Whatever you decide to do with that payout is entirely up to you. This payout will also be on top of whatever existing plans you already have, whether medical or critical illness.
---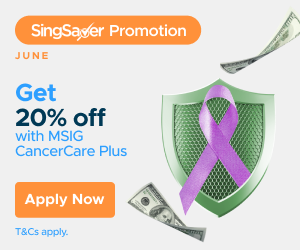 MSIG Cancer Insurance Promotion: Enjoy 20% off for MSIG Cancer Insurance when you purchase NOW! Valid till 31 July 2023. T&Cs apply

---
#2: It covers all forms of cancer
There are over 100 known forms of cancer that affects humans. If you have cancer insurance, it doesn't matter which specific form you get—whether one of the relatively less serious ones or the more alarming ones. As long as you have a confirmed cancer diagnosis, you will be eligible to receive the payout.
#3 The policy value is limited to the sum assured
Many insurance plans, especially investment-linked ones, have rather complex structures. You must evaluate things like cash value, guaranteed and non-guaranteed amounts, what investment vehicles your premiums will be invested in, and so on.
All these don't apply to cancer insurance, which is simple and straightforward. If you get diagnosed with cancer, you receive the lump sum payout, and the policy is over and done with. Until then, you just pay an annual premium.
Speaking of annual premiums…
#4 It is highly affordable
The structure of cancer insurance is almost identical to that of critical illness insurance. The only difference is that critical illness insurance covers dozens of diseases, whereas cancer insurance is much more specific.
Because of this specificity, it is also much more affordable. While annual premiums for critical illness insurance can run into the thousands, premiums for cancer insurance can be less than S$100 a year.
The premiums will differ based not just upon the sum assured (which can go as high as S$200,000), but also on personal risk factors such as age and smoking history. But as with all insurance plans, there is also variation between insurers—which brings us to the final point.
#5 The structure varies from plan to plan (so make sure you compare)
Although cancer insurance plans are basic, there are still variations between different insurers' plans. For instance, some may pay out the full sum assured upon a confirmed cancer diagnosis—regardless of whether it is in the early stage or late stage. This means that should there be a recurrence, the policy will already have lapsed.
On the other hand, some plans may vary the payout amounts depending on which stage the cancer is in, with any remaining amount being paid out in the event of a recurrence. And others might only cover late stage cancers, with additional riders needed to cover early stage diagnoses.
Finally, you should also look out for promotions to pay less in premiums.
The point is that cancer insurance plans are not necessarily identical. To make the best choice for yourself, you need to compare. And the easiest way to do that is by using SingSaver's handy comparison tool of the various cancer insurance plans on the market today.
Read These Next:
Best Cancer Insurance Plans In Singapore (2021)
Here's Why You Should Seriously Consider Getting Cancer Insurance
Critical Illness vs Cancer Insurance Plans: A Critical Comparison
Seeing a Doctor in Singapore: A Beginner's Cheat Sheet to Clinics and Claims
Everything You Need To Know About Breast Cancer: Screening, Treatment Costs & Insurance