KrisFlyer provides travellers with more perks, but Asia Miles offer greater flexibility to Singaporeans looking for a holiday.
If you've been using an air miles credit card for a while, you've probably accumulated enough points or air miles for a free flight or two. But you may be wondering how exactly can you use the miles or points you have earned.


Table of contents
---
How Do I Use the Points or Miles I Have Earned?
The answer depends on which credit card you're using.
For example, a bank-issued air miles card, such as the DBS Altitude Visa Signature Card, awards you points for every eligible purchase you make. (For this card, you'll get points equivalent to 1.2 miles per S$1 spent. For overseas purchases, you'll earn 2 miles on the dollar, and 3 miles per S$1 for online hotel and flights bookings.) You then use these points to exchange them for air miles, which will then be deposited into an air miles account.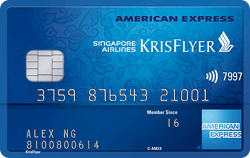 However, if you've signed up for a co-brand credit card, such as the American Express Singapore Airlines KrisFlyer Credit Card, any air miles you earn are automatically deposited into your air miles account. (For this card, you'll earn 1.1 air miles per S$1, and 2 air miles at singaporeair.com and selected eligible merchants - deposited automatically into your KrisFlyer air miles account.)
So no matter which card you use, you'll notice that you'll need to have an air miles account, into which your air miles are deposited. You then use the deposited air miles to redeem eligible flights.
The next thing you may be wondering: of the two most popular air miles programmes available to Singaporeans - KrisFlyer and Asia Miles - which one should you use?
To help you decide, we compared the major features of both programmes to find out which offers the better deal.
Comparison of KrisFlyer vs Asia Miles

KrisFlyer

Asia Miles

Minimum miles needed for flight redemption

Free 2 stopovers (more than 24 hrs) per return ticket

Priority Tier 1:

Priority Tier 2:

Miles awarded for flights

(based on actual miles travelled)

Economy and Premium Economy:

Economy and Premium Economy:

Miles awarded on budget carrier flights

Scoot (PlusPerks) - from 60 to 1,700 miles on return tickets

Tiger (Flexicombo) - from 20 to 100 miles, one-way flights from Singapore only

Other ways you can use your miles

Redeem awards for up to 5 nominees

Shopping credit at Cold Storage, Marketplace, Jasons, Giant and Guardian

Shopping credit at KrisShop

Hotels, cars, experiences, charity and environment

Bid miles for concert tickets, dining reservations, collectibles, travel packages and other lifestyle events

Spending on partner merchants


Shopping on KrisFlyer Spree

Spending on partner merchants

3 years upon credit to account

3 years upon credit to account
---
Other things to know about earning miles and points
Redemption of Flights
First, a note. The number of seats eligible for redemption may be limited at the carrier's discretion. This means that even with the required number of points, you may not be able to redeem the flight you want. Therefore, it would be best to plan ahead if you're looking to trade in your points.
Both programmes offer different tiers of redemptions, with the higher tier seats coming with higher availability, but costing more miles in exchange.
KrisFlyer offers a lower limit for redeeming flights - you'll need only 7,500 miles to redeem a one-way flight on the shortest haul. For the higher redemption tier (Standard), a return ticket will also give you 2 free stopovers.
This is a generous perk that can save you a lot of money. If your flight has stops along the way, you'll be able to opt for a stopover at no extra charge. You can stopover for however you want, as long as it's more than 24 hours. This is very handy if you're planning a multi-city vacation and can find the corresponding flight.
Another perk KrisFlyer offers is an automatic 15% discount for online redemptions. This can help you stretch your miles.
Asia Miles offers 3 tiers of redemptions. This potentially provides more flexibility in the way you use your miles.


---
Bonus Miles Earned for Flights
When you book and pay for a flight with money, you can earn air miles to add to your account. The amount of air miles you can earn per flight is calculated as a percentage of the actual miles travelled.
This percentage is affected by class, as well as the destination travelled. Not all passengers on the same flight will earn the same amount of air miles. Some tickets, such as those sold at discounted prices, may be awarded lower bonus miles. Needless to say, tickets that you redeemed using your miles will not earn you bonus miles.
Here, both programmes are about equal, giving out largely similar amounts of bonus miles across most flights.


---
Miles Earned for Budget Carrier Flights
Bonus miles are nice and all but what if the low prices of budget carriers are more suitable to your budget? Wouldn't it be nice if you could earn air miles even as you fly budget?
Well, now you can. If you're a KrisFlyer member, both Scoot and Tigerair will let you earn KrisFlyer miles when you fly on selected routes with them. But there's a catch - you can only earn miles on upgraded flights, which cost extra.
Do a quick calculation to see how much more you're paying just for the additional KrisFlyer air miles; they may not be worth the extra expenditure. In any case, you shouldn't bust your budget just for extra air miles.
Asia Miles does not have a partnership with any budget carrier, and is unable to award air miles this way.


---
Other Ways You Can Use Your Miles
Besides the usual tickets and flight upgrades, both programmes let you use your miles in other ways.
With KrisFlyer, you can trade in your miles for Scoot and Tigerair vouchers. This can be useful in the scenario that you can't find a more convenient full-service flight - although, that's probably not very likely to happen.
Another way is to save expiring KrisFlyer miles by converting them into vouchers - just make sure you remember to use up the vouchers too.
Redemption of KrisFlyers miles for Scoot and Tigerair vouchers

KrisFlyer Miles

Value of Vouchers
Additionally, KrisFlyer lets you nominate up to 5 individuals for whom you can use your miles to redeem free flights and upgrades. This is essentially a personal gifting programme, and is also a good way for you to use up any miles that are nearing expiry.
KrisFlyer may provide some unique perks, but Asia Miles offers greater flexibility.
With the latter, you can redeem your miles on a wide range of travel-related services, such as hotels, car rentals, entertainment and charity. This means that you could use your miles to cover the major costs of your trip, if you so choose.
In addition, Asia Miles also lets you use your miles to bid for exclusive events and experiences, such as concert tickets, dining reservations, collectibles and travel packages.


---
Use KrisFlyer for Perks, Asia Miles for Flexibility
KrisFlyer offers members some unique perks that can prove attractive to some travellers.
As a KrisFlyer member, you can redeem a flight for as little as 7,500 miles - if you book your flight early enough. This is about as cheap a paid full-service flight can get.
Take advantage of the low award rate by booking a multi-city itinerary across 2 destinations for your own custom holiday. For example, you could fly from Singapore to Malaysia, Malaysia to Indonesia, and Indonesia back to Singapore, and use only 22,500 miles in all. With Asia Miles, a similar itinerary would cost you 30,000 miles at least.
For 30,000 miles, KrisFlyer rewards you with free stopovers on your return flight. This is only applicable if your flight route already has a stopover built in, but since you'll be landing, why not extend your holiday by a few days and take in a new city?
One other perk of being a KrisFlyer member: you'll be rewarded with KrisFlyer miles should you decide to fly via Tiger or Scoot. The number of miles earned isn't terribly attractive, but some miles are better than no miles at all. Besides, you can always convert the KrisFlyer miles earned from your budget carrier flight into vouchers to use on your next budget flight!
On the other hand, Asia Miles' programme is structured to offer you more flexibility across the board.
As mentioned above, the ability to use your miles not only for flights, but also hotel rooms, and car rentals means you could have an entire holiday practically for free.
Combine that with the option to bid for tickets to exclusive lifestyle experiences and you could be well on your way to your dream holiday - paid up with your miles alone.
Still not sure what credit card to get? You can use SingSaver.com.sg's comparison tools to find the best air miles credit cards in Singapore.

Read these next:
6 Credit Cards that Give Free Access to Airport Lounges
Credit Cards with Free Luggage Welcome Offers in Singapore