Razer first turned profitable in FY2020 after being listed on the HKEX for three years. Find out whether the gaming peripherals manufacturer repeated its success after the first half of 2020.
Gaming peripherals manufacturer Razer (HKEX: 1337) has announced its earnings for 1H2021. The key result would be a net profit of close to US$31.3 million for the first six months of 2021. This comes on the back of a successful FY2020 where the firm turned profitable for the first time, then delivering a net profit of US$800,000.
And as you would expect, other financial indicators for 1H2021 have risen accordingly. Razer's revenue was US$752 million, close to 1.7 times what it raked in during the same timeframe in 2020. The business' gross profit margin remained strong as well, growing to 27.1% compared to 1H2020's 22% and FY2020's 22.3%.
On the other hand, Razer's cash and bank balances have decreased from US$621.8 million in end-December 2020 to US$517 million. The company has stated that this was due to "the purchase of investment in financial assets and equity securities of US$138.5 million and repurchase of ordinary shares of US$52.3 million".
Here's a deeper look at how the HKEX-listed business performed along with its outlook for the rest of 2021 and beyond.
Hardware
Although Razer prides itself on the strength of its entire ecosystem, it's clear that hardware is still by and large the brand's moneymaker.
Over 90% of its 1H2021 revenue is derived from hardware sales, but this is hardly a surprise given that the company was a gaming peripherals manufacturer from day one.
However, Razer now manufactures more than just mice and keyboards. Chairman and CEO Tan Min-Liang noted in the earnings call that its line of Razer Blade laptops have been taking off in the USA.
Then there's the Razer Iskur series of gamer-centric office chairs which has been garnering favourable reviews from publications like IGN and TechRadar.
Tan said that the brand will continue to explore new hardware categories and even improve how sustainable its products are. He pledged that 100% of Razer's products will be made of recycled or recyclable materials by 2030.
It has started by utilising FSC-certified packaging in 2021, with another milestone set for 2025.
Software
On the software side of things, Razer grew its user base by 27 million people in the space of six months. Monthly active users grew by 51.4% too, as compared to June 2020.
Revenue generated here is negligible because almost every piece of software that Razer provides is free and designed to be used alongside their products.
The best example would be its Streamer Companion App, which sports integration with all Razer Chroma-enabled devices. As the name suggests, it's designed for Twitch or Streamlab streamers, encouraging them to use Razer's peripherals.
In turn, they'd be indirectly influencing their viewers to purchase Razer's products. Clever.
In the 1H2021 earnings call's Q&A segment, Tan also mentioned that Razer's gaming peripherals allowed for a more immersive experience as compared to its competitors.
Services (Razer Gold and Razer Fintech)
With regards to Razer's services business, Razer Gold and Razer Fintech to be precise, net revenue for 1H2021 was US$72.8 million. Additionally, gross profit margin topped out at 41.9%.
Razer has utilised its 'ecosystem' approach effectively for Razer Gold, with the virtual credit being accepted not just for video games, but entertainment as well.
Furthermore, a loyalty rewards credit dubbed Razer Silver is doled out to Razer Gold users, incentivising them to stay on the platform. As of 30 June 2021, there are approximately 30 million Razer Gold users, a 25.3% increase from end-June 2020.
Razer's interim report stated that it will continue to promote the virtual credit, especially in "high growth regions such as Latin America".
Razer Fintech on the other hand, handles the B2B side of things. It provides fintech services in emerging markets and has achieved several significant milestones ever since it was started in 2018.
The business revealed that over 60,000 merchants across various sectors have adopted Razer Merchant Services. This was an 88.6% increase from end-June 2020.
Unfortunately, the ill-fated Razer Pay project in Singapore and Malaysia is still fresh in everyone's minds. Razer Fintech CEO Lee Li Meng had to address this in the Q&A segment, saying that Singapore and Malaysia were testbeds for Razer Pay. Insights were gained regarding its consumers and how to run an e-wallet business, amongst other things.
Other points to note
Tan Chong Neng (Razer's CFO and Executive Director) said that the company will be investing a portion of its profits into growing the business. He said that the team sees potential in its services business and that's where they plan to re-invest.
He emphasised that Razer will not be putting itself into a loss-making position as only a portion of profits will be utilised.
Then there was the question on everyone's minds: China's crackdowns across various sectors. Tan Min-Liang reassured investors that the regulations wouldn't have any major impact on the firm.
He added that China makes up just 10% of Razer's revenue mix and that they sell hardware (not games). Finally, he also said that all other regions were growing as well.
One point was raised that would've caught the attention of investors: Tan Min-Liang did not say no to a secondary listing on another stock exchange. He said that the team is looking at possibilities but quickly added that he did not have any specific news to discuss in this earnings call.
Within that statement, Tan Min-Liang highlighted Razer's business performance in the USA. To be exact, revenue from the Americas region in 1H2021 was US$317.8 million.
Do with that information what you will.
Conclusion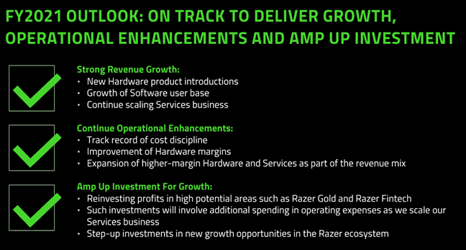 Razer has followed up on a successful FY2020, delivering a much more profitable 1H2021. Tan Min-Liang said this should be the case for the rest of 2021 and that Razer was in a "delightful situation where all our businesses are growing".
The firm's share prices were reacting accordingly throughout the day, opening at HK$1.8 before closing at HK$1.89.
The business clearly has its eyes on the future, aiming to improve sustainability not just for its products, but its office spaces too. Single-use plastics have already been eliminated, but the endgame would be being 100% carbon neutral by 2030.
Naturally, Tan Chong Neng reminded investors that this was beneficial for both the environment and the business. He added explicitly that he did not see a negative impact on Razer's profits and losses, as if to assuage folks on the call that this was not the company's way of jumping on a fad.
Read these next:
Best Investment Sign-up Promotions In Singapore (2021)
Mobile Wallets In Singapore: Complete 2021 Guide
Economic Calendar: How You Can Use It To Aid Your Investments
I'm 27 And I Accumulated My First $100,000 By Investing And Saving Over 4 Years
Contrarian Investing: A Guide To This Nonconformist Investment Strategy