Despite the increasing rent, the rental market in Singapore remains red-hot. If you're new to renting and not sure where to start, find out how with this handy guide.
Whether you're a serial mover who's rented countless homes or a newbie who's restlessly waiting for your BTO flat to complete, looking for a place to live can be daunting. There are many things to take into consideration when choosing the right property, and this is before the negotiations and paperwork kick in.
On top of that, you would also need to take into account the expenses involved with a rental. This guide will give you the complete picture of what it takes to rent a home in Singapore, and the steps you'll need to take.
First and foremost, how much should you set aside for rental?
While rental is a huge expense, exercise prudence by springing for a property that's within your means. The rule of thumb is to allocate about 30% of your income for your monthly rent. This means if you're taking home a salary of S$5,000, your rent budget should not exceed S$1,500.
What type of properties can you rent in Singapore?
Assuming that you're only looking for entire homes to rent, the property types you can find in the Singapore rental market are:
HDB flats
Condos
Landed houses
State-owned properties
The cost of renting these properties depends on a number of factors, but it could largely boil down to location, location, location.
There are a total of 28 districts in Singapore, divided into three regions — namely, the Core Central Region (CCR), Outside Central Region (OCR) and Rest of Central Region (RCR). Barring other features of the property like its amenities, design, age and size, more often than not the rental rates go up as you get closer to the city centre.
Step #1: Evaluate your needs
Everyone's housing needs are different and it largely depends on the type of lifestyle you lead.
For example, if you're a young family of four, you would typically need a spacious home with more rooms to fit everyone comfortably. You would also need to live near schools and an MRT station for convenience sake. These family-friendly preferences would differ if you were a bachelor as you wouldn't need as much square footage. On top of that, you may also prefer living 15 minutes away from the CBD to cut down on your daily commute.
In this vein, it's important to start listing your must-haves in terms of the location as well as the housing type that's right for you.
Step #2: Look up properties and start shortlisting
Fire up your internet browser and start looking at houses that are available on the rental market.
Based on the must-haves you've gathered in Step #1, you can start narrowing down your search and decide what's worth taking a closer look at.
Step #3: View the properties
Reach out to the homeowner or property agent if a unit has caught your eye and arrange a viewing appointment to help you make your decision.
Seeing the house in person is extremely important as it lets you witness the actual condition of the property and its surrounding neighborhood. You may also discover things that landlords may not want to disclose in the listing, such as traffic noise and whether the property shows its age.
Step #4: Make an offer
Once you're sure that you've found The One, it's time to make an offer to the landlord or through your agent. A round of negotiations is to be expected, especially if there's more than one interested tenant.
Stand your ground and be mindful not to exceed your budget in order to secure your dream property. At the end of the day, you would need to be able to afford the rent in order to keep the home for the duration of your lease.
Step #5: Sign Letter of Intent
Once the landlord accepts your offer, you would be invited to sign the Letter of Intent, otherwise known as the LOI. Essentially, this document is where the conditions of your rental are laid out in black and white. Some noteworthy ones include the rules on pets, house guests, and who will foot the bill for house repairs and maintenance.
Step #6: Submit Good Faith Deposit
After signing the LOI, what usually comes next is making your first payment called the Good Faith Deposit. Depending on the length of your lease, the Good Faith Deposit usually consists of a month's rent for a one-year lease or two months' rent for a two-year lease. This amount should be refunded to you once your lease ends and you've vacated the property.
Step #7: Do a thorough reading before signing the Tenancy Agreement
Not to be taken lightly, the Tenancy Agreement should be raked through with a fine-tooth comb so that nothing is amiss. This means that everything that's been laid out in the (signed) LOI should also match the terms in your Tenancy Agreement.
To ensure that you won't be stuck with exorbitant repair bills once you take over the unit, pay special attention to the agreement on maintenance and repairs. If the repairs exceed a certain amount, that's where your landlord should pick up the rest of the tab. Usually this amount ranges up to S$200.
Pro tip: ask your landlord if they have a list of home maintenance vendors that they swear by. This would prevent any potential disputes with your landlord as to the authenticity of the repair bill.
Step #8: Pay stamp duty
Yes, tenants aren't exempted from paying stamp duty to the IRAS. If your lease period is four years or less, the duty rate will be at 0.4% of the total rent for the duration of the lease. Using the IRAS Stamp Duty Calculator, you can calculate how much your stamp duty would be if you're paying a fixed rent of S$6,000 per month for a two-year lease: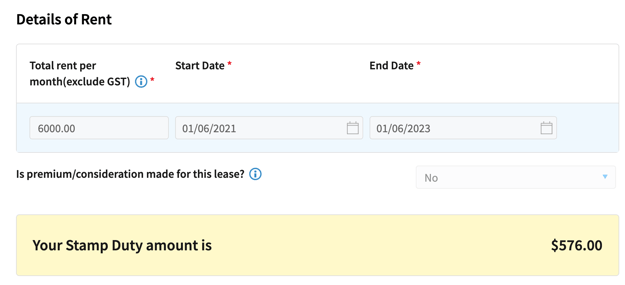 Do your homework now by checking the suite of online calculators available on the IRAS website.
Step #9: Home sweet home
Upon moving in with the keys in hand, you would need to set up your wifi and get your utilities in order. Utilities are things that make your house livable, like electricity, gas and water.
A good habit to adopt is to do a thorough sweep of the property and check if there are any signs of disrepair or wear and tear. If there are, be sure to raise the issues to your landlord before you properly settle in. This way, they're able to cover the necessary repairs and won't be able to pin the damages on you.
Read These Next:
Home Insurance Promotions And Discounts To Protect Your Home
Money Confessions: Why I Moved Out of My Parents' House At 24, And How I Afford It
Home Insurance: Why Is It Important And How Do You Compare The Best Plans?
Million Dollar HDB Home: What's The Hype All About?
The Real Cost of Breaking Up Before Your BTO Flat Is Ready