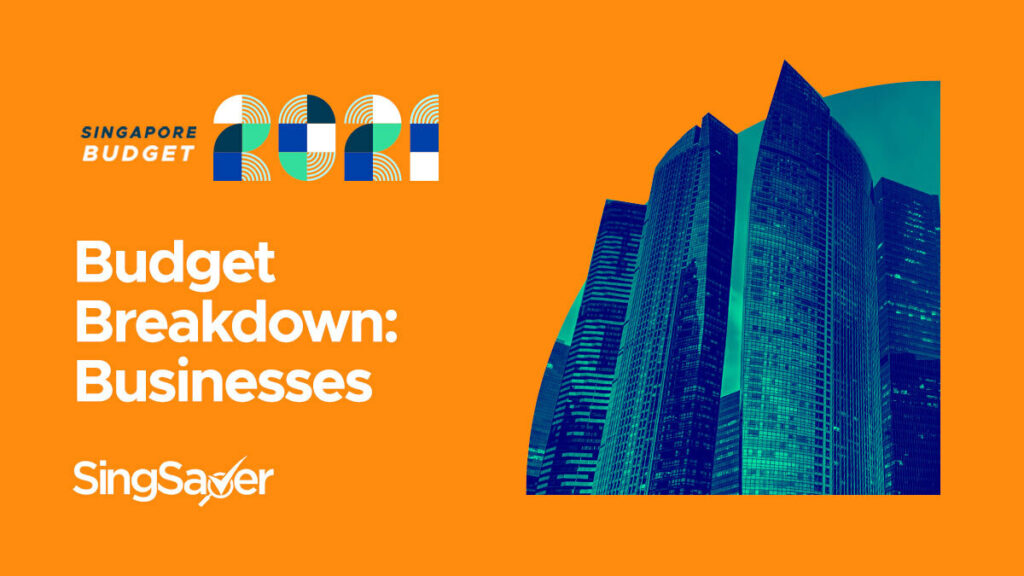 Here are all the important numbers businesses need to know for the COVID-19 Resilience Package, Jobs Support Scheme, various schemes for SMEs and LLEs and more.
Emerging Stronger Together is the name of Singapore Budget 2021. Announced by Finance Minister Heng Swee Keat, this year's budget remains expansionary albeit an expected overall deficit of $11 billion in FY2021.
As businesses remain the economic backbone of the country — providing employment for Singaporeans and contributing to the nation's GDP no less — the government will be supporting businesses big and small, in the name of adapting nimbly to new norms.
Here are all the important numbers businesses should take away from Budget 2021.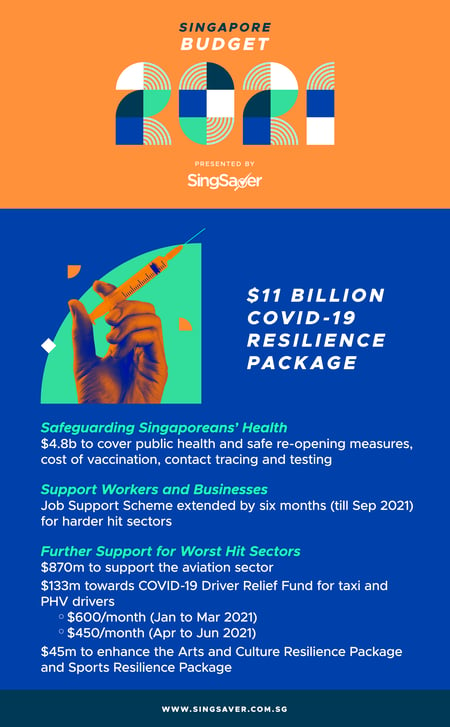 #1 $11 billion — COVID-19 Resilience Package
Although Singapore's fiscal situation is poised to be tighter in the coming years, the COVID-19 Resilience Package has been carefully designed to help Singapore reopen its borders safely while keeping up with its recovery momentum. This would surely go some way in assisting hardest hit sectors such as aviation.
$11 billion has been set aside for this package to tackle three key areas:
Addressing immediate needs such as vaccination, contact tracing, testing and more to safeguard public health and reopen safely;
Supporting workers and businesses where needed; and
Directing more support for sectors still under sustained stress
#2 $700 million — Extension of Jobs Support Scheme (JSS)
To help businesses retain local employees, the government will extend the JSS by up to six months until September 2021. This will come with a price tag of $700 million.
For firms in hard-hit Tier 1 sectors such as aviation, aerospace and tourism:
JSS extended by six months
Firms to receive 30% support for wages paid from April to June 2021
Firms to receive 10% support for wages paid from July to September 2021
$870 million allocated to the aviation industry
For firms in Tier 2 sectors such as retail, arts & culture, food services and built environment:
JSS extended by three months
Firms to receive 10% support for wages paid from April to June 2021
The Arts and Culture Resilience Package and Sports Resilience Package will also be extended to support businesses and self-employed persons in these sectors
About $45 million set aside for extension of and enhancements to these packages
For firms in Tier 3B sectors like supermarkets and Internet companies:
JSS support discontinued after December 2020, as such sectors are managing well
For firms in Tier 3A sectors, which covers employers in all other sectors:
JSS covered up to March 2021, as previously announced, as these sectors are generally recovering
On a side note, nightlife establishments like pubs and karaoke bars are still not permitted to open. These businesses are encouraged to apply for grants from Enterprise Singapore and the Ministry of Trade and Industry to pivot to other permissible activities or wind down.
#3 $24 billion — Industry Transformation Maps
True to Budget 2021's Emerging Stronger Together theme, $24 billion will be allocated over the next three years to help businesses and workers 'emerge stronger' beyond the ravages of the COVID-19 pandemic.
How will this $24 billion be used? In particular, Singapore will move swiftly to:
Develop a vibrant business community
Catalyse a wide range of capital to enable businesses to transform and scale
Redesign jobs and create new job opportunities for Singaporeans to develop their skills, creativity and talents
#4 3 — Key platforms the govt will be investing in to support businesses
Businesses should familiarise themselves with the following platforms that lend them greater support amidst the rapidly changing landscape brought on in part by the COVID-19 pandemic.
These three platforms will come in handy in boosting firms' innovation efforts:
Corporate Venture Launchpad
Drives the building of new innovative ventures
Co-funding for corporates to build new ventures through pre-qualified venture studios, – useful for larger businesses that want to rekindle a startup mindset within their organisations
Open Innovation Platform (OIP)
Facilitates the matching of problems faced by firms and public agencies with solution providers, in addition to co-funding the prototyping and deployment of solutions
The OIP will be further enhanced with new features such as a cloud-based Digital Bench for accelerated virtual prototyping and testing
Global Innovation Alliance (GIA)
Serves to catalyse cross-border partnership between Singapore and major innovation hubs globally
The existing network comprises 15 city links at this time; this will be expanded to over 25 cities over the next five years
#5 $8 million — Increased loan cap for Venture Debt programme
High-growth enterprises, including startups, will continue to have access to financial capital even if they do not have significant assets available for use as collateral under traditional bank lending.
This is made possible thanks to the extension and enhancement of the Enterprise Financing Scheme - Venture Debt programme.
The cap on loan quantum has been increased from $5 million to $8 million — a welcome nod of endorsement for high-growth enterprises.
As part of the announced Budget 2021 support for businesses, the government will be sharing up to 70% risk of eligible loans with participating financial institutions.
#6 $1 billion — Equity investments in large local enterprises
Large local enterprises (LLEs) aren't left out. The government will work to ensure that growth capital is available to LLEs 'that are ready to transform or expand overseas on a larger scale'.
This is fantastic news for firms with strong fundamentals looking to venture into new areas or markets and is a great complement to existing grants and loans.
A total of $1 billion will be available for equity investments in these LLEs – made up of $500 million set aside by the government, and another $500 million via co-investor Temasek Holdings' one-for-one matching.
#7 $1 billion — Productivity Solutions Grant - Job Redesign
To help mature businesses redesign jobs for the ageing workforce, the government will be setting aside a whopping $1 billion and increasing the co-funding ratio from 70% to 80% until end-March 2022.

For the uninitiated, the Productivity Solutions Grant - Job Redesign funds will co-fund mature enterprises' adoption of digital solutions and new technologies to give their competitiveness a push in the right direction.
#8 15% — S Pass quota for foreign workers in manufacturing
Take note, businesses in manufacturing. The government has announced its intention to reduce reliance on foreign workers. This will, of course, be done progressively.
The government aims to cut the S Pass sub-dependency ratio ceiling (sub-DRC) in two steps, to:
18% from 1 Jan 2022, and to
15% from 1 Jan 2023
To reach Singapore's vision of being a global advanced manufacturing hub, the government has made clear that the local workforce needs to develop deep skills while the industry needs to lessen its reliance on foreign workers.
Although the latest move has been carefully calibrated, rest assured the government will continue to review the S Pass framework — including the qualifying salary and levies — to balance prioritisation of local labour and need for foreign ones.
#9 $20 million — Change for Charity Grant to encourage businesses to give more
The government is urging regular Singaporeans as well as businesses to give back to the community, especially since charities, social service agencies and community partners are now facing challenges pertaining to reduced donations. As much as the truth hurts, COVID-19 has left nobody unscathed.
$20 million will be allocated to the new Change for Charity Grant. The government reckons businesses have the potential to do more when it comes to facilitating spontaneous acts of daily giving (think: encouraging consumers to make donations at the point of transactions).
The grant will match ComChest donations raised through this initiative as well as co-fund one-off development costs incurred to integrate or enhance donation functions onto businesses' payment platforms.
Emerging Stronger, Together
The forward-looking Emerging Stronger Together Budget aims to provide targeted support for businesses, households and workers alike so we can stay united as one and, well, emerge stronger, together.

While these freshly announced short-to-long term support measures are a boon to struggling businesses, you, as a business owner, could meet them halfway with your own initiatives – start by checking out our guide to source capital or how to use personal loans to see you through responsibly.
Read these next:
Singapore Budget 2021: Key Highlights And Summary
Hawker Eats That Deserve Your $100 CDC Vouchers
Budget 2021: S$30m For Electric Vehicle Initiatives
Singapore Budget 2021: 5 Ways It Will Affect Your Daily Life
Considering a Career Switch? Here Are 4 In-Demand Jobs In The COVID-19 'New Norm'