There is no doubt "reserves are our greatest insurance", in the words of DPM Lawrence Wong.
W
ith the projected draw on contingencies funds balance reduced from $16 billion in 2020, to $6 billion in Budget 2023,
CPF relief measures were announced to help Singaporean citizens across life stages.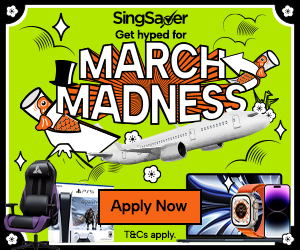 SingSaver Exclusive Promotion: Apply for our exclusive credit card, travel insurance, car insurance, personal loan, investment, savings account, and priority banking deals to score raffle tickets (up to 3x chances) in our March Madness Grand Lucky Draw!
Over S$20,000 worth of prizes are up for grabs, including 1x pair of Business Class Round Trip to Tokyo (worth S$9,000), 2x PlayStation 5 God of War Bundle (worth S$1,798), 2x OSIM uThrone Gaming Massage Chair (worth S$3,198) and other awesome prizes (worth over S$9,000).
Valid till 2 April 2023. T&Cs apply.
Golden Ticket (3x chance)

Silver Ticket (2x chance)

Bronze Ticket (1x chance)

Credit Cards: Amex Singapore Airlines KrisFlyer Ascend Card | Amex Platinum Card | Amex Platinum Charge Card | Standard Chartered Smart Card | Standard Chartered SimplyCash Card | Standard Chartered Rewards+ Card | UOB Absolute Cashback Card | UOB One Card | UOB EVOL Card | UOB Lady's Card | KrisFlyer UOB Card | UOB PRVI Miles AMEX Card | UOB PRVI Miles Visa Card | UOB PRVI Miles Mastercard

Travel Insurance: Starr TraveLead | MSIG TravelEasy

Car Insurance: FWD Car Insurance
---
For Homebuyers
Long wait times for Build To Order (BTO) units are a common recurring gripe among prospective homebuyers, while resale flat purchases are a (costlier) alternative.
To help ease homeownership pressures among 1st-time buyers, the government has increased the CPF Housing Grant in Budget 2023 by S$30,000.
For 1st-time buyers of two- to four-room resale flats, the CPF Housing Grant will be increased from S$50,000 to S$80,000.
The grant will be raised from S$40,000 to S$50,000 for five-room resale flat buyers.
This enhanced support is in addition to the current Enhanced Housing Grant and Proximity Grants, bringing the total support to $190,000 in grants for resale flat purchases.
For Seniors
Singapore's ageing population aged 65 and above will form 1/4 of the population by 2030. The government estimates that Singapore will need to spend $27 billion by then.
To strengthen our aged care support, the government introduced the Healthier SG initiative to encourage active ageing and disease prevention.
With stronger community support expected through the review of Active Ageing Centres, the government is also increasing resources with a $500 million top-up to the ElderCare Fund. This will help to offset some of the costs incurred for home-based, centre-based or institutional care.
As healthcare expenses are a major concern among Singapore's growing elderly population, more government support is always welcome.
In addition to MediSave deduction and MediShield subsidies, there will be a $1.5 billion top-up to Medifund to provide a safety net for lower-income individuals and seniors.
Lastly, under the Retirement Sum Scheme, the minimum monthly payout for seniors will increase to $350 per month.
For Business and Workers
With the employment rate climbing back to 2.8% in 2022, it's safe to say that Singapore's workforce is on track to getting back to pre-pandemic levels.
One segment that came under the spotlight at Budget 2023 is platform workers, who are especially vulnerable to economic fluctuations due to the nature of work and lower income.
To strengthen their retirement adequacy, the new Platform Worker CPF Transition Support will be introduced to address additional CPF contributions and impact on the workers' take-home pay.
Platform workers below 30 will be required to increase CPF contributions with their companies over the next 5 years.
While CPF contribution rates for older workers aged above 55 to 70 will increase by 1.5 percentage points, employers will be provided with a one-year CPF transition offset to cope with the change.
The monthly salary ceiling, last set at $6,000 in 2016, will be increased over four years to $8,000 in 2026. This will affect the maximum amount of CPF contributions payable for ordinary wages.
The changes will take effect from 1 January 2024, and more details will be shared at the upcoming Committee of Supply debate.
For Healthcare
Last year's Budget announcement saw up to $450 top-up to MediSave account from 2023 to 2025 for Singaporeans aged 20 years and below, or 55 years and above.
At Budget 2023, the focus turned to support for families to build a more resilient Singapore.
As part of the enhanced Assurance Package and GSTV scheme, including MediSave top-ups, the total support for lower-income households is $5,500, while middle-income households will receive up to $8,400 in cash, subsidies, and rebate vouchers.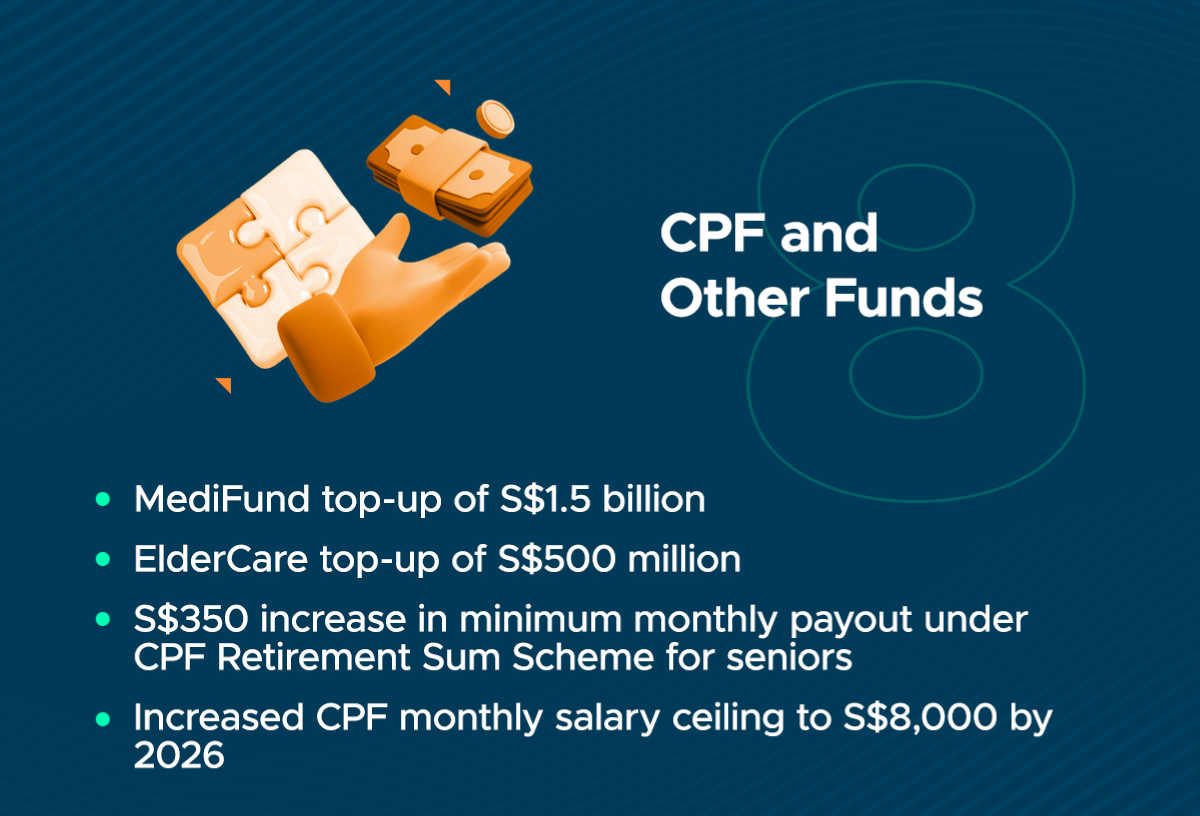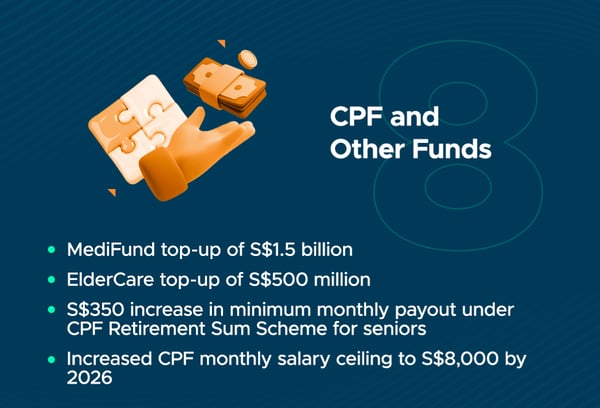 Read these next: