#5 will make you feel like you've stepped into the cartoon world.
Avid cafe-hoppers in Singapore would know that it takes more than just great coffee and crispy waffles to make it on Instagram. The cafe has to look good, taste good and basically transport you to a whole new world.
From a magical Harry Potter-themed cafe to a retro shack that brings you back to the 80s, here are eight unique cafes in Singapore that bring you a one-of-a-kind experience.
Pro tip: Cafes are usually not cheap, so why not save some money by charging your bill to a cashback credit card?
Last updated on 22 November 2021. Prices and opening hours of cafes are subjected to change without prior notice.
Tiong Bahru Bakery — safari glamping experience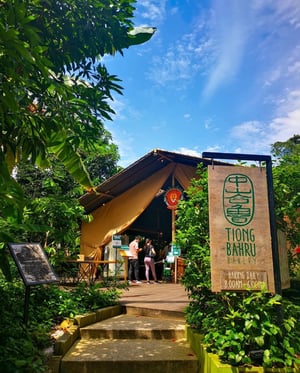 Address: 130E Minden Road, Singapore 248819
Opening hours: 8am to 6pm daily
Situated right next to Open Farm Community and close to the Botanical Gardens, Tiong Bahru Bakery (TBB) Safari rests within a safari tent pitched in a lush urban garden.
While here, it is a must to have a bite of its signature croissant (S$4.20) and pair it with a beetroot roselle latte (S$6.50), an exclusive menu item only available at its Safari outlet.
If you are lucky enough, you might even find their golden croissant. Until 9 January 2022, there is a chance that you might land on a custard-filled croissant and win a year's supply of TBB's amazing croissants.
Make sure to come 10 to 15 minutes before opening time or make a reservation beforehand as this is a very popular brunch spot on the weekends.
Cafe Monochrome — be the main character in a cartoon world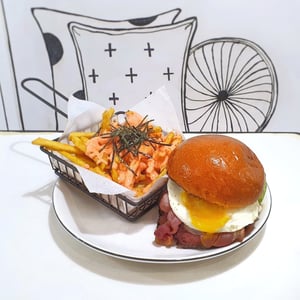 Address: 216 Syed Alwi Rd, Singapore 207749
Opening hours: 10am to 9pm (Tuesdays, Wednesdays and Sundays), 10am to 10pm (Thursdays to Saturdays)
If a picture could tell a thousand words, the number of words expressed at Cafe Monochrome is limitless. Hailed as Singapore's first 2D cafe, every nook and every sketch is hand-drawn and designed by amazing artists. There is an element of realism in these sketches that allow them to integrate seamlessly with its ambience, bridging the realm of artistic freedom with our humble reality.
While overwhelming your photo albums with Instagram-worthy pictures, don't forget to try the cafe's creamy carbonara (S$18), which comes with a generous portion of mushrooms and bacon, or its wagyu donburi (S$20).
Cafe Colbar — old school retro feels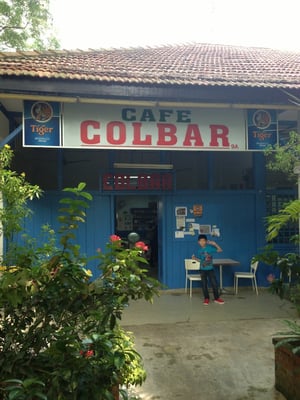 Address: 9A Whitchurch Road, Singapore 138839
Opening hours: 11.30am to 8.30pm (closes on Mondays)
Tucked away on Whitchurch Road, this quaint and simplistic cafe feels like a time capsule thanks to its postcolonial décor. In fact, Colbar is a colloquial reference to its function in the 1950s as a canteen for the British Army.
While you appreciate the remnants of Singapore's past, accentuate your experience with its cheesy omelette and chips (S$11), which oozes with tangy cheesy goodness. Unlike the other cafes spotlighted here, the dishes presented here are minimally modest and traditional.
If anything, its humble offerings are a nostalgic reminder of a more rustic period of Singapore's history.
Platform 1094 — Harry Potter themed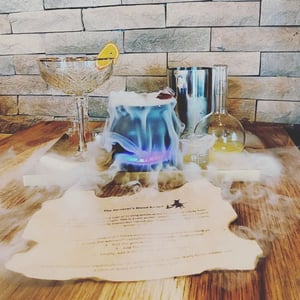 Address: 1094 Serangoon Road, Singapore 328192
Opening hours: 11am to 10pm (closed on Mondays)
"It does not do to dwell on dreams and forget to live," as Dumbledore once said poetically in the world-renowned children's book series.
If Hogwarts is the school of witchcraft and wizardry, Platform 1094 is the cafe of dreams, especially for any fan of the trendsetting series. With a meticulous adherence to the show's thematic wonders, the cafe emulates aspects of the Great Hall in Hogwarts castle that you can imagine yourself dining in. While here, savour the wonders of potion-making through Mr Lich's Flaming Brew (S$15). This beautiful concoction emits graceful flames when activated by cinnamon powder! You can find more of their creative offerings here.
CoComelon — kids TV Show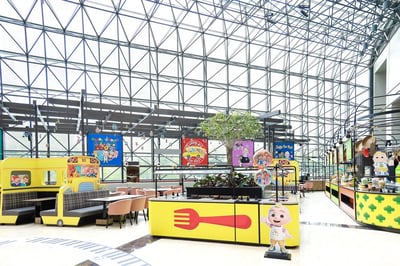 Address: 2 Stamford Road, Swissôtel The Stamford, Level 2. Singapore 178882
Opening hours: 11am to 10pm
Your little ones will love this.
Based on the favourite children television show, CoComelon, this cafe brings to life the child-like wonders and joy that the show radiates. With CoComelon-branded utensils and seating arrangements that resemble a series of little school buses, this cafe strives to engage you and your child in a fully interactive and immersive dining experience. Make sure to try its Bella Rainbow pizza (S$36) or CoComelon Rubicks Cube fruit platter (S$16) to sweeten your time here.
What's more, the cafe also carries CoComelon-themed merchandise that you can gift your kid after!
Central Perk Singapore — F.R.I.E.N.D.S TV Show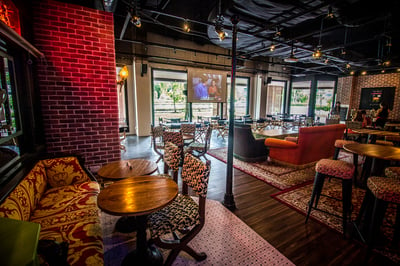 Address: 1 Magazine Road, #01-01 Central Mall, Singapore 059567
Opening hours: 11am to 10.30pm (closed on Tuesdays)
Cue the F.R.I.E.N.D's theme song (we know you know the words). Central Perk recreates the magic of the original sitcom — the intimate joy of just being around the company of your beloved friends. The space even encourages group settings with couches placed all around the dining area.
The attention to details pertaining to the sitcom is laudable. You can finally have a taste of Ross's Thanksgiving sandwich (S$21) and Joey's tater tots (S$10). The perfect place for a reunion, don't you think?
Minion Cafe Singapore — home of the lovable yellow pals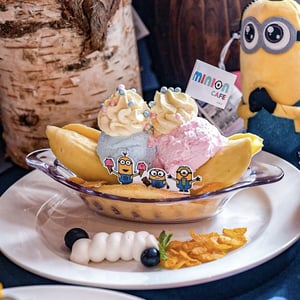 Address: 3A River Valley Road, Block A Clarke Quay, #01-01C Merchant's Court, Singapore 179020
Opening hours: 11am to 10pm (Sundays to Thursdays), 10am to 11pm (Fridays and Saturdays)
Ah yes, our lovable banana folks have once again found its way to our hearts, this time through our stomachs. Minion Cafe carries everything we love about the minions, from its bright yellow wallpapers to whimsical minion caricatures.
Its menu is light-hearted and fun, carrying items such as the delightful Minion banana drink (S$9) and a Minion mac and cheese, which has an adorable minion garnish emblazoned on it. (S$18).
Do drop by soon as this pop-up store will only operate until 2 January 2022.
Kumoya @ Orchard Central — Thematic Pop-Up Cafe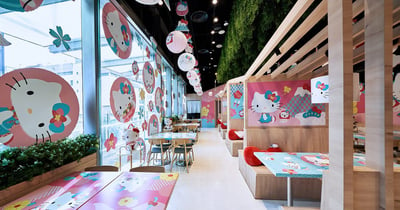 Address: 181 Orchard Road, #04-08, Singapore 238896
Opening hours: 11am to 9.30pm
This pop-up cafe does a remarkable job at celebrating endearing characters such as the Sumikkogurashi gang, Crayon Shin Chan and its current caricature, Hello Kitty. Big fans of these series can expect to find a nostalgic coziness in Kumoya's charmingly thematic décor and homely offerings.
With the current cafe's artistic direction revolving around Hello Kitty's exuberance and congeniality, this pop-up cafe is filled with hints of bright pink that are further accentuated by portraits of the loveable character. Boasting a shabu shabu miniset, delight in the wide collection of menu items to pick from that are complemented with cute Hello Kitty garnishes.
Truly, the most amazing thing about the food and desserts here is their aesthetic charm.