---
Why should you choose the UOB One credit card?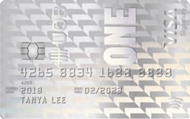 If you easily spend S$500 a month on your credit card, take Grab rides and shop at Shopee, Cold Storage or Giant, the UOB One credit card could be the one to add to your wallet.


#1: Earn 10% cashback on all your Grab rides
UOB One credit card offers a generous cashback on all your Grab rides of up to 10%.
Even if you fail to spend $2,000 for three consecutive months, you will still be earning a good additional 5% cashback as a consolation. However, remember that this cashback only applies to Grab rides which are paid directly with your UOB One credit card.
Mobile wallet top-ups are excluded from getting cashback.


#2: Save on 10% cashback when you spend at your favourite grocers
If your go-to supermarket is Cold Storage or Giant, you're in luck. UOB One especially rewards you with up to 10% cashback for purchases made at Dairy Farm Singapore merchants. This includes Cold Storage, Giant, Guardian, 7-Eleven, Market Place, Jason's and Jason's Deli.
Once again, if you fail to hit the maximum S$2,000 spend tier, you'll still earn a steady 5% cashback on your groceries.
Alternatively, you can also check out this article for the best grocery credit cards in Singapore.


#3: Additional 1% cash rebate on your utility bills
The UOB One Card rewards you with an additional 1% on your Singapore Power Utilities bills when you qualify for your quarterly cash rebate. This adds up to a total of 4.33% cashback on your utility bill.


#4 Up to 21.15% fuel savings at Shell and 22.66% fuel savings at SPC
For drivers loyal to Shell and SPC, you'll be ecstatic to know that the UOB One Card gives you immense savings on fuel – up to 21.15% savings at Shell and 22.66% savings at SPC.
💡 Pro-tip: Shave off even more savings of 27.8% discount at Shell when paying using the Shell Value Drive Card and UOB One Card together.

#5: Pair it with your UOB One Account for up to 7.8% p.a. interest on your savings
The UOB One account offers up to 5% p.a. interest on your first S$100,000 with little effort required.
All you have to do is to credit your salary every month and spend a minimum of S$500 on a UOB credit card. The UOB One credit card would be the perfect card to match this savings account.
However, if you prefer chasing miles you can consider the UOB PRVI, KrisFlyer UOB or UOB Lady's card instead.
Read more:
UOB PRVI Miles Visa Credit Card Review: For Frequent Travellers
KrisFlyer UOB Credit Card Review: For SIA & Scoot Perks
Best Women's Credit Cards in Singapore (2023)
---
For whom is the UOB One Card best for?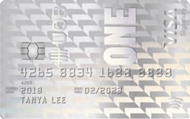 Those who care enough to count their cashback dollars and take the title of 'Singapore's most generous rebate card' seriously. UOB One's quarterly cashback structure is anything but simple, and it'll demand the highest order of expense-tracking efforts. You'll have to be disciplined enough to take a measured approach to your monthly spending, up to three consecutive months. It'd also make sense if your two heaviest lifestyle expenditure categories are groceries and Grab rides.
What charges or fees should you look out for?
Annual fee:

S$194.40

(first year waived)
Late payment charge: S$100 if minimum payment is not received by due date
Minimum monthly payment: 3% of current balance or $50, whichever is higher, plus any overdue amounts
Overlimit fee: S$40 if the total outstanding card balance exceeds the total credit limit at any time
Interest on purchases: 26.9% p.a. on amount unpaid (including late payment charges) until outstanding is paid in full
Interest on cash advance: 28% p.a. from the date of the cash advance until the date the outstanding is paid in full
Eligibility criteria
At least 21 years of age
Minimum annual income for Singapore citizens and PRs: S$30,000 or a fixed deposit collateral of at least S$10,000
Minimum annual income for foreigners: S$40,000 or a fixed deposit collateral of at least S$10,000
How to apply?
Click on the 'Apply Now' button on this page and complete the application form on SingSaver site. You might need to prepare the following documents for the application process:
Front and back of NRIC/Passport/Employment Pass
Salaried employees: Past 12 months CPF statement (Singaporean/PR) or latest Income Tax Notice of Assessment and latest original computerised payslip
Self-employed: Latest Income Tax Notice of Assessment and latest original computerised payslip
---
Read these next:
Best Cashback Credit Cards In Singapore
Citi Cash Back+ Mastercard® Card Review: 1.6% Cashback On All Spend
OCBC Titanium Rewards Card: One Shopping Card You'll Want In Your Wallet
UOB One Account Review
Best Grocery Credit Cards in Singapore