Sometimes (not often enough we say!), the things we like hare made even better. Such is the case with one of Singapore's most popular cashback cards: the OCBC 365 credit card.
There's now even more reasons to love the new OCBC 365 credit card. The changes make it even easier for you to save money. The folks at OCBC have really thought to match the new card benefits to the modern daily lifestyle of today's consumers.
Some examples: new and increased cashback on popular transactions and rebates such as online food delivery, online travel purchases, ride-hailing and transport (not just Grab) as well as recurring utility bills.
Since October 1, the true everyday savings card now rewards you for the things you do, 365 days a year.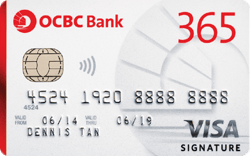 [caption id="attachment_24604" align="aligncenter" width="630"]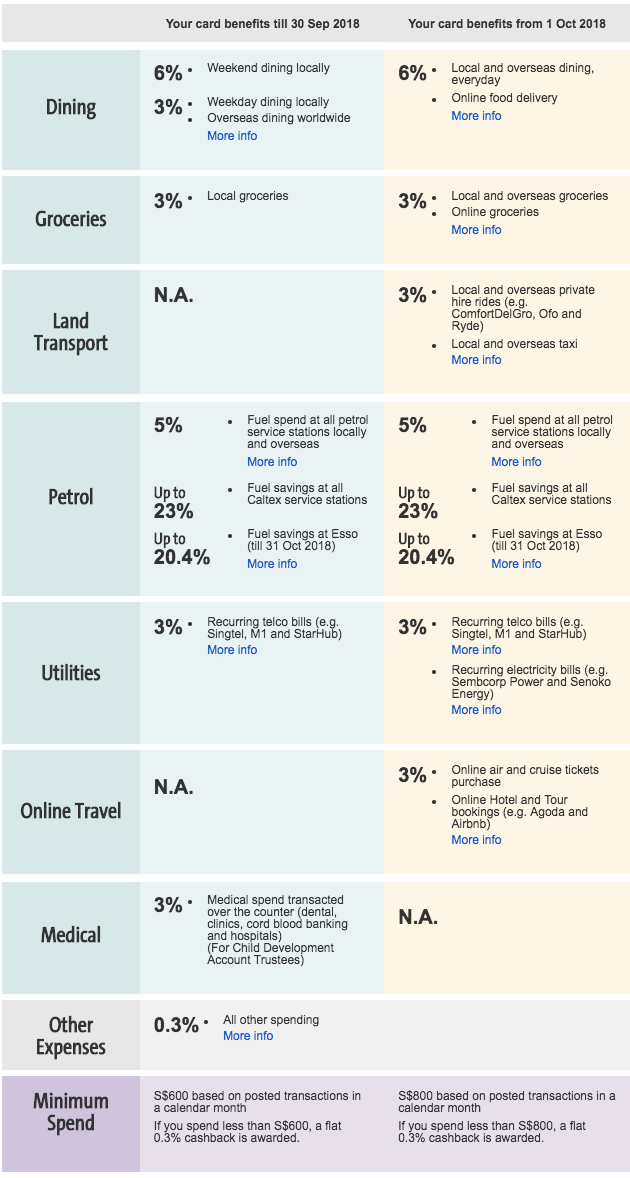 Before and after benefits of the OCBC 365 credit card refresh. (Source: OCBC)[/caption]
OCBC 365 Refresh: 5 major changes
1) Dining: 6% cashback
One of the most notable changes is the increase in dining cashback. You'll now earn 6% cashback at restaurants, cafes or eateries, any day of the week, anywhere. This is a major improvement from before when the card only offered 3% cashback on weekday dining spends.
Another big plus: the OCBC 365 also gives 6% cashback on all online food delivery orders as well, any day of the week. Perfect for those lazy weekend chills at home.
2) Groceries: 3% cashback
The amount of cashback on groceries remains the same at 3%, but now includes online grocers like Redmart and Honestbee, again fitting in with the modern consumer lifestyle. For good measure, you'll even earn 3% cashback from grocery purchases even when overseas.
3) Transport: 3% cashback
Given the popularity of ride hailing among Singaporeans, it's a no-brainer that this category had to be included in the OCBC 365 refresh. You can now earn 3% rebates on all ride-hailing services (not just Grab), so this include Ryde, private taxis and even bike sharing apps like Ofo and Mobike.
4) Online travel: 3% cashback
If you and your family go for regular annual vacations, here's another change you'll love.
Charge all your online travel spends on this card and earn 3% cashback - this includes online hotel, tour and accommodation bookings made on Agoda, airbnb and even cruise ship tickets. Even attractions tickets, airport transfers, day-trip bookings and pocket wi-fi are counted under this category.
To avoid hitting the cashback cap, spread your flight and hotel bookings; for example book your flight in one month, the hotel accommodation the following month and the overseas activities the month after.
5) Recurring electricity bills: 3% cashback
One more change to this card that's got us excited is the inclusion of 3% cashback on recurring electricity bills. Previously, this was a rebate available for telco bills only.
This new rebate category is a timely one, given the imminent shift to an open energy market. No matter which energy plan/provider you pick, use this card to reduce your household utility bills, something we we've written about before.
Minimum spend raised to $800
The new and expanded spending categories does come with a higher minimum monthly spend. You'll have to spend $800 per month to qualify for the maximum cashback rates. That's an increase of S$200 from before. For most households, that should still be easily attainable if you smartly consolidate your spend. If you fall short, you'll earn a flat 0.3% cashback across all transactions for that statement cycle.
How OCBC 365 compares to other cashback cards
Having covered the refresh, here's a quick look at how the new and improved OCBC 365 stands up against other popular cashback cards on the market: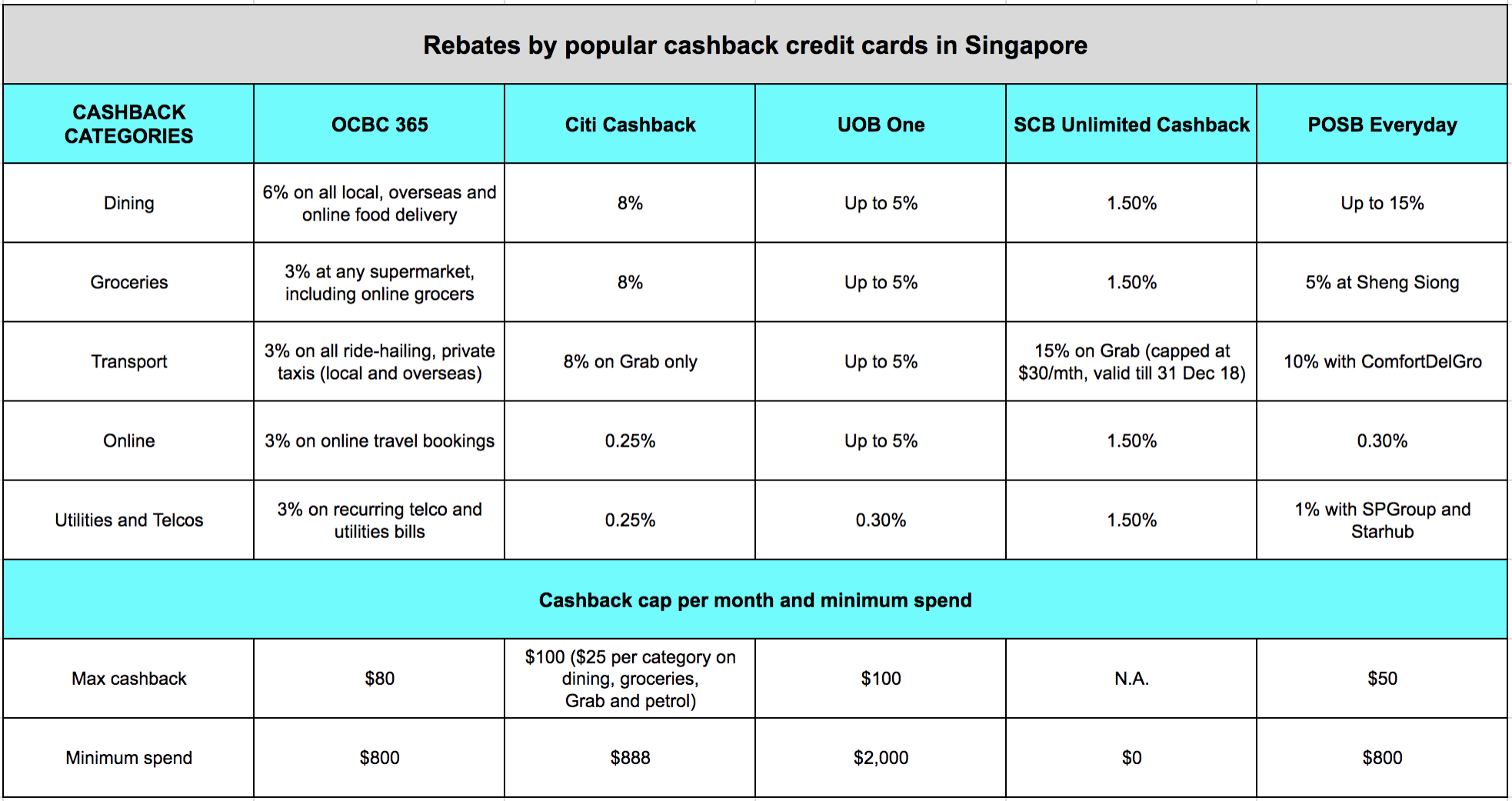 Summary
From the table above, the OCBC 365 is a clear winner when it comes to several categories.
The 6% cashback on dining, every day of the week, including online food deliveries, is a sure-fire crowd pleaser. The 3% on all grocery spends, including online grocers, is another big plus. So is the 3% rebate across all ride-hailing services and cabs. The 3% rebate on recurring utility and telco bills -- in light of the open electricity market -- is another forward-thinking move.
Other credit cards may come up tops in other categories, so ultimately, base your decision on your own lifestyle. Despite the increase in minimum monthly spend, higher cashback rates and less restrictions on when and where to earn rebates make the new OCBC 365 card an even better daily cashback card.
Singaporeans looking to save-as-you-spend on dining, groceries, transport, online travel and utilities might find this the ideal credit card.
Get $100 cash credit if you are a new OCBC credit card customer!
Looking to apply for the OCBC 365 card? SingSaver is offering an exclusive $100 cash credit when you sign up by 30th November!
Terms and Conditions apply.
This article was developed in collaboration with OCBC.
Read the full review of OCBC 365 Credit Card.
---

By Alevin Chan
A Certified Financial Planner with a curiosity about what makes people tick, Alevin's mission is to help readers understand the psychology of money. He's also on an ongoing quest to optimize happiness and enjoyment in his life.
---