The UOB One Card is the highest-earning cashback card for public transport currently, rewarding cardholders with up to 15% cashback via SimplyGo.
But of course, it's also one of the most 'troublesome' cashback cards with multiple hoops to jump through:
It only rewards quarterly cashback.
Cashback is split across 3 categories: base, additional, and *enhanced cashback.
It separates its cashback tier according to your minimum monthly spend (S$500/S$1,000 spend versus S$2,000 spend).
Must satisfy minimum monthly spend for 3 consecutive months per quarter with minimum 5 eligible transactions to qualify for cashback.
*Enhanced cashback is only applicable to new-to-UOB cardholders applying for a UOB One Card between 1 October 2022 to 30 June 2023.
Now, wasn't that a mouthful? 😅
Regardless of whether you're a low-spender or high-baller, it's possible for everyone to earn up to 15% cashback – that is, if you're a new-to-UOB customer applying for the UOB One Card anytime from now till 30 June 2023.
Otherwise, your maximum possible cashback earned is only up to 10%.
For 3 consecutive months (per quarter) with min. 5 eligible transactions

S$500 or S$1,000 monthly spend

S$2,000 monthly spend

Base cashback

Additional cashback

Enhanced cashback


(For new-to-UOB cardmembers between 1 Oct 2022 to 30 Jun 2023)

Total cashback earned
💡 Pro-tip: Spend a minimum of S$500 per month and credit your monthly salary to your UOB One Account to earn up to 7.8% p.a. interest on your savings today!
Read more:
UOB One Card Review 2023: Generous Cashback Card
UOB One Savings Account Review 2023: Up to 7.8% Per Annum Interest
Ultimate Credit Card & Savings Account Combo: Earn S$1,095 Cashback Annually


| | |
| --- | --- |
| DBS Live Fresh Card | OCBC Frank Card |
But if the UOB One Card is too confusing for you, no worries. The DBS Live Fresh and OCBC Frank Card are equally good too!
Both cards offer up to 10% cashback on public transport because buses and MRT are considered green merchants. 🌱🚌🚋
Read more:
DBS Live Fresh vs UOB EVOL vs OCBC Frank: Comparison Review
OCBC Frank Credit Card Revamp: 5 Reasons to Get It

🌎✈️ For Miles: UOB Lady's Card or Standard Chartered Smart Card
If you're an air miles chaser, either the UOB Lady's Card or Standard Chartered Smart Card would be good.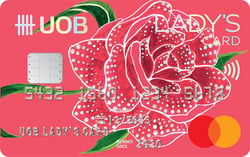 UOB Lady's Card
The UOB Lady's Card is a solid choice given its generous 4 miles per S$1 spend, so long as you've chosen 'Transport' as your 10X preferred category.
However, the caveat here is that with a S$1,000 monthly spend cap, can you really max out on points earned on transport alone?
Unless you truly spend S$1,000 on transport each month, you're better off dedicating your UOB Lady's Card to another 10X category where you can earn 4 miles per S$1 elsewhere.
Otherwise, allow us to turn your attention to the miles card underdog for public transport — the Standard Chartered Smart Card.
SCB Smart Card

SCB X Card

SCB Visa Infinite Card


The reason why the SCB Smart Card is underrated in this category is that not many people are aware of its miles-maximising potential for buses and MRT... when used with either the SCB X Card or SCB Visa Infinite Card.
Let us explain.
On its own, the SCB Smart Card typically functions as a rewards-cashback card; its 360° Reward Points are redeemable as cash.
Moreover, until 31 December 2023, it earns up to 19.2 360° Reward Points on public transport via SimplyGO. Hence, the enhanced earn rate and cashback conversion are as follows:
| | | |
| --- | --- | --- |
| SCB Smart Card | 360° Reward Points | Cashback |
| Base rate | 1.6X | 0.5% |
| Bonus rate | 17.6X | 5.5% |
| Total rate | 19.2X | 6% |
But wait, didn't we say SCB Smart Card acts as a noteworthy miles card? Why, yes we did.
Essentially, the SCB Smart Card can 'play pretend' as a miles card through the help of the SCB X Card and SCB Visa Infinite Card. This is due to Standard Chartered's reward system being biased towards these cards.
Cardholders enjoy a boosted bonus miles conversion rate of 2,500 points = 1,000 miles. This amounts to 0.4 miles per S$1 spend.
Standard Chartered also allows cardholders to pool their SCB cards' points together. So in essence, you can tabulate your points across all cards before "cashing them out" for miles in one go!
And with some quick mental sums, you'll soon realise that your bonus points are equivalent to 7.4 miles per S$1 spend. The leftover base points are worth around 0.3 miles per S$1.
Therefore, your total possible miles earned by the SCB Smart Card via either the SCB X Card or SCB Visa Infinite Card is up to 7.7 miles per S$1 spend.


---
Still confused about which credit card you should get? Read our ultimate 2023 credit card guide to get answers to all your burning credit card questions!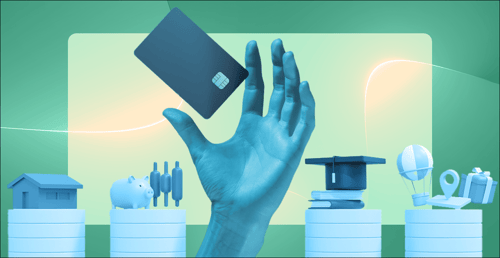 Otherwise, compare the best credit cards with our handy comparison tool by clicking on the link below!
Read these next:
Best Cashback Credit Cards in Singapore (2023)
Best Rewards Credit Cards in Singapore (2023)
6 Credit Cards You Should Use as Your EZ-Link Card
How to Earn Miles on MRT and Bus Rides With SimplyGo
POSB Everyday Card Review: Save Money on Daily Essentials