The Kris+ app by Singapore Airlines is more than a lifestyle rewards app. Arm yourself with these trusty hacks to maximise those versatile Kris+ rewards, pronto. Your wallet will thank you!
Besides offering a plethora of deals and privileges all year round at no extra cost to Kris+ users, did you know the Kris+ app is also a fantastic tool for levelling up your rewards game? Kris+ is made for everyone, not just miles chasers.
The Kris+ app is truly more than your typical lifestyle rewards app. Every dollar spent earns Kris+ rewards in the form of flexible KrisPay miles. At the moment, there are over 800 partner outlets across categories like dining, retail, wellness and more.The enhanced app even lets Kris+ users make payments conveniently in-app via Google Pay or Apple Pay!
To help you make the best of Kris+ to supercharge your rewards journey, we've included several failproof, tried-and-tested hacks to give you a leg up.
#1 Everyone can enjoy Kris+ rewards to the fullest
No matter whether you're a foodie, shopaholic or miles chaser, Kris+ has something for every type of consumer. Anyone can tap on the massive array of discounts and year-round deals on dining, retail, wellness, activities and services for greater savings with Kris+.
Other than attractive rebates, don't miss out on the specially curated birthday exclusive deals (e.g. 20% discounts, 1-for-1 main course) when the time to celebrate rolls around!
In addition, you get to earn Kris+ rebates in the form of flexible KrisPay miles whenever you use Kris+ at its partner merchants. You can use KrisPay miles to offset your shopping, dining and everyday purchases at partner merchants partially or in full, or even convert them into KrisFlyer miles.
This holds true regardless of whether you're paying with a credit card or debit card via Apple Pay or Google Pay in Kris+. The best part? There's no minimum spend required in order to earn KrisPay miles and no cap on how much rebates you can earn in each transaction.
No other rewards app helps you save up for flights
Saving up for a holiday is like investing. Why wait for borders to open up before starting to save?
Every dollar you spend on Kris+ equals rewards that you can tap on for that well-deserved holiday.
As it stands, Kris+ rewards are highly versatile. You enjoy full flexibility in converting your KrisPay miles to KrisFlyer miles at a generous 1:1 ratio within seven days of earning them.
What if you change your mind about turning them into KrisFlyer miles? Simply convert them back into KrisPay miles to spend on non-travel transactions.
#2 Double-dip on rewards conveniently
To maximise your total rewards, definitely link the right credit card to your Apple Pay or Google Pay — this lets you milk the most out of each dollar spent on your credit card and through Kris+.
How many KrisPay miles can you expect to earn per dollar spent? The exact number varies: you can earn anything from 1 KrisPay mile per dollar to 15 KrisPay miles per dollar (the latter applies during promotional periods).
Not sure about the value of Kris+ rewards? 1 KrisPay mile per dollar is approximately equivalent to 0.7% rebate on each dollar spent.
For miles chasers, this quick and easy Kris+ hack is a great way to take your miles accumulation game up a notch without jumping through hoops.
Here's my recent double-dipping experience: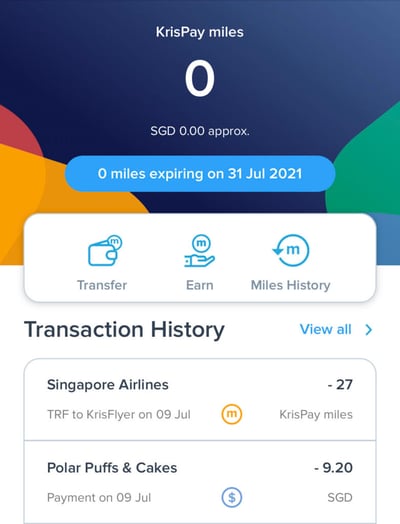 I earned 3mpd through Kris+ on my transaction and transferred the 27 KrisPay miles to my KrisFlyer account seamlessly immediately at a 1:1 ratio. On top of that, I also earned 3mpd on my in-app Apple Pay transaction using the KrisFlyer UOB Credit Card.
Effectively, I earned 6mpd (equivalent to a 4% rebate) simply by using Kris+ and the right credit card!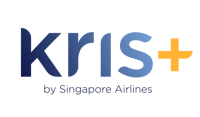 #3 Grab the Mastercard x Kris+ promotion
Kris+ is running a limited-time promotion where you'll get a S$5 rebate (in KrisPay miles) for making your first Mastercard in-app transaction with a minimum spend of S$10. This promotion is valid from 20 September till 19 October 2021.
At the same time, Kris+ users stand a chance at winning S$1,000 worth of KrisPay miles. For the entire lucky draw period (20 September to 19 October 2021), four winners will be picked. There will be one winner per week of the promotion.
If you were to win, what can you spend your KrisPay miles on? You can shop for a new laptop at Harvey Norman, dine at one-Michelin starred Restaurant Jag or utilise your KrisPay miles however you want at Kris+ merchants. The sky's the limit, really.
Want to go a step further? Kris+ users also can easily rack up KrisPay miles by referring friends and family. Each successful referral will bag both of you 750 KrisPay miles (worth S$5). This will be awarded after the referee's first transaction. Feel free to use my referral code B73013 if you want to (no pressure!).
Bonus Kris+ hacks to amplify your savings
#1 Take advantage of Kris+ in-app promotions
Apart from deals and discounts, Kris+ offers regular in-app promotions. Here's a quick rundown on the types of promotions you can expect:
Bonus earn
The bonus earn promotion lets you earn additional miles per dollar when you complete a transaction at a participating partner.
Instead of earning 1mpd, users could be earning 3mpd or even more (refer to my Kris+ transaction at Polar Puffs & Cakes above).
Right now, Kris+ is running an app-wide bonus earn campaign, where all payment transactions will offer up to 9mpd (or 6% rebate). Most partners will offer 6mpd and 9mpd.
I'd say keep your eyes peeled for such bonus earn campaigns throughout the year! They are fantastic for boosting your rewards.
Miles-back
You also enjoy generous rebates when you spend your KrisPay miles at Kris+ partners.
Just recently, Kris+ ran a miles-back promotion which offered users a whopping 40% instant miles-back rebate! What's not to love about getting a good percentage of your KrisPay miles back?
Top-up bonus
From time to time, Kris+ also runs top-up bonuses that give you extra KrisPay miles when you make an eligible top-up to the wallet.
Put simply, Kris+ awards rebates based on different types of transactions: monetary transactions, payment with KrisPay miles and top-ups.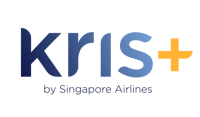 #2 Maximise your DBS, UOB and CapitaStar rewards points
A surefire way to ensure your DBS, UOB and CapitaStar rewards points don't go to waste in the event that you don't have sufficient rewards points to make any meaningful transfer or redemption?
Convert your DBS, UOB and CapitaStar rewards points to KrisPay miles. You can convert as little as 100 DBS Points, 1,000 UOB UNI$, or 9,880 CapitaStar STAR$ via the Kris+ app.
Thereafter, simply decide whether to utilise the KrisPay miles or further convert them into KrisFlyer miles — the choice is yours.
The best part of using KrisPay miles as a means of conversion to KrisFlyer miles is that it's entirely free of charge, and there's no minimum to deal with. You can transfer as few or as many KrisPay miles as you want as long as it's within the seven-day period!
Any true blue miles chaser looking to lay their hands on an SIA award flight knows it takes time to accumulate enough KrisFlyer miles if they're interested in flying in the national carrier's premium cabins.
With no minimum spend, no miles cap and no miles conversion fee, the KrisFlyer UOB Credit Card lets you earn 3mpd on dining, food delivery, online shopping, transportation and travel if you can hit the minimum S$300 spend on SIA Group in a membership year, including KrisShop purchases.
The fact that you can earn 3mpd on dining makes this a fantastic partner to the Kris+ app if you intend to scoop up the many dining deals and KrisPay miles up for grab on Kris+.
That's some smart triple-dipping there, don't you think?
Of course, you'll earn 3mpd on Singapore Airlines, Scoot and KrisShop purchases — no questions asked. All other spend will earn 1.2mpd.
Things are even sweeter if you own a KrisFlyer UOB Deposit Account: you'll get up to 6 additional bonus KrisFlyer miles per S$1 spent!
Plus, you can look forward to bagging 10,000 bonus KrisFlyer miles when you pay the annual membership fee each year.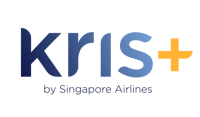 This article is written in partnership with Kris+.
Read these next:
Top Credit Card Promotions And Deals On SingSaver
Best Air Miles Credit Cards In Singapore (2021)
KrisFlyer UOB Savings Account Review (2021)
Earn Elite Status Credits With KrisFlyer By Converting Credit Card Points (And More)
Digibank Apps: Which Bank Has The Best All-In-One Experience?