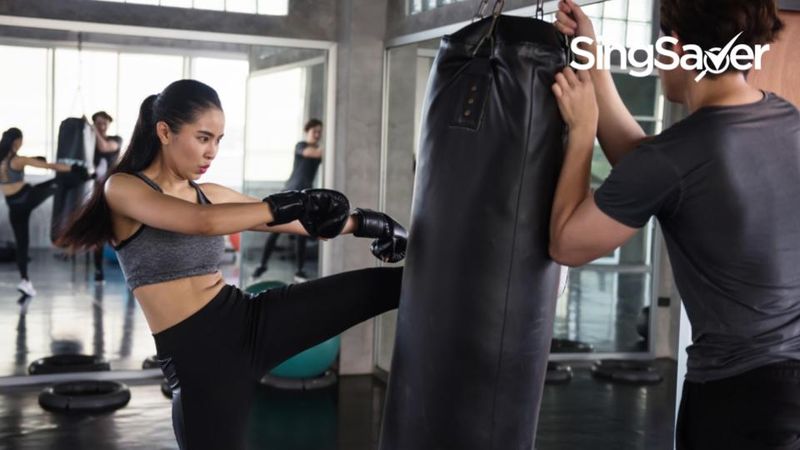 Move over mass-market gyms because there's a new wave of alternate gyms taking over the fitness scene, which offer more than just the option to lift iron.
For most, making a New Year's resolution to get back on track with fitness means joining a conventional gym. But with a growing number of boutique gyms offering fun fitness classes that change daily, why go for a boring run on the treadmill?
If the thought of lifting iron and running on a treadmill makes you think of hamsters and twice about exercising, then you're definitely reading the right article! We've rounded up a list of 6 alternative gyms that we think you should definitely check out, especially if keeping fit is on your 2020 New Year resolution list.
Got a hectic work schedule with only 30 minutes to spare? Well, that's not an excuse to miss a gym session. At Ritual, from 6 am till closing, there's a class running every 30 minutes, 7 days a week. This means never having to plan your life around your fitness regime. Instead, you go whenever your schedule frees up.
Ritual Gym offers HIIT (High Intensity Interval Training) based classes, so expect movements like squats, push-ups, pull-ups, deadlifts and the likes. Similar to a high-end conventional gym, they provide everything you need for a good sweat – which also means fewer excuses to not turn up for class. Think along the lines of towels, exercise outfits, shower facilities and personal care products like deodorant, make-up remover, facial soap, and even hair gel.
You can find Ritual Gym at 3 locations, 2 of which are around the CBD (East-West Line, Raffles Place and Tanjong Pagar MRT station) and the other towards the western part of the island, at Holland Village (Circle Line, Holland Village MRT station).
Curious about Ritual's story? Read more about it here.
Type of exercise: HIIT
Main gym's address: Holland Village, 17b Lorong Liput, #02-01, Singapore: 277747
Total outlets: 3
Trial: Unlimited classes for 7 days at $59, or 14 days at $99
Membership types: Unlimited and pay-per-class
Prices: $20 to $35 per class, or $198 per month for an off-peak membership (12-month contract)
If getting stronger is something you want to achieve in 2020, consider giving CrossFit a try. A sport that is fast-gaining momentum in Singapore, CrossFit combines weightlifting, callisthenics, HIIT, endurance and functional exercises, all rolled into one.
Mobilus segments their classes based on the type of workout and level of fitness. This ensures that there's a class for everyone regardless of your fitness level. They currently offer 8 different training programmes, namely Basics, CrossFit, Engine, Row, Strong, Lift, Yoga and Compete (for those looking to get serious and take part in competitions).
Classes run for an hour and start from 6.30 am and end at 9 pm daily with open gyms during late mornings and after lunch. It currently has two outlets, Clarke Quay and Chinatown, both of which are conveniently located near bus stops and train stations (North-East Line, Chinatown and Clarke Quay MRT station).
Type of exercise: CrossFit
Main gym's address: The Riverwalk, 20 Upper Circular Rd #B1-10/16, Singapore: 058416
Total outlets: 2
Trial: 1st class is free
Membership types: Unlimited and pay-per-class
Prices: $25 (members) to $38 (non-members) per class, or $290 for a 1-month unlimited membership
Think darkly lit rooms with a reddish glow accompanied by loud music and an instructor encouraging you, "hang in there, just 10 seconds to go". A combination of weight training and cardiovascular movements with bursts of anaerobic exercises to keep your heart thumping and fats crying, Barry's Bootcamp is serious about getting you in shape.
Promising to burn up to 1,000 calories in just one 50-minute class, this international gym that has a presence in 25 countries is open 7 days a week and conducts an average of 4 classes a day. Classes change every day with each focusing on a different muscle group, from abs and arms day to chest, back and abs.
All you need are your workout clothes, sports shoes and the willingness to sweat it all out. There's currently only 1 Barry's Bootcamp in Singapore and that is located within the CBD and near Tanjong Pagar MRT station (East-West Line).
Type of exercise: Weight training and cardiovascular
Main gym's address: 18 Robinson Road #03-03, Singapore: 048547
Total outlets: 1
Trial: 3 Classes for $89
Membership types: Monthly and pay-per-class
Prices: $40 to $46 per class, or $480 for 12 classes ($40 per class) to be consumed within a month
Orangetheory Fitness prides itself as a science-based, full-body workout that mixes strength and cardiovascular exercises together in a 60-minute group class. The aim of each class is to raise your heart rate to the point where it beats between 84% to 91% of your unique heart rate maximum for at least 12 minutes. Orangetheory Fitness believes that by doing so, a single class will keep your body burning calories for the next 36 hours and increase your overall metabolism rate.
Expect exercises like rowing, running and weighted movements during classes that change daily. While it may be a group class where everyone does the same exercise together, there are variations available for each and every exercise to suit each person's unique abilities. Conveniently located at Robertson Quay (Downtown Line, Fort Canning MRT station) and Tanjong Pagar (East-West Line, Tanjong Pagar MRT station), they are open 7 days a week and offer an average of 5 classes a day.
Type of exercise: Strength and cardiovascular
Main gym's address: 38A Martin Road #02-01, Singapore 239059
Total outlets: 2
Trial: 1st class is free
Membership types: Pay-per-class
Prices: $37 to $40 per class
In and out within 45 minutes, including wrapping of gloves and changing up. 9Round is a kickboxing-themed gym that incorporates functional, interval, cardiovascular, and circuit training movements into its classes.
During each class, you will go through a total of 9 stations (each targets a different muscle group) and spend a "short" 3 minutes exercising at each station. Once you are done with all 9 stations, you are done with your workout. You can expect exercises like skipping, bag-work, push-ups, sit-ups and weighted squats.
All 9Round gyms are open 7 days a week and with classes running throughout the day until closing, all you need are your workout clothes and shoes to get kicking.
Type of exercise: Kickboxing and strength
Main gym's address: 131 East Coast Road #02-01, Singapore: 428816
Total outlets: 8
Trial: 1st class is free or $25 for a 7-day unlimited trial
Membership types: Unlimited and pay-per-class
Prices: From $196 for a 1-month unlimited membership, or $599 for a 20 class bundle
You may have noticed this red, white and blue gym around your office or home, with more popping up islandwide. This Australia-based fitness centre offers group classes that are a mix of circuit and functional training movements that includes exercises like pull-ups, box jumps, lunges, bench press, rope-work, sleigh and TRX during a 45-minute class.
With thousands of movements in their bank, classes at F45 change daily and you will never do the same exercise twice. Mondays, Wednesdays and Fridays are cardiovascular-based classes, Tuesdays and Thursdays are resistance-based classes, while Saturdays are hybrid classes aimed at recovery – so pick your exercise days wisely.
All F45 gyms are open daily, and offer classes mainly in the morning and evenings on weekdays, and morning and early afternoon classes on weekends with an average of 5 classes a day.
Type of exercise: HIIT and circuit
Gym's address: 1 Goldhill Plaza 03-09, Singapore: 308899
Total outlets: 21 and counting
Trial: Depending on which outlet, either $49 or $0 for a 2-week unlimited pass
Membership types: Unlimited, short-term and pay-per-class
Prices: From $244 for a 1-month unlimited membership, or $85 for a 1-week unlimited pass, or $350 for a 10 class bundle
Before you take your pick and embark on your newest resolution, here's a thought we'd like to leave you with – keeping fit and healthy is not just about how heavy you lift, but also consistency and diet.
While these alternative gyms will provide you with a great workout, they might not be able to get you down a dress size in just 1 class. So, it's important to be realistic when you set fitness goals for yourself and give your body some time to get back in shape. After all, good things come to those who wait.
Read these next:
Cheap Gym Memberships in Singapore Under $100 Per Month
Why 30 Minutes In The Gym Can Turn Your Life Around: Ritual Gym Founder
Gym Membership Fees for Popular Fitness Chains in Singapore
4 Ways To Save Money On Fitness Classes In Singapore
12 Biggest Spending Watchouts in Singapore
---
By Geralyne Ong
A lover of gin and all things Nigella Lawson, Geralyne's constantly trying to adult like a pro. She spends most of her leisure time serving fur-babies and doing as many mountain climbers as she possibly can.
---