---

Every spending situation is unique. SingSaver assembles the 'Best For' list, so you can decide what's best for you.

---
With furkids taking over households (some say the world), providing emotional support and comfort for their owners, you can't blame pet owners for splurging on them.
Whether the quote "Time spent with cats is never wasted" was actually spoken by the psychologist Sigmund Freud, cat lovers are unlikely to disagree with that thought.
Indeed, in the hustle and bustle of the daily grind, pets provide not just unconditional love but also much needed relief.
It's little wonder then that pet owners are likely to spend not just their time but also resources into providing the best food and services for their pets.
Heck, according to this news article which quoted Future Market Insights, the pet care sector is expected to exhibit compound annual growth rate (CAGR) of 6 per cent from 2021 and 2031. With the increased supply and demand, hopefully it's a sign that the quality of products and services will improve too.


Table of Contents
---
---
---
Every spending situation is unique. SingSaver assembles the 'Best For' list, so you can decide what's best for you.
---
---
Best Credit Cards For Pet Food
If you're particularly fussy about what your furkid eats (like some pet owners I know), you'll likely be spending more on groceries for home-cooked meals. Depending on your pet's palate, your shopping basket could be filled with pork ribs, vegetables, tuna, chicken and even whole grains.
The good news is that all these ingredients for wholesome pet meals are quite easily available at major supermarkets like NTUC, Sheng Siong, and Cold Storage – which explains why the POSB Everyday Card is a great option here.
Rewarding 5% cash rebates on Sheng Siong groceries with no minimum spend, shopping for organic ingredients for your pup or kitty has never been easier. Moreover, if you hit S$800 spend per month, you can even order your groceries online from RedMart, Qoo10, Amazon, and even Shopee!
But that's not all. Arguably the most unique and worthwhile benefit of being POSB Everyday cardholder and pet owner is the 3% cash rebate at Pet Lovers Centre, with no minimum spend.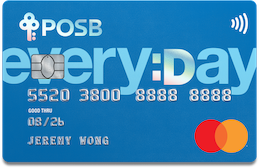 Related to this topic:
The Real Cost: Dog Ownership In Singapore
The Real Cost: Cat Adoption & How Much It Cost to Own a Cat in Singapore
---
---
Best Credit Cards For Toys and Pet Beds
If you had asked me a couple of years ago how much keeping a pet would cost (prior to me having one), I would have thought it would be just food and basic grooming. Boy, was I mistaken.
Research has shown that the well-being of a pet, particularly dogs and cats, can be tied to something we humans have in common with them - social recognition.
This refers to the process of identifying another being as someone important and significant to you, and it is how humans form our social networks. As a result, the bond between owner and pet can be comparable to that of a mother and her baby.
This brings me to my point - my estimated monthly expenses on toys and pet beds is between $50-$100. I find the dedicated play time with my pet helps improve his overall physical health, and having new toys occasionally helps to keep him intrigued.
For these monthly purchases, the Maybank Family & Friends Card comes in pretty handy. With 8% cashback on 5 selected categories out of 10 including Retail & Pets, the monthly cashback cap is also higher than average at S$125.
What I especially like about this card is the 3-year annual fee waiver, and the fact that there's unlimited 0.3% cash rebates for relatively low spending of below $800.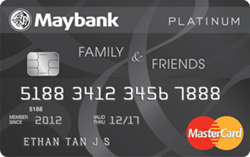 Maybank Credit Card Welcome Gift: Receive a Samsonite Harts 68/25 Spinner (worth S$500) when you apply for both a credit card & a CreditAble account and make a min. spend of S$300 per month for 2 consecutive months. Valid for the first 4,500 applicants. The remaining applicants will score S$100 cashback instead. T&Cs apply.
Related to this topic:
Maybank Family & Friends Review: 8% Cashback On Your Favourite Categories
Best Online Pet Shops In Singapore With Free Delivery
---
Best Credit Cards For Vet and Grooming Visits
While hardly on neither me nor my pet's list of favourite things to do, vet visits are a necessary evil. In the most unexpected of times, having easy access to 24-hour medical attention for my pet has been hugely reassuring.
At the start of my pet ownership, my husband and I were vet-shopping at different clinics and after a few visits, decided on one that suits our needs the best. Not only in terms of the location, but also the quality of in-patient care was something we valued.
On a more upbeat note, as responsible pawrents, we also make sure to schedule appointments with his favourite groomer every 6-8 weeks. This has definitely helped to keep him in good shape and is an expense we are happy to make for his wellbeing.
Through good and not-so-good times, a card like CIMB Visa Signature Card will help to save some money and ease the stress of caring for a pet a little.
With 10% cashback on online shopping, groceries, beauty and wellness, pet shops, veterinary services and cruises, these are all things that I already spend on. The minimum spending for each month is $800, which again is fairly easy to hit with all the above expenses.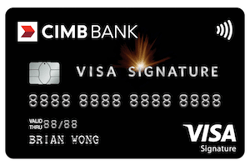 Related to this topic:
Credit Card Comparison: UOB One vs CIMB Visa Signature vs BOC Family
Guide To Vet Clinics In Singapore: How Much Does It Cost To Treat Your Sick Pets
---
---
A Word on
Pet Insurance
I have not gotten pet insurance yet, but it's something I wouldn't rule out considering some out-of-pocket expenses can be quite expensive.
Some of the plans that are in the market cover both dogs and cats, such as CIMB My Paw Pal. At an $88 premium per year, it's quite affordable and helps to give some peace of mind. Do note that if your pet is a dog, it must be licensed with the Animal and Veterinary Service (AVS).
Incidentally, if you're a frequent traveller and have to put your pet on staycation, some travel insurance plans also cover domestic pet care. Make sure you have

Related to this topic:
4 Best Pet Insurance Plans To Protect Your Furkids 2023
PetCare Liberty Pet Insurance Review (2023)
Compare Pet Insurance (2023): AIA, CIMB, Aon, & Liberty

---
You may also need to get vet prescription food, supplements, or invest in filtered or distilled water if your pet has special dietary needs. For these, you can choose from these other best cashback cards to earn some rewards from your spending.
Read these next:
Best Dog, Cat & Pet-Friendly Cafes in Singapore
Best Online Pet Shops in Singapore With Free Delivery
Credit Card Promotions: Exclusive on SingSaver (2023)
5 Credit Cards That Will Save You the Most Money in 2023
Best Unlimited Cashback Credit Cards in Singapore