Eatsy is a convenient, cashless, cashback food app that lets you dine easy.
"I'm definitely a workaholic," says 29-year-old Shaun Heng, who works a mind-boggling average of 18 hours a day.
The young founder of Singapore-based food start-up Eatsy, who regularly finishes work at 3am, says it used to be worse during the more "hellish" days. That's when employees used to pull all-nighters, sleeping overnight at the office.
Despite the crazy hours, Heng says it's a worthy trade-off if it allows Eatsy users to save more time when using his app. After all, time is money.
What is Eatsy?
Eatsy is a mobile app allows you to pre-order and pay for dine-in and take-out meals in advance. The whole idea is to save time by skipping the hassle of waiting, either in a queue or for dishes to arrive at your table. Each order on Eatsy can also be shared with a group, which means you can ditch the calculator and go Dutch with absolute ease.
The road to such convenience, however, is paved with hard behind-the-scenes hustle. Heng however isn't complaining.
Cashless, cashback, convenience
Eatsy's main proposition is to transform the dining experience for both diners and food establishments. The result? Diners save time and skip queues, while merchant food partners are also able to personalise their relationship with consumers because of Eatsy's collaborative, order-ahead features that allow them to customise special requests.
A win-win situation for both sides. With automated in-app payments, Eatsy is also riding on the push towards Singapore becoming a cashless society.
Radical career switch
Heng's foray into F&B ironically began when he left Standard Chartered Bank to join Redmart – as a finance analyst.
"I remember being stuck in a traffic jam with Roger (the CEO of Redmart) when I first thought about starting this company," the eloquent and boyish-looking Heng recalls. "I was sharing this idea with him and how I was afraid to take the leap. He looked at me and said, 'What's the worst that could happen?' For the next 10 minutes, I sat silently in the car, thought about it and it all became crystal clear to me that I had to start this journey."
Established in September 2016, Eatsy has since grown to serve about 30,000 users and a network of 250 merchants and restaurants. In Jan 2019, it raised S$550,000 in seed funding through East Ventures, earning the support of investors such as The Lo & Behold Group's Wee Teng Wen.
From a siloed worker to a servant leader
Starting with just two colleagues (Gang Yi, the CTO and co-founder, and Nicholas, Eatsy's first employee), the young CEO had to do everything, right down to going door-to-door to get restaurant owners on-board.
Eatsy has since grown into a 15-strong team (10 employees in Singapore, 5 developers in Saigon) and Heng admits it took a while to adjust to being a leader and CEO of such a diverse group.
"I didn't expect it to be so difficult," he confides. "I had to acknowledge the fact that not everyone thinks like me. It's my role then to continuously repeat myself or emphasise a certain point, and really change the way I talk to make sure they understand where we're going."
"The term is kind of overused, but more often than not, I'm a servant leader," he offers. "It's about putting yourself out there for the team, rolling up your sleeves and being on the ground with them," said Heng, who still doubles up as a customer service officer regularly, resolving customer and merchant restaurant issues on the day.
Managing personal finances
To finance his new business and manage the cash flow as a start-up, Heng had to make a major lifestyle shift. The smart saver, who used to indulge in more lavish purchases, now tracks his expenses and makes sure to save 30-40% of his paycheque.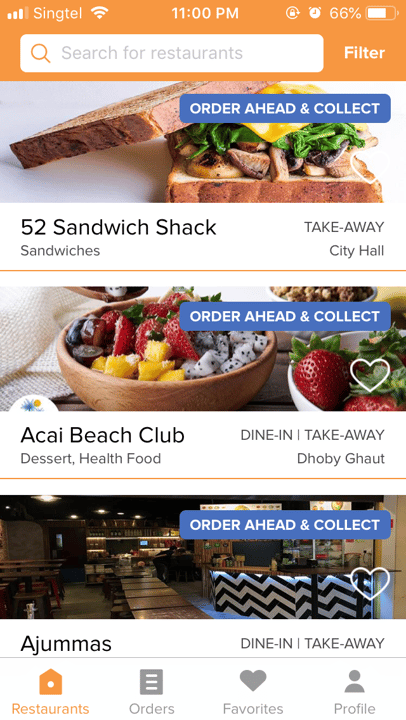 Say goodbye to long queues!
To get more bang for his buck, he also uses Shopback, and waits for promotions, discounts and rebates on various food delivery apps. Even in the office, he does his best to limit his expenses, so that more can be invested into improving his app.
"The sofa and chairs are all from my house or my girlfriend's house, and the coffee machine was bought second-hand," he reveals. "Grab is my only personal indulgence, and I'll splurge when it comes to going the extra mile for the diners and merchants."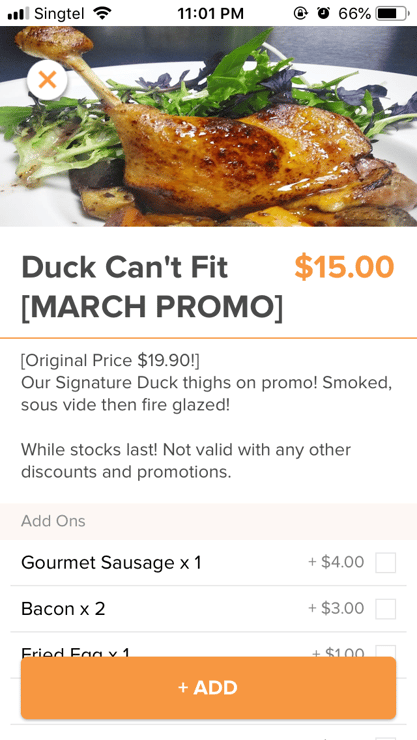 With Eatsy, you can choose the nearest joints with the biggest promotions.
In the business of hard work
Given the rapid growth of his start-up, Heng values hard work at Eatsy, and emphasises the principle of never giving up.
"We try to instil this into every employee that joins us. You might fall short, but you have to keep pushing on and believe in what you're doing. A merchant who says no once isn't going to say no forever. A lot of the merchants that are on our platform right now didn't join from day one. They joined after months and months of pursuit," he reveals.
Besides dogged consistency, Heng also operates with a grand vision and believes in Eatsy's potential to change the way people everywhere discover and dine in restaurants.
At the end of the day, what drives Heng is making an impact. "The feeling of people around you using your product… I can't describe it," said Heng, who is planning to expand Eatsy into Malaysia, the Phillippines and Australia markets.
"In the F&B scene especially, you have the ability to build something that can be in the hands of every one of your friends. That pushes me to make it better and to do better so that we can create more convenience for the people around us."
Related Articles:
hoolah, The Startup Solving The Gig Economy's Cash Flow Problem
Singapore Startup Disrupting How You Pay Rent, Taxes and Insurance Premiums
Jianhao Tan: Singapore's Top Influencer Is Stepping Up And Growing Up