Singsaver's bargain queen dishes out her favourite brick-and-mortar stores to shop at in Singapore for the ultimate cheap thrill.
Singapore may be one of the most expensive cities in the world but that doesn't mean you can find a good bargain — you just aren't looking hard enough.
In this article, you will find Singapore's 13 best budget shopping places (tried and tested by us), complete with items that you should look out for there. Happy budget shopping!
Last updated: 29 June 2022. Prices and availability are subject to change.
Malls that sell cheap clothes in Singapore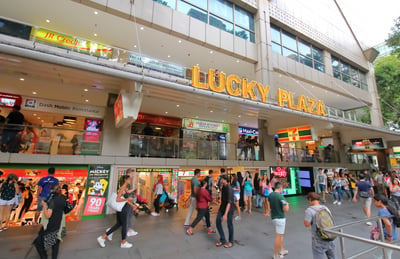 Lucky Plaza
Address: 304 Orchard Rd, Singapore 228863
Two words. Budget shopping.
Lucky Plaza, also known as Little Philippines, is very well known for its affordability, with over 500 stores for consumers to choose from. Song and Song is an example of how affordable clothes could be – with clothing going for as low as S$3!
Thrifting is also a great option for budget — and environmentally-conscious — shoppers!
A hack for anyone who wants to shop at Lucky Plaza is to bargain. Many shops actually accept bargains on price from us customers, so try your best to haggle down to the prices you want.
Feet getting tired from a full day of shopping? Take a break by feasting on some Jollibee or maybe Ayam Penyet President if that's more up your alley! Mmm nothing like some good ole fast food.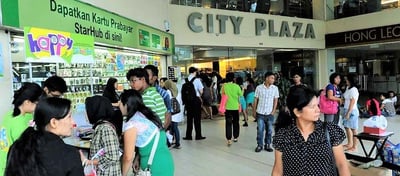 City Plaza
Address: 810 Geylang Rd, Singapore 409286
Looking for cheap and affordable clothes? Look no further. With five floors, City Plaza offers a range of vintage, pre-loved and wholesale fashion pieces.
Don't immediately discount it just because it may look a little rundown from the outside — from our experience, we think it's one of the best places in Singapore to nab some great clothes from stores like Refash which offer thrifted clothing starting from S$5. Yes, wholesale prices are big here at City Plaza. A hack for making the most of your shopping experience here is to come with a large group of friends to get some wholesale prices and try your luck with a bargain or two.
Shopping can get tiring, while you're at it, take a bite from reasonably priced restaurants like Arnold's Fried Chicken to get some fuel to continue your search.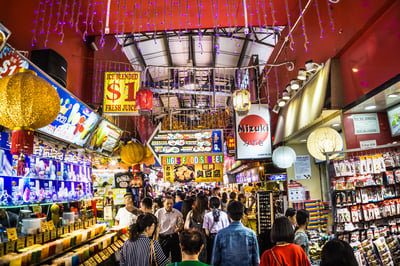 Bugis Street
Address: 3 New Bugis Street, Singapore 188867
Bugis Street is a haven for all of you fashion lovers, with over 600 shops to select from with all the latest clothes that won't break your bank. If you look hard enough, you can find t-shirts from as low as S$5 and dresses for around S$7 each.
Hot tip? Bugis street can get overwhelming with the number of stalls, so allocate an entire day for it! Often, many stalls sell the same items so walk around to check out different stalls to see which can offer you the best price.
Besides selling clothes, Bugis Street is also home to a plethora of food stalls. Take a break and follow your nose to munch on some fresh waffles!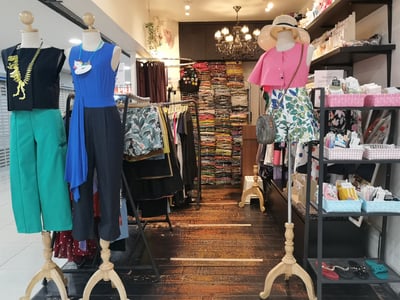 Far East Plaza
Address: 545 Orchard Rd, Singapore 238882
Ah yes, Far East Plaza, Orchard's most underrated shopping spot.
Apart from the many beauty salons to get your eyelash extensions or nails, Far East Plaza is home to many reasonably cheap clothes. With stores that sell the latest fashion trends, there is a whole lot to explore at Far East Plaza. Check out Sara & Pat for wallet-friendly items such as dresses, t-shirts, stick-on bras and more. You can also try your hand at thrifting to maximise your deals.
After shopping, head over to the restaurants like Sushi Bar or Krapow Thai Street Food to grab a bite to fill your stomach.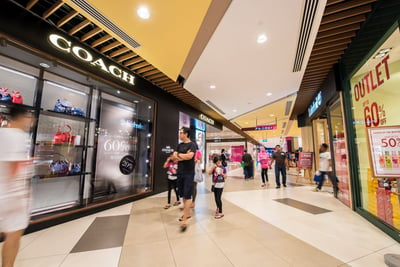 IMM Outlet Mall
Address: 2 Jurong East Street 21, Singapore 609601
IMM Outlet Mall is the largest outlet mall in Singapore with a variety of well-known brands such as, Club 21, Micheal Kors, Hush Puppies, Kate Spade and more.
They offer up to 80% discounts all year round, so there's no need to rush down. Stores like Desigual garage offer storewide discounts up to 70%, while there are constantly good offers at Coach. If you are more inclined to shop for luxury items, this mall is for you.
If you have a toddler shopping with you, there's a space on level three called IMM water play with lots of activities to keep them entertained after your shopping spree. The mall also offers complimentary strollers and wheelchairs, for the convenience of anyone who needs them.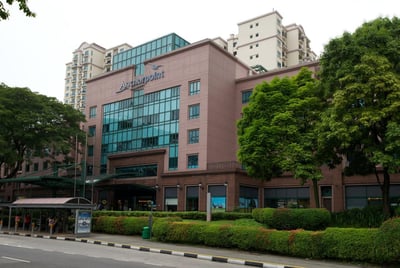 Anchorpoint Shopping Centre
Address: 370 Alexandra Rd, Singapore 159953
With barely any crowds, Anchorpoint Shopping Centre is a hidden gem. They have outlet stores with brands like Cotton On and Giordano, so don't underestimate this two-storey shopping centre located directly opposite IKEA Alexandra.
Having been there ourselves, we can assure you that the Cotton On outlet at this mall is one of the cheapest outlets in Singapore. You can get the top you've always wanted for an affordable S$5, as well as off-season items from Typo at a discounted price!
Stores for cheap household items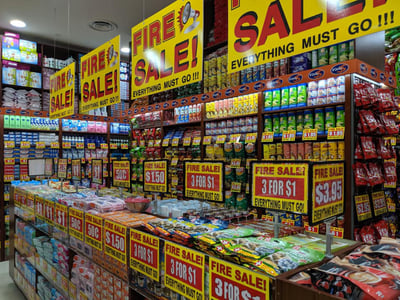 Valu$
Address: Multiple locations islandwide
We're sure you've seen the big red 'Fire Sale' signs hung everywhere in Valu$ outlets. And they're not wrong, because there's always a sale all year round at Valu$.
Singaporeans on a budget as well as housewives love Valu$. As a self-professed bargaining queen, we too love Valu$ and we mostly get household items and snacks there — they offer products that are also available at other supermarkets, but at a much, much lower price.
Take for example, the Nescafe Gold Soluble Coffee at your local supermarket costs S$13.90 but is S$9.90 at Valu$. A pack of three Oral B toothbrushes starts at S$7 elsewhere, but costs S$1 at Valu$.
Pro tip: Different Valu$ outlets price their items differently. Some times, they'd have mega flash sales where small items such as sweets, socks and coffee packets go for as low as 10 cents.
Not only is Valu$ super wallet-friendly, there are also many locations islandwide, making it very convenient for anyone to visit. Once you go Valu$, you never go back.
ABC Bargain Centre
Address: Multiple locations islandwide
ABC Bargain Centre, as the name suggests, is a bargain. Like Valu$, ABC Bargain Centre is known for its dirt cheap prices.
One item (a favourite among the aunties) that is sold cheaply at ABC is Tiger Balm. One 20g pack is sold for S$0.70 at ABC, but S$4.40 at your local supermarket. Mind-blowing. How do they manage to sell their items for so cheap?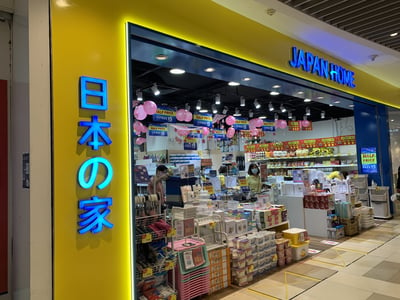 Japan Home
Address: Multiple locations islandwide
With over 50 outlets islandwide, Japan Home is known for its affordable prices and quality products. From kitchenware to gardening products to snacks, Japan Home offers them all. When you can't find an item at Valu$ or ABC, check out Japan Home—they'll probably carry it. What is even better about Japan Home is that you can order their items online, on Qoo10 or Shopee.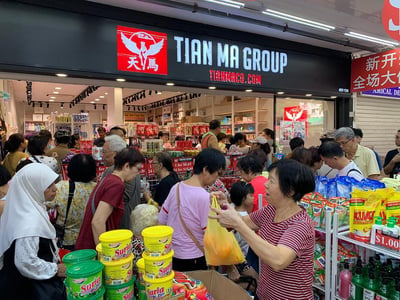 Tian Ma Group
Address: Multiple locations islandwide
Another one of our favourite go-to stores is Tian Ma, mainly for drinks, snacks and items for daily use. If you're having a party, this is the place to go for refreshments sold in bulk and drinks by the carton. Here's exactly how cheap their prices are:
Water bottles are sold at S$1
Lighters cost S$1 for a pack of 10
Canned drinks at around 50 cents
If you think that Valu$ is already cheap, check out this item at Tian Ma that is cheaper than Valu$: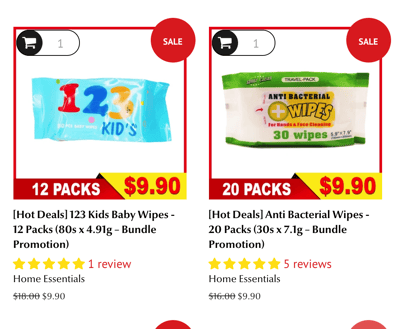 Antibacterial wet wipes
Valudollar: S$1 for one pack
Tian Ma: S$9.90 for 20 packs
Other items sold at Tian Ma we'd recommend you to buy (tried and tested):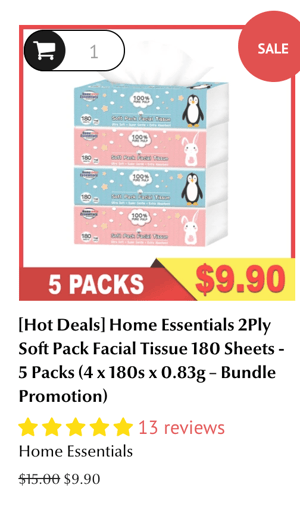 Stores for cheap electronics and household appliances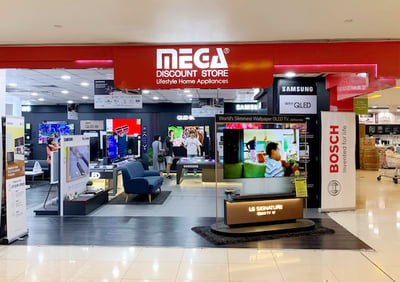 Mega Discount Store
Address:
101 Thomson Rd, Singapore 307591
5 Stadium Walk, Singapore 397693
Yeah, they weren't lying when they called themselves Mega Discount Store. With constant hot sales, you'll find yourself purchasing that TV you never knew you needed because it costs a fraction of the price compared to other electronic stores.
If you don't want to head out, Mega Discount Store also offers online shopping with free delivery via their website, Qoo10 Shop and Lazada. Either way, enjoy your mega discounted electronics and household appliances. You're welcome.
Daiso-esque stores
Everyone knows Daiso. But did you know that not only Daiso sells S$2 items? Here is a list of stores with the same concept, same prices, but offer different items compared to Daiso.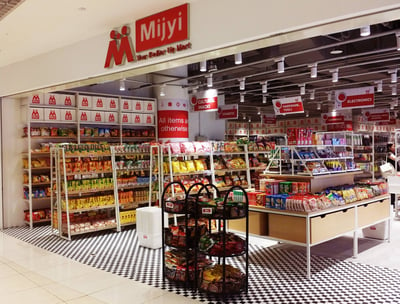 Mijyi
Address: City Square Mall, 180 Kitchener Road, #B2-51/52, Singapore 208539; Leisure Park Kallang, 5 Stadium Walk, #01-02 and #02-02, Singapore 397693; Big Mac Centre, 51 Ang Mo Kio Avenue 3, #02-01, Singapore 569922.
Mijyi gives Daiso a run for its money when it comes to lifestyle products, food and more, with products from Japan, Korea, Taiwan and Thailand sold from S$1 onwards.
You can get balloons for S$2, Taiwanese packet drinks for S$1 and so much more. If you're planning to binge Squid Game over the weekend, why not take a bit of Korea with you and enjoy some tasty Korean snacks Mijyi has to offer?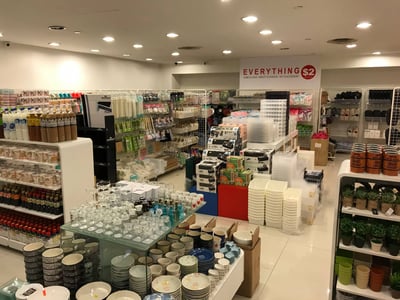 2wo
Address: 177 River Valley Road, #B1-07, Singapore 179030
Have you ever wondered what you can get for just S$2? Well, here's your answer. At 2wo, you can get a baby bag for your stroller or bedroom slippers, laundry baskets, flower pots, false eyelashes, slicker brushes for pets and more. There is also an option to order online on their website if you plan to buy in bulk and don't have enough hands to carry your shopping bags with you.
---
Going on a shopping spree? Save more by charging your bill to these credit cards and get rewarded with cashback/miles/points!*
*T&Cs apply.
Read these next:
Best Thrift Shops in Singapore That Offer Sustainability and Style
Best Nail Salons In Singapore For All Budgets
Beauty: Best Make-up Gift Set Deals Under $100
Beauty Deals: Facials Under $100 In Singapore
Best Massage Places In Singapore for Low, Mid And High Budgets