Don't fancy real flowers because they will die within days? Well, preserved flower bouquets might just be the one for you. They are value for money and will last for a long time, just like your love.
Nothing epitomises love and romance more than a bouquet of fresh flowers. The problem, however, is that they don't last long and will die within a matter of days unless they are stored in a vase of water and maintained.
Unlike their live counterparts, preserved flowers are capable of lasting for several years with little to no maintenance. They are also indistinguishable from fresh flowers, sans the scent.
Treated with non-toxic chemicals to preserve their beauty, preserved flowers are certainly a worthy and practical investment in the long run. Gone are the days of sad, flat pressed flowers that fall apart the moment you look at them the wrong way.
If you are looking to impress your bae for a special occasion, here is our list of florists in Singapore that sell everlasting bouquets and floral arrangements - at a variety of prices.
33 florists to get preserved flowers from in Singapore 2022
Blanc Artisan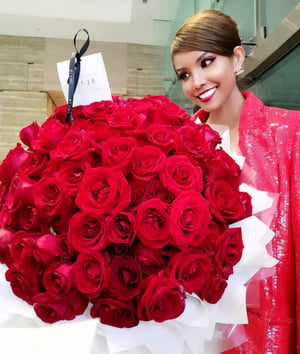 Blanc Artisan has possibly one of the prettiest preserved flowers glass domes you can find in Singapore, with cute fairy lights radiating an intimate ambience that is further accentuated by a beautiful collection of flowers. For S$178, you can even have a personalised text engraved onto your dome. This will be an amazing gift option to either celebrate an anniversary or a housewarming.
Alternatively, if you're looking for a gorgeous backdrop to bring out the illuminating glow of your jewellery, Blanc Artisan has a signature deluxe series of floral jewellery boxes starting from S$88. With a distinct rose embedded on the box's main body, it is sure to make that shiny ring pop.
Blanc Artisan will be closed from 12 June 2022 to 10 July 2022 so make sure to check out their updated catalogue then!
Address: 12-61 Wellington Cir, Sembawang Singapore, Singapore 751510
Contact: 8580 9956 (Whatsapp)
Website
BloomBack Singapore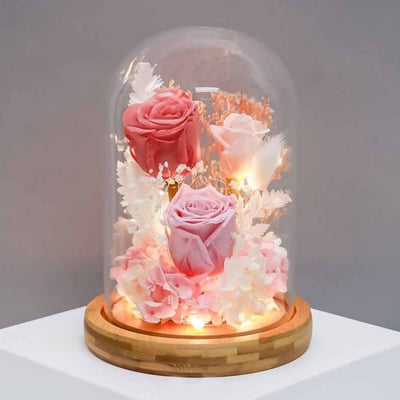 An experienced and venerable player in the preserved flowers scene, BloomBack Singapore has been featured extensively in publications, such as Channel NewsAsia, Zaobao and Gold 905. Voted by users as the provider of the most thoughtful of gifts, you can expect a rich range of inventive flower products, such as its LED-lit domes (some are incorporated with a Bluetooth speaker as well) and flower charms.
First-time shoppers enjoy a 10% discount on their purchases. Additionally, any purchases above S$150 come with complimentary shipping.
Address: 33 Ubi Ave 3, #05-70 Lobby, A The Vertex, 408868
Contact: 8749 4806
Website
Budding Roots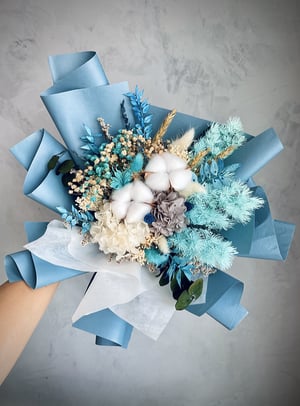 Budding Roots seeks to dispute the archaic notion that floristry is a restrictive art form reserved for an older generation. It projects a brimming sense of optimism for youths and young adults, seeking to spotlight their limitless potential and boundless creativity.
With multiple collaborations with rising young stars in floristry, baking (yes, they do pastries and desserts too) and styling, you can expect novel and inventive designs that are both refreshing and illuminating. Their inspiration series exemplifies this, with whimsical creations such as its Ferrero Rocher bouquet.
Budding Roots are fully booked until 1 June 2022, so make sure to place your orders as soon as you can once they start receiving orders again from 2 June 2022 onwards.
Contact: 8821 3557
Website
Daisiesfield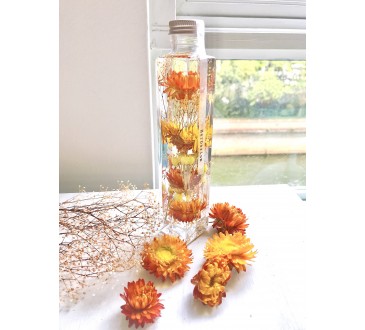 Daisiesfield seeks to emulate the organic beauty that is nature. They do not overshadow the flora with exaggerated props and distracting caricatures, instead choosing to accent its natural colours with a minimalistic design approach.
Its herbarium series best illustrates this. Described as an admiration technique invented in Japan, herbarium entails infusing flowers with nontoxic preservation oil to retain their stillness and natural form. That way, it allows the display to preserve the flora's clarity and composure.
Address: 21 Jervois Close, Singapore 249114
Contact: 8608 3696
Website
Dawn Q Floral Design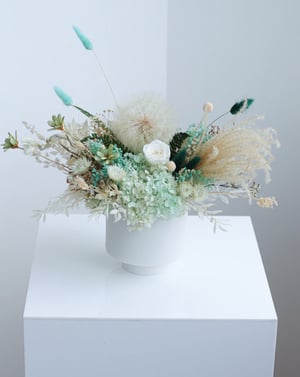 With a wide range of collections to browse through, Dawn Q Flora Design celebrates the creative diversity of the art form, with thematic bouquets and playful integrations. Beautify your home's ambience with its signature Dancing Dandelion piece, or explore its dainty jar collection which stores whimsical flora designs that seamlessly embellish your home's décor. We definitely recommend its Snow White and Sand and the Sea pieces!
As a bonus, they also provide free delivery for every order!
Address: 62 Ubi Road 1 #05-13 Singapore 408734
Contact: 9179 6689
Website
Floral Kokoro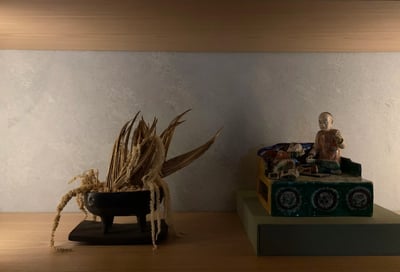 Having been featured in CNA and intentionally renowned fashion magazine Vogue, Floral Kokoro creates tailored floral pieces that elevate your room's architectural tapestry, ambience, and style. Known for its exquisitely dainty floral arrangements, its ability to meld simplicity with profound elegance is an artistic feat of strength that personifies any narrative, or tale you intend to express on any given occasion.
Make sure to check out its inventory of preserved flowers once its online store is opened!
Contact: 9111 8787
Website
Farm Florist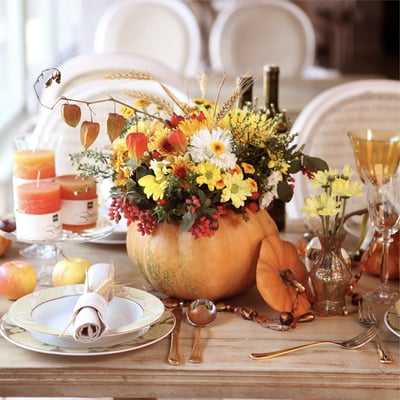 If you're looking for a more budget-friendly option, Farm Florist may be the one for you. Promising the lowest prices you can find, they have grand and glorious bouquets that begin from S$60. One of their featured pieces – Charmaine – starts at S$62, alongside free delivery and a complimentary printed card message.
Do not let the prices create misleading assumptions about their quality though! They have been featured on the likes of The Straits Times as well as The New Paper, while holding a five-star rating with over 31,000 reviews.
Subscribe to their newsletter and get 10% off with no minimum spend.
Address: Jin Pemimpin Singapore 577183
Contact: 8895 0709
Website
First Sight Singapore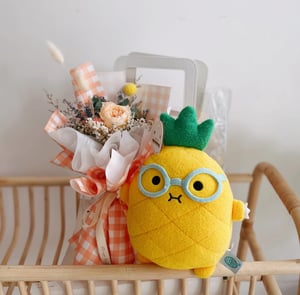 First Sight has arguably one of the cutest floral designs that are sure to make you squeal in delight upon receiving them. While it does boast the conventional catalogue you would expect of most premium florists in Singapore, there are a few outliers that immediately radiate First Sight's distinct uniqueness and artistic charisma.
If you love plushies (who doesn't?), definitely consider its Noodoll series. Some especially adorable ones include Riceless (I love you sloth much), Riceslow (I love you sloth much) and Riceananas.
Address: 1 Marne Road, The Citron #01-05, Singapore 208380
Contact: 9238 1226
Website
Floral Garage Singapore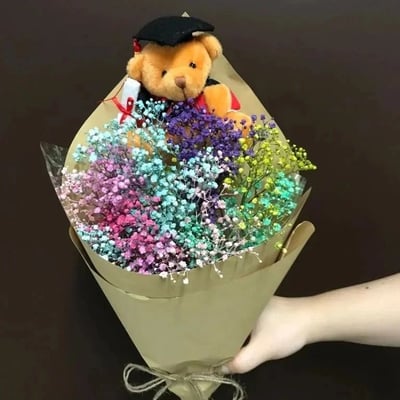 Floral Garage is more of a gift shop than a fully-fledged florist, utilizing flower arrangements as a creative medium for gift-giving. As such, you'll find a whole catalogue of thematic arrangements curated for specific events, such as Get Well Soon, anniversaries and the likes of such.
However, it is also one of the more affordable options on the list, with a whole series dedicated to floral arrangements that cost below S$50. We highly recommend its Ravishing piece - a collection of preserved flowers for just S$45.90. One of the more interesting items on this list is its Beers for him piece, a floral display featuring cans of beer. Of course, there's also a Beers for her piece for the ladies.
Address: 8 New Industrial Road, LHK 3 Building, #06-01, Singapore 536200
Contact: 9387 8871
Website
Floral Mikelle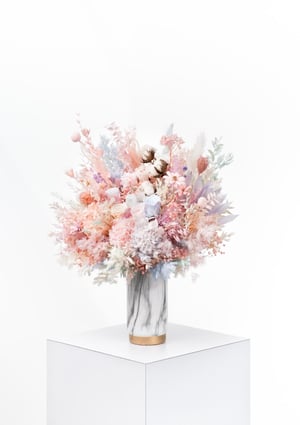 A flora connoisseur and expert, Floral Mikelle immediately radiates posh and class upon your first visit to their website. With a white backdrop that accentuates the purity of their flora's colours, there's a polished charm to their products that reflects their meticulous and deliberate design philosophy.
If you're looking for a vibrant and spirited flora arrangement, Superwoman may be the perfect display for you. As their bespoke signature piece, this beautiful spectrum of natural colours is sure to enliven the dullness of any room.
Address: 22 New Industrial Rd, #02-20, Singapore 536208
Contact: 8784 5750
Website
Floristique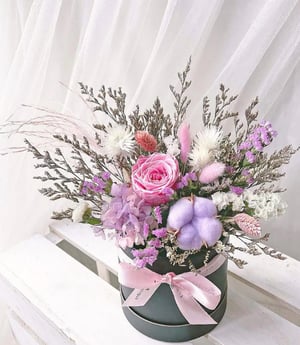 With a playful motto such as "We Create Bouquets To Make A Day", Floristique curates floral displays that are exuberant, effervescent and playful. If you're looking to brighten up someone's day on a budget, make sure to have a gander at their bouquets of the week; most of which are priced less than S$50.
If you have unsettled someone and are looking to make him or her feel better, get a Uriah bouquet for S$69.90 (before tax) and turn that frown upside down.
Address: 22 New Industrial Rd, #02-20, Singapore 536208
Contact: 8784 5750
Website
Flower Chimp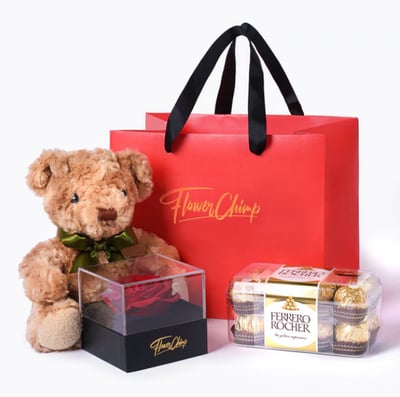 Flower Chimp may be the best cost-efficient option out there, selecting arrangements for you based on your desired budget. To make things better, you can even make multiple payments using Atome instead of a full immediate payment.
Looking for a quick way to surprise your loved ones? Consider getting its Sweet Valentine set for S$81.90, or three payments of S$27.30 with Atome.
Contact: 3158 2120
Website
Gerbils Garden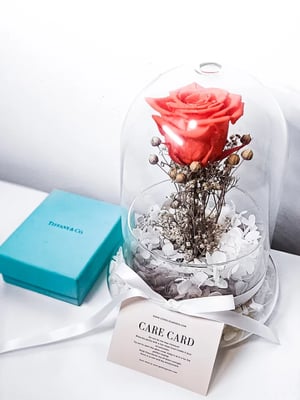 Having collaborated with fashion moguls like Zalora and Supreme, Gerbils Garden has tons of experience incorporating fashion into their flora displays, most of which are encapsulated beautifully into quaint flower domes.
If you're desiring a display that is both beautiful, classy and yet elegant, Gerbils Garden has a beautiful Red Jasper preserved rose in a glass dome for just S$18
Ofpomsandlentils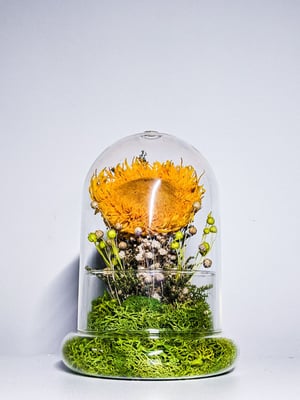 While its catalogue may be limited to just a few variants of both fresh and preserved blooms, Ofpomsandlentis has some of the most glorious floral domes, some resembling domes you see in Gardens by the Bay. Planet Earth best exemplifies its design approach, with a rustic meld of preserved roses and moss to replicate Earth's flourishing verdant.
Love the radiance of the sun beaming through the fields? Its preserved sunflower set best emulates this scene, with a glorious sunflower rooted in luscious greens.
Address: The Raintree, 81 Bukit Drive 587850
Contact: 92770598
Website
LavieFlo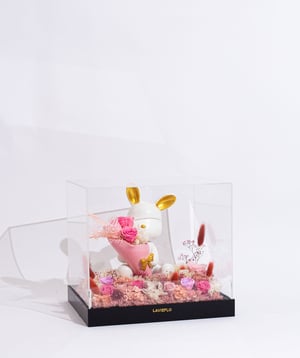 LavieFlo has a multitude of offers awaiting you if you're intending to splurge.
First-time buyers enjoy S$10 off your first purchase with a minimum spend of S$120. If you spend above S$150, you get free shipping as well!
For a minimum spend of S$85, you'll even get a complimentary crown ornament to further embellish your chosen floral arrangements.
Known as a more prestigious offering in the field, you can expect exclusive and premium floral designs, such as its Love Is Patient collection. With less than 20 pieces made, it comes with a medley of exotic pieces contained within a pristine glass display case that resembles a museum piece. Do take note of its price tag though, as it cost S$868 a piece.
Address: 46 East Coast Road, #09-01 Eastgate @ Katong, Singapore 428766
Contact: 6344 3912 | 8893 3900
Website
Moon Fleur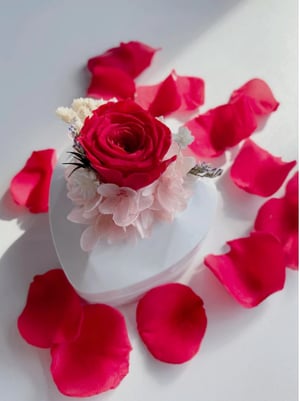 Described to be a "family-oriented" establishment, Moon Fleur has set out to construct and support long-lasting connections through uniquely crafted floral displays. Intended to immortalize everlasting memories through this art form, you can expect arrangements romantically decked in lively colours and quaint adornments.
Boyfriends who are planning to propose can consider getting a lovely heart proposal ring box for just S$69, with a bright sanguine red rose to further accent the shine of your engagement ring.
Any orders above S$50 will be delivered for free.
Address: 76 Playfair Road #04-02 Suite 10, LHK 2 Building, Lift, Lobby 1, Singapore 367996
Contact: 8892 5221
Website
Giftr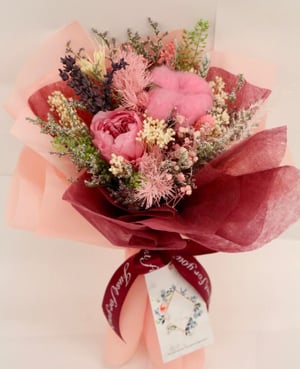 This establishment may be one of the more versatile options on this list, with operations both in Singapore and Malaysia. With flowers curated for a wide list of demographics, you can find flowers and gift options here for any occasion!
However, you can rarely go wrong with bright sanguine roses. Consider a preserved flower bouquet for just S$59.00 and make someone's day!
Address: Blk 79 Ayer Rajar Crescent, #04-04 Launch Pad @ One North, Singapore 139955
Contact: 6019 359 6194
Website
Petite Fleur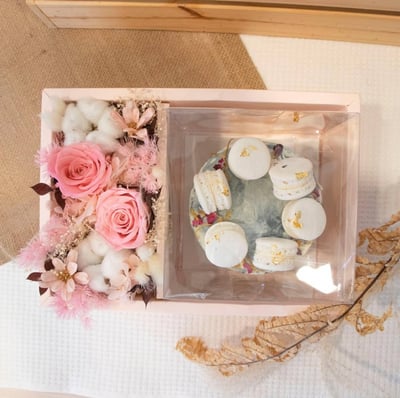 Having begun her professional journey at one of the Big Four accounting firms, Patricia decided to follow her floristry passion full-time by starting up her own online flower shop. Since then, her humble shop has been featured in The Business Times, The Strait Times and more for her exquisite flower pieces.
Get your loved ones an Indulgence Pamper Box for just S$138, a beautiful pairing of preserved flowers and sinfully indulgent pastries. Or elevate your anniversary celebrations with a floral hot air balloon arrangement starting at S$158.
Address: 22 New Industrial Road #03-18/19. Primax Building. Singapore 536208
Contact: 9270 8473
Website
My Eternal Roses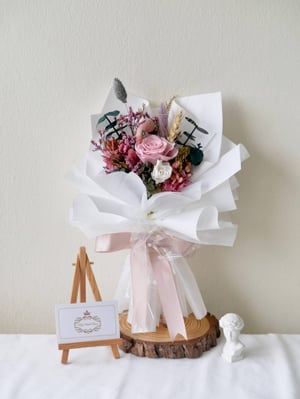 Drawing design inspirations from Korea and Europe, My Eternal Roses has arrangements that are sophisticated, abstractly artistic and graceful. While we may have just concluded Mother's Day a few weeks ago, there's no limit to the number of times we can celebrate the contributions of our family's matriarch!
Consider dropping your mother a lovely surprise with a petite Korean bouquet for just S$38.
My Eternal Roses will be closed until 22 June 2022 so make sure to visit them then!
Petals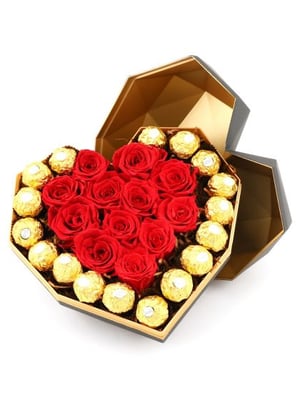 One of Singapore's largest importers of preserved flowers, Petals has expanded to over five outlets in Singapore at this point of writing. While their designs aren't revolutionary, it is almost certain that quality is guaranteed when you shop for flowers here.
If you're looking for something romantic, do consider one of its heart arrangements. Its Diamond Heart display is filled with sanguine red preserved roses and a generous dose of decadent chocolates - perfect for a romantic night out!
You can view their outlets, and corresponding contact numbers here:
Rainbowly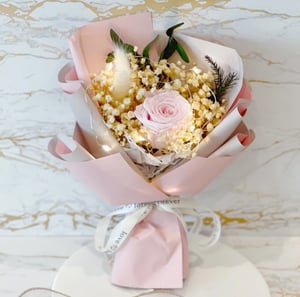 Rainbowly introduces the concept of edible bouquets into the field, designing fresh fruit bouquets paired with luxurious strawberries dipped in rich chocolate. While it may not adhere to the conventional understanding of preserved flowers, it does bring a refreshing alternative if you're looking for something more innovative (and edible).
Those looking for a conventional preserved flower bouquet can get one here too, with some as affordable as S$49,
Address: 11 Sin Ming Road, Thomson V Two, Singapore 575629 (by appointment only)
Contact: 6900 2188
Website
SJO Flora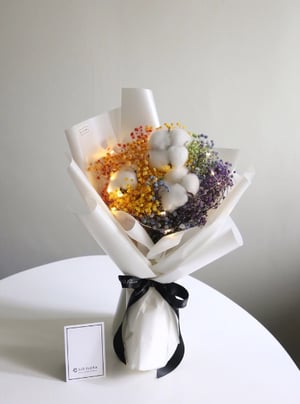 SJO Flora has an amazingly beautiful catalogue of graduation flowers that best commemorates this very special day. Celebrate your friend's milestones with Rainbow Clouds for S$110, a gorgeous display intended to emulate the rich blend of colours in a rainbow. Or get the aptly named Milestone, a bouquet that comes with flowers adorned with a handcrafted graduation hat.
There is also free standard local delivery so order away!
Contact: 9817 7708
Website
SkinnyBlooms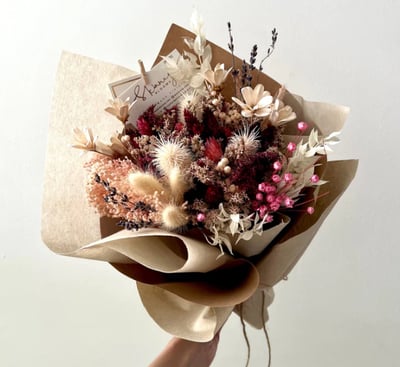 SkinnyBlooms is a huge lover of weddings, anniversaries or any celebrations of pure love between two bonded soulmates. Commemorate the notion of eternal love with its Everlasting bouquet, a collection of seasonal wild blooms dapped in lavender essential oil.
Looking to confess to a crush? For S$108, get a beautiful display of seasonal flowers adorned with romantic colours.
Smiling Flora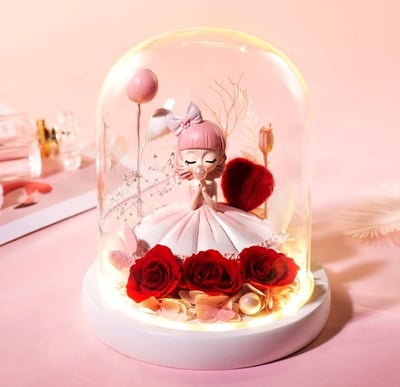 Another expert on graduation floral pieces, Smile Flora carries a series of joyous arrangements that are sure to capture and immortalise this milestone. Smiling Flora also has a rich list of preserved floral displays! Its 435 has beautiful aqua blue pastel roses accompanied by adorable caricatures and LED light - the perfect emulation of nighttime tranquility.
The Bloom Room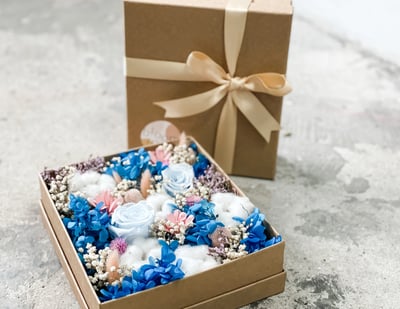 With a simplistic approach to floristry, The Bloom Room makes flora the star of the show, playing up its natural beauty with more subtle accompaniments.
If you're looking to bedazzle your recipient, we strongly recommend the Palette of The Skies. For S$118, you'll get a beautiful arrangement of blue roses, hydrangeas, pink billy buttons and baby breaths in a rustic brown gift box.
If you're looking for a more classical option, we urge you to get its classic mug set, which has gorgeous flowers arranged in a quaint vintage white mug. As each set is handcrafted, you can even arrange for an appointment to personalise the display to suit your desired ambience.
First-time customers get a 5% discount with the promo code: welcome5.
Address: 10 Kaki Bukit Avenue 4 #04-61 Premier @ KB Singapore 415874
Contact: 8022 1402
Website
Terra Florist & Gifts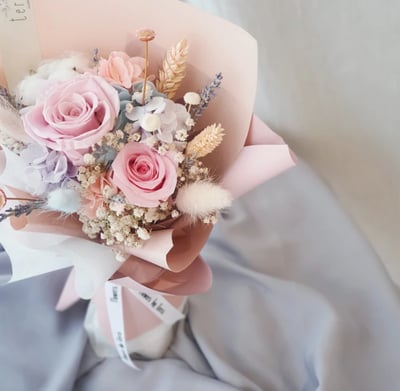 With linguistic origins stemming from ancient Greek and Latin diction, Terra refers to our earthly elements – an apt name given the natural wonders of flowers. Having worked with esteemed floral designers all around the world, Terra adopts a unique design philosophy that fuses natural beauty with multicultural arts.
If you're looking for something that radiates serenity, its Pastel Preserved Roses gift set comes with a whole medley of flowers that can last for up to two years. Or if you desire something that personifies your love for your partner, its Sweet Lullaby is especially fitting.
Address: 23 Kelantan Ln, #03-01, Singapore 208642
Contact: 8898 9246
Website
The Bloom Box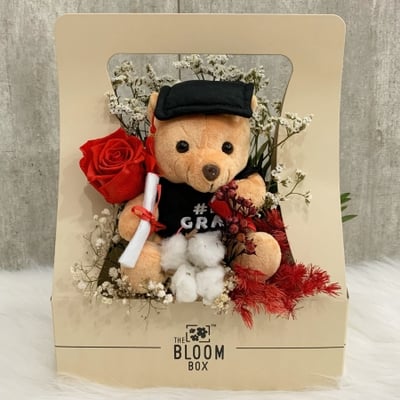 A seasonal online florist, The Bloom Box creates thematic displays that are constantly updated, ensuring their designs are always contemporary and quaint. It is also one of the more affordable options here, with a whole graduation bloom set costing S$46 (including delivery)
Address: 2 Kallang Ave, 05-03, CT HUB1, Singapore 339407
Contact: 9726 7489
Website
The Daily Blooms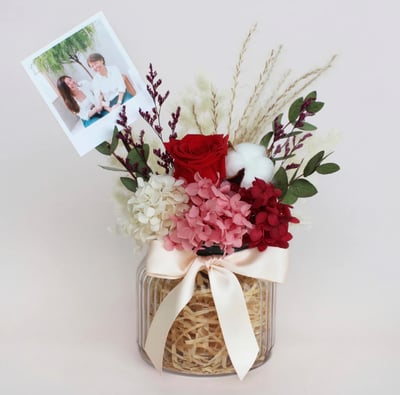 Another seasonal florist, The Daily Blooms constantly updates its offerings with its bloom of the week catalogue which is as affordable as S$35. They even accept instalment payments through hoolah.
Want an innovative way to capture the moment that isn't transient like an Instagram filter? You will love its polaroid preserved flowers jar which comes with a personalised photo (your choice!) that is paired with a bouquet of flowers.
Address: Foo Wah Industrial Building 45 Jln Pemimpin, #04-01B Singapore 577197
Contact: 9455 1240
Website
The Enchanted Tree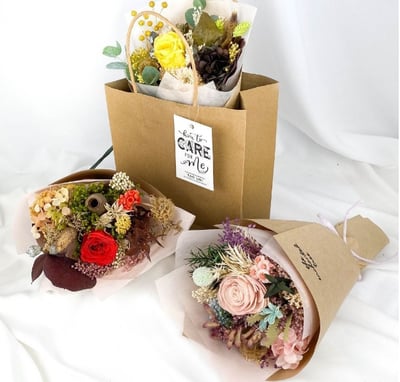 To Live, Love and Bloom – a poetic alliterative motto that beautifully encapsulates the sentimental wonders of flowers. While they do carry the standard catalogue, The Enchanted Tree's main point of difference is the discretion it gives flower-enthusiasts in its floral creation.
Customise your arrangement, colour palette, style, flowers and even budget as you design your own floral art piece. Create one that best represents your identity or fondness for that very lucky recipient.
If you're looking for a standard bouquet, The Enchanted Tree has preserved sets for as low as S$35, such as its Surprise Pick.
Address: 51 Changi Business Park Central 2 #01-13 The Signature, Singapore 486066
Contact: 6588 2088
Website
The Wallflower Bud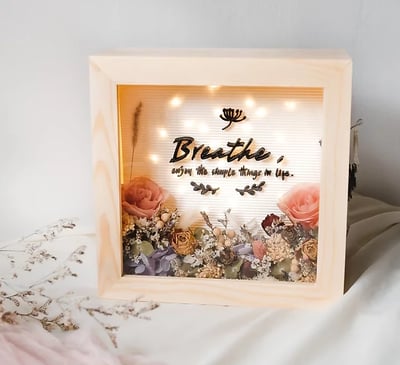 The Wallflower Bud offers quaint flower displays that are sentimental, gentle and graceful. In addition to its bouquets, it also combines LED lights with floral arrangements to form a miniature romantic backdrop. If that sounds good to you, have a look at its BREATHE display, a beautiful floral arrangement that is complemented by fairy lights and a 3D-printed text done in collaboration with Two Curiously. BLOOM is another variant of this display and both go for S$95.
Do note that they will be closed from 29 May 2022 to 2 June 2022
Contact: 9746 9096 (no calls)
Website
Urban Meadow Flowers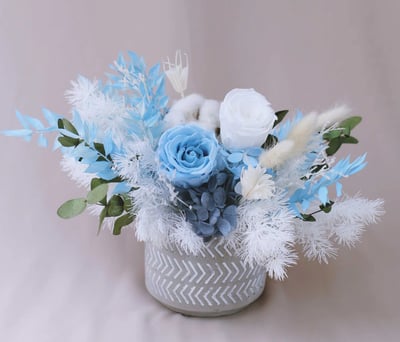 On a mission to curate beautiful medleys of floral patterns that best accentuate urban architecture, Urban Meadow Flowers exemplifies simple elegance commonly synonymous with urban designs.
Its Atlantis arrangement emulates a magical Christmas garden, with a collection of faint blue flowers with bright white adornments that resembles snowflakes. For a more romantic floral medley, Arcadia's arrangement transports you to a garden of beautiful Sakura trees. Both go for S$58.
Address: 22 New Industrial Rd, #02-25/26 Primax, Singapore 536208
Website
Well Live Florist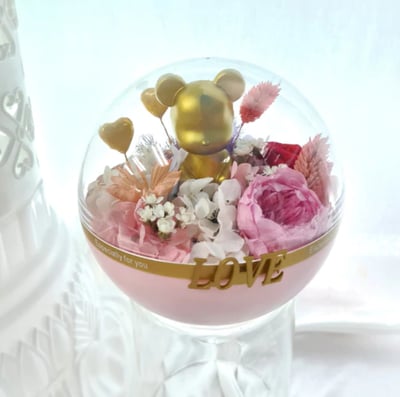 One of the more established florists that provide free same-day deliveries, Well Live Florist ensures your deliveries are punctual! If they are not, however, you can be assured that a full refund will be given.
If you have forgotten an important birthday or anniversary, definitely check out Well Live Florist's catalogue! If it's a crucial anniversary, simply place the Someone Special display into your online cart for S$76. You can even top up S$68 for a bottle of wine to commemorate the moment.
Need a last-minute gift? Then consider its Alana display, a simple spirited floral dome that goes for S$78.
Address: 1 Defu Lane 10 #03-547 Singapore 539182
Contact: 9105 5602
Website
Windflower Florist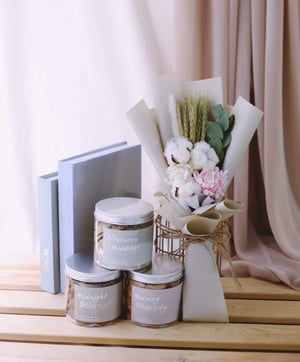 Love ice cream and flowers? Windflower Florist got you with its Sweet Scoop Bundles! A beautiful bouquet accompanied by a rich deluxe blue pea lavender ice cream, this entire set perfectly personifies life's sweet revelry and joy (extra joy for those with a sweet tooth!)
Need more sweetness? Get its Windflower x Zee & Elle Cookie gift bundle set and indulge in three cookie jars and a lovely bouquet. With flavours like espresso sea salt, earl grey white chocolate and cranberry coconut, this is an amazing bargain at S$100.93 given the sentimental value it exudes.
Address: 22 New Industrial Road, #02-27/28 Singapore 536208
Contact: 8722 4212
Website
Frequently Asked Questions
What are preserved flowers?
Preserved flowers are 100% real and natural flowers that have gone through state-of-the-art preservation technology, thus retaining their appearance for a longer period of time, according to Floral Mikelle.
The technique, originating from Japan, relies on a mix of non-toxic chemicals and eco-certified solutions to capture the uncanny lifelike beauty of our favourite delicate blooms.
Why get preserved flowers instead of fresh ones?
Fresh flowers have a lifespan of 5 to 7 days, depending on how they are kept and the environment. Considering how warm and humid Singapore's climate is, fresh-cut flowers usually will not last longer than a week. Besides wilting, receivers of fresh flowers will also need to worry about mould and insects.
On the other hand, preserved flowers possess a lifespan of up to three years or more (speaking from experience). When placed in a non-humid setting, they can last for up to as long as 10 years! No maintenance is required either
Since preserved flowers are real flowers which have been chemically treated, they also retain their natural beauty and appearance - qualities that artificial flowers do not possess.
Are preserved flowers cheaper than fresh flowers?
An average bouquet from a florist may start from S$49 and will typically last you for a maximum of seven days. That averages to S$7 a day. Assuming a vase of preserved flowers costs S$78 and they last for three years. That rounds up to just S$0.07 a day! The winner should be clear, don't you think?
So exactly how long do preserved flowers last?
Preserved flowers can last between one to three years, depending on the floral arrangement and its casing. Those that come without casement tend to have shorter lifespans than their cased counterparts, due to environmental factors such as humidity.
How do I maintain preserved flowers?
It is recommended to keep preserved flowers away from direct sunlight. They should also be placed in location without temperature fluctuations. Humidity isn't a friend of preserved flowers either, so keep them away from wet areas such as the toilet or kitchen.