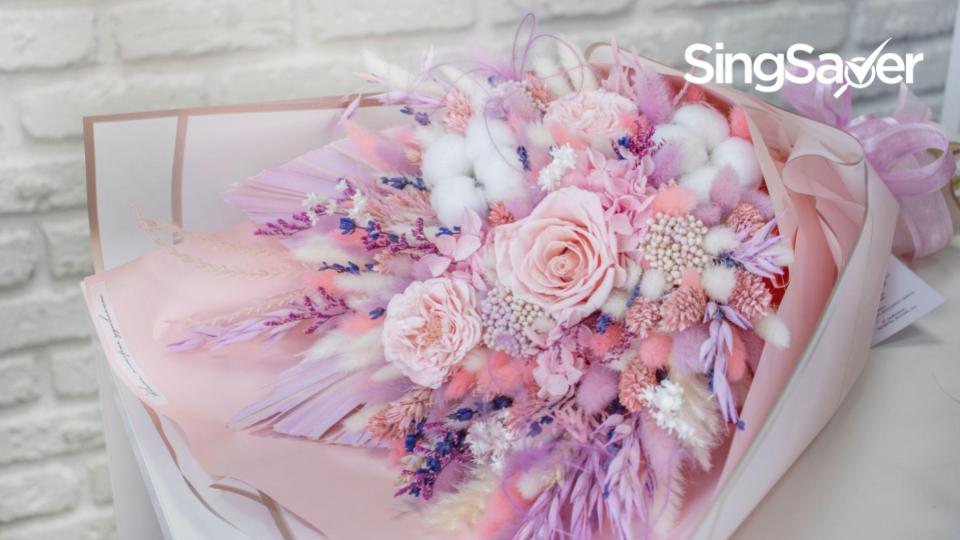 From handbag charms to bell jars and bloom boxes, here are 7 beautiful and affordable preserved flower creations sold at online florists in Singapore.
There's been a revolution that's been quietly brewing in the floral artistry world.
Preserved flowers that are virtually indistinguishable from their live counterparts, and that are capable of lasting several months with virtually no maintenance, are now having their moment.
Lifelike flowers that look as good as they did on the day they were picked (and last longer than some relationships we know) are certainly a worthy achievement. We've come so far from the days of sad, flat pressed flowers and brown, desiccated husks that fall apart the moment you look at them the wrong way.
Preserved flowers are not only beautiful to look at, they are safe for you and the environment too.
The technique, originating from Japan, relies on a mix of non-toxic chemicals and eco-certified solutions to capture the uncanny lifelike beauty of our favourite delicate blooms.
Wondering where to get your hands on these sublime creations? Here are seven online florists and their unique creations featuring preserved flowers.
7 online florists with gorgeous preserved flower creations
| | | |
| --- | --- | --- |
| Florist | Product | Price |
| My Eternal Roses | Bouquets and Floral Arrangements | From S$38 |
| Skinny Blooms | Everlasting Petite Jar | From S$45 |
| SJO Flora | Charms | From S$55 |
| Dawn Q | Dried and Preserved Flowers | From S$65 |
| Daisiesfield | Bloom Box | From S$98 |
| LavieFlo | Belljar Collection | From S$108 |
| Gerbils Garden | Flower Domes | From S$129 |
My Eternal Roses
For luxurious bouquets and elegant floral arrangements with roses as the centrepiece, head over to My Eternal Roses online shop.
You'll find a diverse collection of preserved flower creations, ranging from mini bouquets to potted arrangements, bloom boxes and more. The Japanese Minimalist Globe Domes (S$48) are especially alluring with their winning combination of bright colours and exotic foliage.
Every creation is hand-crafted by the brand's Flora Artisans, who are also certified Preserved Flower Specialists. Only the most immaculate rose blooms are selected for use, along with other flowers, leaves, feathers and accompaniments of the highest quality.
Skinny Blooms
Made from florals that dry well, Skinny Blooms' Everlasting Petit Jars will liven up your living space for months to come, with little to no maintenance required.
Standing at just 10cm high, these petite, gorgeous mini arrangements are an absolute delight to gift and receive.
There are four designs to choose from: preserved blue or red rose, cotton bloom, or a bundle of colourful wildflowers, all paired with varying accompaniments including bunny ears, wheat and eucalyptus leaves.
At S$45 each, these petit jars are ideal whether as a housewarming gift, or a little retreat for you and your girlfriends.
SJO Flora
Website
Whatsapp: 9817 7708
Email
Bring your love for preserved flowers everywhere with you with these winsome and classy flower charms (S$55) by SJ Flora.
Each of these dainty charms measure 5cm in diameter, and feature a perfectly preserved miniature rose encased in a clear plexiglass ball, paired with a white or black tassle.
Choose between eight different coloured roses, from deep red to baby pink, dusty blue and lilac.
For an S$8 top-up, you can print a personalised message on the underside of the charm for a truly special gift.
Dawn Q
Website
Address: 62 Ubi Road 1, #05-13, Singapore 408734
Tel: 9179 6689
Email
Dawn Q Floral Design specialises in classic flower bouquets handcrafted from dried and preserved flowers.
Their elegant creations come in all hues and colours, from bright, fiery reds and dazzling blues to muted tones like dusk rose.
Among the more unconventional arrangements are the stunning Harlow (S$95), with contrasting black and white roses; the whimsical Burly Wood (S$78) and its soft woodland colours; and Powder Blue (S$75), a classic aqua-themed arrangement given a new dimension with lavender essential oil.
And in case you need any more convincing, every order comes with free delivery!
Daisiesfield
Website
Address: 21 Jervois Close, Singapore 249114
Tel: 8608 3696
Email
Daisiesfield's Bloom Box (S$98) series is a preserved flower treat with a twist.
You see, rather than a fully assembled product, the Bloom Box contains an assortment of preserved flowers and flora material of different types and sizes, along with accessories such as stems, sand forms, flower tape and wires.
This is the ideal gift for anyone with a knack for making their own preserved flower arrangements, or those who've always wanted to pick up the artform. Daisiesfield even offers workshops to help beginners get started.
Available in four colour-themed boxes.
LavieFlo
Website
Address: 46 East Coast Road, #09-01 Eastgate @ Katong, Singapore 428766
Tel: 6344 3912
Whatsapp: 8893 3900
Email
Remember that enchanted rose in Beauty and The Beast, the one floating ethereally in a glass dome? Well, LavieFlo can't quite give you a levitating rose, but its preserved flower creations are just as enchanting.
Browse the Belljar Collection to find beautifully composed flower bouquets encased in a clear glass dome, perfect as a tabletop decoration. Preserved roses are the main flowers used in these creations, and are often paired with other beloved flowers like hydrangeas, baby's breath wildflowers and other decorative elements.
Some models even include figurines, accessories and fairy lights for that extra touch of whimsy.
With prices starting from S$108, LavieFlo's Belljar Collection makes for a great choice when you need a gift that says something.
Gerbils Garden
Website
Location: Upper Bukit Timah
Whatsapp: 9277 0598
Besides its delightful name, Gerbils Garden Flower Dome collection is also apt to bring a smile to your face.
Somehow, the floral artisans of Gerbils Garden have brought the delicate art of preserved flowers to other, more unconventional choices, resulting in some truly unique and delightful creations.
Take for example the wonderfully kitchsy Golden Prosperity Tree (S$188), a 1m-tall potted arrangement made of pussy willow branches with their fluffy tips dyed a rich golden.
If that's a little too gaudy for you, how about the Preserved Gypsophila Tree (S$129), a miniature vibrant green tree in a glass dome?
For those with more traditional tastes, the rose glass domes – featuring a singular rose artfully framed by foliage (S$129) – should make for a satisfying choice.
Read these next:
Best Online Shopping Credit Cards in Singapore (2021)
Which Are The Best Cards To Earn Miles While Shopping?
Pupsik Top Selling Products to Buy in 2021 (And What's Worth Buying)
Ezbuy Guide: Promo Codes, Prime And Everything You Need To Know
18 Must-Have Gadgets In Your Room That Are Below S$50
---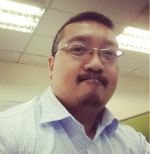 By Alevin Chan
An ex-Financial Planner with a curiosity about what makes people tick, Alevin's mission is to help readers understand the psychology of money. He's also on an ongoing quest to optimise happiness and enjoyment in his life.
---