Since the start of the Circuit Breaker period in 2020, many Singaporeans have taken the opportunity to find new hobbies to fill their time with meaningful activities. One of the trends that exploded back then (and is still popular today) is… being a plant parent.
---
Every spending situation is unique. SingSaver assembles the 'Best For' list, so you can decide what's best for you.
---
Whether it's dalgona coffee, Zoom cocktails or cloud bread, pandemic trends come and go. But if there's one trend that looks like it's here to stay, it's gardening.
Many Singaporeans are turning to gardening as a hobby to relieve stress and spruce up their living spaces as they continue to work from home. According to The New Paper, indoor plant sales have shot up since the start of CB, with many people choosing to grow plants with air-purifying features or herbs so that they can reduce their patronisation of wet markets and supermarkets.
Plants are cheaper at a nursery compared to boutique stores
Let's say you've decided that you want to add to your plant collection or start gardening. Where should you shop? Plant nurseries are the way to go, especially if you're on a budget.
As nurseries import various plants and flowers in bulk at wholesale prices, they are able to extend these savings to you. With smaller boutique shops, the costs are often higher as time and effort are needed to repot, resoil and arrange the plants to look #Insta-worthy.
A wide variety of plants is available at plant nurseries, from most common to rare
There are tonnes of plants for sale at nurseries dotted around Singapore, from the common monstera adansonii (Swiss Cottage Cheese plant) to the fan-favourite ficus lyrata (fiddle-leaf fig) and the rare alocasia zebrin. Some of the nurseries that carry rare plants include The Chlorofeel and Chye Heng Orchid Garden (which we will touch on later).
So, if you're thinking of getting yourself some affordable new plants for the house and wondering where to buy them in Singapore, here are a handful of plant nurseries you can purchase exotic plants, edible plants and ornamental plants from.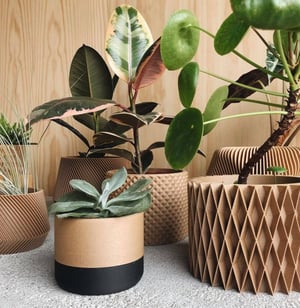 Address: Online only
Contact: 9853 3958
Plants, flowers, fruits, herbs and spices — you name it, they have it. The Chlorofeel is a 100% online store, so what you see on the website is what you get. They also have rare succulents and tropical plants available during flash sales, so you'll need to check in regularly as these coveted plants sell out pretty fast.
The Chlorofeel — delivery costs
Delivery costs are based on the weight and can range from S$7 to S$25 for orders below S$99. Orders above S$99 enjoy free shipping.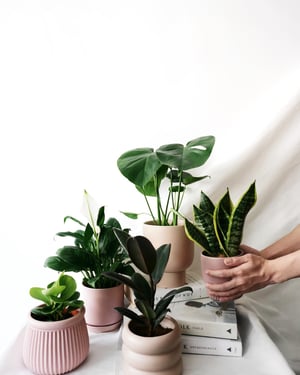 Address: 326 King George's Avenue, Singapore 208567
Contact: 9278 0728
Opening hours: Mondays to Fridays at 7pm to 10pm, Saturdays and Sundays at 12pm to 8pm, closed on Tuesdays
This artisan plant nursery is perfect for minimalists looking to brighten up their home with a bit of lush greenery. As this fully virtual store carries all sorts of indoor plants at various sizes, there is sure to be something that suits your space.
Not sure what is the best plant for you? Leave the thinking to them. They offer a bespoke curation service where they'll take a look at your home and recommend the best plants to complement its design.
d' Floral Sense — delivery costs
Enjoy free delivery when you make a purchase above S$150. If not, a flat rate delivery service fee of S$15 applies.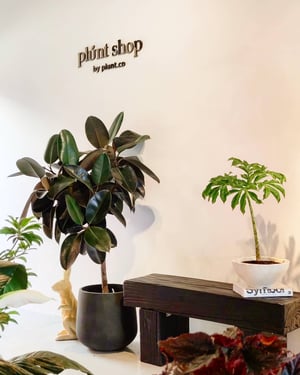 Address: 71 Ubi Crescent #08-13, Excalibur Centre, Singapore 408571
Contact: hello@plunt.co
Opening hours: Wednesdays to Fridays at 12pm to 6pm, Saturdays and Sundays at 11am to 6pm, closed on Mondays and Tuesdays
There isn't a one-size-fits-all approach when it comes to adding plants for your home, and Plunt.Co knows that. With their Plunt Combo service, you are able to mix and match plants and planters according to your desire.
If you're looking for exotic and more aesthetically-pleasing plants, just head over to the Styled Plant section. They may have a limited range to choose from, but it will suffice for people who are new to the plant game.
Plunt.co — delivery costs
Shipping costs vary for different plants. Orders above S$120 enjoy free shipping regardless of plant size.
If you do not hit the minimum, here are the flat costs you will have to bear:
Small/medium plants, S$12
Large plants, S$20
X-large plants, S$40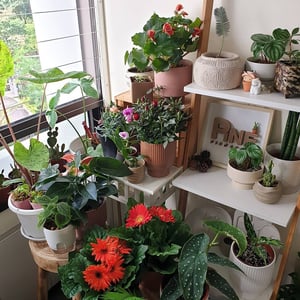 Address: 526 Jelapang Rd, Singapore 670526
Contact: 9003 3504
Opening hours: Mondays to Sundays at 10am to 8pm
Pine is a home studio that specialises in unique plants and flowers. Besides in-house designed and hand-made planters, they also sell their own potting mixtures alongside gardening necessities to kickstart your indoor jungle.
Pine — delivery costs
Standard delivery (one to three days) will cost you S$8 for smaller plants and S$18 for large plants. Express delivery is available at S$18. For same-day delivery, orders have to be placed before 2pm.
Don't want to pay for shipping? You can always self-collect for free at their studio at Bukit Panjang. However, you'll have to make an appointment in advance.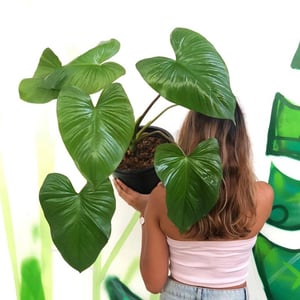 Address: 5 Simei Lane, Singapore 528710
Contact: 6904 3029
Opening hours: Mondays to Sundays at 8am to 8pm
One of the most popular nurseries in Singapore is Sing See Soon, which is known for its wide range of lowlight plants, indoor plants, succulents and even pet-friendly plants. Gone are the days where you can't own a plant and pet at the same time!
If you're a sucker for bargains, you'll be glad to know that Sing See Soon often holds flash deals on their Facebook page where you can get 1-for-1 plants. From now till the end of June 2021, they are giving out a free mystery gift with every plant ordered online.
Sing See Soon — delivery costs
Islandwide delivery is available at S$10 per trip/location. For large plants, delivery fee is set at S$30 per trip/location. For orders above S$200, there's free delivery.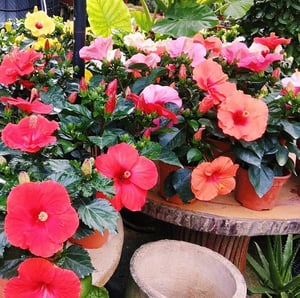 Branch: Mandai
Address: 390 Mandai Road, Singapore 729759 / 89 Bedok North Street 4, Singapore 460089 / 506 Tampines Central 1, Singapore 520506
Contact: 6449 0585
Opening hours: Mondays to Sundays at 9.30am to 5pm
Branch: Bedok
Address: 89 Bedok North Street 4, Singapore 460089
Contact: 6449 0585
Opening hours: Mondays to Sundays at 8am to 8pm
Branch: Tampines
Address: 506 Tampines Central 1, Singapore 520506
Contact: 6449 0585
Opening hours: Mondays to Sundays at 8am to 8pm
Chye Heng Orchid Garden started out as a small nursery back in the 1970s, selling just orchids and potted plants. They have since expanded and transformed into a one-stop plant centre specialising in the retail as well as rental of plants for events and offices.
They sell anything from anthurium jungle bush to beautiful orchids and even the ficus lyrata in a self-watering pot, so even dummies without a green thumb can enjoy these lush additions to their home without much maintenance.
Chye Heng Orchid Garden — delivery costs
They offer delivery island-wide (except Jurong Island and Sentosa) for a flat rate of S$20. You can also opt for self-collection from their Mandai outlet for free.
Address: Online only
Opening hours: 24/7
Noah Garden offers not just plants and other gardening accessories, but also complimentary planting and delivery services for purchases above S$100. Their website is such a gem because they also offer tips and tricks for growing your plants if you have no idea where to start.
Noah Garden Centre — delivery costs
Delivery comes at a flat rate of S$10 for orders below S$100 and is free for orders above S$100.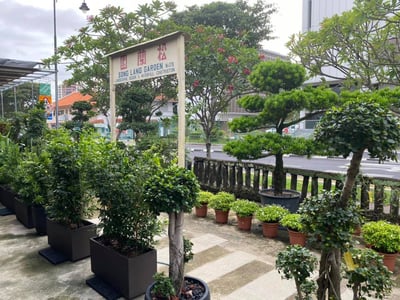 Address: 378 Tanjong Katong Road Singapore, Singapore 437134
Contact: 6344 3232
Opening hours: Mondays to Sundays at 9am to 6.30pm
Besides a wide range of outdoor and indoor plants, Song Lang Garden also carries gardening equipment from brands such as Gardena and Hozelock. For those who value convenience, you can even get your gardening supplies from them through GrabMart.
Have your eye on something that's constantly sold out? Keep tabs on their Facebook page for restock updates.
Song Lang Garden — delivery costs
Delivery is free for orders above S$350. For orders below that, delivery costs can range from S$20 to S$40. The costs are location-based so you'll have to call them for a quote.
---
Thinking of starting your own indoor jungle? Use these credit cards and earn miles/rewards/cashback!
Read these next:
Best Online Shopping Credit Cards in Singapore (2021)
10 Telegram Channels Every Singaporean Millennial Must Follow
Money-Saving Food Hacks For The 'Scrooge' In You
Free Activities To Do In Singapore 2021
Here's How to Affordably Furnish Your House… Without Anything From IKEA