So much free time (thanks to Phase 2HA), but so little dime. If you love to dress and impress, star in your own 'The Devil Wears Prada' and strut your stuff on your next Zoom meeting, this is where to shop online for luxury branded bags, shoes and clothes at (more) affordable prices.
A for Alexander McQueen, B for Bottega Veneta, C for Chanel, D for Christian Dior and the list goes on. If you are familiar with the ABCs of luxury fashion, then you'll also know that they don't come cheap, prices are controlled and a sale is almost unheard of or extremely hush hush.
However, this doesn't mean that you can't get your hands on them for less; it just takes some research and patience.
To help you get started, here are six reliable online stores that carry authentic luxury goods for all your fashionista needs.
Reebonz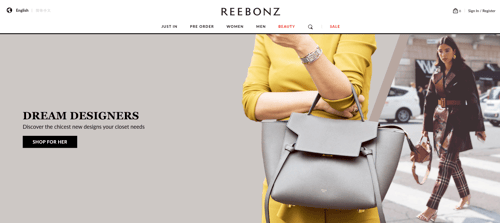 Representing Singapore in online luxury shopping is Reebonz (pronounced as 'ribbons'). From bags to clothes, wallets to shoes, finding something to fit your style shouldn't be too difficult, especially when there's always a sale going on.
And if you've previously purchased from Reebonz but no longer want the item, there's the option to sell it back to them for credits. However, this doesn't apply to all items or brands, only selected ones. Remember to read the fine print if you intend to leverage on this service in the future.
Just an observation, they seem to be operating on a much smaller scale than before. During my research for this article, we realised that they did not list as many brands or new items as they did three years ago. That said, they do have quite an impressive range of pre-loved luxury items that are affordably priced.
Best for: Pre-loved and vintage bags and accessories
Delivery charge:
Free for orders fulfilled by Reebonz and Reebonz Outlet
Free for orders fulfilled by Reebonz Boutiques with a minimum spend of S$200, orders under S$200 will incur a S$30 delivery charge
Delivery duration: One to three working days
---
Pay less when you charge your purchases to a cashback card. Don't have one? Use our handy credit card comparison tool below to find the best one within minutes, and you could even get rewarded with cash and prizes*.
*Rewards may change at any time. Terms and conditions apply.
---
END.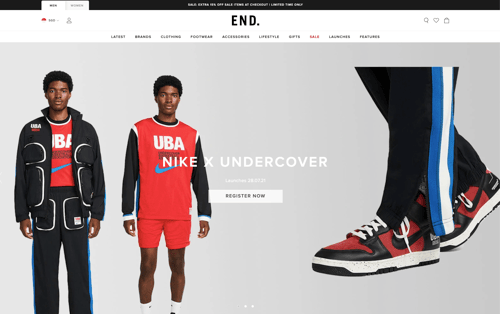 'The END. No more shopping for the month', that's what you tell yourself after you click the 'Buy Now' button. END. offers one of the widest ranges of luxury brands that include CELINE, Saint Laurent, Kenzo, Valentino, Balenciaga and more.
Oh, did we mention that this is the shop to visit for limited edition items that are difficult to find in Singapore? With new additions every week, END. gives you exclusive access to items from the latest Nike x Off-White, Vans Vault x Patta UA and Adidas Ultraboost DNA x LEGO collection.
Best for: Limited editions
Delivery charge: Free for orders above S$360, orders under S$360 will incur a S$19.90 delivery charge
Delivery duration: Three to five working days
FARFETCH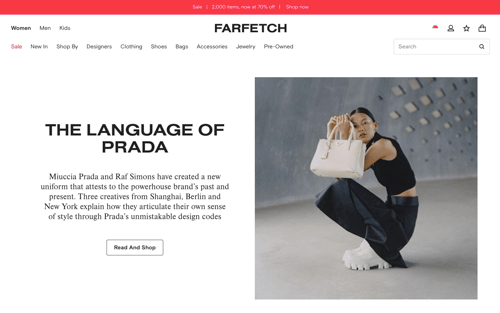 Not to be confused with the elusive flying-type Pokémon ​​Farfetch'd, FARFETCH is an online store that specialises in luxury wear and goods, similar to others on this list.
What sets them apart is their range of luxury branded goods for the little ones. Just a forewarning, they may be smaller in size but not their price tags (think along the lines of S$237 for a pair of Balmain sliders) since we are talking about brands like Versace, Fendi, Givenchy and Balmain.
Don't forget to make your first order count because you stand to enjoy 10% off just by subscribing to their newsletter.
Best for: Clothes and bags
Delivery charge: Flat rate of S$20 per order
Delivery duration: Three to seven working days
NET-A-PORTER and MR PORTER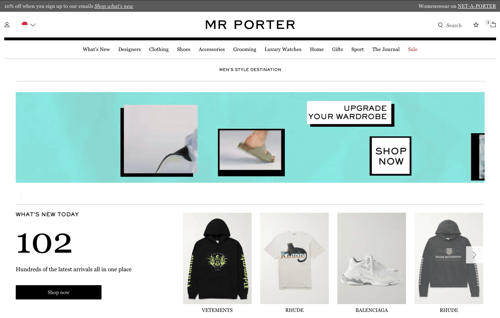 NET-A-PORTER for the ladies and MR PORTER for gents.
From sneakers to slip-ons, velvet suits to swim shorts from over 500 luxury brands, they carry almost everything your fashionable heart can dream of. They are the only ones on this list that offer free trackable delivery with no minimum spend. You could purchase a simple Stussy t-shirt for S$65 and have it delivered right to your doorstep for free.
Before you click the 'Buy Now' button, don't forget to use the promo code FIRST10 to enjoy 10% off your first purchase.
Best for: Casual wear, watches and bags
Delivery charge: Free with no minimum spend
Delivery duration: Three working days after order has been accepted
Mytheresa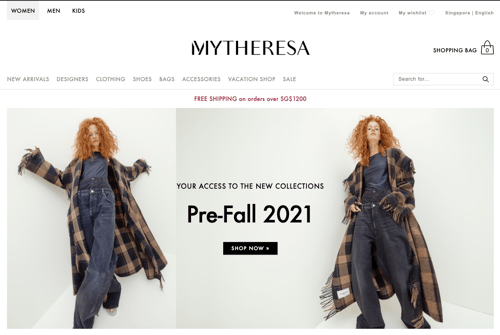 Mytheresa offers a wide range of luxury branded goods, in particular clothes and bags. They may not carry as many brands as some on this list, but they carry unique brands like Jil Sander, LOEWE, ERES, Gianvito Rossi, The Row, Tom Ford and more.
The only downside? Their high minimum spend for free delivery. You'll have to spend a whopping S$1,200 for free delivery, else a S$20 delivery charge will apply.
Best for: Clothes and bags
Delivery charge:
Free for orders above S$1,200
Orders under S$1,200 will incur a S$20 delivery charge
Delivery duration: Two to four working days
The Luxury Closet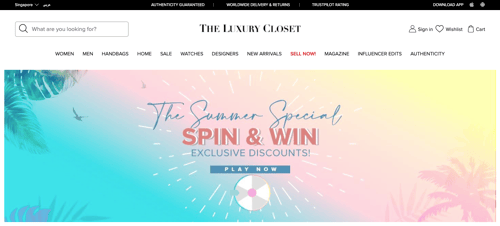 This isn't a scam, The Luxury Closet is one of the few online stores that offer a collection (read: huge range) of the much sought after Hermès Birkin. By that we mean they have over 50 pre-loved Hermès Birkins in a range of materials, colours and sizes ready to be shipped to you for an eye-watering five-figure sum.
In addition, they also offer a range of fancy home accessories that include Versace cushions, Cartier porcelain plate sets and Louis Vuitton wool blankets. How's that for living luxe?
Best for: Bags and home accessories
Delivery charge: Free
Delivery duration: Up to 15 working days depending on product availability
---
Get back some of that money you've spent online by using a cashback card. Apply for one through our button below and you could be receiving cash or attractive prizes!*
*Rewards may change at any time. Terms and conditions apply.
---
Frequently asked online shopping questions
Is it safe to buy branded bags or clothes online?
Yes it is, if you buy from a reputable online retailer. When in doubt, always reach out to their customer service and check their reviews online.
Where can I buy cheap branded bags online in Singapore?
Apart from the six online retailers we've listed above, you can also consider preloved bags. I've seen quite a few listed on local second-hand shops that look brand-new and cost a fraction of the original retail price.
What branded bag is worth buying?
Beauty is in the eye of the beholder. If you like it and can't sleep for days without thinking about it, then maybe you need to have it. Yes, we are that supportive friend.
However, if your definition of 'worth' is actual dollar value then my answer is that only certain bags (e.g. Hermes Birkin or the Chanel Classic Flap 11.12) retain or appreciate in value over the years. We chanced upon this article that we thought might give you a clearer idea of how investing in luxury bags works.
Where can I sell old branded bags?
There are quite a few retail shops in Singapore like Madam Milan, Prestige and The Attic Place that specialise in trade-ins and preloved bags.
Do I need to pay Goods and Services Tax (GST) on my purchase?
If your online shopping order exceeds S$400, you will be charged 7% GST. This is to say that if your purchase is valued at S$500, you will have to pay S$35 in GST. A letter or form will be sent to you by the courier company and payment can be made online or via an AXS machine.
Read these next:
Cost Comparison (Makeup Edition): Watsons vs Guardian
Ezbuy Guide: Promo Codes, Prime And Everything You Need To Know
Pupsik Top Selling Products to Buy in 2021 (And What's Worth Buying)
Latest iHerb Promo Codes In Singapore
Buy Now, Pay Later vs Credit Cards: Which One's More Dangerous?