Ready to have the freshest drip on the streets through the "Stock Market of Things"? Here's how StockX has been revolutionising the marketplace for all sneakerheads, streetwear fans and branded goods worldwide.
Often find your desired sneakers perpetually doomed to be out-of-stock every single time you go searching at physical retail outlets like Limited Edt Underground, JD Sports, Leftfoot and Footlocker?
If you're looking to start a sneaker collection – Air Force Ones, Nike Jordans, Yeezys or whatever it may be – copping original, limited-edition sneakers really depends on the fastest fingers or the first in the queue.
However, chances are, the average citizen doesn't have the time or capacity to camp for these sneaker drops. In fact, most people usually resort to resellers to supply their sneaker addiction.
This is where StockX enters the conversation.
Table of contents
Introducing StockX

Source: StockX

StockX is a thriving e-commerce marketplace for lifestyle and collectables ranging from sneakers, streetwear, luxury handbags, watches, electronics and others.
So apart from sneakers, other highend streetwear brands like Essentials, Stussy, Moncler, BAPE and Supreme are staple residents of this site. Enthusiasts from all over join the platform in an attempt to sell, bid for, and buy their desired collector's edition of rare, vintage, or trendy and hyped drops that sell out almost instantly.
Originally founded in 2015 by four entrepreneurs based in Detroit, Michigan, this resale platform has since grown exponentially to include over 1,000 employees across 197 countries. Their entrepreneurial spirit is admirable and inspiring.
To be sure, StockX's ecosystem is run by consumers, for consumers. Meaning to say, this secondary marketplace is self-sustainable. With healthy user traffic of several million visits per month, the website is undoubtedly booming with transactions constantly being negotiated and approved.
New products are regularly listed on the site by fellow users, consistently expanding the range of available items available for sale at any given time.
The mechanics of StockX
It's normal to feel overwhelmed when using the platform for the first time. With so many listed products and brands, it's hard to casually browse through catalogues unless you have a specific search in mind.
But, don't panic! You'll soon realise that StockX is fairly similar to our beloved Carousell marketplace. Principally, you can either be a buyer or seller.
Disclaimer: Signing up for an account is required to access the platform's functionalities as both buyer and seller.

Source: StockX
Before transaction:
Buyer
Seller
1. Buy products at Lowest Ask Price
2. Set a bid for product (30 days) > Wait for the bid to be successful
1. List a product for sale
2. Sell product at an "Ask for Price"
3. Sell product for highest bid
What both buyer and seller can do:
✔ Monitor and predict price fluctuations like a stock index
✔ Gauge price patterns based on 12-Month Historical data
During & after transaction:
Buyer
Seller
If bought at "Lowest Ask Price":
- Product will be verified
- Product will be shipped out to youIf bought by bidding:- Wait for seller to accept bid
- Automatic transaction upon bid approval
- Product will be verified
- Product will be shipped out to you
- Ship product to StockX for verification (within two business days)
- Product will be shipped out to buyer on seller's behalf
Note: Bids are set to last 30 days by default but can be adjusted.
Bids cannot be cancelled once accepted by seller. Purchase will automatically be charged and processed.
All shipped purchases will be safely packaged with a green StockX-branded tag of approval as proof of your product's verification.
Strictly no returns or exchanges are allowed due to the anonymous nature of their platform. Check out more terms and conditions in their FAQ.
Read their Buyers and Sellers guide for more step-by-step instructions on the purchasing procedures.
---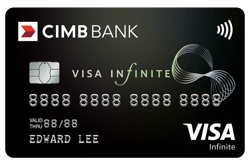 The CIMB Visa Signature Credit Card will entitle you to 10% retail cashback with min. S$10,000 spend per month (capped at S$100 total, S$20 per category). Continue earning 0.2% cashback on all purchases even after exceeding cashback cap.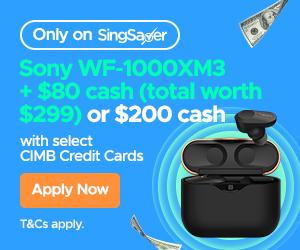 SingSaver Exclusive Offer: Receive a Sony WF-1000XM3 + S$80 Cash (worth S$299) or S$200 Cash when you make a min. spend of S$988 within 60-days of card approval. Valid till 30 June 2022. T&Cs apply.
---
How StockX verifies products
Just like how we despise scammers and lowballers, StockX doesn't tolerate such behaviour either.
Thus, what sets it apart from Carousell are the layers of stringent checks and authentication processes in place to prevent unethical and unlawful transactions on the platform.
But how does StockX execute these processes?
Must be new or never worn
With six authentication centres worldwide, each product undergoes a rigorous examination to ensure authenticity and quality.
To begin with, StockX doesn't permit worn or damaged secondhand items to be sold on their platform. They only allow deadstock products (brand new, authentic, and never worn with original packaging) to be listed. As a result, buyers will (quite literally) be assured of receiving the freshest and cleanest pair of kicks possible.
Reliance on machine learning
Additionally, the employees at the authentication centres utilise advanced machine learning to analyse the material construction of each product. They overview 100+ data points of the product to ensure that no faults or fake replication exist on the item.
All add-ons and accessories that come with the item will be matched according to its original retail. Following that, the item is packaged neatly, adhering to the highest quality standards.
But just before it's shipped out, the final product undergoes one last quality assurance (QA) check by their experts.
In this manner, they've managed to maintain a respectable 99.95% accuracy rate.
StockX's unique selling point
Under each listing, users will find a real-time stock market index tracking the item's price fluctuations. Apart from that, the 12-Month Historical data displays a significant amount of useful information such as:
12-Month Trade Range
All-Time Trade Range
Volatility
Number of Sales
Price Premium
Average Sale Price
Here is a listing example for an Air Jordan One Retro High Tops in Dark Mocha:

Source: StockX
All of these data points are incredibly useful because it provides a completely transparent and comprehensive shopping experience as a whole. Everyone has a fair opportunity to buy their coveted wishlist items at transparent and true market prices.
Pro-tip: If you're using Google Chrome, add the Honey extension to your browser to unlock exclusive orders, greater discounts and cashback savings automatically.
The installed extension will appear as a sidebar on the right. Simply hover your mouse over it to open the tab up.
You should see a selection of sneaker models with cashback and potential coupons available for use.
---
Managed to score some sweet kicks but want to score more in savings too? Apply for a cashback credit card to maximise cash rebates and rewards while shopping online. Save while you spend; don't let your online transactions be wasted.
Other sneaker resale marketplaces to consider
If StockX doesn't quite tickle your fancy, don't sweat it because it's not the only marketplace option to procure your favourite pair of kicks or other streetwear items.
1. Novelship

Source: Novelship
How it works: Buying, selling and bidding system
Unique Selling Points: Asia-based, Power seller tiers, accepts crypto payments (Bitcoin, ETH and Tether)
Priding itself as Asia's biggest and hottest marketplace for apparel and sneakers, Novelship is another popular choice among the local community. Within their collection, you can find exclusive brands like Fear of God, Supreme, Bape, Bearbrick, Nike, Air Jordan, Adidas Yeezy and more.
Scroll down their landing page to view a plethora of categories including scheduled pre-releases, kicks sold below retail price, new lowest listings and others.
Moreover, because they're based in Asia, their shipping priority would be to Asian countries. They even have a catchy slogan for that: Local First, Global Second. Hence, you can sleep peacefully at night knowing your order will be shipped to your doorstep efficiently with minimal delivery hassles.
2. Ox Street

Source: Ox Street
How it works: Buying, selling and bidding system
Unique selling points: Member of Carousell Group, Buy-now-pay-later (BNPL) available (Atome, pace)
Next up, we have Ox Street — another Asian-based sneaker marketplace founded in 2019. They promise speedy deliveries (faster by 80%) and lower shipping costs because they connect to lower markets rather than international ones.
Therefore, their operational processes and policies are fairly similar to Novelship's. Likewise, they guarantee authenticity for all their streetwear and sneakers.
However, their landing page categorisation is slightly different. Although they do have an upcoming release calendar, the remainder is organised based on brands or sneaker models rather than generic categories.
Having been integrated as a member of the Carousell Group in October 2021, Ox Street certainly hits closer to home now. Overall, this lends greater reputability to their brand for us Singaporeans looking to cop some fits from them.
Promotion: Sign up for an account to use code "WELCOMESG" and get S$20 in Ox Credits.
3. DistriSneaks

Source: DistriSneaks
How it works: Fixed price points
Unique selling points: Sale section, personal shopping form
For those who prefer a more traditional marketplace concept, DistriSneaks is for you. Compared to Novelship and Ox Street, they don't have the bidding option. Instead, all their listings have set price points according to sizing (if applicable).
They carry a decent collection range featuring standard brands like Reebok, New Balance, Champion, Fila, Puma and more.
However, what we appreciate most about DistriSneaks is their sale section. Customers will have an opportunity to purchase their favourite brands and apparel models at a fraction of the price.
Not to mention, they also offer a personal shopping form for those seeking specific sneakers or apparel but can't seem to locate it on their platform. They remove the hassle of searching and basically do it for you.
All in all, DistriSneaks replicates the look and experience of shopping on traditional online retail sites the most.
4. GOAT

Source: GOAT
How it works: Fixed price point depending on size, new/used, verified status
Unique selling point: Extensive collection, chic website interface, editorial spread on latest high-end fashion trends
Last but not least, GOAT is perhaps the 'greatest of all time' for a few reasons.
What started as frustration after being scammed into buying a fake pair of Air Jordan Fives on eBay, founder Daishin Sugano decided enough was enough. He launched GOAT in 2015, a fully-moderated reselling platform to prevent others from experiencing the same plight.
The total collection range offered is insane — with a whopping total of 230,720 items across sneakers, apparel, accessories and more to date!
Compared to StockX, GOAT allows users to sell both new and used pairs. Hence, buyers have the option of purchasing deadstock or secondhand items depending on their budget. New pairs come in either 'Best Price' (need verification), 'Instant' (already verified) or 'Damaged packaging'. Used pairs are usually subject to availability.
Listings may also be tagged as "pre-verified" which means that the sneaker or apparel is ready in stock at their warehouse. Those without the tag would require authentication first.
Not to mention, their landing page's UI/UX is uniquely eye-catching — replicating a minimal, retro feel with cleanly-cropped listing thumbnails and thin lines separating them for a clean look overall. It almost feels like you're browsing an apparel catalogue in the early 2000s.
GOAT is the go-to reseller marketplace for all things branded and high-end fashion led by passion.
Pro-tip: If you're using Google Chrome, add the Honey extension to your browser to unlock exclusive orders, greater discounts and cashback savings automatically.
---
Help yourself to better financial shape in the new norm, with SingSaver's all-new Ultimate Savings Guide! Got your free copy yet?
Read these next:
8 Simple Life Hacks To Spend Less Money On Your Wardrobe
11 Best Dresses And Gowns To Rent From Style Theory, Rentadella And Runway Rent
Top 10 Below-S$10 Fashion Must-Haves in Singapore
Online Shops To Visit For Affordable Luxury Branded Goods
10 Things You Should Get From Daiso Before They Raise Their Prices