Short on storage space but want a two-wheeler to enjoy leisurely rides around the park or a cross-island adventure over the weekend? Then you should consider a foldable bike.
Just head to your nearest park and you will notice that the majority of cyclists are enjoying their ride on a foldable bike. Compact, lightweight and affordable, they're a great tool for low-impact activity or a last mile option for city dwellers like ourselves.
Not only are they sleek, foldable bikes offer almost everything a regular bike can with the added perk of being foldable for easy storage and transport.
So, whether it is to join your friends on a night cycle, to start leading a more active lifestyle or for errand runs, a foldable bike makes a trusty companion. Here's your comprehensive guide to affordable foldable bikes in Singapore.
Last updated on 12 July 2021. Prices of foldable bikes and accessories are subject to change without prior notice.
Perks of owning a foldable bike
These are a few additional advantages you can enjoy with a folding bike.
Small on space, big on adventure: As it folds up nicely, it'll only require a small storage space. Transporting it around via a car is also convenient because you don't need a huge boot space or specialised bike rack.
Lightweight: Lugging it out for a ride at East Coast Park or Marina Bay will not require brute strength as most of them weigh around 10kg to 12kg—the same weight as a sack of rice or your eyelids on a Monday morning.
Foldable bikes are allowed on public transport: You just have to ensure that it is folded properly and has wheels no larger than 20".
Just as affordable: Even though it has the added perk of being foldable, its prices are comparable with regular bikes.
You gain a community: There is a tonne of foldable bike groups on Facebook that organise weekend rides (in accordance to safe distancing guidelines, of course), share scenic routes and other cycling tips.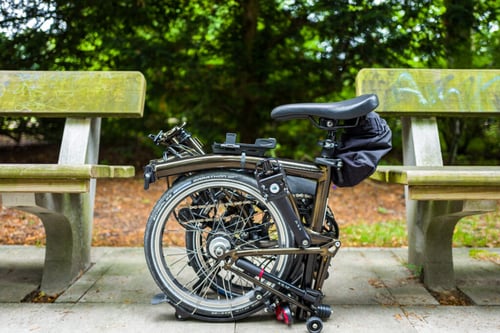 ---
Save more on your foldable bike purchase when you charge it to the right card. Start earning up to 10% in cashback and receive exclusive sign-up gifts* when you apply for a cashback card with us!
*Rewards may change at any time. Terms and conditions apply.
---
Where can I buy an affordable foldable bike in Singapore?
G Cycle
G Cycle carries popular foldable bike brands that include Dahon, Pikes, HITO and the much sought after JAVA. Apart from foldable bikes, they also carry a wide range of accessories such as helmets, baskets, headlights and more.
As G Cycle is listed on Shopee, here are a few money-saving tips to help you save on your purchase:
Always collect vouchers on the main voucher page to enjoy cashback or exclusive cart discounts.
If you have enough coins accumulated from your previous purchases or daily coin rewards, use them to offset your total bill.
Some banks offer exclusive discounts on specific days. For example, Citibank cardholders enjoy S$10 off their purchases every Sunday with a minimum spend of S$80. More information can be found here.
Address: Kapo Factory Building (Lobby A) #04-01, Singapore 367998
Foldable bike brands available: JAVA, Raleigh, Dahon, Lankeleisi, Trinx, Pikes, HITO, Fnhon, Hahoo, 3sixty
Price: From S$279 to S$1,100
Delivery fee: Free
Delivery duration: Three to five working days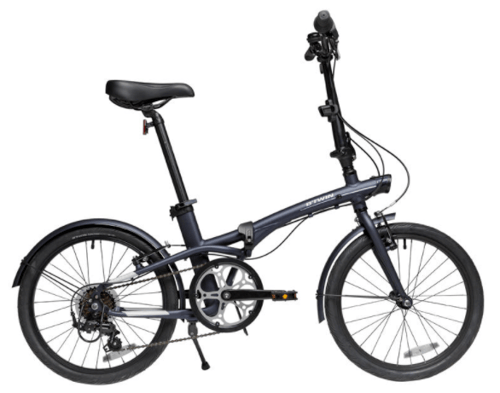 Decathlon
Is there any sports equipment that Decathlon doesn't carry? Your one-stop shop for all things sports, they offer six foldable bike options with wheels that range from 14" to 20" and weigh between 9kg and 14.5kg. The most affordable one amongst them is priced at just S$200.
In addition to the attractive price, Decathlon offers a comprehensive and long warranty period for all their foldable bikes. Here's what it looks like:
Lifetime warranty on the frame, stem (excluding hinge), rigid fork and handlebar.
Five-year warranty on all carbon frames and forks
Two-year warranty on all other parts
Address: 230 Stadium Boulevard, Singapore 397799
Foldable bike brands available: B'TWIN
Price: From S$200 to S$360
Delivery fee: S$20 per bike
Delivery duration: One to three working days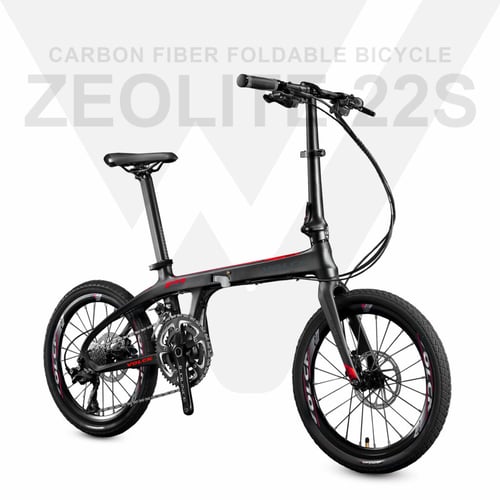 Minimotors
Minimotors may be better known for e-scooters but they also carry a small range of branded foldable bikes with prices starting from S$1,290. Its prices might be slightly higher than some on this list, but you'll get your dollar's worth. By that we mean none of them weigh more than 10kg, offer at least nine-speed gears and are covered by a five-year warranty (frame only).
Address: 37 Jalan Pemimpin #03-03, Singapore 577177
Foldable bike brands available: SAVA, Zeolite, Rhyolite
Price: From S$1,290 to S$1,690
Delivery fee: Free
Delivery duration: Three to five working days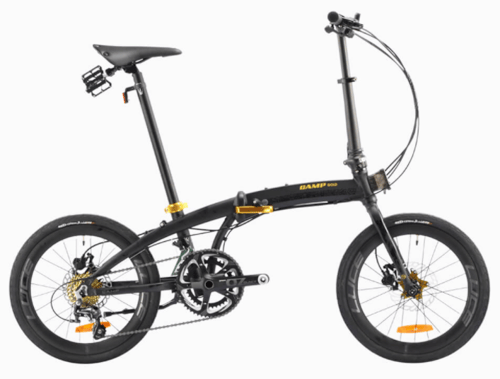 MOBOT
MOBOT carries a selection of foldable bikes from brands like Golden, CAMP, OVO and ROYALE. Prices range from an affordable S$289 to an eye-watering S$1,899. Just note that the warranty on their bikes differ depending on model (three months to five years). Be sure to read the terms and conditions carefully before purchasing.
Address: Oxley Bizhub 2, 62 Ubi Road 1 #03-23, Singapore 408734
Foldable bike brands available:
Price: From S$289.00 to S$1,899
Delivery fee: Free
Delivery duration: Three to five working days
My Bike Shop
They may not have an online shop, but My Bike Shop has an active Facebook page that documents their latest arrivals. They carry a wide range of well-known foldable bikes from brands including 3sixty, Moulton, Dahon, Terna and Tyrell. In addition, My Bike Shop also provides repair and tuning services (by appointment only).
Address: 213 Henderson #01-06, Singapore 159553
Foldable bike brands available: 3sixty, Moulton, Bickerton Portables, Bike Friday, Dahon, Kosda, Tern, Tyrell, MIT Cycle, Kiffy
Price: Upon inquiry
Delivery fee: Upon inquiry
Delivery duration: Upon inquiry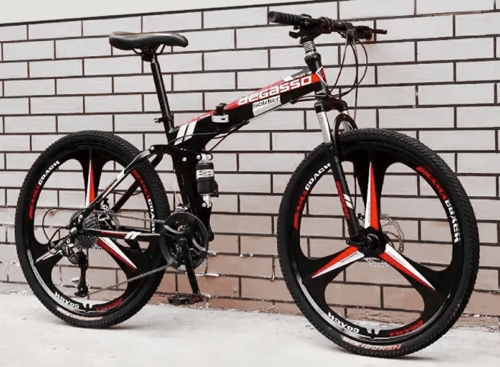 JIJI.SG
Need a new couch for your living room? JIJI.SG has it. Need an office chair for your WFH setup? JIJI.SG has it. Need a foldable bike to spice up your active life? JIJI.SG has it. From full-sized foldies that have 26" wheels to standard foldable bikes with handy rear racks, JIJI.SG offers a total of nine foldable bike options at pocket-friendly prices.
Address: 55 Tuas Crescent, Singapore 638743
Foldable bike brands available: SPULEN, Casual, BINTENG, ZEPHYR and Hachiko
Price: From S$130 to S$389
Delivery fee: Free delivery for orders under S$250, orders under S$250 will incur a S$7.90 delivery charge
Delivery duration: One to five working days, depending on availability
HITO SG Official
With tonnes of five-star reviews, HITO SG Official is the perfect online store for first-time foldable bike buyers who are looking for something reliable and inexpensive. Based on reviews, delivery is quick, service is good and prices are competitive. They even go the extra mile to conduct a quick lesson on the bike's features and folding mechanism during delivery.
Since this gem is listed on Shopee, don't forget to use the money-saving tips we listed above.
Foldable bike brands available: HITO, Hachiko, Begasso
Price: From S$260 to S$799
Delivery fee: Free
Delivery duration: One to three working days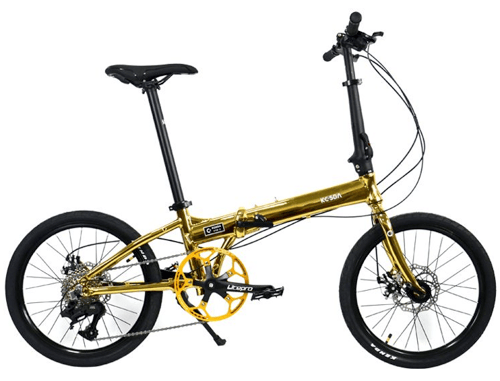 Passion Gadgets
We've kept the best for last. More than trinkets, OEM electronics and Polaroid cameras, Passion Gadgets also offers competitively priced foldable bikes and is one of the few purveyors with such a wide selection of JAVA bikes online.
There are two huge perks of buying from Passion Gadgets: freebies and warranty.
When it comes to freebies, they are usually only offered when you purchase the more expensive models. On Passion Gadget, even the cheapest folding bike entitles you to generous freebies worth over S$200.
Plus, a generous six-year warranty is given for your bike's frame regardless of model chosen; all other parts are covered for a year.
Address: The Commerze @ Irving, 1 Irving Place #01-16, Singapore 369546
Foldable bike brands available: JAVA, HITO, LitePro, Origami Rook, Auric, EROADE, KOSDA, WEEKeight, Pikes, ROGI, VeeBike, SAVA
Price: From S$338 to S$1,299
Delivery fee: Flat rate of S$19.90
Delivery duration: One to three working days
Guide to choosing the best foldable bike
How do you pick a foldable bike? Here are six considerations to keep in mind when shopping for one in Singapore.
1. Ease of folding
Same, but different. While all folding mechanisms try to be as effortless as possible, some require more strength or multiple steps. Here are a few common folding bike mechanisms to get acquainted with:
Half/mid-horizontal
Triangle hinge vertical
Swivel
Multi-fold
Break-away
E-assist
Pro-tip: During your test ride, apart from checking out the features and evaluating how comfortable the ride is, don't forget to give the folding mechanism a try.
2. Size after folding
When it comes to this, there are two questions you'll have to ask yourself:
How much storage space do you have at home?
How often will you be bringing this two-wheeler baby out?
The answer to these two questions will tell you which brands or models you should keep an eye out for and also if you really need a foldable bike at all.
3. Size of wheels
Foldable bikes have wheels that start from 16" all the way to 27".
The larger the wheel, the more comfortable the ride and the further you can go with less effort. However, this would mean that your foldie will require more storage space and weigh more, thus requiring more effort to ride and transport around.
4. Weight
This is a no-brainer because light-weight foldable bikes are easier to ride and transport around. On average, a foldable bike (without any additional accessories) weighs around 10kg to 12kg.
5. Suspension
If you intend to use your foldable bike for more than city riding, do consider one with a good suspension. Unlike regular bikes, foldable bikes do not come with suspension as a default. Some have either front or rear suspension, while others don't have any suspension at all.
6. Warranty
When it comes to warranties, the longer the better. Depending on brand and where you get your bike from, this can be anything from one to six years.
Just a word of caution: before you go ahead with the purchase, do read the warranty's terms carefully. The three-year warranty promised to you may not cover general parts, but just the frame.
Other costs involved in owning a foldable bike
Getting a foldable bike is just the first step, there are other costs involved that include personal protective equipment, accessories and maintenance equipment.
Do note that this isn't an exhaustive list and we've only listed the bare essentials.
Personal protective equipment
I understand that wearing personal protective equipment may be uncomfortable, but they prevent you from getting seriously injured (should an accident occur).
Regardless of how well you ride a bike, you will need at least a helmet. Below we've curated a list of quality bicycle helmets for under S$40.
Model
Price
ROCKRIDER
Mountain bike helmet ST 50
S$15
Rockbros
Helmet with magnetic glasses
From S$33.86
Cairbull
Ultralight cycling helmet
S$35.36
Accessories and maintenance equipment
From water bottle holders to headlights for night rides and WD-40 to protect against rust, these are the accessories and maintenance equipment you will need.
Item
Shop and model
Price
Headlight
Rockbros
YQ-QD 400LM
From S$14.90
Rear light
OEM
Rechargeable rear light
From S$1.48
Bicycle lock
B'TWIN
Cable lock with key
S$10
Bell
OEM
Metal bicycle bell
From S$1.09
Tyre pump
B'TWIN
Floor pump
S$20
Water bottle holder
OEM
360 Degree water bottle cage
S$4.20
Bicycle cover
Rockbros
Foldable bike cover
S$26.19
Cleaner
WD-40
Multi-use metal protector and cleaner
S$8.50
Full servicing
(frequency depends on how often you ride)
Fazzbike360
Full servicing
From S$100 to S$120
Based on our calculations, the bare essentials to keep you safe and your foldable bike in tip-top condition will set you back at least S$101.36.
Other frequently asked foldable bike questions
What about Brompton, Birdy or Hummingbird foldable bikes? Why are they not on the list?
These brands produce the Rolls Royces and Bentleys of the foldable bike world. Sure, they have all the colours you can dream of and offer you a tonne of customisation options, but they cost way more than any bike on this list.
The cheapest foldable bike I could find from one of the three brands above costs a cool S$2,150. Nope, your eyes aren't fooling you and I didn't add an additional zero at the end. To put things into perspective, that's the price of at least five mid-range foldable bikes, or 215 pints of cold beer at a nice bar.
Are foldable bikes comfortable?
That all depends on what type of bike you are comparing it to. As most foldable bikes come with either front and rear suspension, they wouldn't be as comfortable as a full-suspension mountain, trail or cruiser bike.
Can foldable bikes go uphill?
Yes, foldable bikes have a range of gears that can help you tackle uphill terrains.
How fast can foldable bikes go?
Depending on model, gear and terrain, they can go up to speeds of 53km/h.
While on the topic of speed, I've noticed a few comments on cycling blogs that Moulton foldable bikes can go up to 60km/h downhill. How is that for fast?
Are foldable bikes worth it?
Yes, especially if you are short on space but love the feeling of cruising around on a two-wheeler. Besides, the cost for a foldable bike is approximately the same as a regular bike.
Are foldable bikes dangerous?
Foldable bikes are no more dangerous than a regular bike. To keep safe when riding, you should always wear an appropriate amount of personal protection equipment.
The only additional precaution you might have to take is to keep your fingers away from the folding mechanism and do not multitask when folding, to prevent injury.
Make your money work harder for you by charging your purchases to the right cashback card. Apply for one with us today and you could stand to receive cash or attractive prizes!*
*Rewards may change at any time. Terms and conditions apply.
Read these next:
The Real Cost Of Cycling In Singapore
10 Best Online Bicycle Shops In Singapore To Buy Cheap Bikes
The Real Cost Of Fitness In Singapore
Best Workout Apps To Try At Home Under S$30 A Month
4 Reasons Why You Need Personal Accident Insurance If You're Into Sports