Forget going to physical shops to buy infant/baby items. With free delivery and free returns, Pupsik is a godsend for parents who just don't have time for shopping. Here are some Pupsik promo codes, coupons and vouchers that you can use on your next purchase.
So you're a newly-minted parent or have a baby on the way. Congratulations! Despite the baby bonus payouts, we know it's still tough to raise a kid. Save yourself (mentally and financially) with the latest Pupsik promo codes, coupons, vouchers, other money-saving hacks and top 10 products you can consider buying on your next baby shopping spree.
What is Pupsik?
Pupsik means "baby doll" in Russian, and Pupsik Studio is an online baby store catering to local customers and overseas retailers. The store, founded by a mother-of-two, first started off as a home-based business offering comfortable baby pouch carriers that were not only stylish, but also affordable.
Pupsik Studio has since evolved and grown into a one-stop shop offering baby and parenting products. All their items are unique and handpicked from different brands around the world. With over 200+ brands, 5000+ products, there is sure to be something on Pupsik for you and your little ones!
Pupsik promo codes, vouchers and coupons 2021

Promo code 1: TAKE10
What it does: S$10 off a minimum spend of S$200
Additional remarks: For new and existing users. Promo code is case-sensitive and cannot be applied with another coupon code. The promo code does not apply to new Jujube launches, Spectra, Micro, Baby Bjorn, Doona and Hegen items. Cannot be combined with VIP discounts on IFAM products and gift card purchases.
Expiry date: Ongoing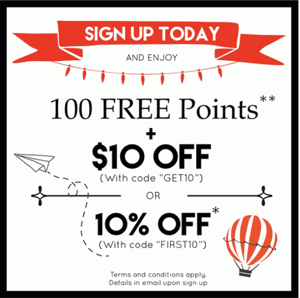 Promo code 2: GET10
What it does: S$10 off a minimum spend of S$150
Additional remarks: For new users only. You have to create an account and sign up for their newsletter to use this code. Code cannot be combined with any other coupons/codes.
Expiry date: Seven days from the date of account creation
Promo code 3: FIRST10
What it does: 10% off your cart
Additional remarks: For new users only. You have to create an account and sign up for their newsletter to use this code. Applies to both regular-priced and discounted items. Code cannot be combined with any other coupons/codes.
Expiry date: Seven days from the date of account creation
Pupsik's website delivery fees
Delivery is done only through a courier service. For orders above S$60, you'll get to enjoy next-day delivery (from 9am to 10pm). For orders under S$60, there will be a delivery charge of S$4.90.

Head over to Pupsik's Lazada store to collect even more vouchers! They currently have four vouchers up for grabs:
S$9 off with a minimum spend of S$90
S$13 off with a minimum spend of S$120
Both coupons are valid till 30 September 2021
S$9 off with a minimum spend of S$90
S$12 off with a minimum spend of S$120
Both coupons are valid only on 9 September 2021
Pupsik's Lazada store delivery fees
Enjoy free delivery on your Pupsik Lazada order when you spend more than S$60. For orders under S$60, delivery costs S$1.49.
Similar to the Lazada store, Pupsik's Shopee Mall page also has vouchers that you can collect for more savings. Currently they have two vouchers for you to collect:
S$13 off minimum spending of S$120 (for specific products)
Valid till 13 September 2021
S$10 off minimum spending of S$150 (for specific products)
Valid till 30 September 2021
10% off with no minimum spend (for specific products)
Valid till 30 September 2021
5% off with no minimum spend (for specific products)
Valid till 30 September 2021
10% cashback with minimum spend of S$80 capped at 1,200 Coins
Valid till 13 September 2021
They also conduct flash sales on occasion, so do remember to check out the "Time-Limited Promotions" tab on the shop for more promotions.
Pupsik's Shopee delivery fees
Enjoy free delivery on Shopee Mall when you hit the store's minimum spending of S$40. For orders under S$40, delivery costs S$1.49 for J&T Express courier services.
Hacks to save on your Pupsik orders
Make use of Pupsik's free returns
Sometimes, what you get is not what you expect and that's fine! Pupsik accepts returns of up to 30 days from your purchase on their website. For their Lazada store, there is a seven-day window to make free returns. On Shopee, customers are entitled to make free returns within 15 days.
If you find the same product at another local retailer at a lower price, you can contact Pupsik and they'll do their best to match the price before you make your purchase.
Wait for mega sales and buy everything at one go
There's currently a GSS sale for up to 70% off selected items on Pupsik's website. So if you need to stock up or are preparing for your newborn, this is the best time to shop.
Purchase Pupsik store credits through Shopback
If you're looking to make a purchase that costs S$50 and above, consider buying Pupsik vouchers from Shopback. Enjoy up to S$2.75 cashback when you purchase S$50 worth of store credit and up to S$5.50 cashback when you purchase S$100 worth of store credit.
Invite your friends and be rewarded with 250 points when they place their first order on Pupsik's website. On your friend's second order, you also stand to get 10% of their points. Your friend also receives points for their purchase so it's a win-win!
Every purchase and review entitles you to earn reward points that can be exchanged for future discounts and savings. There are different tiers of memberships that entitle you to a different number of points for each dollar spent. Your membership tier automatically gets upgraded the more you spend on Pupsik's website, saving you the hassle of doing it manually.
Top brands sold on Pupsik
JuJuBe
JuJuBe was founded in 2005, specialising in diaper bags that are environmentally-friendly, stylish yet functional for parents with young children.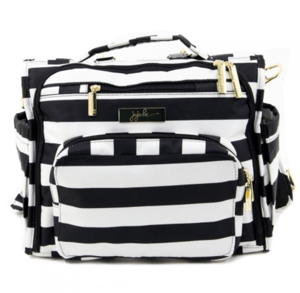 One of the most popular bags is the Jujube B.F.F. Legacy Diaper Bag - The First Lady (S$199).
This diaper bag comes with detachable straps that can be adjusted to transform into a backpack, messenger bag or tote bag to suit your needs.
With a total of seven interior pockets, this bag provides ample space for all your daily essentials, and keeps everything neatly organised. The insulated side pockets help keep drinks and snacks at the perfect temperature for your baby (or even you)!
All Jujube products on Pupsik are covered with a three-month warranty against manufacturing defects by the supplier. The warranty is valid from the date of purchase.
Baa Baa Sheepz
Baa Baa Sheepz is an award-winning home wear brand that focuses on bringing practical yet cute baby wear for day and night comfort.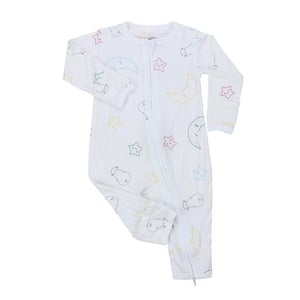 Check out their classic Baa Baa Sheepz Baby Zip Romper (S$28.80), a pyjama set that is made of the softest bamboo fabric that your baby will love. Cooling and lightweight, these sleep suits are perfect for Singapore's warm and humid climate. The bamboo pyjamas are also anti-bacterial and hypoallergenic, ensuring that your baby sleeps safe and soundly at night.
Three best baby strollers on Pupsik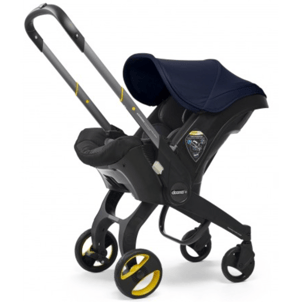 The world's first car seat with integrated wheels allows you to get out of the car with your baby in less than five seconds in safety and style. Hooray to taking private hire transport without worrying if they have a child seat available!
Once the borders open up, you can also take your baby and this stroller along with you overseas because this item is FAA Aircraft Approved for travel too.
This car seat stroller comes with a seat protector, infant insert and head support, as well as a two-year warranty from date of purchase.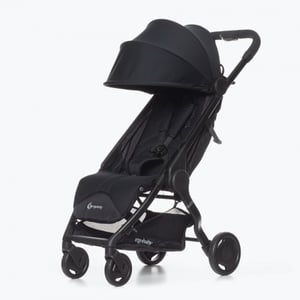 Ergobaby Metro Compact City Stroller, S$399 (currently unavailable)
This lightweight, convenient stroller allows you to hold your little one with one arm while folding your stroller with the other. For mums who are constantly on the go, you'll appreciate its smooth ride suspension and large back tyres that easily handle sidewalk cracks, cobblestones, and kerbs. The stroller is ultra-compact and fits on buses, trains, in most airline overhead cabins and in small car trunks. This product comes with a two-year warranty and is recommended for babies 6+ months and up.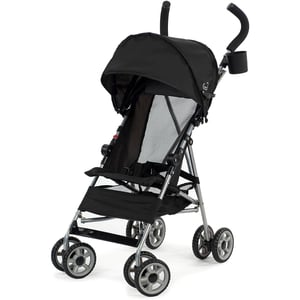 If you're looking for a stroller that'll protect your child from the sun, this is the one for you. Its sun canopy is larger than regular strollers and its mesh back ensures constant airflow that keeps your child cool in the shade.
Best Products on Pupsik for Newborns (0-3 months old) and infants
We've included some not-so-common but equally essential newborn products that we think all parents should have.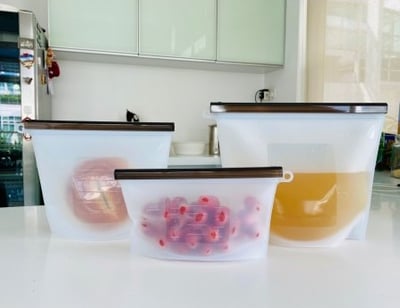 This one's perfect for storing small snacks when you bring your tot on a day out. Each bag has a plastic sealer that slides over the top seam of the bag, making it 100% leak-proof.
From only S$4.90, we'd say that this is a pretty good buy. When your baby outgrows these bags, you can also use them to store your own soup, leftovers, fruits, sandwiches and more.
Besides, you'll be doing your part for the environment by reducing the usage of single-use plastic!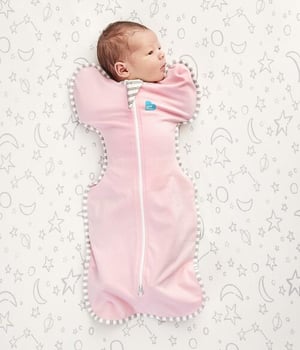 The only zip-up swaddle that allows your baby to sleep in an arms-up position and requires no complicated wrapping so you can ensure your little one is comfortable every time. The arms-up position is meant to replicate your baby's behaviour in the womb so that they can self-soothe for better sleep. And we all know that sleeping baby = happy mama.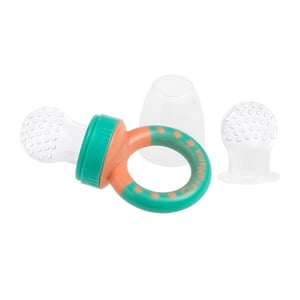 Clevamama ClevaFeed Silicone Teething Self-Feeder is a teething feeder that allows you to safely introduce solid foods to your baby without the risk of choking. Just insert small pieces of food inside its hygienic silicone teat and let your baby chew away!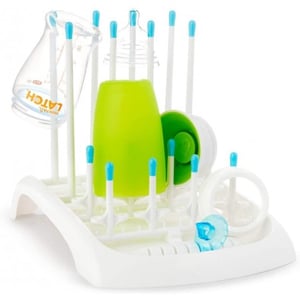 This drying rack is perfect for your bottles, teats, cups, straws, valves, pump parts and more. Not only does it help keep your kitchen counters clutter-free, but the reservoir at the bottom of the tray also collects excess water to keep your feeding accessories dry.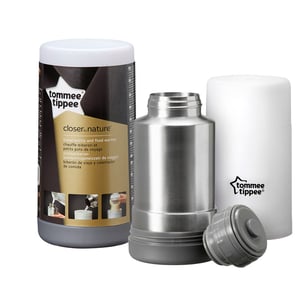 Stop rushing home just so that you can feed your baby. Heat your bottles and food up outside with a Tommee Tippee Closer to Nature Travel Bottle and Food Warmer, because life goes on and you sometimes need to get out the house! It doesn't require electricity at all, so it's a highly convenient tool while you're on the go.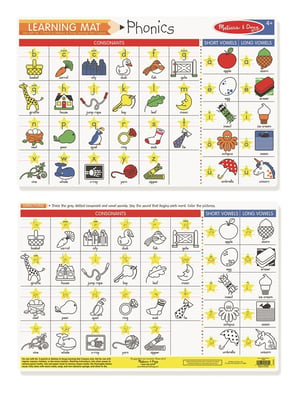 Introducing your child to vowels and letters has never been easier with this washable, double-sided play mat, which has pictures and numbers on one side, and the other for kids to draw on.
However, parents should take note that only scribbles made with No.2 pencils or Melissa & Doug Learning Mat Crayons (both not included) are erasable. Not for use with regular crayons, markers, or dry-erase markers.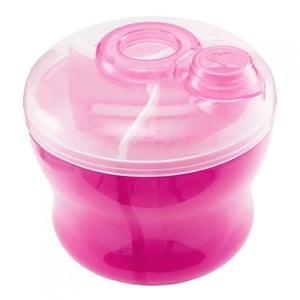 This nifty gadget is a three-compartment container that keeps your milk powder fresh and prevents it from spilling in your bag. Plus, the small spout allows you to get all the formula into the bottle in one go.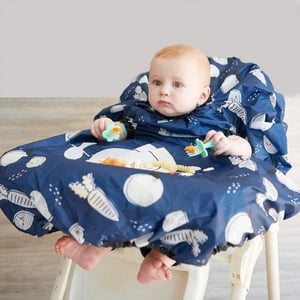 This special bib covers everything from neck to toe (including the highchair), containing all your little one's mess in a single place during meal time. With its water- and stain-resistant components, cleaning up will be a breeze. Simply pull it over your baby's head, over the highchair and place their meal on top of it.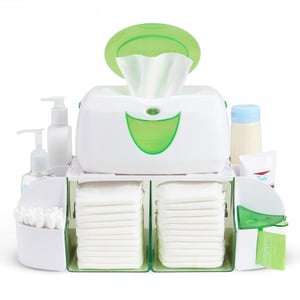 We love being organised as much as possible. This one-stop diaper station allows you to store all your diaper-changing essentials in one place. With everything visible within a glance, it's easier to reach out for anything you may need while doing the deed.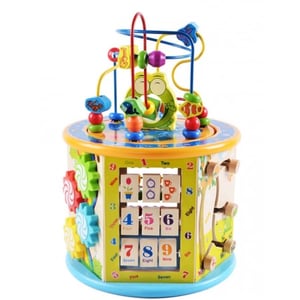 Train and stimulate your child's motor skills with this toy. With eight different interactive games and puzzles to choose from, your child will never get bored of this activity cube!
Where else can I buy baby stuff in Singapore?
Places like Mothercare, Motherswork and First Few Years are probably the stores that pop into your mind when you think about baby items, but those can sometimes be rather pricey. One of the cheapest places to get baby items is online, on platforms such as Shopee, Lazada and Pupsik.
Newborn clothes in Singapore
One of the most searched and bought items, without a doubt, are baby clothes. We totally get it. Seeing our little kids in #Instaworthy outfits indeed sparks joy in us. However, picking out clothes for your baby isn't the same as going shopping for regular adults.
Making sure that your baby stays in style without compromising their comfort and safety may be tricky. You'll need to consider the materials the clothes are made of (so that they don't get skin irritation), and be aware of small parts that may cause choking hazards.
Making sure that your kiddo stays comfortable in the Singapore heat is very important, and that's why baby clothes made out of bamboo fabric are a popular choice these days. Such fabrics are not only breathable, but also hypoallergenic and antibacterial. They are also pretty durable and low maintenance — there is no need to iron and it dries quickly after washing.
Newborns don't necessarily fit into clothes with the "0-3 months" tag
Tried and tested. Because all babies grow at different speeds and come in different sizes, the sizes indicated on clothes tags aren't always the most accurate representation of your baby's growth. If you're purchasing clothes for a newborn (0-3 months) for the first time, buy a few sizes and see what works best for them. It doesn't matter if the romper is a tad too big — at least they can still use it when they grow bigger.
Are newborn clothes really worth buying?
It depends. If you're super frugal, you can always opt for hand-me-downs from your friends and relatives. If their baby wore it without a hitch, you shouldn't have problems with it too. Besides, it may not be worth splurging on branded rompers as babies grow pretty quickly and will outgrow their clothes within a few months.
Read these next:
Money Confessions: Super Mums Share Their Personal Finance Management Story
Cost Guide: How Much Does Post-Pregnancy Confinement Cost in Singapore
Best Infant Care & Childcare Singapore | Fees & Subsidy 2021
Money Confessions: The Best Of Dads' Money Hacks Since The 1970s (and Dad Jokes)
Cost Guide: How Much Does Post-Pregnancy Confinement Cost in Singapore