Staying healthy and giving your immunity system a boost need not be expensive. This is your comprehensive buying guide to saving large when ordering vitamins or sports supplements on iHerb.
As someone who takes vitamins and sports supplements daily, I can tell you for a fact that buying them via iHerb has saved me a tonne of money. Just walk into any drug store or supermarket (or visit their website), take a glance at their vitamin section and you will understand what I mean.
The average retail price of multivitamins can easily set you back by at least S$20 to S$30 for a bottle of 60 capsules. A similar bottle can be found on iHerb for less than S$20. Granted, they might not be the same brand, but their potency levels are similar and the iHerb option is at least S$10 cheaper.
So, if you are like me and cannot resist a good deal, here's a list of iHerb promo codes, money-saving hacks to use when replenishing your stash of vitamins and sports supplements, and frequently asked questions.


Last updated on 8 September 2023. iHerb promo codes, promotions and other offers are subject to change without prior notice.
---
iHerb promo codes for September 2023
1. Enjoy extra 5% off your order
Promo code: WOW123
Expiry: Ongoing
User type: Valid for all users
Minimum spend: No min. spend
T&Cs: –


2. Get S$5 off your order
Promo code: CVD2568
Expiry: Ongoing
User type: New users
Minimum spend: No min. spend
T&Cs: –


💵 Promo code: 27ANTIOX
Expiry: 9 Sep 2023 (1am)
User type: All users
Minimum spend: No min. spend
T&Cs: 27% off selected antioxidant brands like Lake Avenue Nutrition, Natrol, Swanson, and more


---

What it does: Enjoy up to 20% off selected brands every week
Additional remarks: Round-up of brands is refreshed every Wednesday (2am)
Expiry date: Ongoing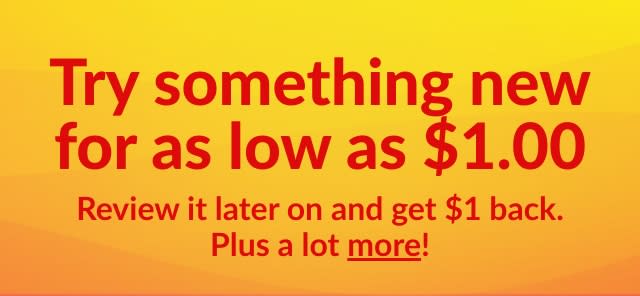 What it does:
Enjoy trial pricing limited to one-time use per product per customer


Additional remarks:

One trial item per order only, auto-applies to first item in cart, non-stackable


Expiry date:

1 February 2030


To really score major savings in cash rebates, we recommend using the UOB EVOL Card rewards you 8% cashback for all eligible online orders with minimum S$600 spend – which is great news since iHerb operates completely as an e-commerce platform.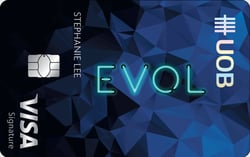 UOB EVOL Card Welcome Gift: Get S$500 worth of Grab vouchers as the first 100 new-to-UOB credit cardmembers monthly, with a minimum spend of S$1,000 per month for 2 consecutive months from card approval date, in the shortest time, with SMS enrolment. Valid till 31 October 2023. T&Cs apply.
---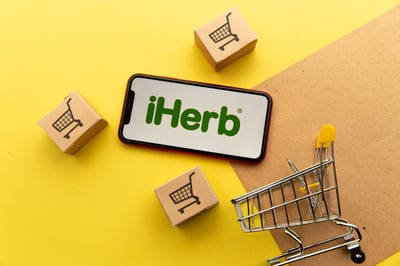 To really save on your iHerb order, charge it to the right card to earn air miles, reward points or cashback that can be used on your next online shopping spree. Apply for one with us today and you could be rewarded with cash and attractive prizes!*
*Rewards may change at any time. Terms and conditions apply.
---
Money-saving hacks

Buy in bulk
Sometimes, it pays to buy more, especially for items that you consume frequently. For selected products, iHerb offers a 10% to 20% discount if you buy 2 of the same item or a larger quantity. In some cases, they also offer a special cart discount when you purchase a minimum amount from a specific brand.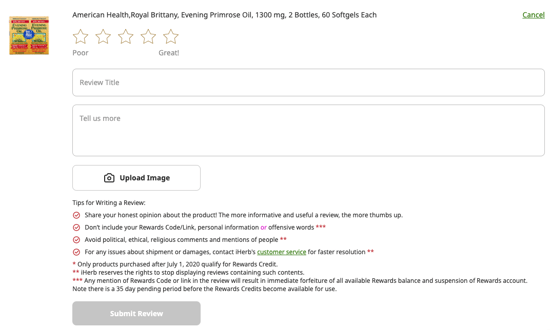 Submit product reviews to earn US$1 Rewards Credit
iHerb takes product reviews seriously. If you write an in-depth review of a product that you have previously purchased, they will reward you with US$1 (approximately S$1.30) in Rewards Credit.
Sounds like a good deal? It is, considering that Shopee only rewards you with 5 coins (approximately S$0.50) and Qoo10 only with 3 or 5 Qpoints (approximately S$0.03 or S$0.05) for every product review.

However, do note that each product review has to be screened and approved by iHerb before you can receive that US$1, and this might take up to 48 hours. In addition, you can only cash out your Rewards Credit when you have earned at least US$100 (approximately S$130).
For those who have bought from iHerb recently, please take this is as a cue to log into your iHerb account and start writing reviews.

Spread the love and earn 5% or $5 in Rewards Credit
Think that a friend or family member's health would benefit from taking the same type of vitamin as you? Then you should send them a referral link or personal rewards code.
The referral link can be found when you click on the orange logo with three dots that is found at the top right hand corner of any iHerb page. It allows you to share a link to individual products, wish lists, past iHerb orders and more.
Your personal rewards code can be found on your account page—a small blue logo with three dots located on the left hand side of your screen.
If your friends or family members purchase through your referral link or input your personal rewards code at checkout, they get 5% off on their total bill. And when they do so, you will earn 5% in Rewards Credit if they are existing users, or $5 in Rewards Credit if they are new to iHerb. Talk about a win-win situation.
More information can be found here.

Purchase through ShopBack and charge your iHerb order on the right card
Make sure you check out through ShopBack to enjoy cashback (at the time of writing, they were offering 5% cashback). Do note that you should only use promo codes that are listed on ShopBack when making the purchase, as those are the ones eligible for cashback.
That's not all. Charging your order on the right card can earn you up to 10% in cashback, so choose your card wisely.
When stacked together, your Shopback and cashback credit card can help you shave a good S$15 off a S$100 iHerb purchase!
Patience
If all else fails, take a deep breath and wait for the next sale. Rest assured you won't have to wait for long as iHerb refreshes their sales frequently.
---


Frequently asked iHerb questions
Where is iHerb from?
iHerb was founded in California, United States (U.S.).


Where is iHerb located?
iHerb is based in the U.S. with six international distribution centers—four in the U.S. (California, Kentucky, Illinois, and Pennsylvania) and two in Asia (Hong Kong and South Korea).


How can I contact iHerb?
If you have any questions or feedback related to your order, iHerb's customer service team is available 24 hours a day, seven days a week.


What should I buy from iHerb?
Well, anything and almost everything! Apart from vitamin and sports supplements, they also offer a good selection of groceries, beauty products, candy, pet supplies and personal hygiene products.
How do I place an iHerb order?
Shopping on iHerb is easy—the process is similar to buying clothes, shoes or groceries online.
For those who aren't avid online shoppers, here's a seven step guide to making your first purchase on iHerb.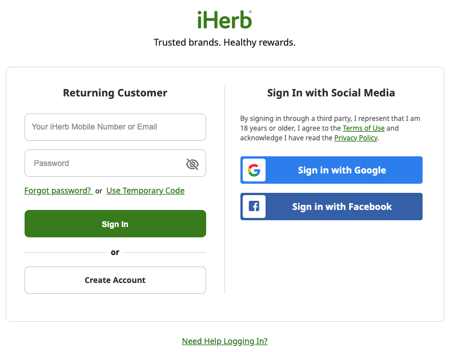 Step 1: Log into your iHerb account or create one. You can do this by clicking on the 'Sign In' button located at the top right-hand corner of your screen.

Step 2: Find items that you want by:
Typing it into the search bar. E.g. if you are looking for fish oil, type 'fish oil' into the search bar and hit the Enter button.
Clicking on the promotional banners to browse products.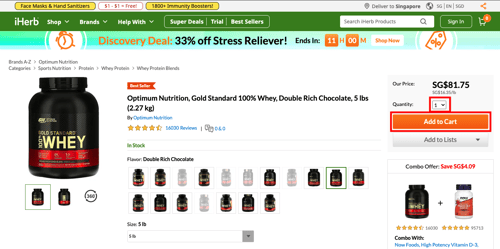 Step 3: When you've made up your mind about an item, select the desired quantity and click 'Add to Cart'.

Step 4: To make payment, click on the shopping cart icon (resembles a supermarket shopping trolley) at the top right-hand corner of your screen. Input your valid promo code at this stage before checking out your cart.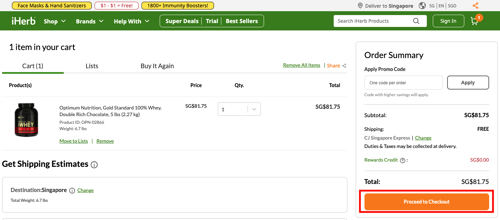 Step 5: Once on the shopping cart page, review your items, select a shipping option, apply a promo code and click 'Proceed to Checkout'.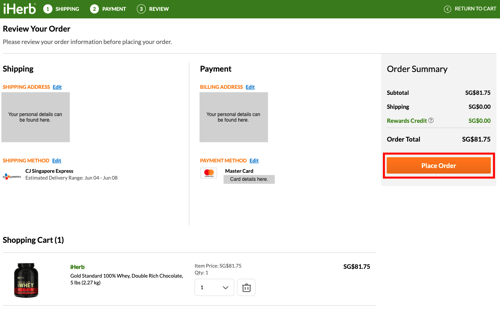 Step 6: Input your delivery and billing address, credit or debit card details, review your order (last chance to remove items) and shipping option, click 'Place an Order' and you are done!
Step 7: Find a comfortable seat near the door and wait for your order to arrive in three to seven working days.


How do I earn and use iHerb loyalty credit?
Refer to our above section on product reviews and Rewards Credit.


How do I use iHerb promo codes?
By bookmarking this page to get first dibs on the latest iHerb promo codes.
After selecting and copying a promo code from our list, head back to your iHerb page and click on the shopping cart icon found at the top right-hand corner of your screen.
Once on the shopping cart page, you will see the option to input a promo code under 'Order Summary'. Paste the promo code you've copied earlier and click 'Apply'.
If the promo code is valid, the discount would be immediately reflected on your 'Order Summary'.


Where to find iHerb promo codes?
For legitimate promo codes, you can either refer to this iHerb promo code guide itself or on iHerb itself.


Are iHerb promo codes stackable?
No, most of iHerb's monthly promo codes are non-stackable in nature. You cannot combine multiple promo codes with one another. Other exclusions also apply. For more details, refer to the respective promo codes' T&Cs.


How long does it take for iHerb to deliver my order to Singapore?
It depends on where your order is shipped from, if your items are in stock and which courier service you choose. Assuming your items are in stock at one of iHerb's Asian distribution centres, you can expect your order to be delivered within three to seven working days.


Where can I find iHerb products in Singapore?
Sadly, iHerb doesn't have a retail store in Singapore. This means house brands like Mild by Nature, California Gold Nutrition, Super Nutrition, Sierra Bees, Charlie and Frank, etc. can only be found on iHerb's website.
If you are not brand conscious, most of iHerb's products or good equivalents can be found at your favourite supermarket, delicatessen or pharmacy.
---
Read these next:
Cheapest Online Shops To Get Sports Supplements
The Real Cost Of Fitness In Singapore
7 Affordable Home Gym Essentials For Small Spaces
15 Best Free Gym Trials in Singapore to Kickstart Your New Year
Best Grocery Credit Cards in Singapore
Food Delivery Promo Codes – Foodpanda, Deliveroo, GrabFood, WhyQ