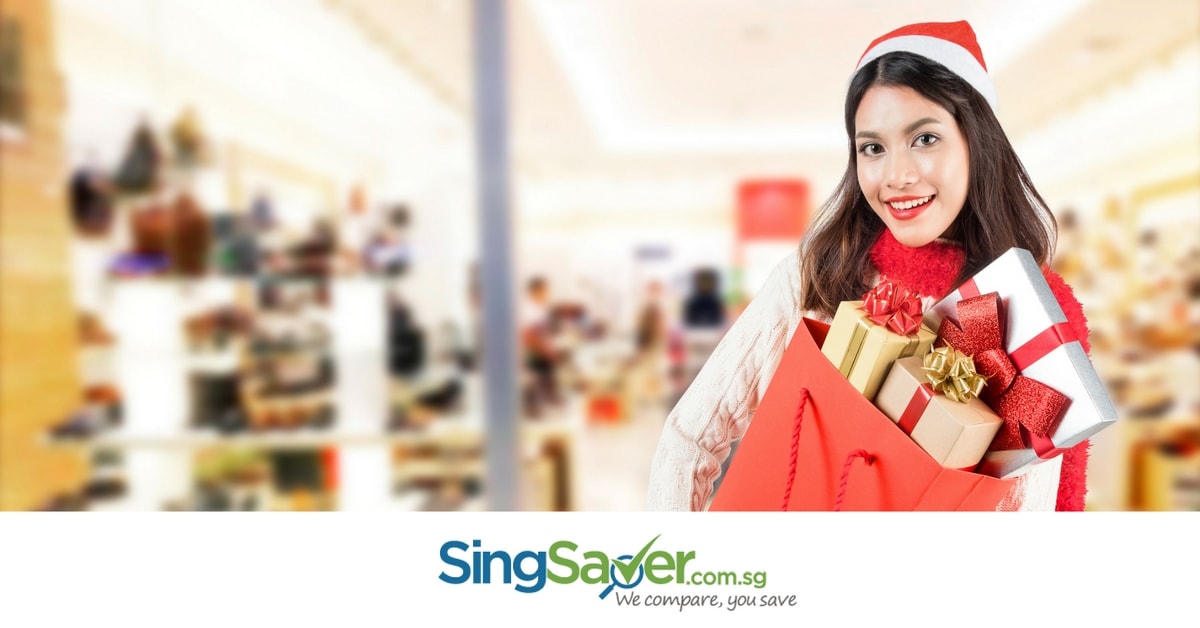 We hunted down the best Christmas sales in Singapore this 2016 for every person in your gift list.
Hey, hey, it's December. That means your days of procrastinating on gift-shopping are over. Black Friday is over. So is Cyber Monday. But fret not for your wallet, because there is still a host of Christmas sales in 2016 to look forward to in Singapore, and we know exactly where you ought to look for every gift you need to check off the list.
Grandma: Check. Boss: Check. Mother-in-law, best friend, boyfriend: Check, check and check.

For The Boyfriend
Victoria's Secret — Up to 60% Off

Did you see Gigi and Bella Hadid hitting up the VS runway? If you're inspired, here's good news: Victoria's Secret is having a clearance sale of up to 60% for over 1,700 styles of lingerie and sleepwear. You know what they say: Have wings, (sparks) will fly.
Apple — Refurbished & Clearance
Did you know that Apple has a certified "Refurbished and Clearance" section? If your lad is in the market for a Mac or iPad, there are some pretty good deals to consider. If, you know, he doesn't mind that they're too — how shall we put it? — last season.

For The Best Friend
Sephora — Up to 30% off
When it comes to buying your bestie a Christmas present, Sephora has got to be one of the first places to look. Hello, Walt Disney of beauty (remember when we told you how to get everything you'd need to look like Gigi Hadid at Sephora?) There's a sale of up to 30% now. So act fast and get her that Marc Jacobs Beauty "About Lash Night" Mascara & Liner Set or the Butter London "Cheerfull" six-piece nail polish set for all those times she lent you a listening ear and shoulder to cry on.
Mothercare — Up to 60% off
So your BFF has just become a BNM (brand new mum). She's going to need lots of help, support and baby stuff. Take her shopping at Mothercare, which is having an epic sale of up to 60% off everything from super cute bibs to baby food makers and strollers.
For The Mum-In-Law
Muji — Up to 60% off
Dale Carnegie has taught us how to win friends and influence people. If there were a chapter in there about winning over and influencing mothers-in-law, it would most definitely involve Muji. So yay to the sale Muji is having right now — up to 60% off. Put on your Nikes and hotfoot it to your nearest outlet and get everything from towels and plates to aroma diffusers gift-wrapped, stat.

For the Boss
On Pedder
Give a girl the right shoes and she can conquer the world, right? We're sure your boss can appreciate that. Get a few colleagues together — it's très important to include her PA who will know her style and size — and take a little shopping excursion to On Pedder during lunch hour. Shoes are going for up to 50% off now. Run, don't walk.  
For The Colleague to Whom You're Secret Santa
H&M — Up to 50% off
Sale season has begun at H&M. While it's a choice spot to get your glamorous partywear at high-street prices, it's also great for their accessories and new beauty collection. Now that there are discounts of up to 50%, you could really get something cute at less than S$10, whether it's for the Secret Santa gift exchange or a stocking stuffing. Think mini pouch with a unicorn motif or a hand lotion named "Cashmere Haze". Not bad, huh?

For Yourself
Shopbop — Up to 25% off
The impending new year calls for new underthings. Remember how Carrie Bradshaw made Calvin Klein briefs look kind of cool and so comfy that you really wanted them against your better fashion sense? Well, now you finally can allow yourself a set or five. The excuse? They're 25% off on Shopbop. How could you not?
TANGS — "Chef's special"
If you're a superwoman, that is, career woman by day and domestic goddess by night (or weekend), we salute you. For that, we totally think that you deserve to treat yourself to a set of Le Creuset skillet, casserole, pot and saucepan — in "chiffon pink", no less. The made-in-France cast-iron kitchen essentials are too pretty not to have in your domain, la cuisine. More importantly, they're on sale right now at TANGS. You've been informed.
The Outnet — Up to 88% off
Whether it's fresh workwear for 2017, party dresses for Christmas or coats you need for an impending winter vacation, the designer clearance sale over at The Outnet is not to be missed. Why? The discounts go up to 88%! A pair of Isabel Marant flats, which originally retails for £217 is now going at £35 (approximately S$63). Remember our story on how to look like a million bucks on a budget? Add this to that list.
Read This Next:
How to Buy the Perfect Gift for Anyone, According to Science
What the Price of Your Christmas Gift Says About Your Relationship

---

By Alexa Fang
Alexa is a pop-culture vulture. She lives to read, write and travel, and decided long ago that life is stranger than fiction. When she's having croissant, she thinks in French. "31 Rue Cambon" is her favourite address, and she believes that money one enjoyed spending is never money wasted.
---