Freedom and independence cited as main factors for moving out of the family home earlier.
1 in 4 millennials is moving out of their parents' home before the age of 27. They are moving out either because they are settling down into their first-owned property with their partner, or simply renting a place and co-living with friends.
This, according to a half-yearly consumer survey by home-grown property portal PropertyGuru.
2 in 3 millennial respondents were proud owners of their first home between the ages of 28 and 34, said the survey, which added that despite rising property prices, the increase in affordability could be in part due to co-living concepts where people rent or purchase properties together.
Conducted half-yearly since 2009, PropertyGuru's Consumer Sentiment Survey measures property sentiments and expectations around the property market. Nearly 650 respondents in Singapore took part in the H2 2018 survey.
Here are some key findings:
More millennials moving out at a younger age
For those getting married, moving out and building a nest of their own seems to be a natural step forward. But what about those who are still single? Why do they choose to move out of the family home?
"Mostly for the independence," shares a 33-year-old social media specialist, who moved out at the age of 27. He rented a room for $900 a month for half a year until he realised it was financially unsustainable. And because his landlord's property got confiscated due to bankruptcy.
Janine, a lawyer in her late 20s, told SingSaver she decided to move out for more privacy, and splits the rent for her 1-bedroom condo with her partner. "The location is also closer to my office and I can walk to work, so what I save in transport helps offset my rent a little."
Singaporeans are generally more satisfied with the current real estate market
The Sentiment Index is a score which measures current real estate satisfaction, affordability, real estate climate, interest rate situation, perceived government efforts, and property prices. The Sentiment index score for H2 2018 was 45, up from H1 2018's score of 39.
This could stem from the fact that 66% see property in Singapore as not only affordable, but good value for money, despite its high prices. 41% of respondents also indicated satisfaction with Singapore's real estate climate due to the long-term prospects for capital appreciation, stable real estate market, and local economy.
Growing popularity of executive condominimums among upgraders
For those keen on upgrading to private property, positive perception for executive condominiums (ECs) rose by 6%, as these are available at relatively affordable prices compared to increasingly expensive condos. According to PropertyGuru, "ECs are also a favourable option for middle-income families who aspire to own private homes and enjoy long-term capital appreciation prospects."
Three- and four-room executive condos cost anywhere between $800,000 to $1.4 million. Meanwhile BTO flats of the same size in non-mature estates range from $150,000 to $350,000. Here's a quick guide on how much you need to buy your first home in Singapore.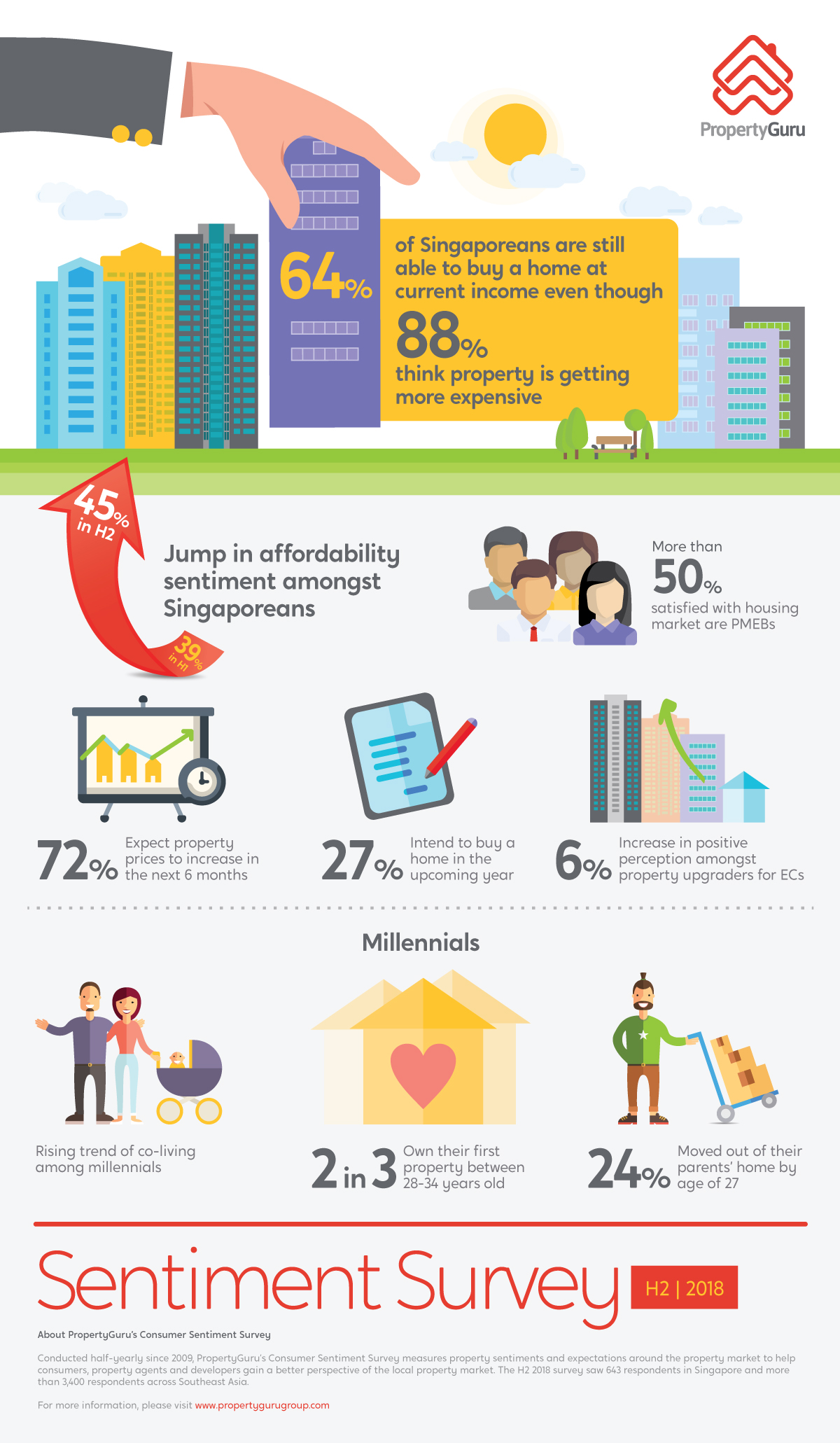 Read these next:
Home Equity Loan: Is Cash-Out Refinancing Your Property A Good Move?
Should Your First Property Be An Investment?
How Much Do You Need to Buy Your First Home in Singapore?
How To Buy A House in Singapore: A Complete Guide