---
#7 Shares
Stocks (or shares) need no introduction. With your CPF OA money, you can take your pick from the hundreds of stocks listed on the SGX.
These shares are offered by companies that are incorporated in Singapore. They are listed on the SGX Mainboard as a primary listing and also not placed on the SGX watchlist.
With the many stocks to choose from, how do you know which ones to pick?
Here in Singapore, the two types of stocks investors have a keen interest in are the bank stocks and the REITs. They are popular for their stability and the steady dividend income they reward investors with.
Banks (DBS, OCBC and UOB) have a dividend yield that ranges between 3% to 5%. REITs give investors a chance to become property owners, albeit indirectly. Investing in REITS — such as the properties owned by CapitaLand, Frasers and MapleTree — can give investors returns of 4% to 7%.
Other stocks that give noteworthy dividends include Venture Corporation, Tai Sin Electric, UMS Holdings and Sheng Siong Group.
However, do keep in mind that only up to 35% of your CPF investible savings can be invested in stocks.
Fees to purchase shares: Broker commission fees of 0.25% to 0.28% of trade amount, with a minimum fee of S$25 per transaction.
---
Before you invest your CPF money
You'll find that there's a trend amongst the investment products you can put your CPF money in: these products don't incur a high risk. Even the products that do come with a degree of risk, such as shares or gold, have limitations set in place to ensure that your exposure to those asset classes is capped.
To invest under the CPFIS, you will first need to take the Self-Awareness Questionnaire (SAQ), a quiz that assesses whether CPFIS is suitable for you based on your knowledge of investment concepts, products and charges. You will also need to have more than S$20,000 in your CPF OA, and/or have more than S$40,000 in your CPF SA.
If you're not quite ready to do the investing on your own, you can also invest through a robo-advisor. Currently, Endowus is the sole robo-advisor that allows you to invest your CPF money. You can also consider transferring your CPF OA money into your CPF SA in order to earn higher, risk-free interest!
---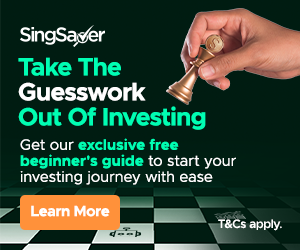 Start managing and saving money like a pro with SingSaver's weekly financial roundups! We dole out easy-to-follow money-saving tips, the latest financial trends and the hottest promotions every week, right into your inbox. This is one mailer you don't want to miss.
Sign up today to receive our exclusive free investing guide for beginners!
---
Read these next:
CPF Investment Scheme (CPFIS): Guide To Investing With Your CPF
7 Popular Types Of Investment In Singapore (And Tips To Use Them For Optimal Gains)
Guide To Supplementary Retirement Scheme (SRS) And Tips To Maximise It
A Complete Guide To CPF In Singapore
Uniquely Singaporean Things We Do To Accumulate Wealth