If you are thinking of how to make your CPF money work harder (who isn't?), this article is for you. Here are the potential investments you can consider under the CPF Investment Scheme (CPFIS).
Under the CPFIS, you can use the money in your CPF Ordinary Account (OA) and CPF Special Account (SA) to make investments. This means the opportunity for you to earn interest that's more than what you can receive from CPF.
When you sell your investments, the sales proceeds will be credited into the respective CPF account. However, CPFIS investments will stay in your CPF investment account until you reach 55 years old. When you reach 55, you can withdraw the investments and cash balance as long as you have set aside your Full Retirement Sum (FRS) in the CPF Retirement Account (RA).
But, why invest your CPF money?
Sure, you can leave your CPF money in your CPF OA and CPF SA to earn risk-free interest of up to 3.5% p.a. and 5% p.a. respectively. However, if you want to supercharge your CPF growth and make your money work harder, you can invest in various assets to earn higher returns.
With 16 different investment products available, we've zoomed in on a handful of products you can consider investing in with CPFIS.

SingSaver Flash Deal: For a limited time only, snag a Dyson Airwrap™ multi-styler (Complete) (worth S$859) on top of your chosen reward if you are one of the first 10 applicants of select OCBC and Standard Chartered Credit Cards at 12pm, 3pm, 6pm daily during the flash deal period. Valid till 1 October 2023. T&Cs apply.
---
#1 Exchange Traded Funds (ETFs)
Exchange traded funds (ETFs) are funds listed on the stock market, comprising a basket of securities, such as equities, bonds, gold, real estate investment trusts (REITs) and commodities. They can also focus on a specific geography, sector or industry. ETFs seek to track an index, such as the S&P 500 Index or the Straits Times Index (STI).
ETFs make a great investment for investors looking for broader market exposure, diversification and an investment product that is low cost.
Despite the thousands of ETFs available on the market, you can only invest in one of the following five ETFs with your CPF OA money, as higher risk ETFs are excluded:
ABF Singapore Bond Index Fund
Nikko AM SGD Investment Grade Corporate Bond ETF
Nikko AM Singapore STI ETF
SPDR Straits Times Index ETF
SPDR Gold Shares
ETF Fees: The ETFs listed have low expense ratios ranging from 0.24% to 0.4%.
The first two ETFs are bond ETFs. Bonds are considered one of the safest asset classes, giving you fixed coupon returns for the money you invest.
The STI ETF is an ETF that aims to track the performance of the STI, which consists of the 30 largest companies on the SGX. If you're looking to invest in an STI ETF, here's a more in-depth article that compares the two options SPDR STI ETF vs Nikko AM STI ETF.
If you're looking for gold exposure, the gold ETF gets a special mention. With the CPFIS, you can buy units of SPDR Gold Shares — the only gold ETF you can purchase with your CPF money.
Unfortunately, none of the ETFs available give exposure to the US stock market. If you're hoping to invest in US ETFs, you can instead consider a robo-advisor such as Endowus.

SingSaver Exclusive Promotion: Receive $80 cash via PayNow when you open a Webull account and fund a minimum of S$100 within the campaign period. Also, receive an additional S$50 cash when you fund at least S$2,000. Valid till 10 October 2023. T&Cs apply.

Also, receive up to 10 free shares worth up to USD 1,000 when you fund any amount within the campaign period and maintain the amount for 30 days. Valid till 28 September 2023. T&Cs apply.
---
#2 Singapore Government Bonds (SGBs)
Possibly the product that carries the least risk on this list, SGBs suit investors looking to grow their wealth without being exposed to market volatility.
SGBs are bonds with AAA credit rating that are issued by the government of Singapore. They have a minimum investment amount of S$1,000 and pay a fixed rate of interest with bond maturities ranging from 2 to 30 years. The interest payments are given every 6 months (semi-annually), starting from the month of issue.
They can be bought at a primary auction or in the secondary market. To find out what SGB is available, you'll have to check the MAS website.
The latest tranche offered investors a coupon rate of 1.875% p.a. with a five-year maturity date.
Fees: Up to S$2.50 per transaction.
---
#3 Treasury Bills (T-bills)
T-bills are another low-risk investment product for investors to consider.
A type of short-term Singapore Government Securities (SGS), T-bills don't pay out coupons. Rather, they are issued at a discount to their face value. As an investor, you will receive the full face value at maturity. This means that the amount discounted will be the yield you receive.
Like SGBs, T-bills have an AAA credit rating and a minimum investment amount of S$1,000. However, T-bills are far more short-term, with tenures of three, six months and a year.
While the yield has since dropped from December's record high, the average yield for the BS23103T six-month T-bill was 3.26% p.a.
Fees: Up to S$2.50 per transaction.
With such attractive rates, you may want to consider allocating some of your CPF OA funds into applying for the next tranche when it opens on 9 March.
---
#4 Endowment plans, annuities or ILPs from insurance companies
If you have a trusted financial advisor, you might consider making your CPF investments with them. These products offered by insurance companies can also help you to grow your wealth.
Endowment plans: A type of savings plan with an insurance component, endowment plans require you to put in a single or recurring premium, in order to cash out a larger amount than what you've put in when the plan matures. Endowment plans can have a tenure of up to 25 years.
Read more about endowment plans here.
Annuities: Like endowment plans, annuities require you to pay a single or recurring premium for a fixed period during your working years. Once you reach the retirement age, you'll be able to enjoy a monthly payout for a fixed number of years, depending on the plan you chose — this could also be for the rest of your lifetime.
Read more about annuity plans for retirement here.
Investment-linked Policies (ILP): ILPs are a type of life insurance policy that combines both protection and investment. However, your investment returns depend on how the fund performs and are not guaranteed.
Read more about ILPs here.
Fees: Endowment plans and annuities incur total distribution cost of between 1.8% and 2.54% of single premium, and surrender processing fee of S$30. ILPs have total expense ratios of 0.5% to 1.75% of net asset value.
---
#5 Gold
Besides the gold ETF mentioned above, you can also invest in other gold products from UOB, such as gold certificates, gold savings accounts or even physical gold. So yes, you can use your CPF money to purchase a gold bar or gold coins.
Do take note that only up to 10% of your investible savings can be invested in gold ETFs or gold products.
Fees:
Gold certificates: Flat S$5 per certificate and a service charge of S$72 per kilobar per annum, subject to GST
Gold savings accounts: Monthly service charge of 0.25% p.a., subject to a monthly minimum charge of 0.12 grams of gold
Physical gold: Gold purchased from UOB has to be collected within five working days, or a late collection fee of S$5 per kg per day (for kilobars) or S$2 per piece per day (for small bars and gold coins) will be charged.
Interested in putting your money in gold beyond your CPF funds? Check out our gold standard guide to gold investments!
---
#6 Unit Trusts (UTs)
Unit trusts are funds with money pooled from investors, managed by a fund manager. The fund manager will invest the funds according to the funds investment objectives.
You can select a UT to invest in based on the fund's objectives and whether it suits your investment goals. You should also take a look at the fund's past performance, although past performance cannot determine future returns.
Unlike the selection of ETFs available under the CPFIS, there are 80 different UTs for you to choose from, ranging from low-risk to high-risk. You can only use your CPF SA money to invest in low- to medium-risk UTs, while your CPF OA money can be used for all the UTs — higher risk UTs included.
UT Fees: These unit trusts have expense ratios ranging from 0.4% to 1.75% of net asset value.
If we look at the three-year annualised performance, some of the top performing UTs include:
Franklin Templeton Investment Funds – Franklin U.S. Opportunities Fund AS (acc) SGD
Nikko AM Shenton Global Opportunities Fund SGD Class
Aberdeen Standard China Opportunities Fund
Schroder International Selection Fund Greater China SGD F Acc
These five UTs are all higher risk UTs (with higher risk comes the potential for higher returns), with fees near 1.75%.

SingSaver Exclusive Promotion: Receive $80 cash via PayNow when you open a Webull account and fund a minimum of S$100 within the campaign period. Also, receive an additional S$50 cash when you fund at least S$2,000. Valid till 10 October 2023. T&Cs apply.

Also, receive up to 10 free shares worth up to USD 1,000 when you fund any amount within the campaign period and maintain the amount for 30 days. Valid till 28 September 2023. T&Cs apply.
---
#7 Shares
Stocks (or shares) need no introduction. With your CPF OA money, you can take your pick from the hundreds of stocks listed on the SGX.
These shares are offered by companies that are incorporated in Singapore. They are listed on the SGX Mainboard as a primary listing and also not placed on the SGX watchlist.
With the many stocks to choose from, how do you know which ones to pick?
Here in Singapore, the two types of stocks investors have a keen interest in are the bank stocks and the REITs. They are popular for their stability and the steady dividend income they reward investors with.
Banks (DBS, OCBC and UOB) have a dividend yield that ranges between 3% to 5%. REITs give investors a chance to become property owners, albeit indirectly. Investing in REITS — such as the properties owned by CapitaLand, Frasers and MapleTree — can give investors returns of 4% to 7%.
Other stocks that give noteworthy dividends include Venture Corporation, Tai Sin Electric, UMS Holdings and Sheng Siong Group.
However, do keep in mind that only up to 35% of your CPF investible savings can be invested in stocks.
Fees to purchase shares: Broker commission fees of 0.25% to 0.28% of trade amount, with a minimum fee of S$25 per transaction.
---
Before you invest your CPF money
You'll find that there's a trend amongst the investment products you can put your CPF money in: these products don't incur a high risk. Even the products that do come with a degree of risk, such as shares or gold, have limitations set in place to ensure that your exposure to those asset classes is capped.
To invest under the CPFIS, you will first need to take the Self-Awareness Questionnaire (SAQ), a quiz that assesses whether CPFIS is suitable for you based on your knowledge of investment concepts, products and charges. You will also need to have more than S$20,000 in your CPF OA, and/or have more than S$40,000 in your CPF SA.
If you're not quite ready to do the investing on your own, you can also invest through a robo-advisor. Currently, Endowus is the sole robo-advisor that allows you to invest your CPF money. You can also consider transferring your CPF OA money into your CPF SA in order to earn higher, risk-free interest!
---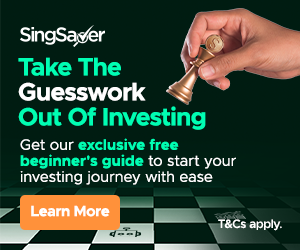 Start managing and saving money like a pro with SingSaver's weekly financial roundups! We dole out easy-to-follow money-saving tips, the latest financial trends and the hottest promotions every week, right into your inbox. This is one mailer you don't want to miss.
Sign up today to receive our exclusive free investing guide for beginners!
---
Read these next:
CPF Investment Scheme (CPFIS): Guide To Investing With Your CPF
7 Popular Types Of Investment In Singapore (And Tips To Use Them For Optimal Gains)
Guide To Supplementary Retirement Scheme (SRS) And Tips To Maximise It
A Complete Guide To CPF In Singapore
Uniquely Singaporean Things We Do To Accumulate Wealth