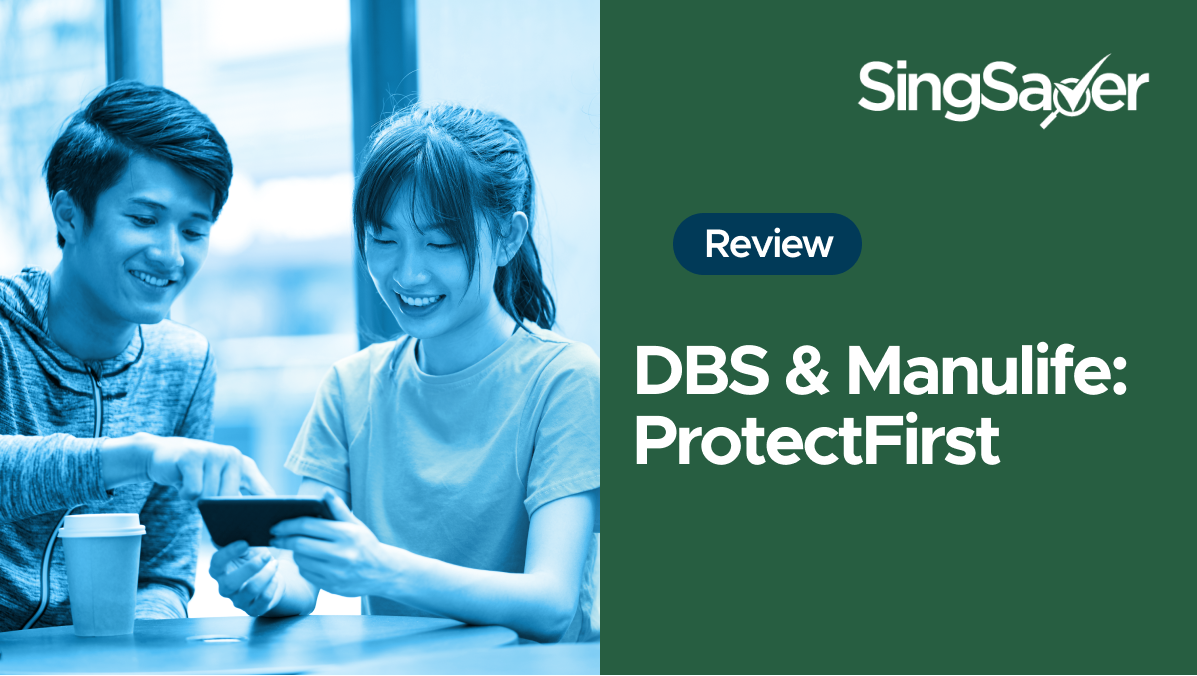 As young adults, insurance is at the back of our minds – we know we need it, but it's difficult to get it started when money is tight. Luckily, DBS and Manulife just launched ProtectFirst, offering an extensive coverage at affordably low premiums.
Recently launched on 25 April 2022, DBS and Manulife's ProtectFirst offers young Singaporeans affordable insurance to kickstart their protection journey. Each policy covers five critical illnesses (including early stage), serious accidents, and life protection. Starting at S$5/month, this coverage ensures essential protection based on your lifestyle and budget.
With a simple application process and a 50% premium discount for the first two years (valid until 30 June 2022), it's a starter pack worth considering.
All you need to know about ProtectFirst's premiums & coverage
As mentioned, ProtectFrist's monthly premium starts at just S$5, which is among the lowest insurance premium rates in Singapore.
Despite low monthly premium rates, DBS and Manulife's ProtectFirst offers extensive coverage for the following:
The Big Five Critical Illnesses: coverage for early to advanced stages of cancer, heart attack, stroke, liver failure, and major organ/bone marrow transplants
Death Benefit: financial security for your family in the event of your unforeseen death
Serious Accident Benefits: hospitalisation and surgery due to an accident for a minimum of six consecutive days. The coverage policy also includes protection against death or total permanent disability (TPD) from accidents.
This premium amount is adjustable, which means you opt for a higher claim amount with a higher premium.
Flexible Coverage Weightage
While every ProtectFirst insurance policy offers three primary coverage benefits, these coverage types have flexible weightage. The idea is to help you get an insurance policy that fits your lifestyle.
You may choose from different personas with varying weightage. Here are three to choose from based on your preference:
ProtectFirst Advocate: for the health-conscious who prioritise critical illness coverage with lower life protection and serious accident coverage
ProtectFirst Adventurer: for the adventure-seeking youth who prioritise serious accident coverage with lower serious illness and life protection coverage
ProtectFirst Defender: for the family-focussed who prioritise life protection coverage with lower critical illness and serious accident coverage
The coverage weightage may be adjusted when you choose your preferred persona during the application process.
Benefits
Let's say you're a 25-year-old non-smoker male who pays a S$5.10 monthly premium. Here are the benefits you can claim:
Advocate
| | |
| --- | --- |
| Benefit | Claim Amount |
| Death Benefit | S$11,800 |
| Critical Illness Benefit | S$36,800 |
| Accidental Hospitalisation Benefit (including death & TPD benefit) | S$9,600 |
Adventurer

| | |
| --- | --- |
| Benefit | Claim Amount |
| Death Benefit | S$38,500 |
| Critical Illness Benefit | S$10,100 |
| Accidental Hospitalisation Benefit (including death & TPD benefit) | S$51,500 |
Defender

| | |
| --- | --- |
| Benefit | Claim Amount |
| Death Benefit | S$41,600 |
| Critical Illness Benefit | S$19,800 |
| Accidental Hospitalisation Benefit (including death & TPD benefit) | S$17,900 |
Note: Quotes mentioned above are for a 25-year-old non-smoker male.
What happens after a claim?
If you make a claim for any coverage benefit, the amount will be deducted only from that particular benefit. In other words, each of these benefits are independent of each other.
Thus, even if a maximum payout on one of the benefits is made, the other two will still be valid and claimable. Your premium will be reduced as well.
For early stage critical illness claims, the benefits will be reduced whereby the remaining sum insured is payable on advanced stage critical illness.
How to apply & purchase this plan
Applying for ProtectFrist is a quick process with only three simple questions to answer. In fact, everything is done digitally right from the start. You will, however, need to have a digibank account to make the purchase.
Here are five easy steps to get insured with ProtectFirst:
#1: Share your personal information.
This includes your age, gender, and smoking status.
#2: Pick your persona based on your lifestyle and needs.
As mentioned, you may choose between the ProtectFirst Advocate, ProtectFirst Adventurer, and ProtectFirst Defender depending on what you prioritise.
#3: Adjust your monthly premium amount on what you can afford.
The higher the premium amount, the more benefits you can get.
#4: Answer three yes/no health-related questions.
These questions will determine if you've had a previous diagnosis, any family history of illnesses, and any previous health investigations/complications.
#5: Log into your digibank account to purchase.
You may easily log in your digibank account on the application site to carry on with the purchase.
If you have any uncertainties or concerns during your application process, you can chat with the DBS wealth planning managers through their TeleAdvisory page. They will advise you on the best way forward.
Pros and cons of DBS and Manulife's ProtectFirst
| | |
| --- | --- |
| Pros | Cons |
| Comprehensive coverage. | Coverage is limited to five critical illnesses, death, and serious accidents. |
| Flexible coverage weightage. | Once the maximum payout of a particular benefit has been paid, the benefit will be terminated. Renewal of the policy will be based on the remaining benefits left in the policy. |
| Quick & easy application process. | Premium payments can only be made on a monthly basis. |
| Affordable monthly premiums. | |
Promotions
Enjoy 50% off on the first two years' premium by using the promo code '50PFYA.' This offer is valid from 19 April to 30 June 2022.
DBS 1 - 7 May Extra Payday: the promo code '50PYFA' also includes a S$10 Deliveroo e-voucher if used between 1 May to 7 May 2022.
Read these next:
What Happens If: You're Under-insured Against Critical Illness
Term Insurance vs Life Insurance - Which One is Right for You?
Personal Accident vs Life & Medical Insurance: What You Need to KnowBest Critical Illness Insurance Plans in Singapore (May 2022)
Best Integrated Shield Plans in Singapore (2022)