Rose and Jack are spending way too much on groceries. Can a cashback credit card help cut their household expenses?
This is Episode 2 of the continuing Story of Rose and Jack, your average unhappy Singaporean couple. See them at SingSaver.com.sg's first TV commercial and watch what happens when you don't compare your options.
Rose may have found a clever solution for settling Jack's debt, but their daily expenses are another story. Although the couple is already following a budget, Rose thinks they're still spending way too much on groceries and household expenses.
Rose:

Eh Jack, I really buay tahan you!
Jack: What? What I do?
Rose: Why did you go spend S$183 at Sheng Siong? We still have so much food in the kitchen!
Jack: Umm, there were a lot of promotions today. And I was hungry.
Rose: *sigh* You could have asked me to come with you. I just got a cashback credit card that gives us 5% off on groceries at Sheng Siong.
Jack: What's a cashback credit card?
Rose: It's a credit card that pays you back every time you use it.
Jack: Why would the bank give you money? Sounds too good to be true ah.
Rose: It's like a rewards card lah. It's a way for the bank to reward you for using the card. But instead of giving you points, a cashback card gives you cold hard cash.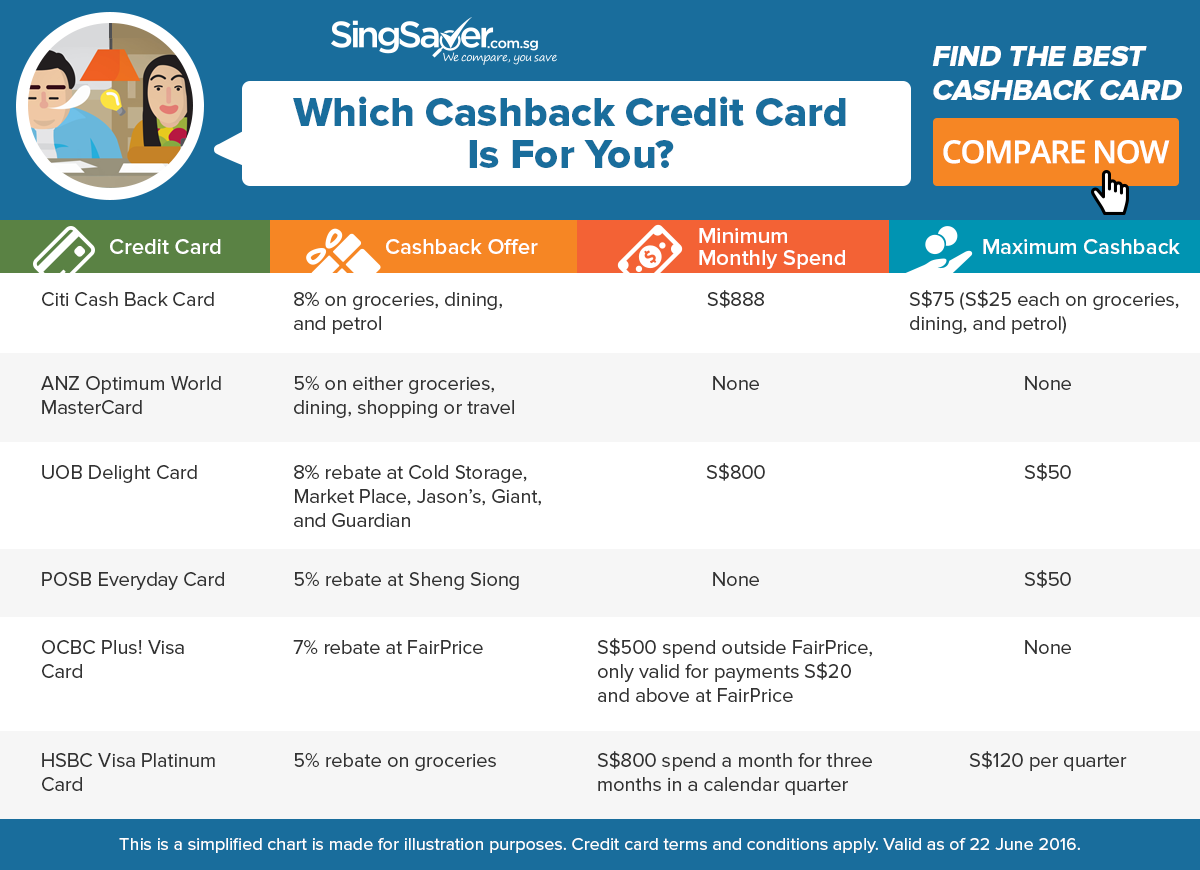 Jack: So with your new cashback card, you get 5% discount on groceries forever?
Rose: It's a bit complicated.
Jack: Why?
Rose: Because there are some limits to the cashback. So this is the POSB Everyday Card, right, and it has 5% cashback at Sheng Siong. But you only earn cashback from the first S$1,000 you spend on groceries each month.
Jack: Ah who say one?
Rose: The bank, leh. Some credit cards even require a minimum spend before you start earning cashback.
Jack: Like which card?
Rose: There's another card called the Citi Cash Back Card, which has 8% cashback for all supermarkets, and 8% cashback on dining and petrol. But you need to spend S$888 each month on it first before you can get the cashback. And you can only earn a maximum S$25 cashback for each category.
Jack: How do you know all this?
Rose: Read the fine print lah. Then you see how much you need to spend to earn cashback and the limit to the cashback.
Jack: But the fine print is so cheem...
Rose: Well, one of us has to do it…
Jack: And isn't it bad to use credit cards? We just paid off my debt, and now we're going into debt again using credit cards!
Rose: It's not a debt if you pay your credit card bill in full every month. You only get charged interest if you don't pay your bill.
Jack: Ah is it?
Rose: And anyway, you don't get cashback if your credit card has a balance. So with this kind of card you must pay by your ownself on time.
Jack: I see, I see.