Travel is a great way for you to expose your children to new experiences. Here's how to plan a holiday with kids in mind, and how to keep them fresh and exciting.
I genuinely enjoy taking family holidays with my two children, I really do. I know some parents don't. They either think it's a bore because they keep taking the same type of all-inclusive beach resort type of experience or they feel it's a chore because of all the packing, mess, and worry that are seemingly part and parcel of travelling with little humans.
My kids started travelling from as young as two months old, and our kid-friendly holidays have run the gamut from walking the Great Wall of China to negotiating the ski slopes of St Moritz. So I consider myself kind of a connoisseur of holidays with kids, with some tips to keeps things interesting for kids and adults alike.
For parents who are just about to embark on their first family trip with Junior and need a 101 guide, there are indeed many ways to hack it. But for parents who have been there and done that and are looking for new places to go with kids, here are some things they should keep in mind:
Trying something new doesn't have to be complicated
You don't have to take the kids bungee jumping to keep things interesting but if you're sick of tour groups and chain resorts in Phuket, try something different. Travel is about learning new things and an opportunity for the kids to see something different. If you're used to beaches, try the mountains; if you're always in a city, look to the countryside.
And you don't have to go far to make this happen. Start by looking at family holidays within seven hours of Singapore that have direct flights and go a little further to the nearest interesting town or place of interest and spend your time there instead. For example, try Ayutthaya, an hour away from Bangkok by cab. There are a ton of beautiful boutique hotels on the riverfront and ruins to explore. Save the typical city mall outings for your last day before your flight.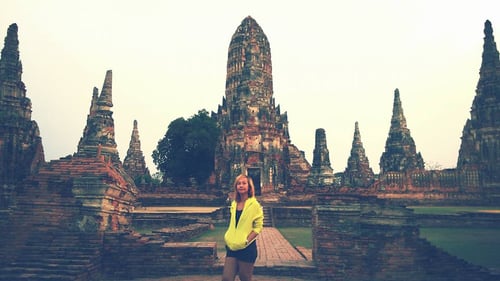 Re-define the notion of kid-friendly
I don't go out of my way to pick typically "family-friendly" hotels because most are glorified play areas with bedrooms. Instead, I go for quirky Airbnbs, purpose-built lodgings (we like ski resorts, but glamping in an animal sanctuary is fun too) and anywhere that welcomes child guests. Give your kids an opportunity to behave better in an environment that's not all candy and crayons. So take them to watch a musical matinee; learn how to fish or surf or ski. That's surely a holiday memory worth bringing home.
One of my most memorable travel experiences was when we had a full on 20-course degustation lunch at Guy Savoy in Paris with our six-month old son. We were in a private room so I could still breastfeed and keep him happy while we kept ourselves happier eating some of the best gourmet cuisine in the city.
Make them save up for the holiday
I don't mean that they should pay for their share but having them put aside some spending money for the trip is a useful and fun habit. For one, it makes them look forward to the trip (yay, shopping!) and delayed gratification is good for kids.
Secondly, they get to learn about currency and exchange; I always make mine change their own cash at the Money Changer and explain how some things are cheaper or more expensive overseas. When it's time to shop, helping them choose good souvenirs is also a nice way to bond with your kids. Also, follow these 7 handy tips to save money on short family vacations.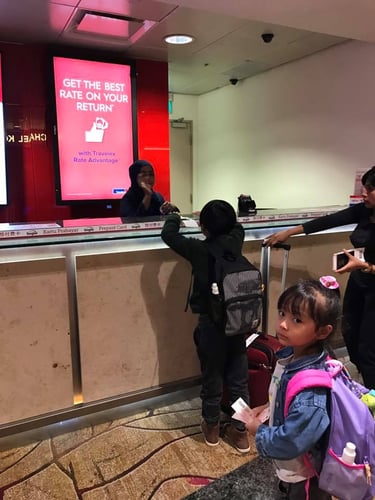 Sometimes, it's worth doing the same old thing
No, I'm not contradicting my first point. It's just that it can also be fun and meaningful to go back to a place you love if you haven't done enough. We feel this way about Japan – there's still so much to see and explore. So make sure you always go to different parts of the same city or country. Or stay in a different neighbourhood.
There's also a specific reason why we keep going back to Japan for more: skiing. Learning and mastering a sport like that takes time and it can be very fulfilling for a family with kids to become better at it together. Ditto golfing, fishing or surfing or mountain climbing or even Yoga retreats. Finding your bliss can be a family affair too, so why not start a family tradition? Also, who says you can't combine that with a bit of shopping?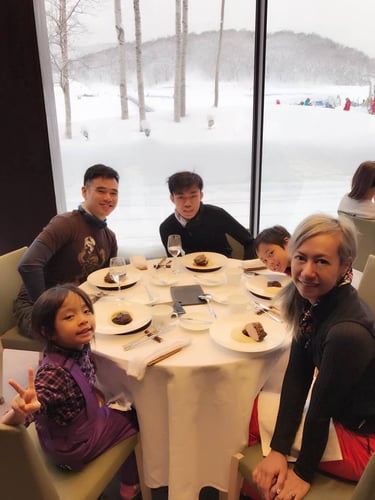 Bring along relatives or family friends for a new experience
It could be a family friend, a grandparent or another family with kids; basically anyone you know and love who doesn't mind travelling with you and yours. Having people outside your immediate family unit really changes the dynamic. It gives you options instead of having to do everything or be together all the time (which can get monotonous or just tiring). Some of my favourite travel companions for family travel are people like Stanley, my husband's childhood friend and a favourite playmate to our kids, as well as our friends the Manickams, who have two boys close to our children's ages.
So there you have it – an easier way to venture slightly off the beaten holiday track to move away from the tried and tested. Perfect for kiasu Singaporeans like me who're itching to experience something new and different but want all to be (mostly) well.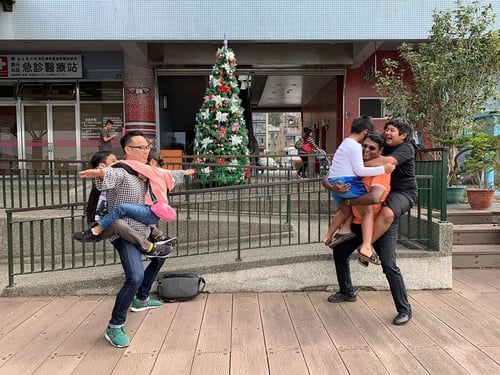 Be sure to cover yourself with travel insurance
Need even more peace of mind? Make sure your travel adventures are well-protected with a Family Travel insurance plan. This is a convenient way to get coverage for all in the people in your party on the trip.
SingSaver compiles some of the best packages on the market here; all you need to do is just pick the one that suits your needs and price point. Refer to our Best Travel Insurance guide for 2019 on which provider best suits you and your family's travel needs. Alternatively, compare and apply through our comparison table for great savings as well.

Related stories:
7 Family Holiday Ideas Within 7 Hours of Singapore
7 Tips to Save Money on Short Family Vacations
Why Multiple Travel Insurance Policies Can Be Better Than A Single Group Policy
Travel Insurance Promotions and Discounts for 2019
6 Times You Wish You Had Bought Travel Insurance
---

By Ana Ow

Ana has been a travel writer for various news outlets since 2007 and has a passion for crossing things off her bucket list (tiger safari in India, checked; meeting with the Dalai Lama in Ladakh, checked; Northern Lights sighting in Norway, checked thrice). She loves collecting visits to UNESCO World Heritage Sites (preferably with her husband and two children) and is obsessed with Disney parks and cruises.
---